New York State
Rep. Peter King on retirement
The lion of Long Island won't be running for reelection. Here's why.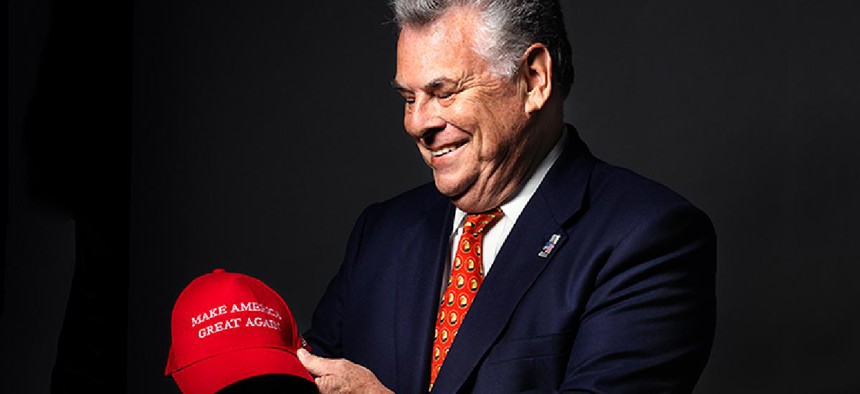 Rep. Peter King, who announced on Monday he won't be running for re-election in 2020, has been anything but shy in his 27 years in Congress. 
"If you agreed with him, you loved him. If you disagreed with him, you hated him," said Lawrence Levy, executive dean of the National Center for Suburban Studies at Hofstra University. "He was a guy who inspired great passion on either side."
That much was made clear Monday by two Democrats' responses to the news of the Republican King's retirement. U.S. Senate Minority Leader Charles Schumer, a fellow New Yorker and relative moderate, said in a tweet that King "stood head & shoulders above everyone else." Minnesota Rep. Ilhan Omar, a left-leaning Democrat and a Muslim called him an "Islamophobe who held McCarthyite hearings targeting American Muslims" and wished him good riddance. 
King will be remembered for that and more – and from folks well beyond the boundaries of his district on the South Shore of Long Island.
"He was viewed as a fighter for New York in a Republican House that wasn't always friendly to New York," state Comptroller Tom DiNapoli, a Democrat and fellow Long Islander, told City & State. "Peter casts a long shadow.
City & State talked to King on Monday afternoon about his legacy in Congress, why he's comparing impeachment to the death penalty and why he thinks Republicans will flip the House in 2020 – and hold onto his suburban seat. 
Your reason for retiring, wanting to spend time with family, is the oldest excuse in the book. Is it true in this case?
Yeah. It's really the fact I've been here (in Washington, D.C.) 28 years, four days a week. My polling has never been better. I have well over a million dollars in my campaign fund, with all different fundraisers scheduled. What made the difference was my daughter and her children have moved to North Carolina. 
That was it, the largest part of my life: my granddaughter's horseback riding, my grandson's baseball and just hanging out with my daughter and talking politics. So, now they're in North Carolina and trying to plan travel for Thanksgiving, travel for Christmas and it's all a gamble! Because who knows, impeachment may cut into the first days that I make reservations for. We're supposed to be out on the 21st. They're talking about a government shutdown on the 21st. All together, that just became a metaphor for me. 'Do I really want to do this for the next three years?' We're doing it for one more year, but then, two years on top of that? I think your body and your mind tell you when it's time to go. 
Looking back at your 27 in Congress, what are you most proud of?
I would say 9/11 and everything that followed it: Working with the families right after 9/11 to make sure they were properly compensated through the Victims Compensation Fund, then fighting for the 9/11 health care bill; also fighting really hard to get Homeland Security funding that was needed by the police and the FDNY; setting up the Homeland Security Department, being chairman of the Homeland Security Committee the first year it was up; and just as recently as last July, when the president signed the extension of the Victims Compensation Fund. Everything related to 9/11 was a highlight. It was also the low point, in that 9/11 itself was absolutely horrific. I lost so many friends and neighbors. 
Another one would have been Superstorm Sandy. New York and New Jersey were basically being shut out. That was a hard fight. I carried it to the floor of the House of Representatives on New Year's night. 
Also being involved in the Irish peace process. And there's other things. MS-13. There was 25 murders (on Long Island) in 18 months before April 2017. I got the president involved. He came in twice. The attorney general came in. And there's been no murders since then. 
You mentioned tragedies, extreme situations. Do you feel like you thrive in those difficult moments? 
I like to think that when the going gets tough, the tough get going. Fighting Irish, whatever you want to say. I just think it's times like this when you're tested. It's easy to be a hero when there's no pressure on the line. I just think it's important to stand up in what you believe in and let people know they can count on you.
You were famously one of the few Republicans to not support impeaching Bill Clinton in 1998. Do you think President Donald Trump's phone call to the Ukrainian president was an impeachable offense?
No, I don't. In fact, I spoke to (Trump) yesterday. I'm opposed to impeachment, and I'm going to support him for reelection. No, to me, this was not impeachable. It's not even close to being impeachable. 
There was one impeachment on the House floor between the 1860s and the 1990s, and that was Andrew Johnson. And not every president between Andrew Johnson and Bill Clinton was perfect. To me this is the ultimate weapon Congress has. You're going to be overturning a national election, which is really almost a sacred moment of democracy. To undo that, you really have to have serious issues. I didn't think that the Monica Lewinsky issue was one, and I don't believe the phone call to the Ukrainian president – in fact, I think that can even be defended. It's not impeachable.
Can be defended?
It can be! Everyone is saying he's asking Ukrainians to find dirt on Joe Biden. It's not like you're looking for an affair that he or his son maybe had with someone, or drug dealing or gambling. He's talking about a corrupt country, which had an extremely corrupt company. And Joe Biden was supposed to be in charge of making sure the corruption was being eliminated. And his son got basically a no-show, high-paying job. That to me is a legitimate issue to ask a government to look into.
You have a reputation for working across the aisle, but we've seen incredible partisanship in the past few years. Is this unprecedented? And was it a factor in your decision to retire? 
Partisanship has gotten so much that impeachment is now becoming a standard weapon to use. And it should only be – it's like the death penalty. It's like the nuclear option. And now Democrats are saying they're trying to get this over with by Christmas or by Thanksgiving – like it's another bill on the table, and they want to get it out of the way before the presidential primaries start in February.
And both parties are guilty. Republicans are guilty of it during Bill Clinton. This became a weapon to use. You had to satisfy your base. It's dangerous for the country. But that's not the reason I'm leaving. If anything, that would have been a reason to stay on. To fight against that. 
Minnesota Rep. Ilhan Omar, a left-leaning Democrat and a Muslim, called you an Islamophobe today and brought up your 2007 comment on there being "too many mosques in this country." Have your views and your national security fears about American Muslims changed? 
First of all, I said there are too many mosques that don't cooperate with law enforcement. And I stand by that, at the time. The Clinton State Department, before 9/11, they had hearings or seminars on extremism, and they had the head of a leading Muslim organization say that 80% of the mosques were controlled by extremists. And I know from talking to police that they were not getting the cooperation from local mosques, and I stand by that. That was not saying there are too many mosques. In fact, of the witnesses I had (during Congressional hearings on Islamic terrorism, in 2011) most of them were Muslims. Listen, if you're going after the mafia, you're going to go to the Italian-American community. If you're going after the Westies, you went after the Irish-American community. That's where they're coming from. So if you're looking for Muslim extremists and terrorists, they're coming out of the Musim community. That was just common sense. I stand by everything that was done in those hearings and I think they were very, very positive.
Do you think Republicans can hold on to your congressional seat, even with the suburbs becoming more blue?
Yea, I do. In my last poll I did, I was winning by 30 points. That was done in July. I would say that it's a swing district. But what was encouraging for me was, last week, Tuesday night, in the town of Hempstead, Republicans took back the supervisor's job, they took the town clerk seat, they took every town position in the town of Hempstead, every town position in Oyster Bay. And then in Suffolk County, in Islip, which is a good part of my district, every Republican won every townwide seat. So unlike the rest of the country, the suburbs on Long Island did pretty well, especially in the parts that include my district.
Are you planning on endorsing anyone in the race?
Not yet. I'm going to wait and see what happens. I've spoken to different Republican leaders out here, just so they can get a chance to scout around, see who's interested, see who they are. And, again, if I have to, at a time, I'll certainly give my opinion. But whoever it, any of the names I've heard, I can certainly support.
Your daughter, former Hempstead Town Councilwoman Erin King Sweeney had been considered a potential heir to your congressional seat, but she just moved to North Carolina. Is she definitely staying out of the race?
She's a southerner now (laughs). She leaves Long Island politics, and on Election Day I must have gotten 20 text messages from her – 'how are they doing in Valley Stream? What's happening in Merrick?' So it's still in her blood. I know she's meeting with different Republicans in North Carolina, just telling them she wants to become active. 
Who are the candidates to watch in the race?
There's at least three I can think of. But I'd rather not get into that. I'm sure the maneuvering is already going on. 
Will Republicans flip the House in 2020?
I think we can. It's going to be tough. Trump carried my district by nine points. With Trump on the ballot, and if – when – he's acquitted, I saw how Bill Clinton turned impeachment to his benefit. I think President Trump can turn it to his benefit to show that he's been attacked, and that'll work its way down the line. But yeah, it's going to be tough, but I'm confident my seat will stay Republican and I think (Rep.) Lee Zeldin's going to do well in his, and we have other seats in New York we could take back. And I can really only speak to New York. And I think we're in better shape now than we were in 2018.
What are you going to miss most about being in Congress?
Being out of the arena. As hard as 9/11 was, I was able to go right into it in an effective way. Talk to the president. Talk to the police. Talk to the FBI. Talk to the Joint Terrorism Task Force. Fight to get the money. Meet with the families. Doing all of those things. After Sandy, actually walk the streets. Bring the Homeland Security Secretary in, let him see what's going on. Get results. I think that's part of it, knowing that when things are good, and things are bad, you can get involved.
Powered By
NEXT STORY: This week's biggest Winners & Losers