New York State
The year of Tish
Letitia James made a national name for herself going after Trump. But is she "Cuomo's A.G."?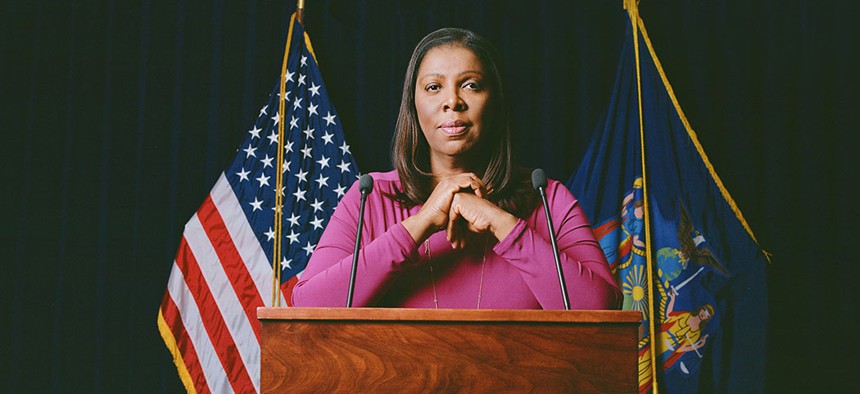 Outside her office door, New York Attorney General Letitia James has tome upon tome of McKinney's Consolidated Laws of New York, stuffed into shelves. Inside her office, with 23rd-floor windows looking into the skyscraper canyons of Manhattan's Financial District, the reading selection is thinner. There are three children's books, gifts from Chelsea Clinton. There is a copy of Shirley Chisholm's autobiography, "Unbought and Unbossed." Chisholm was the first black female member of Congress. James, a fellow Brooklynite, became the first black woman elected statewide in New York a little over a year ago. And there's a yellowed copy of Ebony magazine from February 1975, featuring Texas Rep. Barbara Jordan – a black female attorney famed for her speech defending the House of Representatives' right to pursue President Richard Nixon's impeachment.
"I try to surround myself with pictures that remind me of the reason why I'm in this office," James explained in November.
But don't take that too literally. There are, unsurprisingly, no pictures of Donald Trump, even though he may be the main reason why she's attorney general.
"I'm independently elected. ... I'm not the governor's attorney general."
James' campaign, as she said the night she won, "was about that man in the White House who can't go a day without threatening our fundamental rights." In the four-way Democratic primary, more than 40% of voters picked her, giving her a mandate to litigate against the sitting president. And she's undoubtedly done so, filing 20 lawsuits against the Trump administration in her first 11 months alone – including suing to keep U.S. Immigration and Customs Enforcement agents out of courthouses and trying to hold the White House accountable for not enforcing the Clean Air Act.
Also missing from James' office is any sign of Gov. Andrew Cuomo, the state's most powerful politician, whose full-throated endorsement and support helped James march to victory last year. James always bristles at the implication that Cuomo helped her – "earning it the hard way" is central to her political autobiography, so the implication that she's in office because of Gov. Son-of-a-guv is particularly hurtful. (Trump notably called her "Cuomo's A.G.," repeatedly refusing to use her name. Her response? "I'm independently elected. ... I'm not the governor's attorney general.")
In a historic first year, James' office has been a flurry of activity, taking legal action onthe biggest issues of the day, such as opioids, fossil fuels and Facebook. But Trump and Cuomo dominate New York politics in 2019, and James' time as the state's top law enforcement official will be defined by her strategy regarding those two power players – one enemy and one ally.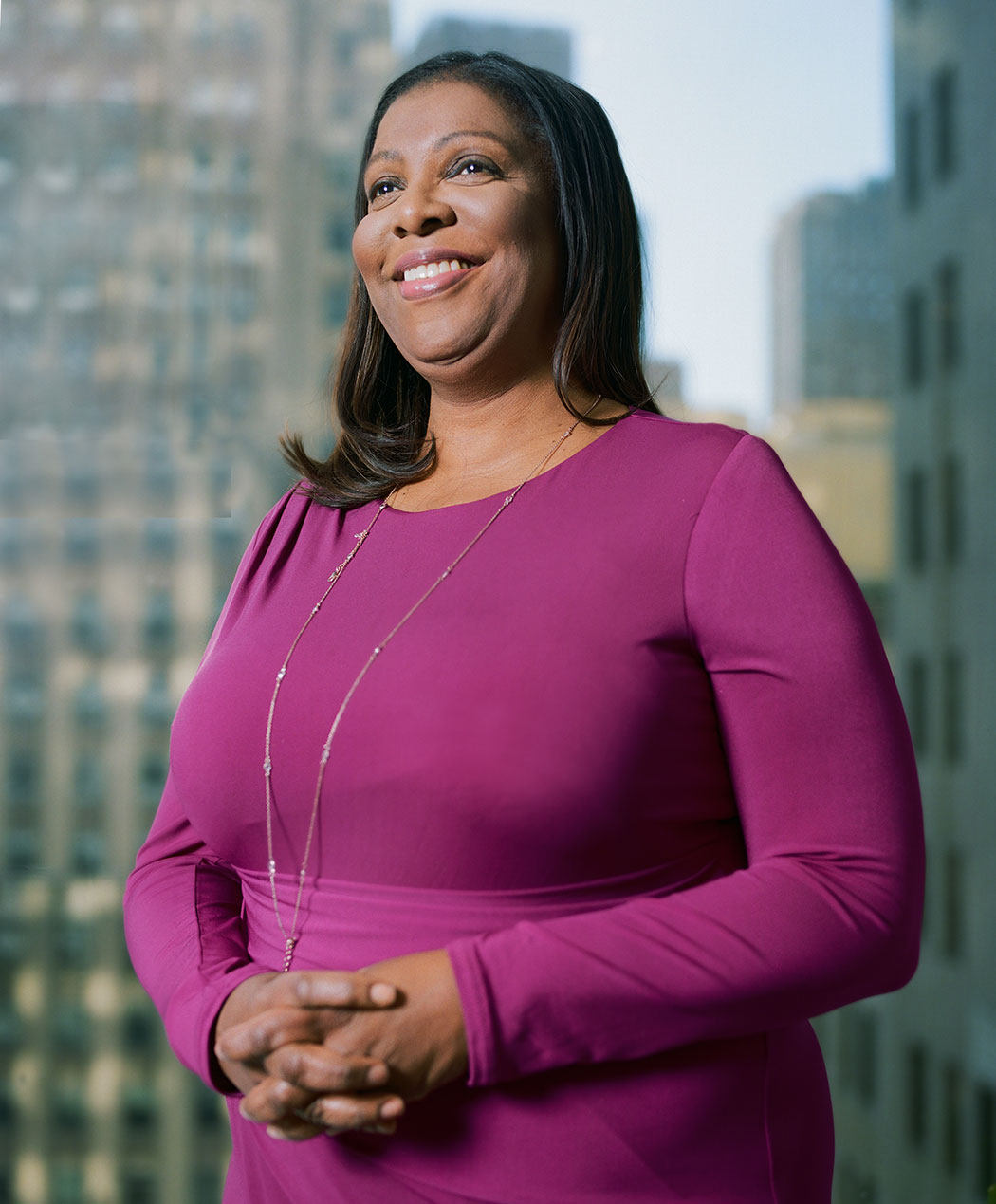 James has received a lot of attention for going after Donald Trump like she promised. So even the cases her office pursues that aren't about Trump sometimes feel like they're still about Trump. James pitched her legal actions against student loan providers as something the Trump administration should be doing on the federal level instead. And when James announced a lawsuit against e-cigarette company Juul in November, it was just after the Trump administration dropped its plan to ban flavored e-cigs. (A spokeswoman said James' press conference had been planned for weeks.)
But other cases are quite clearly about Trump. When James took office, she consolidated all the cases challenging the Trump administration into a new office headed by Matthew Colangelo, who previously ran the AG's social justice division. And there's been a lot of work. James has been party to 20 lawsuits against the Trump administration and has continued litigation on many more brought by her predecessors. She successfully defended (so far) a New York law that could finally reveal the president's tax returns. Perhaps the office's biggest win came in November, when her office got a judgment ordering Trump to pay $2 million in restitution for charity money that was illegally used for his political campaign.
Her Democratic base seems to love it – consider the bootleg "Go Letitia Go" T-shirt for sale on Amazon. "Makes a great Anti-Trump protest shirt," reads the listing. ("I'm like 90% sure this is illegal," a James spokeswoman said of the unauthorized shirt.) But not all New Yorkers appreciate her focus on Washington.
On James' watch, the office "has been totally politicized and used as just a tool of the Democratic establishment in New York to attack the president of the United States," New York Republican Party Chairman Nick Langworthy said.
That's an argument used by the president himself, who called the case against his foundation "politically motivated harassment," but it's one that James said doesn't affect her.
"If any of my remarks in the past have criticized the president and/or this administration for violating the law or the rights of certain individuals, I'm not sorry," James told City & State. "The law looks at facts, not rhetoric, and application to the law, not my political persuasion, or my political comments."
Of course, there's always a political aspect to the job. Alvin Bragg, a candidate for Manhattan district attorney who served as chief deputy attorney general until December 2018, said that James has done a good job speaking carefully since taking office, but added that she's in a tough spot.
"Attorneys general must balance their roles as litigants who are bound by court rules and politicians who may feel duty-bound to respond to lawless policies in real time and with moral clarity," he said. "James has done a good job of continuing and prosecuting cases we developed."
"If you know another attorney general who just took a $2 million bite out of the president's ass, let me know." - Rep. Sean Patrick Maloney
But some on the left – like Jed Shugerman, a professor at the Fordham University School of Law – think James has been chilled by Trump's accusations that she is playing politics. "A prosecutor cannot be intimidated from doing their basic job of fighting fraud because a fraudster accuses them of politics," he said. Shugerman – who was a volunteer consultant on Zephyr Teachout's attorney general campaign, a fellow Fordham law professor who positioned herself to the left of James in the 2018 primary – gave James credit for her cases challenging the Trump administration, but called her a "major disappointment" when it came to taking on Trump personally. James oversaw the Trump Foundation case, yes, but that was initially brought in 2018 by James' predecessor, Barbara Underwood, he said. And other than subpoenaing two banks for records regarding The Trump Organization, the president's holding company and primary source of wealth, Shugerman said James hasn't done a thing in her first year to take down Trump – despite lawyers like himself laying out the case. "She campaigned on holding the Trump administration and President Trump accountable, explicitly for their corruption," Shugerman said. "And she has failed to do that."
A spokeswoman from James' office said, "Our investigation of The Trump Organization is ongoing." And James' allies laughed away the criticism she wasn't going after the president hard enough – including another opponent in the 2018 attorney general primary, Rep. Sean Patrick Maloney.
"If you know another attorney general who just took a $2 million bite out of the president's ass, let me know," he told City & State. "She has got a big victory against Donald Trump, and I'm sure there's more to come."
But when it comes to the Cuomo administration – and New York's political establishment in general – there hasn't seemed to be much action. James has been active in Democratic politics for two decades, and won election last year with the backing of just about every elected Democrat in the state, plus the labor unions and political clubs that support them. The general feeling, said Seth Barron, a project director at the right-leaning Manhattan Institute, was that "everyone in Albany breathed a sigh of relief when she came in. She's not going to take on anybody powerful politically."
It was James' biggest liability in the Democratic primary, and she worked hard to counter the argument. She made "Fighting Corruption No Matter Where it Lies" the very first "issue" on her campaign website and promised to be "an independent enforcer," and she pledged to bolster the office's work investigating elected officials for self-dealing. But James doesn't have much to show for it in her first year. The highest profile action by her Public Integrity Bureau has been the conviction of former Mount Vernon Mayor Richard Thomas for stealing campaign funds. That means no cases brought against any state legislators, New York City lawmakers or state agency heads. No major investigations have been announced and no secret ones are being whispered about.
RELATED: Tish James' Trump Cards 
Most corruption cases in the state are brought by federal prosecutors or district attorneys, but there is still ample opportunity for an attorney general. In the past decade, James' predecessors have brought cases against former state Sens. George Maziarz, Shirley Huntley and Pedro Espada Jr., among others. As a candidate, James promised to go after corruption, calling for "fundamental reform" of the state Joint Commission on Public Ethics, or JCOPE, which is widely considered toothless. But with controversy swirling in November over whether Cuomo and Assembly Speaker Carl Heastie were tipped off to JCOPE's closed-door deliberations – and whether the state inspector general's probe into the matter could be trusted – James hasn't sounded reform-minded.
"I will not question the integrity of the watchdog agency," she said when asked to comment at an unrelated Nov. 19 press conference.
Although independently elected, the attorney general often functions as a partner of the governor, reliant on the executive for cooperation and criminal referrals. That setup remains, even if there's any personal animosity between the two leaders, as there was with Cuomo and former Attorney General Eric Schneiderman. But that doesn't mean the attorney general is a lapdog. Just look at then-Attorney General Andrew Cuomo's scathing 2007 Troopergate report against then-Gov. Eliot Spitzer's office.
No cases have been brought against any state legislators, New York City lawmakers or state agency heads. No major investigations have been announced and no secret ones are being whispered about.
James told City & State that she and Cuomo talk "quite a bit" and praised his cooperation in agreeing to set up a legal risk assessment committee with her office – something that has gone previously unreported.
"I was disturbed by the amount of judgments that we pay out as a result of certain bad conduct," she said. James first wants to look at the state Department of Corrections and Community Supervision, but "we're going through agency by agency."
But critics see other opportunities James isn't taking to challenge Cuomo's dominance in state politics. She has been strangely silent when it comes to statewide public campaign financing, despite promising to push for change during her campaign. James has been a loud supporter of the idea since at least 2014, and was criticized in 2017 for utilizing public financing too much – legally accepting and spending hundreds of thousands of dollars of public money during a shoo-in reelection campaign for New York City public advocate. James submitted written testimony in support of public financing before a state Senate committee in March, but hasn't made any comments since, while a commission met to actually create such a system.
A possible explanation? Cuomo and his allies are using the commission as an end around to revoke ballot access from the governor-antagonizing Working Families Party. James' relationship with the party seems to have chilled somewhat since last year, when she initially spurned the party's ballot line in what was seen as an embrace of Cuomo and the establishment, but James is still a historical ally of the party – the first person to win office on its ballot line alone and a former registered party member. Stuck again between Cuomo and the WFP, James has stayed quiet. She recused her office from defending the state against a lawsuit from the third party because of her ties, but also hasn't been publicly supportive of the Working Families Party – even though Democrats like U.S. Sen. Charles Schumer, nobody's idea of an anti-establishment rebel, have done so.
One of the times James appeared to publicly break with Cuomo, she was still accused of letting politics cloud her legal judgement. James' office dropped its legal appeal defending the legislative pay commission, effectively allowing state lawmakers to get a major pay bump without having to submit to the recommended ethics reforms. "James should remember that her first loyalty is to the voters and taxpayers in the state who have said over and over again that they want honest government," Newsday's editorial board wrote.
"I have a lot of friends. But I also have an oath."
In her downtown office, James insisted that New Yorkers can trust her to go after malfeasance and corruption among the state's political establishment. But she's aware of the appearance of conflict of interest, and promised to "separate myself" from individuals and organizations under investigation.
"So you'll see me at less events and not as much in the public eye for those reasons," she said, "because there's pending investigations all over the state of New York."
It's an odd statement for someone The New York Times recently spotted "danc(ing) atop a platform in a roped-off club at an exclusive party" at Somos, the annual conference in Puerto Rico for New York's political insiders. James is very much in the public eye, but it is true she's being seen at fewer events – if only because she kept a breakneck public schedule in her previous job as New York City public advocate, a job where the primary purpose seems to be appearing at public events.
Still, James said she would not be recusing herself from any potential political investigations.
"I have a lot of friends. But I also have an oath. I also have loyalties to the Constitution and to the law," James said. "So if someone that I know, or someone who was a friend violates the law, I've got a duty and a responsibility to make sure that the law is followed."
Not everyone is Albany is convinced.
"She has clearly become the legal adversary of the national administration," said Assemblyman Thomas Abinanti, a Democrat who supported Teachout in 2018. "The only question that's still open: Is she willing to take on the state with the same zeal where there are allegations of misconduct? So far there hasn't been a lot of discussion of that."
Read City & State's Q&A with Tish James here. 
Powered By
NEXT STORY: Q&A: Letitia James is one of them now