New York State
Is Brad Hoylman declaring war on Jeff Bezos?
The state senator wants to crack down on facial recognition and pied-à-terre.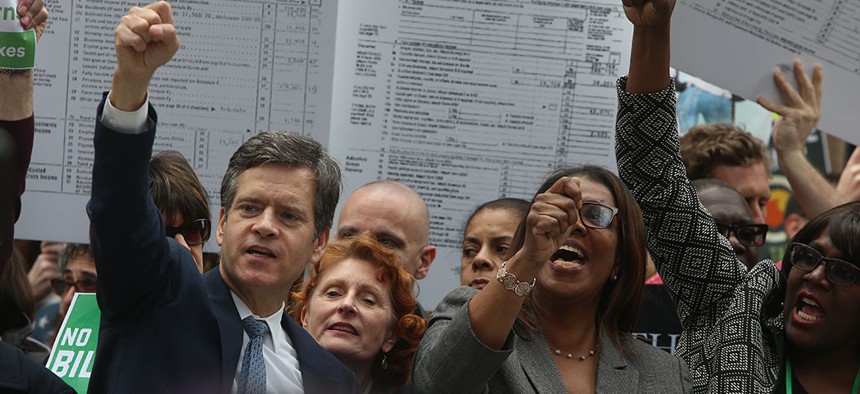 After Democrats gained control of both chambers of the Legislature last year, they started passing laws left and right – and nobody was more prolific than state Sen. Brad Hoylman. Compared with passing the Child Victims Act and the Gender Expression Non-Discrimination Act by this time last year, one might assume that Hoylman found the start of this year's session considerably less exciting. 
But while Senate Democrats haven't been charging out of the gate with as much gusto as they did at the start of session last year, Hoylman still has a long list of bills he's hoping to see through. City & State caught up with Hoylman during a session break to talk about his efforts to ban law enforcement's use of facial recognition technology, crack down on ghost guns, pass a pied-a-terre tax and more. This interview has been edited for length and clarity.
You introduced a bill to ban law enforcement's use of facial recognition. Did the recent reporting about Clearview AI's partnerships with police departments across the country prompt this, or has the issue been on your radar for a while?
I have had general concerns about data protection, particularly as it pertains to facial recognition, whether it's keyless entry systems, license card readers or, now, Clearview AI and the reporting that shows how vulnerable it is to abuse by law enforcement. Because there are virtually no regulations surrounding facial recognition. The legislation I proposed would place a moratorium on facial recognition technology and establish a task force to create guidelines for safe, responsible use.
Have you been following how other local governments are handling these concerns? Cities like San Francisco and Oakland have also banned law enforcement's use of facial recognition, while New Jersey barred police from using Clearview AI in particular.
I think we need to hit the pause button on it. You can go to the Apple App Store and see scores of different facial recognition apps that are available at your fingertips, and understand just how powerful this tool is and how dangerous it could be if it were used in an unfettered and unregulated way, which is the current state of play. I don't see Congress stepping into this void anytime soon. As with a lot of issues involving foot-dragging in Washington, it's up to New York to step up to protect its citizens and their privacy.
The legislation, as you mentioned, would also create a task force to recommend future uses of the technology. What might regulations look like?
Just hypothesizing, perhaps a warrant would have to be required to use this kind of technology, for example. The first step would be to understand what's being done currently. We know that (the NYPD) is storing photos of children as young as 11. As well as the fact that facial recognition is, according to studies, unreliable. It regularly misidentifies law-abiding citizens as criminals. An MIT study showed a 35% error rate when facial recognition tried to analyze (women) of color. And there's also a great area of error around gender.
Gestational surrogacy is obviously an issue that's very close to you – and yet despite accomplishing a lot of progressive reforms in the last few years, New York is one of few remaining states that has yet to legalize it. With the governor's support of legalization, do you think it's just a matter of time before it gets done, or is it an issue that will continue to divide Democrats?
Well, it certainly hasn't divided many of us in the Senate, where it passed overwhelmingly last session. I think as we continue to educate our colleagues in both houses about the common sense notion that while New York does not permit compensated surrogacy agreements, 47 states do. And in those 47 states, the standards for the health, safety and legal protections for women acting as surrogates and donors are in many cases very poor or nonexistent. Essentially, we're asking New Yorkers to go to other states where there may be very bad laws that might jeopardize our citizens, and as well as jeopardize the health and wellbeing of women who are surrogates or donors in the process.
State Sen. Liz Krueger, who voted against your gestational surrogacy bill, recently introduced her own bill that would legalize and regulate gestational surrogacy. What are your thoughts on that?
Sen. Krueger is a close friend and colleague, so I respect her desire to weigh in. But I have to say that a bill that allows a woman acting as a surrogate eight days to change her mind and claim parentage over the child is a nonstarter. I speak from personal experience, having had two children through surrogacy. I would never go into an arrangement where the woman acting as a surrogate – even though she's not genetically connected to my children – might be able to claim parental rights. You could end up in a scenario similar to Baby M, which resulted in surrogacy bans all across the country, whereby you have multiple parents of the child, up to four possibly. For me, the idea should be to resolve these legal issues, not create them. And certainly it is for many intended parents, especially those who have gone through unsuccessful fertility treatments, cruel and unnecessary to create more uncertainty in their attempts to have a child.
What are some of the protections for surrogates and donors in your bill?
Our legislation creates a surrogate's bill of rights, which are the strongest protections for the wellbeing of a woman acting as a surrogate and egg donors in the country – including mandating insurance coverage, independent legal counsel and a database that would track the health outcomes of surrogates and donors.
New York City's property tax commission has recommended changes to overhaul the city's property tax system, but it looks like it will be a while before any progress is made on that. What do those recommendations mean for your proposed pied-à-terre tax?
I think that the property tax commission recommendations are proof of concept of the pied-à-terre tax because they show a clear understanding that primary residences should be treated differently than a second and third home. Overhauling the property tax system has been as difficult as extending the Second Avenue Subway. We can make the system fairer immediately by passing a pied-à-terre tax and making sure that people who are wealthy pay their fair share, and that people who use New York City real estate as a safety deposit box pay a premium on that.
A few weeks ago, you joined activists in a demonstration about the pied-à-terre tax in front of Amazon CEO Jeff Bezos' Flatiron pied-à-terre. Between that and a facial recognition ban – Amazon has its own software, called Rekognition – do you have any concerns about making an enemy out of Bezos?
(Laughs). You know, I think that we, as a society, have to do everything we can to ensure that the very wealthy are paying their fair share. Even Mike Bloomberg agrees that the wealthy should pay their fair share. He's proposed a plan to raise $5 trillion in tax revenue from the super wealthy and big corporations, and a plan to pass a stock transfer tax – which is something that for decades has languished in Albany because of opposition by Wall Street, and now you have one of Wall Street's biggest success stories proposing the very same legislation.
What do you think about Bloomberg's candidacy?
Well, I used to say that the more New Yorkers in a contest, the better. That was before Donald Trump. But I think it's an evolving race. I haven't yet endorsed. I think like a lot of New Yorkers, I'm waiting to see the field to continue winnow down and have a healthy exchange before New York's primary date. Like a lot of Democrats, I want someone who is a progressive champion and can win in November.
Probably the most controversial topic in Albany right now is bail reform. Are you in favor of abolishing cash bail, or of giving the reforms more time to play out? 
I think we're having more time for the reforms to play out by virtue of the fact that this ongoing discussion between the Senate and the Assembly leadership. Politics is going to play a big role, clearly, in this, in part because of some really inaccurate headlines in the tabloids. That said, I think Senate Majority Leader Andrea Stewart-Cousins has done the right thing by taking advice and evidence from experts on all sides of the issue, and letting New Yorkers know that we want a system that's fair to defendants but safe to the general public. 
You also spoke out recently about the Boy Scouts of America's decision to file for bankruptcy protection after a wave of child sexual abuse allegations.
When you talk about public safety, one of the most important things Albany did last year was pass the Child Victims Act, and with the bankruptcy of the Boy Scouts of America pending, I think it's evidence that there are a lot of adult survivors who need their day in court. And that's why I'm working to extend the Child Victims Act for another year, as well as to allow adult survivors of child sexual abuse – many of those who were victimized by Harvey Weinstein and Jeffrey Epstein – the chance to file civil suits of their own, even though the statutes of limitation are passed. 
And am I correct that you were a former Eagle Scout?
Yes, I'm a former Eagle Scout – Troop 70, Lewisburg, West Virginia. What I find really outrageous is that scouting taught me about taking personal responsibility for my actions, and unfortunately, that's not a lesson that the leadership of the Boy Scouts of America have seemed to take to heart when it comes to their attempt to limit the awards that adult survivors are seeking through the Child Victims Act, by filing Chapter 11 this week.
Powered By
NEXT STORY: Who said it – Bloomberg or Trump?