Campaigns & Elections
Obama and Bloomberg's housing whiz is running for NYC mayor
A Q&A with 2021 candidate Shaun Donovan.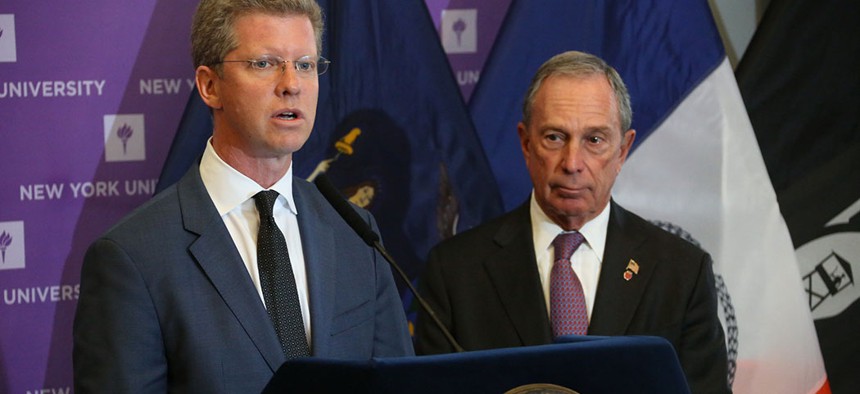 Could a close association with President Barack Obama, beloved among New York City Democrats, be enough to win the 2021 mayoral primary? Could an association with former Mayor Michael Bloomberg, whom many city Democrats continue to blame for everything, be enough to sink his bid?
Shaun Donovan will test both prospects. He served as Bloomberg's commissioner of housing preservation and development, then worked as Obama's housing secretary before being tapped to direct the White House Office of Management and Budget. Now, after years of rumored interest, the Brooklynite opened a campaign committee on Monday to start fundraising for a likely run for mayor. 
City & State talked to Donovan the day after his announcement, and he made sure to align himself more with Obama than Bloomberg – and pointedly declined to endorse either his former boss or Obama's former vice president, Joe Biden, in the Democratic primary. In the growing mayoral field, Donovan is positioning himself as a data-driven expert with years of experience in housing and homelessness. This is Donovan's first run for public office, and he's starting at a serious disadvantage in terms of name recognition, fundraising and political support. But with more than 16 months until the expected June 2021 primary, he has a lot of time to make up the difference. 
You've been an architect, the New York City HPD commissioner, U.S. HUD secretary, and White House budget director. Which of those are you going to present to voters?
Well, first and foremost, I'm a New Yorker. Born and raised here. The through line between all those jobs is I did them because of growing up in New York City. I witnessed as a child the homelessness crisis exploding, people fleeing the city, neighborhoods falling apart. That more than anything else was what drove me to start volunteering in a homeless shelter, to come back to the Bronx after studying housing, and work for a nonprofit in the Bronx that was trying to rebuild neighborhoods. I have a 30 year record in everything I've done of fighting not just for housing and better neighborhoods, but for social justice, to really help people and communities that have been too often left behind.
One piece of that record is that you were a force behind upzoning areas like Williamsburg during the Bloomberg administration, which a lot of folks blame for increasing inequality and making housing less affordable. Do you think that was the best way to solve the issues at the time?
I'm proud of the work that I did as housing commissioner in the city. I was behind the most aggressive affordable housing plan in the country and we created and preserved a huge amount of affordable housing that has benefited tens of thousands of families. But I would also say that, while I deeply respect Mike Bloomberg as a strong leader and as a great manager, there are also places that we disagreed. I left to go join the Obama administration. I deeply share the values that President Obama displayed as president and as a person, as a dad, and enormously proud of that record, too.
Are you personally supporting anybody in the presidential race?
All of my attention is focused on New York City right now. Obviously, the most important thing is that we defeat Donald Trump. I've always loved public service and feel a deep passion and commitment to serving New York and to serving the country, and it makes me deeply angry to watch this president turn public service into self-service.
You were in government for more than a decade, until 2017. Have you been politically involved since leaving the Obama administration, either nationally or locally?
One of the things that distinguishes me in this potential race is that I'm a public servant, not a politician. Since I left the administration, I've been focused on a range of ways to help make New York City and other places more equal, to fight inequality, to help families in many different ways. For example, I've been working with a range of community organizations and residents to try to fix the decline in public housing and the terrible conditions that too many families are living in. I've been working closely with a range of community organizations, neighborhood groups, local citizens to make sure every New Yorker is counted in the 2020 census. And one of the areas where I developed real expertise at HUD and OMB is how to rebuild places that have been hit by climate change and terrible storms, other natural disasters, to better protect them from climate change. And so local organizations, a range of foundations asked me to come help in Puerto Rico.
Can you just give me a brief history of yourself? You were born and raised in Manhattan, right?
My grandfather was one of 11 dirt poor Irish kids growing up on the south side of London. He worked the docks as a teenager. My dad came to the U.S. to get educated, came to New York for his first job. He had enough money to buy stationery to start a small computer company – what you would call programming today, but this was before the word ever existed. And he spent his entire career building that company here in New York City. And so one of the reasons – in many ways the primary reason – I'm so passionate about New York City, why I feel that deep gratitude and responsibility to the city, is my dad came here and lived the American dream. And everything that this city gave him, that it gave me, in terms of opportunity, is why I throughout my career have wanted to give back to this city. And frankly to help families who didn't have the same opportunities that I did.
You're in Brooklyn now. What neighborhood?
So, I have lived in Boerum Hill since about 1995. It's the very first place my wife and I moved. It's where I raised my kids. And, but for going to work for President Obama, where I would have been every year since 1995.
I think that's a decent excuse for leaving New York. I think most people are gonna be OK with that.
I thought so. My mother-in-law wasn't so sure when I took her grandkids for a few years, but now she's got 'em back, so it's OK. (Laughs.)
You were chairman of the president's Hurricane Sandy Rebuilding Task Force. What do you think is the best way to protect New York from future storms? And do you support the seawall proposal?
There is no silver bullet. Unfortunately, I've seen disasters and had to respond to them – tornadoes, floods – not only all over the country, but all over the world, and developed deep expertise in the ways that we can better protect communities from climate change and extreme weather. There is no single answer. It is deep and sustained work with local communities. And one of the most important things is that if you just focus on the once-in-a-lifetime storm, the one-in-a-hundred-year storm, you're missing an opportunity to improve neighborhoods every other day of those hundred years when that storm doesn't hit. 
The other important lesson I learned is that those who are most vulnerable from storms and climate change are those who are most vulnerable in everyday life. So our first priority as we're thinking about protecting cities and communities has to be for low-income folks, for seniors, for a whole range of other groups that are vulnerable every day of the year, not just when bad weather comes.
I was reading The Real Deal's coverage of your campaign announcement, and it seemed like the real estate industry can barely contain its glee. Are you going to be positioning yourself as more friendly to the to the real estate industry than the current crop of mayoral candidates?
Let me go back to my history and my record. I started working at the National Coalition for the Homeless. I worked at a nonprofit organization in the Bronx, rebuilding neighborhoods that had been devastated by the crisis I watched as a kid growing up in New York City. And I spent my entire life making sure that housing wasn't just a private market good, which was making somebody as much money as possible. 
Good housing is something that determines all the opportunity in a person's life. It not only determines whether your child has a safe place to sleep at night and to get their homework done – where you live determines where your kids go to school, your opportunity for jobs, your public safety, your health care. And so I am considering this run for mayor because I am deeply committed to making sure that housing is first and foremost something that allows New Yorkers to be in New York, to stay in their neighborhoods and to afford this city. And that's what my entire career has been about.
Mayoral candidates Corey Johnson and Scott Stringer are both declining contributions from real estate, and Johnson is also declining money from lobbyists. Are you planning to decline any type of donation? 
I filed only yesterday. I have not gotten into the tactics. I don't want to get into the tactics of the race here. So I'd be happy to talk about that at a later point when it makes sense.
I found in an old biography that you were on the bridge team at Dalton. Are there any other politicians who you think could beat you at bridge?
It's been a long long time (laughs). I'm not sure I'd even remember how to play a hand at this point. But look, I was budget director. I'm definitely a numbers guy. I oversaw a $4 trillion budget for the United States of America. And I am somebody who's deeply committed to evidence-based management in government and making government work by managing by the facts. 
When I was at HUD, one of the reasons that we were able to cut homelessness dramatically across the country is I started something called HUDStat, which was modeled on the original CompStat from New York City. But I also saw that at the end of the day, I could only give those tools (to municipalities). Local government is where the rubber meets the road. It's where the actual decisions are made that decide whether a place makes progress on issues like homelessness or not. And it's one of the things that has made me look seriously at running for mayor in New York City.
Powered By
NEXT STORY: This week's biggest Winners & Losers