Campaigns & Elections
Tahanie Aboushi wants to transform the Manhattan DA's office
The Manhattan district attorney candidate spoke to City & State about her experience with the justice system, her progressive platform and the incumbent, Cy Vance.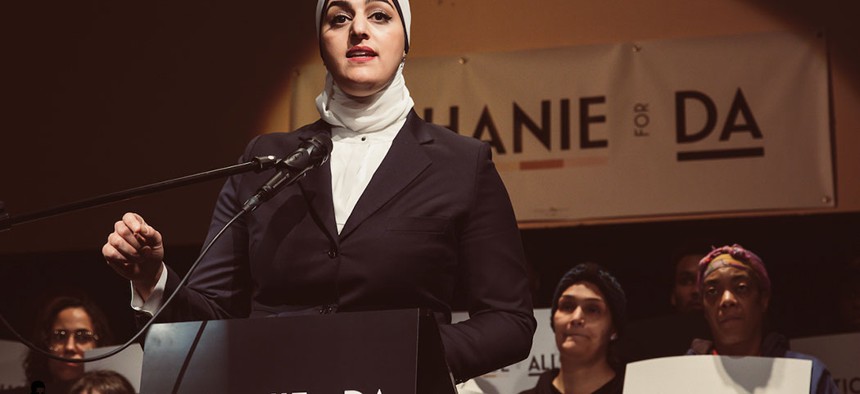 Family means everything to 34-year-old civil rights attorney Tahanie Aboushi. 
Be it her nine siblings, her many nieces and nephews, her Palestinian-American parents, who immigrated to New York City from East Jerusalem before she was born – or the many New Yorkers who have had brushes with the justice system. And that's why she says she's running to become Manhattan's next district attorney.
When she was just 13 years old, Aboushi's mother and father were both arrested on charges related to untaxed cigarettes. While her mother was acquitted of all charges, her father was sentenced to 20 years in prison for "conspiracy to commit robbery, conspiracy to possess stolen property, theft from interstate shipment and transportation of a stolen vehicle," according to The New York Times. He was just released from prison two years ago.
In the middle of her parents' case proceedings, the presiding judge asked the prosecutor what would be done with her and her siblings, Aboushi told City & State in a recent interview. The prosecutor responded by saying that that wasn't her priority. 
"For us, we were like, oh, so we're really up in the air," she recalled. "Our family's been completely torn apart. We're absolutely destabilized. No foundation, no structure, no guidance. And there was no one that was going to help. There was no way to do anything about it."
Aboushi's mother raised her and her siblings while their father served his lengthy sentence, though they frequently spoke to him on the phone and visited him in prison. Both of her parents encouraged her and her siblings to press on, get an education and to do right by their community. 
Today, Aboushi works at the full service law firm that she founded in 2010 – a year after getting her law degree from Syracuse University – where she specializes in criminal and civil rights law. Aboushi's sister, brother and her brother's wife also work alongside her at the firm. 
In January, Aboushi won a case defending FDNY firefighters who were required to be clean shaven but had difficulty complying with the regulation due to their quick-growing facial hair and susceptibility to razor burn. In 2018, she defended three Muslim women who were forced to remove their hijabs to take mug shots who were awarded a $180,000 settlement from the city. And in 2017, Aboushi went to the John F. Kennedy Airport shortly after news of President Donald Trump's Muslim travel ban broke. She headed up a legal team – that ended up sleeping in the airport for three days straight – filing habeas petitions in federal court to pull people out of detention. 
Now the attorney is hoping to seize the Manhattan DA's office from Cyrus Vance Jr. on a progressive, decarceration platform – similar to a few of the other candidates in the race, such as Assemblyman Dan Quart, New York Law professor Alvin Bragg and civil rights attorney Janos Marton – that is aimed at preventing crime, eliminating pre-trial punishment and decriminalizing "crimes of poverty, mental illness, sex work, and substance use disorder," according to her website. 
Aboushi wants to create a council of academics, social workers, psychologists, law enforcement, prosecutors and defense attorneys to determine alternatives to prosecution. She also hopes to invest some of the office's federal asset forfeiture fund into community-based organizations that are already working to help those combating substance abuse and homelessness, which can lead to crime. In April 2019, Vance made headlines when it was reported that he spent $249,716 of the forfeiture fund on meals and work trips over the course of five years. The DA, however, said that the remaining $620 million left in the fund would continue to finance the office's "Criminal Justice Investment Initiative". Vance also invested $38 million of the fund in the office's Sexual Assault Kit Backlog Elimination Program.
"We need to reduce the influence of this office on our everyday lives because there are long lasting, irreversible and damaging effects that make situations worse," Aboushi said. "My goal is trying to look at issues from many different sides and involve many different practices to get to the root of the issue."
Aboushi, who joined protesters calling on Vance to resign from office in January, takes issue with the way the office has been run under his supervision. She argues that Vance's office excessively prosecutes people of color, coerces pleas and withholds evidence. "Nobody's concerned with justice," Aboushi said. "And what I want to do differently is I want to minimize the footprint (the Manhattan DA's office has) on people's lives and hold this office accountable by being collaborative and transparent, which we've never had before. And I really want to change what our idea of a prosecutor's office is and how it operates."
Danny Frost, Vance's Director of Communications, told City & State in an email that these issues have "been part of the DA's core mission since taking office," citing the office's efforts to reduce its criminal justice footprint, its establishment of the first Conviction Integrity Program and opening the first Alternatives to Incarceration Court.
Among her biggest criticisms of Vance has been his handling of sexual assault cases, such as Jeffrey Epstein's in 2011 and more recently that of Robert Hadden, a gynecologist at Columbia University. Nineteen women – including Andrew Yang's wife, Evelyn Yang – alleged that Hadden had sexually abused them. Vance's office offered Hadden a plea deal rather than time in prison. The office also went against a state panel's recommendation by giving the doctor the lowest sex offender status. The handling of Hadden's case contributed to the perception that Vance tends to go easy on prominent and wealthy men. Vance's office recently opened an investigation into new allegations against Hadden. 
"It takes a real heightened level of indifference and depravity to let things like that (sexual abuse allegations) go," Aboushi said, referring to the plea deal Vance offered to Hadden. "And it was the same thing with Jeffrey Epstein. He trafficked children, the most vulnerable amongst us, and it was still up for debate whether this was really wrong or right."
Aboushi's fledgling campaign has yet to get as much attention as some of her competitors. When asked if she thought voters would be receptive to such comprehensive changes, Aboushi simply replied, "I think the people are ready for it."
Correction: An earlier version of this post stated that the Criminal Justice Investment Initiative would be created with the remaining federal asset forfeiture fund in 2019 and that $38 million was spent on local prosecutors across the country. It also stated that the DA's office went against a state panel's recommendations by offering Hadden a plea deal.
Powered By
NEXT STORY: This week's biggest Winners & Losers