Bill de Blasio
Why stop with Billy Idol? We want more, more, more
More public service announcements from '80s icons.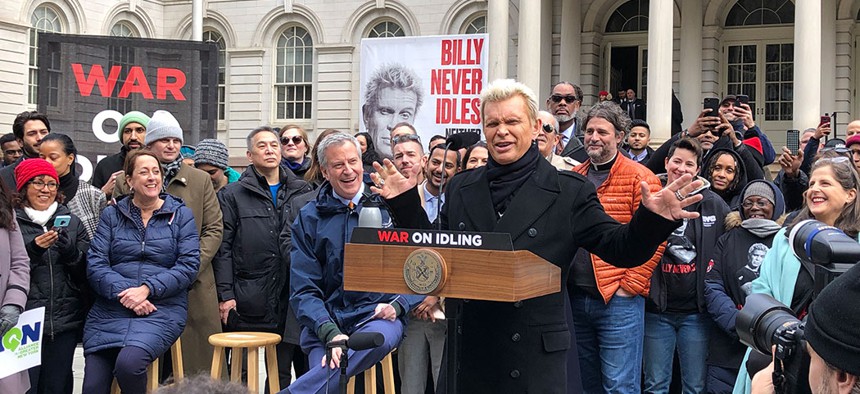 New York City Mayor Bill de Blasio took a quick break from looking over the mony mony in the city budget and, with a rebel yell, held one of the most theatrical press conferences of his six-year tenure, inviting '80s rock star Billy Idol to a press conference announcing a war on idling – like, cars. The tag line: "Billy Never Idles – Neither Should You." 
Why dance with yourself when you can team up with a celebrity? Since City & State subscribes to the theory of more, more, more – we're suggesting some other civic-minded campaigns for the stars of the Reagan years.
Axl Rose from his seat for an elderly person. You should too.
Van Halen a cab? Stay on the sidewalk.
Cher your time. Volunteer with NYC Service.
Vanilla doesn't cooperate with ICE. Neither does New York City.
Don't Run-DMC red lights. Sucker!
Tom never Cruises above the speed limit. Neither should you.
Jane is Fonda New York. Visit the five boroughs! 
Billy Joel didn't start the track fire. Be like Billy.
Brooke Shields her phone. Avoid subway theft.
Winona doesn't Ryder bike on the sidewalk. Neither should you.
Diane never blocks bike Lanes. Be respectful of city cyclists.
Glenn doesn't get too Close. A crowded train is no excuse for inappropriate touching.
E.T. phones home – but not on the bus. Respect your fellow commuters.
David doesn't Byrne. Wear sunscreen at the beach.
Farrah turns off her Fawcett while brushing her teeth. Save water.
Iggy doesn't play Pop after 10 p.m. Neither should you. 
Meatloaf will do anything for love. But he won't ride between subway cars.
Madonna wears a face mask when she's sick. Ma, don a face mask too.
Mariah Careys her dog in a bag when taking the subway. You should too. 
Tom Waits for riders to exit the bus before boarding. You should too.
Don't Pat Bene-tarnish New York's image. Throw your trash where it belongs.
Make doves cry, like Prince. Please don't feed the birds.
Powered By
NEXT STORY: Dermot Shea: Bill de Blasio's Republican