Coronavirus
How to protect mental health during the coronavirus outbreak
Therapy via teleconference and a new suicide hotline are among the proposals at the state level.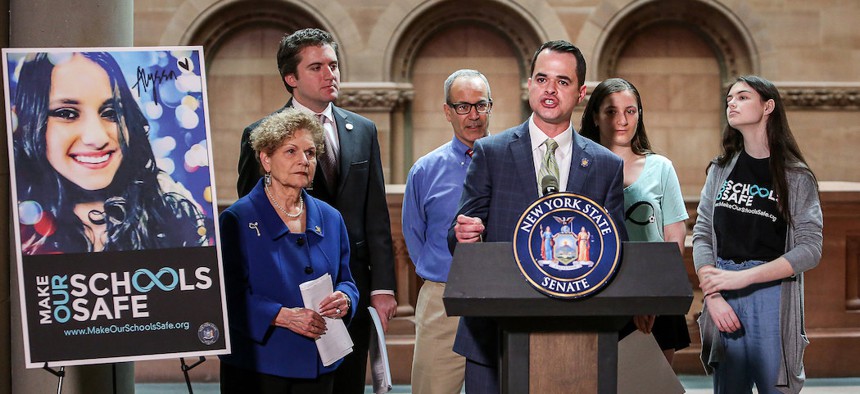 With New Yorkers now spending much of their time indoors to avoid getting infected by the coronavirus, state leaders are giving more attention to mental health. 
Gov. Andrew Cuomo has called for mental health professionals to come forward as part of a prospective state program to provide counseling to state residents who are struggling with depression, anxiety and other issues stemming from the pandemic. State Sen. David Carlucci of Rockland County, who chairs the state Senate Committee on Mental Health and Developmental Disabilities, also has some ideas on how the state could do more to safeguard the mental health of its residents in the weeks and months ahead.
City & State spoke with Carlucci on Saturday to hear the latest on mental health, the state budget and what needs to be done to get the state through the ongoing crisis. The interview has been edited for length and clarity.
What do you think of the governor's idea to mobilize mental health professions for a state program that would provide counseling via teleconference?
Obviously, we need the commissioner of the state Office of Mental Health to play an integral role. We need the associations of all the medical professionals to really play the lead here and say what will work and what won't work. This is being built on the go, but we have technology in place. We have the workforce that can really step up and fill this need.
Are there other things that could be put in place in quicky?
One of the things that I've been working on for some time is just to get 988 up and running. People would just dial 988 and they would know it would go to a professional that can help them when they're in crisis. That's for the suicide hotline. That's something where I believe we could flip the switch today.
So what is the switch that needs to be flipped?
The FCC and Congress have done a report to show "OK, what would make sense for a three-digit hotline to address the suicide crisis that we've been experiencing over the past couple of years. However, the FCC has been dragging its feet and saying it could take up to two years to implement 988. What I think in New York state is we're ready to go. And we should just flip the switch today, meaning just like you set up a Google Voice, right, you pick the phone number and the number is still linked to your main number, similar to a domain name. For 988 to be used, what needs to happen now is the phone carriers should just allow automatically say: "Hey, you dial 988 today, it'll go to the suicide hotline." It's as simple as the Public Service Commission saying: "Hey, we could flip the switch today and allow people to call 988 to get that hotline." We would obviously have to market it and promote it, but why not just allow that to happen today? The technology is there, the infrastructure is there, we should just do it. 
Anything else that needs to be done through the state budget process to shore up things on the mental health side?
We have so many safety nets, and I'm hopeful that we're able to keep them in place. We have funding for crisis intervention teams. We have funding for the Joseph P. Dwyer Veteran Peer Support Project. That's the peer-to-peer PTSD program for veterans. Those are some of the basics that need to get done. And I'm hopeful that we're able to do that. We are looking to expand so many other services. I think with the governor's leadership that we could put some funding towards building out a system that won't cost that much money but would still be a big, big help in providing mental health services to people that need it. 
What I'm talking about there is just building out the infrastructure in terms of telehealth, telemedicine, making sure that we have not only the infrastructure but also some professionals on the other side of the line, whether it's via text message, email, Facebook Live or Skype.
Browse the best online HTML tools: editor, tags, cheat sheet, character codes, tag generators, website templates and more.