Personality
Savino isn't giving up on weed
The ex-IDC member on the most controversial issues in health care.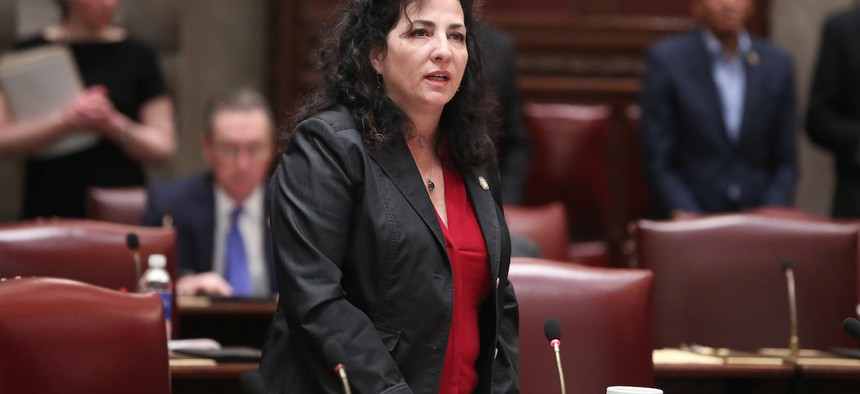 State Sen. Diane Savino has never been shy of controversy. She was a founding member of the Independent Democratic Conference, which broke away from the mainline state Senate Democrats to partner with Republicans, and has also championed controversial legislation. She was the lead sponsor of the bill creating a medical marijauna program in New York, and now she's leading the push to legalize physician-assisted suicide through the Medical Aid in Dying Act. She talked to City & State about pushing the sensitive issue, fixing the medical pot program and why she wants to legalize cannabis for animals. This interview has been edited for length and clarity. 
You've been pushing the Medical Aid in Dying Act for at least four years. Is this finally the year that it passes?
There's definitely more interest in it. Compassion & Choices, who are doing the advocacy work, they're doing a really good job addressing some of the concerns that members have. But this is a very complicated issue because it's very sensitive. Nobody likes to talk about death. Period. They don't like to admit that it's going to happen to anyone. 
Right now it's not a budget issue. Everyone is like, "Oh, come back and talk to me later." But I have seen a difference in the way some of the members are looking at it. One, they're not running away from me anymore! That's always good. But I couldn't tell you whether I think it happens this year. I hope so. I still think there's a lot of people who are lined up against it.
For people of faith it can be a very complicated issue. There's not a single religion supporting this. There's disability rights advocates who always oppose it, you know the "I'm not dead yet" group, who are convinced that if we do this, their family's going to force them to do it, in spite of all the evidence to the contrary. In the 10 states that have (physician-assisted suicide), it's never happened. Doesn't matter, it just makes people concerned. (There are) the hospice and pain management professionals, who seem to think we are competing with them, that we would be suggesting to people that you don't need to go into hospice, "Here you go, here's your prescription and enjoy." Which, of course, is absurd. There's a bunch of competing ideologies around this issue, which makes it even harder. But I think we're making progress. 
You've been a longtime supporter of the Safe Staffing for Quality Care Act, to set higher nurse-to-patient ratios, but the nurses union reached an agreement with several major hospital systems last year. Is that an issue that needs to be addressed in 2020?
You're always better off having issues in statute than in an agreement, because you know, union leaders change, elected officials change. So, if it's really that important, you want to make sure that it survives any administration or any change in union leadership. The issue with safe staffing is more complicated in a year where we're looking at a tremendous Medicaid deficit. The hospitals will argue, again, this costs them money. I told them a million times: "Tell us how much. What will this cost you?"If the hospitals think that this is actually going to happen, they'll come forward and tell us how much. Now, maybe you don't need every unit to be treated the same way. I don't know, that's something they'll have to figure out. There's another argument to be made that this is an issue that should be dealt with in the nurses union's contracts. But then you'll wind up with nurses in hospitals where they're represented having better working conditions than nurses in non-unionized hospitals – which of course would be a reason to unionize, but it doesn't really solve the problem. If patients are entitled to a particular nurse staffing ratio because it'd be good for overall patient care, then why would you want to have two different standards in New York state?
You were also the lead sponsor on legalizing medical marijuana. Are you interested in expanding or improving that program this year?
Yes! Absolutely. I'm not trying to disrupt the negotiations around adult use, but I'm not going to sit back and wait till the last minute because patients in this state are waiting too long, paying too much, and it's unfair to them to get caught up in a political debate about whether or not we should do adult use marijuana. We can walk and chew gum at the same time. We have an existing program that isn't meeting the needs of patients because it is too narrow, too small and too expensive. We have to fix that. 
You also have a bill to legalize medical marijuana for animals. Are the current veterinary medicines not enough?
It's like people! If you have an animal and they require pain medication, they give them the same medication they give you! It's just smaller doses. So, if it works for you, then why wouldn't it work for pets? Other states have done it. If my cat requires oxycontin because he's got cancer, there's not special oxycontin for cats. It's the same stuff they give you or me. 
Staten Island is getting its first cannabis dispensary. You've said that people have turned to the black market if they're too far from a dispensary. Do you see that as playing any role in the opioid crisis?
Yes, absolutely. In the past five years we've seen an incredibly sophisticated underground illicit market where they deliver stuff to your house that looks remarkably like medical products. That's what our competition is on the medical side, if we don't handle the adult use. If you overtax it, because you want to try and find ways to satisfy everyone's demand, all that will do is create an untenable legal market in New York state. That's what happened in California. It makes no sense. You want to strike the right balance. You want to make sure it's available so that people can access it. You want to make sure that it's not overly taxed or incredibly expensive to produce. That means flower product is the cheapest way to go. Because if not, we're just going to be losing all of our money, it's going to bleed back into the black market. And nobody feels bad, nobody sneaks into a back alley to buy marijuana anymore. You sit at home, you open a weed app, somebody brings it to your house.