Chirlane McCray
Two peas in a pod
Chirlane McCray and Hillary Clinton: First ladies who have more in common than you might think.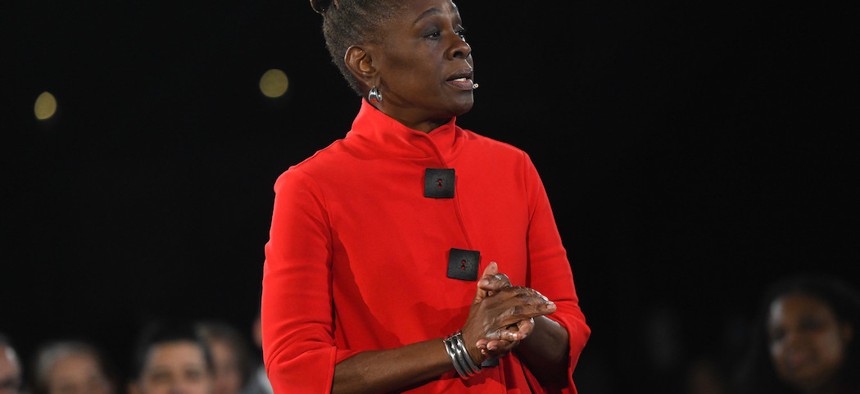 New York City first lady Chirlane McCray and former U.S. first lady Hillary Clinton have a surprising number of things in common. And as McCray's political ambitions become more evident, their similarities become increasingly apparent.
McCray is known to draw inspiration from Clinton, whom she has said on various occasions she admires. Like Clinton, McCray has had a profound influence on her husband's political career, spearheaded a public health initiative and even launched her own podcast – but that's not all.
Here are a few more things that McCray and Clinton have in common.
They're both first ladies who have run for office – sort of
While McCray hasn't officially announced her bid for Brooklyn borough president, several outlets have reported that she's eyeing the position, and even de Blasio has mentioned that she has a "serious interest" in running.
While McCray worked in city politics before she began dating de Blasio, her political ambitions have often drawn comparisons to Clinton's, who ran for office after her husband's presidency ended. In 2000, Clinton ran for U.S. Senate in New York and ended up winning. Now that de Blasio is reaching the term limit of his office, McCray could follow a similar trajectory.
They've both launched heavily scrutinized public health initiatives
In 1993, Clinton attempted to spearhead the creation of universal health insurance known as "Hillarycare." However, Clinton was unable to get lawmakers on board with her expansive plan, which ultimately went nowhere.
While ThriveNYC, the $850 million mental health initiative that McCray began in 2015, has been widely criticized for lacking transparency and failing to produce meaningful progress reports. In February, the New York Post reported that ThriveNYC has plans for a major overhaul of the organization by slashing its budget and cutting ineffective programs.
They've both worked closely with their spouses
Even before her husband Bill Clinton was elected president, Hillary Clinton was known to have a profound impact on nearly every move he made, from what election cycle he ran for president to having a say over his campaign song. And she didn't slow down once she got into the White House, where she continued to advise her husband. She also led her own small team and became the only first lady to have her own office in the West Wing.
Much like Clinton, McCray has had a significant amount of influence on her husband's day-to-day dealings – de Blasio has even referred to McCray as "my closest confidante" and "No. 1 adviser." Even when de Blasio was running for mayor in 2013, McCray remarked that they work together as partners on everything. In 2017, it was reported that McCray is typically in the room for all of the mayor's most important meetings and helps make big decisions. And in 2018, McCray was clocking 80-hour workweeks at City Hall despite not being on the payroll, due to nepotism prevention policies.
"We do everything as a couple – we think as a couple," the mayor said in 2014. "We act (as a couple) in terms of everything we try to do for this world."
They're both podcasters
"Thrive with Chirlane McCray," the first lady's city-funded monthly mental health podcast, launched on Feb. 6. McCray's introductory episode featured her son Dante de Blasio, and the pair discussed racist bullying and its effects on mental health.
Clinton also has a podcast in the works that will feature a variety of high-profile guests from world leaders to celebrities, which is expected to launch in late spring.
They're both carpetbaggers
The New York City first lady grew up in Springfield, Massachusetts, and moved to New York in 1977 after graduating from college. Clinton, however, moved to Chappaqua in 2000 for the sole purpose of running for U.S. Senate, making her a true blue carpetbagger.
They're both Wellesley College alumnae
Clinton attended the women's only Wellesley College from 1966 to 1969, where she was head of the Young Republicans Club, president of the College Government Association and selected to be the school's first student commencement speaker.
McCray graduated from Wellesley in 1976 and has remarked that she was greatly influenced by her college professors. "There were so many classes I enjoyed at Wellesley, even classes I initially didn't think I would like," McCray told the college in 2013. "I loved social psychology, French, art of West Africa, etc., but I was influenced most by my professor Helen Stewart and her class 'Black Women in American Society.'"
They're both married to a Bill
McCray is married to Bill de Blasio, formerly Warren Wilhelm Jr., and Hillary Clinton is married to Bill Clinton. Amazing.