Jessica Ramos
How does state Sen. Jessica Ramos want to help essential workers?
The Queens lawmaker has proposed a worker bailout fund that would be funded by taxing billionaires.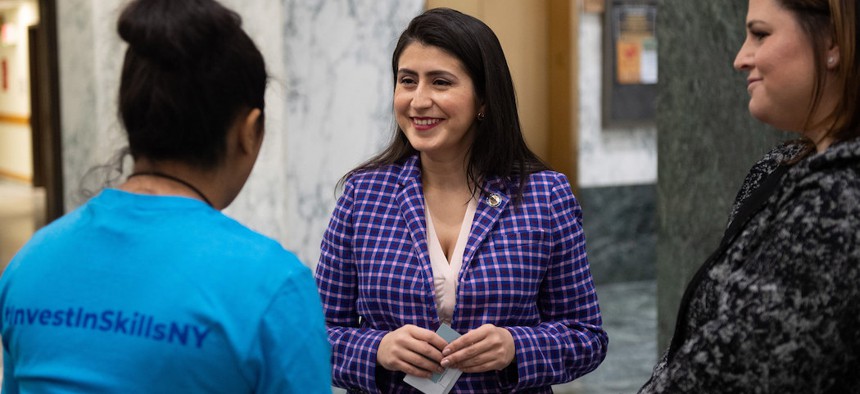 The coronavirus pandemic has caused a lot of hardship across New York state. It's also presenting society with an opportunity to rethink how we value certain types of work.
Doctors, nurses and other health care workers have received daily cheers for the work they do to save lives. There are also many other people doing all sorts of work outside the home, endangering themselves in the process. This includes selling groceries, delivering food and making sure online orders get filled. Much of this is low-paid work with minimal benefits. But that could change in the months ahead according to state Senate Labor Committee Chairwoman Jessica Ramos, if and when state lawmakers get back to legislating. With the economic toll continuing to mount during the pandemic, there remains much that the state can do to help "essential workers" get through it.
The Queens lawmaker is looking to expand the definition of "essential worker" to include delivery workers and child care providers, establish a "bailout" fund for workers (including undocumented immigrants) by taxing capital gains – and require employers to notify employees if a worker tests positive for the coronavirus.
City & State spoke with Ramos on Monday evening to hear the latest on the labor front in the war against the coronavirus. This interview has been edited for length and clarity.
How has the pandemic affected how society values much of the work that is now deemed "essential" – and the people that do it?
There are workers who would have never thought to be essential workers before, but have been essential workers during the pandemic, for example, our food delivery workers. The way we have treated the people who are firmly the backbone of so many businesses is truly ungrateful. And I want to utilize this time to correct those wrongs and ensure that they have the opportunity to thrive just like anybody else.
What does this mean from a legislative point of view?
Assemblywoman Carmen De La Rosa and I announced a worker bailout fund, which would be created through legislation. The purpose would be to impose a tax on the capital gains of billionaires' assets, and we estimate that would generate around $5.5 billion in its first year and would allow us to provide $3,300 per worker who does not qualify for unemployment insurance or Pandemic Unemployment Assistance (a program included in a recent federal stimulus bill) or any other wage assistance program. And, yes, that does include undocumented workers and should not discriminate against what the person does for a living.
Now that e-bikes are legal, how would you like to see New York City regulate them?
We allowed municipalities to determine the parameters under which people would utilize e-bikes and e-scooters. It was impossible from the state's perspective to legislate with a one-size-fits-all approach. So I think you're trusting the New York City Council to do their job to work with the mayor and be able to keep protecting these delivery workersand also to update our public infrastructure, hopefully working with the Department of Transportation to provide for a street design or redesign where applicable in order to keep all street users safe.
Is there a specific place that illustrates the changes you are talking about – whether in the short or long term?
That's a softball. I have been asking the city to invert a bike lane and a parking lane so that we have a protected bike lane along 34th Avenue here in Jackson Heights, (Queens). On the other extreme of my district, the DOT has shut down Shore Boulevard in Astoria to vehicular traffic. It's so beautiful how New Yorkers are utilizing that space and respecting social distancing. It's really a wonder to see what it actually means when public policy like that reflects the needs of people and not cars – because streets are for people.
What about worker protections at the time of pandemic? Some construction, for example, is still allowed. What do you think?
Isn't it a wonder the power of real estate in this town? There's virtually no other reason why these workers shouldn't be able to stay home, not have to worry about their income. 
We saw that at the Amazon warehouse in my district where the workers had to find out from other departments that somebody had gotten sick and possibly contaminated an area. We want to make sure employers notify workers in writing in their native language when somebody has fallen ill.
All of that depends on the state Legislature meeting again this year. Are you confident that will happen?
I really hope so. Look, there's an urgency, since we passed that resolution before the budget allowing us to vote remotely. I'm ready to spring into action right now.