Andrew Cuomo
The glorification of Andrew Cuomo
The COVID-19 crisis has resulted in sometimes over-the-top praise of the governor.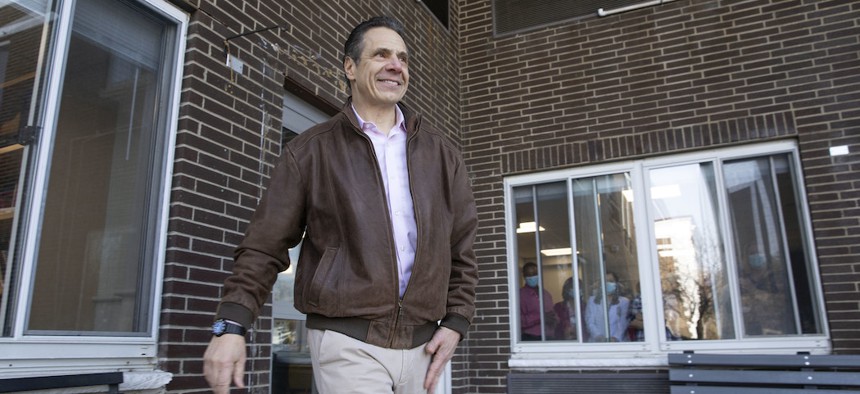 Gov. Andrew Cuomo is undoubtedly having a moment.
The governor has quickly become a widely trusted voice of reason amid the COVID-19 outbreak – especially compared to President Donald Trump, who continues to disregard the advice of public health experts. 
Even so, the flood of fawning coverage of Cuomo has become so over the top that we fear the governor's head may soon get so swollen it explodes. Here are just a few examples of the governor's glorification in the press:
Randy Rainbow's "Andy!" music video
On April 6, comedian and YouTube performer Randy Rainbows released his new music video about his newfound love for the governor, parodying "Grease's" hit song "Sandy." All of that would have been forgivable had Rainbows not introduced the world to the term "Cuomosexual."
The Spirit's "'America's Governor' Steps Up"
The Spirit, a local New York City newspaper with a focus on Manhattan's Upper West Side, called Cuomo "America's Governor" in a glowing review of his leadership that was published on March 23. The article commends Cuomo's pragmatic leadership and argues that his actions "will help improve and even save people's lives."
"He has prompted the whole nation – especially his New York constituents – watching via cable news coverage of his press briefings, to applaud his can-do spirit and resoluteness," the paper declares.
New York Post's "New York women are coronavirus crushing on Andrew Cuomo: 'Is he single?'"
The New York Post, aware of Cuomo's growing sex appeal, spoke to several New York women about how the governor has captured their attention. Most of the women interviewed said that the governor's concerns about his family and his ability to soothe their anxiety are what has attracted them to Cuomo. Plus, he looks good in a suit. "He's decisive, calming, gets things done — and he's drop-dead gorgeous," WFAN sportscaster Suzyn Waldman told the Post. "Everybody always looks for someone who will say, 'It's going to be OK.' "
Rolling Stone's May cover, "Andrew Takes Charge"
The Q&A between Cuomo and journalist Mark Binelli reveals little about the governor but does reflect what Binelli praises him for most: his ability to communicate and distribute vital data. Binelli's questions for the governor were also relatively easy and revolved around the current coronavirus crisis, what he learned from his father, the former governor of New York.The article also mentioned complaints about his gubernatorial record, mainly that he's known to be a bit of a bully and micromanager without acknowledging some of his biggest gaffes as governor. 
"The debasement of standards in the Trump era has made even minimal gestures of statesmanship appear positively Churchillian, of course, and so the mere fact that Cuomo relies on data and scientific opinion and has the ability to display human empathy can feel disproportionately soothing," Binelli writes.
Jezebel's "Help, I Think I'm In Love With Andrew Cuomo???"
Rebecca Fishbein wrote a post for the feminist blog Jezebel detailing her newfound pseudo-attraction to the governor – the result of watching his daily press briefs and living alone. 
"He loves me. He is the only one who is here for me. He will help me get through this," Fishbein writes. "And when I finally do, I will need an endless amount of anti-brainwash therapy so I can rightfully yell at him for using prison labor to make hand sanitizer."
While Fishbein stated that she is not actually a fan of Cuomo's, it's very possible that she may have escalated romantic interest in Cuomo across the country – something she has expressed remorse over. 
In an unusual turn of events, Cuomo, according to another Fishbein blog post, called her up soon after her first piece was published. The conversation between the two was friendly and devoid of flirtation – Fishbein says, we can't judge for ourselves because she didn't actually quote much from it.
Ben Smith's "Andrew Cuomo Is the Control Freak We Need Right Now" column in The New York Times.
At the beginning of the state's COVID-19 outbreak, the piece that arguably started Cuomomania was Times media columnist Ben Smith's glowing review of the governor's management skills throughout the crisis thus far. Cuomo's micromanaging tendencies and proclivity for bullying have often been criticized, but Smith argued that these are the qualities that have allowed him to be the kind of leader required to navigate this disaster. "The governor's great strength has always been his capacity to bend the bureaucracy to his will, and he has done that in recent days: pushing to get tests running in state labs, nudging the mayor to shut schools, coordinating a tristate shutdown of most commerce." Smith writes.
However, Smith provided some balance when he wrote another story for the Times, questioning why the American public is so trusting of Cuomo and his brother CNN anchor Chris Cuomo.