Grace Meng
The latest on COVID-19 in Queens
Rep. Grace Meng says her constituents continue to face many challenges, even as the hospitalization rate declines.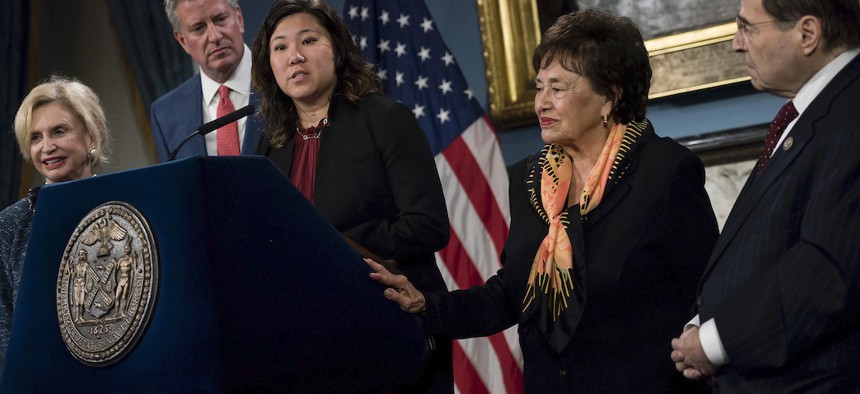 Even as New York is beginning to see some positive effects of social distancing as the rate of hospitalizations begins to stabilize, both New York City and the state still have a long road ahead to address the ongoing coronavirus pandemic. And the borough of Queens continues to be the epicenter not just in New York, but the entire country. Hospitals there are still struggling with a lack of personal protective equipment and an overwhelming number of cases.
Rep. Grace Meng represents a district in Queens that includes some of the hardest-hit communities, which are largely working class, diverse and crowded. One of the public hospitals in her district – Elmhurst Hospital Center – has been described as "the epicenter within the epicenter" by New York City Mayor Bill de Blasio. City & State caught up with Meng about what's happening in Queens right now, her efforts to obtain supplies from the federal government and her take on the squabble over closing New York City schools. This interview has been edited for length and clarity.
What do you think of New York City Mayor Bill de Blasio's newly announced ad campaign that aims to inform hard-hit minority communities about the coronavirus?
I'm really glad to hear that. We've actually been pushing folks at the federal level, like the (Centers for Disease Control and Prevention) and the Trump administration, to get more information out in different languages. For example, when the CDC first had information, they only had English. And so they're slowly ramping that up, and I'm glad. On any given day, during normal times, it's harder to get information out to diverse communities. And so we've been spending a big chunk of our days trying to make sure different organizations in our district have accurate information. So I'm really glad to hear that the city is doing that. 
What have you been hearing from hospitals and constituents about how everyone's doing in Queens, which continues to be one of the hardest-hit areas in the country?
Honestly, it's really heartbreaking. That's not just information that you and I are getting as New Yorkers. Statistics about Queens are on CNN, they're on national news networks every single day. We have been in touch with hospitals since day one. But as the surge was rising, and rising very quickly, I think around week two and week three, we were hearing from a lot of everyday workers – nurses and doctors who worked inside hospitals, nursing homes, transit workers – who were telling us that they didn't have enough (personal protective equipment) and that they were terrified. I think that they are in a slightly better place today, but it's been terrifying for families in Queens sending their loved ones to work every day with no protection.
I know that Rep. Lee Zeldin appealed to the White House and got much-needed personal protective equipment quickly to Suffolk County. Have you had any sort of similar success for Queens?
I wrote a letter to FEMA, to President Trump. I want to know where the PPE is. And I want to know where they're going around the country because I have heard stories like the ones you just mentioned. And for me, I'm still waiting to get my response from President Trump and from FEMA. I want to know where the PPE is going and what sort of criteria and protocols they're using in assessing where the PPE goes. I literally spend most of my day, at least the first two weeks, trying to and then delivering PPE to local constituents. Especially in diverse immigrant communities, they're unable to access a lot of these products. So I have families who don't even have a thermometer for example. So there are families I believe that are going to the ER, for example, for no reason. So yes, I would love to know how FEMA was distributing the PPE.
From what you're seeing and hearing, is there cause for some cautious optimism, as both the mayor and governor have suggested?
I see, as everyone else sees, the numbers are sort of plateauing, even though there are still a high number of deaths. So I do think that we take every day one step at a time. But I will say that I am still concerned. I'm not so much concerned today about what we are hearing. I'm more concerned about what we are not hearing and the information that we're not getting. So yes, we see the numbers at the hospitals, but what about the people who are afraid to go to the hospitals? What about someone who might be infected and is living in an overcrowded situation, or is living as many American families do in multigenerational families where someone in their family is going to work and is an essential worker and may be infected? We don't know if they are getting the help they need.
In line with the stories we don't hear about, what are some of the challenges facing undocumented immigrants at this time? I know you've sponsored legislation that would give those without legal status access to federal relief money.
I think that it is really unfair how we are treating the immigrant community right now. Regardless of how one feels about immigration policies, we are sending front-line workers, many of whom come from diverse communities – (the) majority actually – many of whom might come from mixed-status families who are also unable to get the federal benefits that were just passed. So we are expecting the majority of our immigrant communities to be on the front lines saving all of our lives. At the same time, when Congress passes landmark legislation to help people, we, Congress, literally excludes them from being able to receive any help. And I think that the numbers in New York City I believe are around 200,000, I'm told. 
We've also seen a spike in anti-Asian racism and hate crimes since the crisis began. Is there enough being done to address that problem?
I think that my biggest fear is that this sickness of discrimination and racism will outlast the actual coronavirus itself. This type of bullying, especially for young people, could affect a generation of Asian Americans. I know people, particularly senior citizens, who will not go to the grocery store because they are terrified of someone saying something to them or someone doing something to them because they've likely heard about it from someone they know. So yes, more education is needed. But that comes from the top. That's why it's important for leadership from the White House on down to understand how impactful leaders' words can be. And I'm glad to see that President Trump has, I believe, has stopped utilizing it. But a lot of the damage had already been done.
You're referring to his use of the term "Chinese virus"?
Yes.
As the next stimulus package gets worked out in Congress, what do you want to see in it for New York and your district?
I want to, in general, make sure that we're including all families, especially families, who have potentially sacrificed so much during this epidemic. So one thing we've talked about already is making sure that folks who might not have a social security number but do pay taxes and who have a tax ID number, that they're able to get some sort of help from the government. We know that there are about 12 million households without internet access for all the students who are at home right now and doing this remote learning process. I've worked on this legislation even before coronavirus, but we want to make sure that we are doing as much as we can to help our students (be) able to access the internet and have remote learning with their teachers. So to increase the access to (the) internet is something that I hope to get.
How do you think New York City has done in its handling of remote learning for students and getting hardware out to those without internet access?
I will say that hindsight is always 20/20 and that the mayor's office and the chancellor's office has been super responsive whenever we have an issue, and I have not been slow to criticize them in the past on education issues. But I do want to say, they've been super responsive. I know it's a huge system, and obviously there are just some problems we won't know until the shelter in place was actually enacted. People are really uncertain about their kids getting an adequate education. And these are the kids who have access to the internet and have, you know, an iPad. I know that the mayor's doing more working with companies like Apple, I believe, to bring in more products there. There just weren't enough in the beginning. We had a lot of students lining up outside of schools, waiting to get equipment and so hindsight is always 20/20. But we need to more, and more quickly.
So what do you make of the current disagreement between Cuomo and de Blasio about city school closures?
My constituents, my parents, my students, they have no interest in political squabbles. I don't know who's right or wrong here. I don't know who followed protocol and who didn't. But I know that my constituents are very nervous. They just want to know. And for the most part, they do not believe that it is safe for students or teachers and support staff to return to school. Many of them just want to know the answer.