Andrea Stewart-Cousins
'We intend to continue to do our work'
A Q&A with state Senate Majority Leader Andrea Stewart-Cousins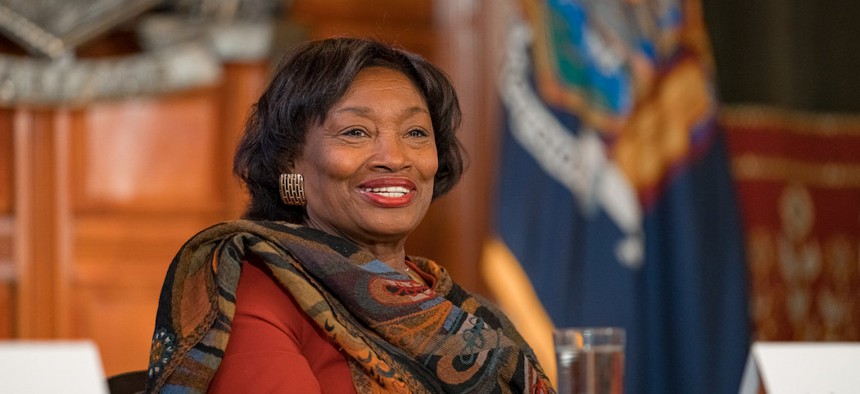 The state Senate passed its final budget bill Thursday afternoon, ending a budget season that was like no other in state history. While the bulk of legislative business in recent years has been done through the budget process, the Democratic majorities in the state Legislature demonstrated last year that hot-button issues can get done in the latter half of the legislative calendar.
New remote voting rules could allow that to happen again this year. However, with the coronavirus pandemic continuing to ravage the state, it remains to be seen whether state lawmakers have the appetite – in an election year no less – to deal with outstanding policy issues like marijuana legalization, ethics reforms, and other issues in the months ahead. 
City & State caught up with state Senate Majority Leader Andrea Stewart-Cousins on the Senate floor Thursday afternoon to hear her thoughts on whether the business of legislating will continue in the months ahead. The interview has been edited for length and clarity. 
What are the chances that the state Senate will reconvene again this year, remotely or otherwise?
We have now been able to set up a remote situation where we can indeed convene conferences. We can convene sessions and so as things arise, we will certainly be ready to serve. There's always legislative ideas that people have that could be helpful. So we intend to continue to do our work. 
Are there any specific plans to come back?
Well, we're on a break. But because of the reality of the circumstances, which are ever-changing, we will be back as needed.
A lot of stuff that was not part of the budget discussions, like some of the voting reforms passed in one legislative chamber but not in the other chamber. In retrospect, do you feel that there was not enough coordination between the two chambers from the get-go?
I always go back to our very first year where we really, the chambers together passed so much landmark historic legislation. We have obviously continued to be partners, but between the budget and this terrible pandemic, all of our energies were focused on making sure that we keep our government running, that we supply our residents with the things that they needed that are pertinent to this particular situation. If we've understood nothing, we should have understood that nothing is promised for us. So if you can get something done, if you can figure out things, do it while you can. We'll be meeting again, and we'll be accomplishing so much more. 
Are you happy with the changes to the criminal justice reforms?
Yes. I mean, you know, we worked to try and strike that balance. It's extremely important that we change a criminal justice system that massively incarcerated people. We did want to make sure that there were opportunities for the district attorneys to do what they had to do in terms of discovery time. We wanted to make sure that certain crimes were certainly bailable offenses. This pandemic changes everything. I think everybody's thinking about what it means to have your freedom and to be in situations that, you know, are safe. So I think this whole idea of mass incarceration is gone. And I think that we've really taken good steps to make sure that the justice system is just.
Last year, the Assembly and the state Senate really came together with the rent reforms and the Green Light bill, and it really seemed like the Legislature had asserted itself as a co-equal branch of government. Now, things have really changed. The governor has these emergency powers. A lot of legislation passed one house but not the other. Where is the Legislature now vis-à-vis the executive branch compared to where the Legislature was last spring?
Everything is relative. Everyone respects the fact that we are co-equal branches. In certain circumstances, one branch sort of has a dominant role. So during this time with this pandemic – and you heard me congratulate the governor – we need somebody who can lead and coordinate agencies and make sure that people are understanding what the needs are.
So did the "three people in a room – you, the governor and Assembly Speaker Carl Heastie – meet in person during budget negotiations?
Earlier on, we met in a room, and then kind of by phone.
Powered By
NEXT STORY: The importance of low-wage workers during a pandemic