New York State
Robert Mujica is calling the shots
New York is in fiscal free fall. But the budget director may have to make brutal cuts in order to save it.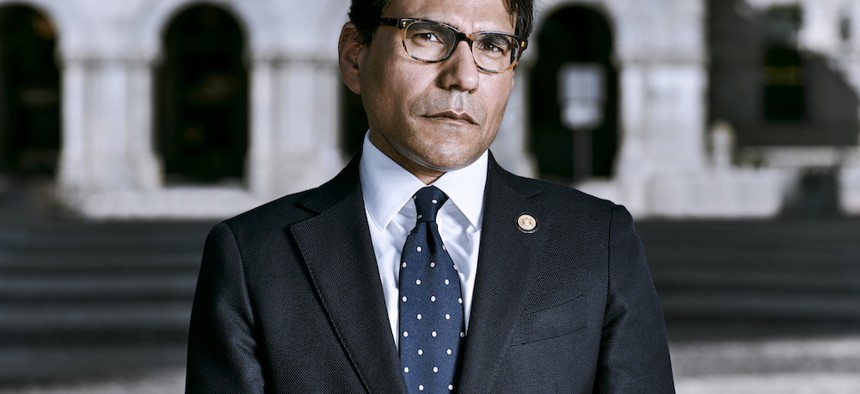 Good luck keeping up with Robert Mujica. On any given day, the 46-year-old state budget director gets up at 4:30 a.m., jogs five miles, and then races a Ducati 999 street bike 30 miles from his Columbia County home to the driveway outside the governor's office in the state Capitol. If you had a boss like Gov. Andrew Cuomo, you too might be in a daily race against time. 
"He's like let's go, let's go," said one former colleague of Mujica's approach to the job. 
Mujica has capitalized on a unique blend of fiscal know-how and political savvy to quietly become one of the most powerful figures in New York politics. But with the state now tumbling into its worst economic crisis since the Great Depression, Mujica has been tasked with assembling a package of cuts to close a multibillion-dollar shortfall – and he'll likely have to use every budget trick he ever learned to get it done. 
Unemployment is now hovering around 15% in New York. State revenues have fallen at least $13 billion below projections in recent months. The economic cost to the state could reach $243 billion over the next few years – assuming the economy does not miraculously recover sooner. Call it the ultimate challenge for a three-term governor looking to take his self-defined brand of progressive politics to a new level. As fate would have it, Mujica, a longtime Republican operative, is responsible for figuring out the details.
Mujica takes a zero-sum approach to fiscal matters. "One dollar spent in one place is $1 not spent somewhere else," he said in a recent interview. "Resources are finite." On the political side of things, regular appearances at the governor's daily press briefings highlight Mujica's other assets. At one May briefing, for example, Mujica jumped in to answer a reporter's question about outsourcing of unemployment claim processing to other states, which saved the governor from speaking about an issue that he appeared completely unaware of.
Of course, the governor's ongoing efforts to get billions of dollars in new federal aid could make things easier for Mujica. If that does not end up happening, Mujica explains, 20% cuts for public schools, health care and local governments are only the necessary thing to do. "In the event that those funds don't occur, then we would have to make those reductions," he said at one mid-May briefing alongside the governor. At other times, the bespectacled budget chief has played the tut-tutting technocrat on the governor's behalf, lecturing state lawmakers during budget negotiations and shaming critics of the failed deal to bring a second Amazon headquarters to Queens.  
Since joining the administration in 2016, the former Republican state Senate staffer's responsibilities have grown dramatically. Beyond his job overseeing a $178 billion state budget, Mujica is the eyes and ears of the governor on the boards of the Metropolitan Transportation Authority, the City University of New York, the Dormitory Authority of the State of New York and the Public Authorities Control Board. Then there are the special projects assigned to Mujica, ranging from redesigning the state Medicaid program to coordinating  with neighboring states on the response to the coronavirus pandemic. Other than Secretary to the Governor Melissa DeRosa, no one has the governor's ear quite like his suspender-clad budget chief.
"The institutional power that he represents is what makes him different from his predecessors," said Blair Horner, executive director of the New York Public Interest Research Group. "What is (also) different is his longevity in the role and the accumulated power of the executive vis-à-vis the Legislature."
Mujica's aversion to raising taxes on the wealthy irks many on the political left. "I would suggest he leans more to the conservative side when dealing with fiscal policy," said Ron Deutsch, executive director of the liberal Fiscal Policy Institute. "There seems to be a general willingness to talk cuts as opposed to other potential options … like tax increases on the wealthy." 
But Albany insiders across the political spectrum acknowledge Mujica's competence and vast knowledge of state finances. If someone takes too long to explain their point, his hands will start to urge others to speed up. "He has a certain threshold for bullshit," said the former colleague. "You feel the pressure when you go to him. You want to get things right." When the governor named the Columbia County resident to serve on the MTA board, he had to change a state law prohibiting board members from outside the agency's service region. Yet the bigger issue that came up during the confirmation process was whether Mujica was just "too damned busy," as state Sen. Liz Krueger suggested, to do the job.
He does have his hands full with other nonbudgetary roles, including 28 ex-officio roles at agencies as obscure as the New York State World University Games Commission and relatively high-profile as the Dormitory Authority of the State of New York. This ubiquity creates a direct line between the governor and a multitude of state agencies, which adds some perspective to official decision making while also challenging the nominal independence of state agencies, according to Horner. "I think it cuts both ways in terms of whether or not it's good for the institutions," he said. "But it raises the question of how does he do it all?" 
The work comes naturally to Mujica, a Brooklyn-born New Yorker who grew up in Staten Island. He spent plenty of afternoons as a kid hanging out at the New York City Mayor's Office of Management and Budget, where his mother worked for years. "I would be there just helping put some budget books together, stapling books, just doing whatever they had me do around the office," he recalled. "My mother always instilled in me the value of an education and work." When his parents, who met in New York City after coming separately from Puerto Rico, got divorced, his mother married Steven Levine, who would go on to serve as a deputy budget director under Mayor Michael Bloomberg. 
Mujica's familial ties to the city bureaucracy – his father is a retired career staffer for the NYPD – put him on a path toward a life of public service. As an undergraduate at Brooklyn College, Mujica interned for a local congressman named Charles Schumer. He also worked briefly for the city's budget director, Abe Lackman while in college. After getting a masters in public administration from the University of Pennsylvania in 1995, he would work for Lackman again – this time in Albany. By then Lackman had become a top staffer to state Senate Majority Leader Joe Bruno. Mujica completed his law degree from Albany Law School in 2005.
Like the fictional Forrest Gump, the fiscal wizard has a knack for popping up at pivotal moments in recent state political history. Early on in his career, he was lodging voter fraud allegations at first-time state legislative candidate Andrea Stewart-Cousins, who eventually went on to become the Democratic state Senate majority leader. A group of Republican conspirators reportedly held a key meeting at Mujica's house to plot the infamous 2009 state Senate coup. Before he joined the administration, Mujica reportedly was an intermediary in talks with Cuomo to form a legislative alliance between the Republican conference and a group of breakaway Democratic state senators known as the Independent Democratic Conference.
Mujica's involvement in the murkier side of state politics has extended to his time off the clock. He was a sought-after attendee at a gubernatorial fundraiser in 2019 where attendees paid $25,000 for some filet mignon and a little face time with him just two weeks before the state budget deadline. His barside presence at an annual Somos junket in Puerto Rico where state leaders mingle with powerful union officials and lobbyists did not go unnoticed. He has also been known to date people he has worked with. "Have I been single?" he said. "Have I dated people that I've come across, you know, at work? Sure."
At times, Mujica's approach to fiscal matters has been at odds with the image the Cuomo administration projects of balanced budgets and fiscal restraint. There was the yearslong practice whereby Mujica kept state Medicaid spending within a state-imposed cap by moving payments from one fiscal year into the next. A good economy and billions of dollars in one-time legal settlements have smoothed the way for many of the governor's spending priorities, at least after closing a $10 billion budget gap in his first year in office. But the administration will not enjoy such advantages in dealing with the damage wrought by COVID-19. 
Another secret to the governor's fiscal success – off-budget spending by public authorities – is becoming more crucial than ever, according to John Kaehny, executive director of the good government group Reinvent Albany. "The governor likes to brag about how the state's debt ratings are really good," Kaehny said. "Of course, the debt ratings for the state proper are really good because it's only borrowing 5% of all the money that state government is borrowing. The (other) 95% is coming from the authorities." Servicing much of that debt will cost taxpayers in the long run even though it will not show up on the official state budget. Yet Mujica disputed that such debt was a problem for the state long term. "If you look at what the authorities are spending money on, they're spending money on things that are going to last well beyond any administration," he said. "And I think that's where you want to spend your resources."
State government is complex, and there are many factors to weigh when considering how to finance things like health care, public schools and mass transit with the state's limited resources. A small number of ultra-wealthy New Yorkers might flee if taxes are raised too much. The debt acquired by a public authority offers an easy way to spread those costs out over many years. While the bill will come due at some point, much of Mujica's work focuses on confronting problems that pose more immediate threats to the state and the services it provides to some 19 million people. Mujica is taking things one step at a time. 
That idea is taken to its literal extreme on a trail that Mujica is building through his 30-acre estate in Columbia County, where he shot his first buck with a .30-06 rifle. He has plans for a pathway that will offer a grand view of his property, where pheasants, turkeys and whitetails cross. He has already cleared more than three-quarters of a mile of low-lying foliage with the help of a Husqvarna chainsaw and plenty of sweat. However, with at least 120 more yards to go, he has yet to figure out exactly where his trail of wooden planks will end. It's a sign that the New York state budget chief likes to focus on the task at hand – an approach that extends beyond a footpath through the wetlands of the Hudson Valley. "You do the best you can," he said. "Then you worry about tomorrow." 
But no matter how hard he works, no matter how much power he accrues, Mujica has always been working for someone else – and Mujica says that is not going to change anytime soon, despite the challenges of his most demanding boss yet. "The governor gets up before you, generally, goes to sleep after you and usually has read what you need to read before you," Mujica said. "So you get up and try to deal with those expectations." 
Powered By
NEXT STORY: Meet Andrew Cuomo