Interviews & Profiles
(Probably) the next Queens BP
Donovan Richards on the NYPD budget, the HQ2 site and real estate money.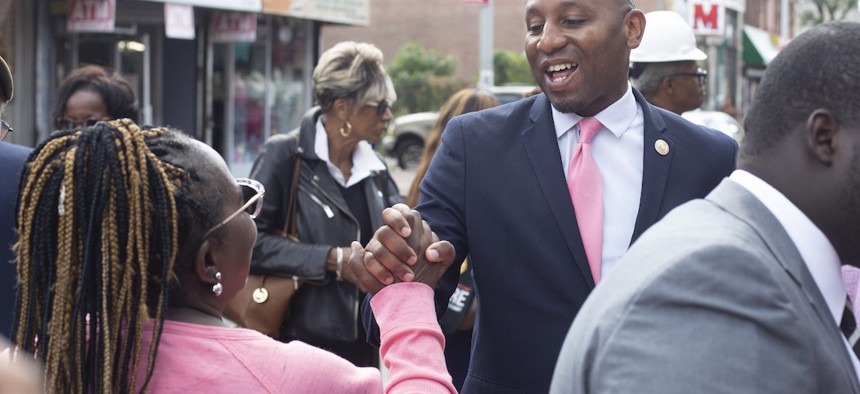 Donovan Richards has a big year coming up – his 4-year-old son is starting kindergarten. Also, the 37-year-old New York City Council member will probably be the next Queens borough president, since he was leading his former council colleague Elizabeth Crowley by about 9 percentage points after the in-person votes were counted in the Democratic primary. City & State caught up with Richards on Wednesday, the day absentee ballot counting started, to talk about his protégé on his way to the Assembly, why he voted against the latest city budget and how he wants to be more aggressive than past BPs.
The interview has been edited for length and clarity.
After in-person votes were counted, you were up by about 10,000 votes, but there are still nearly 90,000 absentee ballots to go through. Are you confident you'll be the victor?
I'm a firm believer that every vote should count. And I feel pretty confident that after all the votes are counted, that we will be the Queens borough president. I think the numbers, the science, says that we're going to come out OK.
Twenty-four-year-old Khaleel Anderson has the lead right now in the race for the open Southeast Queens Assembly seat that overlaps your council district. Have you talked with him yet?
Khaleel and I have a very close relationship. I brought Khaleel into community service when I was the Far Rockaway NAACP youth chair. He was probably about 10. (Laughs.) So there's always been a warm spot for him. We speak. He calls for advice. I just think there were a great crop of candidates, period, in the race. I didn't officially endorse anybody. But you know, Khaleel always has a place in my heart because I've seen him grow from junior high all the way up. Elementary, maybe.
How old were you when you first ran for Assembly?
2008, was when I ran. And that was for the same seat! (Assembly District 31.) I was about 25.
Assuming you win the primary, do you intend to serve out the rest of the year chairing the City Council's Public Safety Committee?
It would be an honor to close out strong. Obviously, there will be a transition and there will be a conversation with Speaker Johnson, but I'm prepared to fulfill the duties that I started. I was committed to this issue from the murder of my childhood friend to having experience with the police department in Southeast Queens as a black male. And then also the relationships that I've built with the department. That's not to say – I'm sure Dermot Shea wouldn't mind me exiting sooner than later. (Laughs.) 
"I feel pretty confident that after all the votes are counted, that we will be the Queens borough president. The numbers, the science, says that we're going to come out OK."
You were one of the few Black members to vote against the latest city budget. Was that because you thought the NYPD budget cuts weren't deep enough? Or was it more about where the city was not investing?
It was more to me about the culture of the NYPD, and me not wanting to put my stamp of approval even on the things they said they were going to do. So for instance, they talked about overtime. Every year, they talk about capping overtime. And that's never happened. There wasn't enough details on the school safety shift. That was problematic. 
Let's be clear, we could cut the budget $2 billion. It doesn't mean that they are going to reform the gang database or the DNA database, or that they're going to address bias within the department. It's a dollar figure. So I wanted to send a message to the mayor and the department that you need a real culture shift, and the stuff that's happened in the street is totally unacceptable. We saw the protesters kettled and other things that went on during that period. Of course, I condemn any looting. I condemn violence against officers. Whoever is doing that needs to be held accountable. And they will be held accountable! I'm never worried about them being held accountable. What I'm always worried about is officers who disgrace the badge, who would go out there and push young ladies to the ground and crack their skull not being held accountable. So there needs to be accountability on all sides. And that was the basis of my no vote.
You bragged about securing a new police precinct in Rosedale. Now the recent budget shifted the money allocated to that to instead build a new rec center in Jamaica. Do you support it? Are you reconsidering your support for the new precinct?
In a perfect world, we would have both. And let me be clear, the precinct also (included) community center space. It wouldn't have been as big as what the mayor shifted the money to, but we had a food pantry and a street plaza. The community has called for this for 40 years, because we don't get the proper service. In the event of an emergency, of course, you want the department to respond in a timely fashion. The 105 has the longest response times in the city. So I have not changed my position. My position is the residents of Southeast Queens need services. But we also need community centers as well. Do both.
The city's budget woes may also delay the building of the new jail next to Queens Borough Hall and the closure of Rikers Island. Do you welcome the delay? Is this an opportunity to change the plan?
Right now, there are things that are critical. The unemployment rate is skyrocketing across the city. The priority has to be on health care, has to be on young people, has to be on food insecurity, has to be on housing. So I don't have a problem with the delays. And there is a silver lining, to a great degree, because I'm able to now interject myself into that conversation at a higher level of government. I didn't have much of a say-so in the private and initial discussions. I will be able to now look at the plan a lot closer and possibly make changes. That conversation is to be continued.
Assuming you win in November, you could be the borough president for a whole nine years. Would you serve that whole time?
My position, as it always has been in the council, is do the work. And let the stars align wherever they will align. You never know what opportunities could arise. But at this point, there would be no reason I wouldn't look to fill out nine years and really try to rebuild the economy of Queens. Somebody I always look to – and I don't even know why she supported me so early – was (former Queens Borough President) Claire Shulman. She was an institution builder. I want to build institutions in Queens. That's the legacy I want to leave.
Do you support the plan to redevelop the "Amazon site" on the Long Island City waterfront?
I don't support projects until I get all of the specific details. I need to know what is the job commitment. I need to know what the (minority– and women-owned business enterprise) commitment is. I need to know that there's going to be community space. I need to know what the housing (area median incomes) are. What is the city's real commitment? It's hard for me to say yes to anything until we shape the plan. I'll have an advisory opinion. But I will say, I intend to play an outsized role in these conversations – more aggressively than what we've seen in the past.
The Real Estate Board of New York spent about $100,000 to help you get elected.
The reason folks support me – it's not that they believe I'm going to be their rubber stamp. And I'm sure if you spoke to them, they'd say the same thing. Remember, I (helped negotiate the passage of) mandatory inclusionary housing. REBNY was totally against that. But we can sit at the table and have a conversation. And I think that's what differentiated me amongst the pack. And I've never been one that blows with the wind. I'm not going to agree with REBNY on every project. It's impossible. It's not the way to govern. But we should still be able to sit at the table and have a conversation. 
Do you own or rent?
I own. Thank God for a good woman. If it's up to the man, we're just going to rent! But my wife is like, 'No, we're going to save and we're going to buy a house. So I'm a homeowner going on four years now. 
The advantage of renting, though, which I love, is that the people at the apartment complex, they shovel the snow. You had a problem, you call a super. Now I'm in here, trying to figure it out!