New York City
Chi Ossé, the activist candidate
New York City's marches and protests against police brutality invigorated the 22-year-old candidate.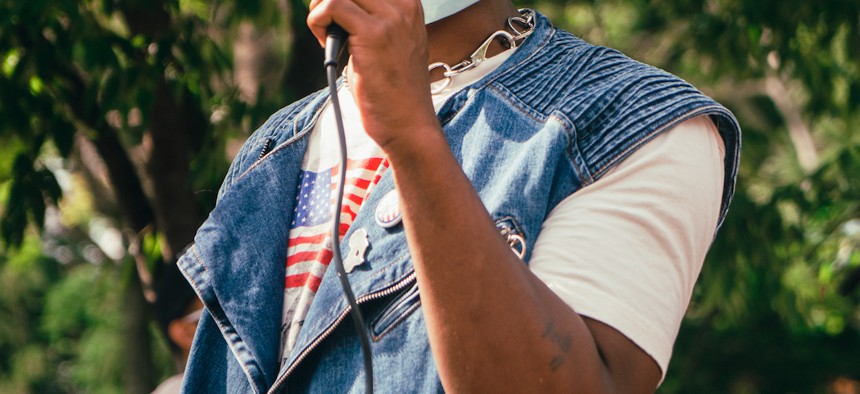 Confidence is something that Chi Ossé, a 22-year-old activist running for the New York City Council in District 36, has in spades.
Ossé announced his candidacy only six weeks ago, shortly after attending his first protest ever following the death of George Floyd. However, neither his lack of political experience nor his age (which makes him the youngest person to ever run for this particular seat) have caused him to take pause. 
Perhaps that's because before he even considered running for city council he was busy founding the activist group Warriors in the Garden, with other Gen-Z activists that he met while protesting. The organization has become dedicated to organizing peaceful protests and marches to fight systemic oppression and police brutality. While the group was founded just a few months ago, it has already become wildly popular, with over 30,000 followers on Instagram. 
Council Member Robert Cornegy, who is term limited, will be vacating District 36, which includes Brooklyn's Bedford-Stuyvesant and Crown Heights neighborhoods, come 2022. As a third-generation Crown Heights resident, Ossé feels he can bring a fresh perspective and a deep understanding of the district to the post. City & State spoke with Ossé about what led him to become politically active, rethinking the New York City Police Department and his signature style.
This interview has been lightly edited for clarity and brevity.
What led you to become more engaged in New York politics and ultimately led to you launching your campaign for city council?
Two months ago, I went to my first protests ever – in my life. I was really moved by the murder of George Floyd and because I was in quarantine it was hard for me to shut that out or turn off my phone or TV. It was everywhere. I was angry and upset and felt moved to go out to protest on May 29, at the nonviolent protest at Barclays Center. The response from the police there was atrocious and seeing how they treated nonviolent protesters and Black people angered me even more. While I was there I even got pepper sprayed. I saw women and children hit with barricades. I saw the violent intent in their eyes as they held their batons. It didn't surprise me that I was seeing this behavior in person because I think like most Black Americans, I have been raised to know about the evil that is our militarized police force. What surprised me was that it was happening to me and I was experiencing it firsthand and wasn't watching it on the screen.
I think after witnessing what I witnessed, some people might be or would have been scared to go out (to protests and marches) again, but it gave me the fire to go out not only the next day but the day after that and the day after that. I became a sort of leader at the time in those first couple of weeks and began organizing with others that had a voice and were sharing similar ideals. We founded Warriors in the Garden, which is a collective of nonviolent protesters working toward legislative change. 
As someone that was protesting every single day, I obviously realized that the protests weren't happening as frequently as they were initially and that there weren't as many people. I had this internal moment of thinking, "How can I translate this energy into legislative change?" And after seeing how the City Council members voted on the NYPD budget cuts – which was absolutely messed up, it wasn't even the budget cuts that we were calling for – not only myself but other young progressives, and individuals in general, we're actually seeing the power of our local government and seeing they failed to deliver the legislative change we were chanting and calling for when it came to the police. You know, I've come to a point where if you're that dissatisfied with something, you cannot wait on other people to satisfy you, so I took it upon myself to run for City Council.
You're one of the co-founders of Warriors in the Garden, which has garnered a huge following on Instagram and has been written about in The New York Times and BuzzFeed News, so I'm wondering what made you want to pursue a political career over advocacy work?
I'm not an activist turned candidate. I'm a candidate that is an activist. I think far too often our elected officials shy away from calling out inequities and what people are actually fighting for. Activism and public advocacy go hand in hand. Warriors in the Garden was a great outlet for me to organize on the streets, to find my voice and to listen to what people have to say. And it gave me the strength to actually run for public office. 
I know that police reform is a big part of your platform. Can you tell me about the kinds of changes you'd like to see the NYPD make?
I'm running on a three-prong platform that is reimagination, reinvestment and renewal. The reimagination aspect is not only about reimagining and rethinking and redistributing the NYPD budget but it's also thinking about the current police officers that we have. You know 40 to 45% of police officers in the NYPD don't even live in New York City. They come from New Jersey, they come from Long Island, and 65% of that population is white. So they come into our cities, they beat us, they choke us, they kill us. They frisk us and then they are able to go back home. You know, they come into our communities and then they other us. When I say we need to reimagine what policing is in New York City, I'm saying that we need to think about where police officers are coming from. 
I think the redistribution of NYPD funds also scares a lot of people. They think that we're completely getting rid of the police force, but it's just rethinking the police force that we have. I don't think there's a need for armored vehicles. I don't think there's a need for police officers to be patrolling the streets of Black and brown communities every single night. I don't think there's a need for automatic weapons. It's things like that that need to be highlighted and need to be shown to the public, so that we can take a look at where those funds are going and rethink where those funds can go to next.
New York progressive insurgents have been seeing a lot of victories lately. Has that made you feel more confident about your chances of winning the City Council seat in 2021?
I think what makes me confident about winning in 2021 is that people are taking a look at local elected officials. And people are finally speaking up about what they're dissatisfied with. This movement isn't just about Black Lives Matter and law enforcement killing black people. It's about how the system has beaten up on those that have been misrepresented. I'm Black, I'm young, I'm queer and I'm running for public office. I'm going to win because we're (living in) a time when people are fed up. And people are ready to use their voice to elect those that will actually represent and provide change for them and their families, as well as people that they love.
Okay, last question, you're known for wearing a black beret, reminiscent of the Black Panthers. How did you decide to make this a part of your political uniform?
Well, design and fashion – and image, I guess – are definitely important in this campaign. I mean, to a certain extent, politics is theater. And my goal is mainly to get young people out to vote for local candidates like myself. And in order for me to do that, I feel that I need to have statement pieces that people can recognize not only at youth marches but at voter registration drives, at sit-ins and at vigils. I want people to know that I'm the individual that's out there every single day, fighting on the same side as them.
Powered By
NEXT STORY: This week's biggest Winners & Losers