New York State
New York's new top education official on reopening schools
Interim Education Commissioner Betty Rosa talks about her new role and how to adapt to the coronavirus era.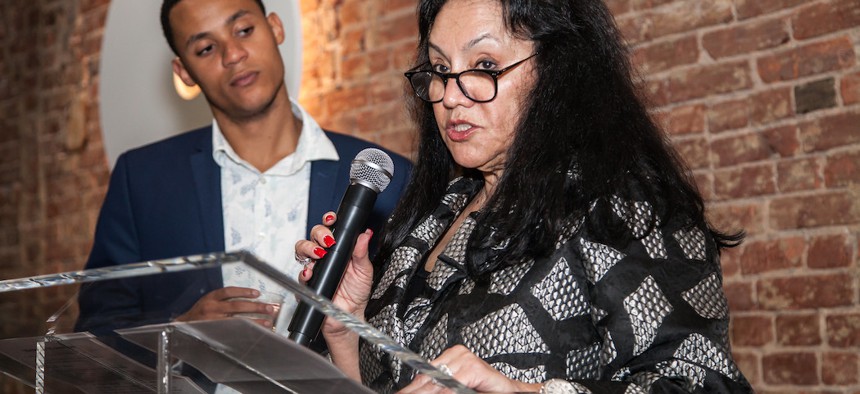 Earlier this month, former Board of Regents Chancellor Betty Rosa became the fourth person to head the state Department of Education in roughly a year, taking over as interim commissioner from the Shannon Tahoe, the previous acting commissioner. Since Mary Ellen Elia stepped down as state education commissioner last summer, temporary commissioners have come and gone as the state continues its search for a permanent replacement. Then the coronavirus pandemic, making matters more complicated.
Rosa takes over during a turbulent time as schools around the state prepare for the new school year and, in many districts, an at least partial return to in-person learning. Education leaders, health officials and teachers have been scrambling to prepare with safety precautions for the physical school buildings and improvements for distance learning that will still be taking place. 
Rosa took part in a City & State education event on Tuesday, discussing her new role, the importance of closing the digital divide and what she has been doing both as Regents chancellor and now as education commissioner to get teachers and students around the state prepared for fall classes. This interview has been edited for length and clarity.
Being state education commissioner isn't an easy job. Why did you take this position?
I think just like with the pandemic has created a great deal of uncertainty, we also have a sense of responsibility. Sometimes you have to go from one situation to make sure the organization continues to function. And knowing the organization the way I do, having been a part of it the last 12 years and my background as a former superintendent, I thought it was quite appropriate for the board to consider my possibility of taking the position on an interim basis.
This position puts you in the middle of a lot of political battles and a lot of policy issues. Did you have any trepidation about taking on the role?
As a chancellor, you now, I am assigned the delegation of the responsibility of policy, it was my responsibility. So if you recall, basically, the Board of Regents, we are the commissioner's boss. So I had that responsibility already, with all of the regents, to oversee the policy issues. Obviously, I have to now live in Albany. There are a lot of issues that I have to deal with besides all the issues that we're going to discuss. But at the same time, times like this, in terms of leadership, requires us to step up and do the very very best we can to support our children, our communities and our organizations.
Where are we at in terms of New York City and throughout the state with the pandemic and school reopening plans?
I have been working through the entire pandemic, not only with just New York City, but with the Big Five school districts, because they have probably many of the students that are impacted, at a disadvantage, which this pandemic has exposed. So I have been closely involved as our chancellor and I continue to do that work with the Big Five along with many other districts throughout the state. But also what are the kinds of things that supporting superintendents in terms of they have plans that we at the state level can do to make sure that not only in terms of guidance, but actually advocating for resources and investments and making sure that our guidance provides the very best conversations to support our individual communities.
Is there a final school reopening plan in place with New York City?
I've had conversations with the chancellor as recent as this past Sunday. I will say that New York City has been planning from the very, very beginning. They had their own conversations, they participated with us in terms of the state task force and they have been working closely with the various stakeholders. They submitted a plan to both the DOH and to our department, and their plan reflected in-person, blended. And I think, in many ways, the conversation they've been having – I would almost say, giving them an opportunity to really look at what the buildings look like in terms of health and safety, how the parents feel about in-person as well as the blended model. So, those communications are ongoing. 
And for those districts that do choose some level of in-person education, what is the risk that they will have to be shut down?
The leadership in terms of superintendents has been inspiring – and the teachers and all the stakeholders – in terms of the plans and the thinking and the creativity around ways to maintain and to fulfill what they believe is the best way to educate our children, which is in-person. We know in the fall, a lot of kids have all kinds of flu symptoms and all different kinds of issues that may cause those districts that have opted for in-person to rethink. But at the same time, many of these superintendents, teachers, community leaders have been working on "what if." So therefore, they have another plan if they do have to shift. So it's a very fluid kind of situation, and I think we have been engaging with school districts and understand that these conversations are still going on leading up to the very first day.
What can working parents do for child care when their children are at home during the school day? What do you do to address that issue and have you been hearing complaints of that nature?
I think we all have, whether it's in the media or whether we've had conversations, some of the local conversations. Parents are not only concerned about having to work and child care and having to provide for their families in terms of the economy. So we have been trying to make sure that as districts make the kinds of decisions that they make, that in fact we are taking the child care issue into consideration – even the nutritional issues.
Can you address lower income and minority students being left behind because of the digital divide? What more can be done?
We know that the learning loss, and the broadband issue, is a mega-issue for the state as a whole. The plans for the learning to continue, knowing that we need investments in equipment and conductivity, is critical. In terms of the resources that are needed, we have been working with the governor's office in terms of making sure that, looking at the equipment in terms of our bonds and our smart bonds and making sure that we can provide the kinds of equipment, the kinds of issues in terms of connectivity. But we also have some communities that don't have the connectivity, and students have to go into parking lots. There are many lessons learned that if we have to go fully remote, that we really do provide the opportunities for our most disadvantaged students to be given those opportunities.
What is the risk that this is just a lost year for students?
I wouldn't call it a lost year. I would call it that we have, clearly for many children, a loss of learning. And we have an obligation, we have to make a commitment in terms of what are the kinds that we do to make up for that? What are the kinds of things that we do to ensure that if we go remote, that we do have the equipment, that we have the presence of connecting with these children? Some of the high school students had to go to work, and so many of them were unable to even complete certain assignments. We have to take stock of the full impact this has had on our students and begin to work on what are the kinds of things we have to put in place to not only to ensure and support our students at this stage, but to continue to do that this entire year. So we don't think about it in terms of just the next couple of months, but the next 12 months. We can think about year-round school until such time as we know that our students' gaps have been addressed.
How will teacher evaluations be handled while learning remotely?
I do think that some people have come up with the idea that, for example, as teachers are teaching, supervisors can in fact be a part of observing the interaction, so those can be done. I would say that the continuation of making sure that we do a great deal of professional development with our teachers. Many of them had to go into remote teaching without having had this transition, this shift, and this experience. So I think we have to make this investment upfront to make sure that teachers feel very comfortable with this new methodology. And we also have to make sure that we do have this kind of support system to ensure by observing that in fact what's taking place is quality.
What role did the state Department of Education and the Board of Regents play in the governor's statewide decisions on how to move forward with schools?
We had four regional meetings for the task force and we gathered information. Those were all recorded, those are all on our website. Different stakeholders participated. So we did have the voices of the individuals from all parts of the state. As a result of that, we came up with our state guidance. The governor took responsibility for health and safety, and as you well know, DOH came out with their guidance. We tried to merge those two into one document. The Department of Health required the superintendents to submit to DOH and the governor. We had ours submitted in terms of our requirements. And what we've been trying to do is work together to create one message about what's required, but at the same time at the end of the day, it was the governor who made the determination for purposes of reopening. And as a result of that, he has been speaking to the issue of parents and teachers, and the conversations that need to take place.