Personality
Five things to know about Lovely Warren
Get to know the controversial Rochester mayor a little better.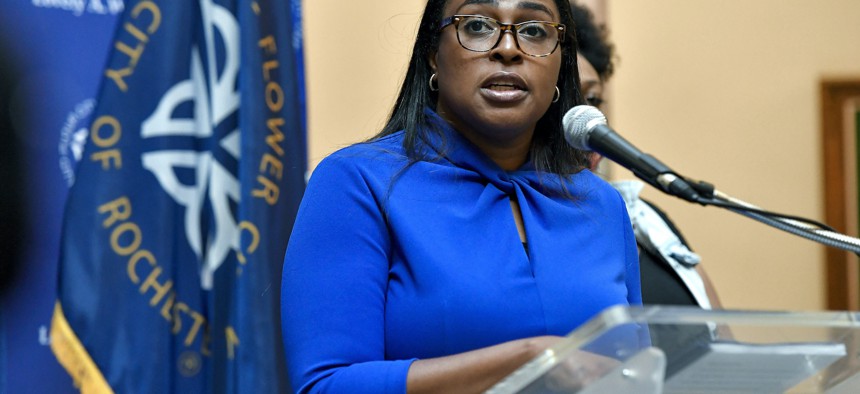 On Monday, Rochester Mayor Lovely Warren unceremoniously terminated the city's police chief, La'Ron Singletary, and suspended the police force's spokesperson and its top attorney for 30 days. Singletary's firing was particularly unexpected, as he was expected to step down from his position in two weeks, following the public outrage over Daniel Prude's death that resulted in ongoing protests. Prude, a Black man who was in the throes of a mental health crisis, died of suffocation after police placed a hood over his head, while keeping him in custody, in March, though his story did not come to public attention until early September.
Prior to her seemingly abrupt dismissal of the city's police chief, Warren announced her support for reforming the city's police force, particularly how it responds to calls reporting mental health disturbances. Despite the efforts being made on Warren's part to deal with Rochester's current chasm between its police and residents, protestors have been calling for her to resign – skeptical of her claim that she was unaware of how Prude died.
Here are five of the most important things to know about Rochester's now-nationally controversial mayor:
She is the first African American woman to become mayor of Rochester
Warren's 2013 win made her the first African American woman to oversee Rochester. When she was re-elected in 2017, she also became the first female mayor to win a re-election. When she won, at age 36, she also became Rochester's third youngest mayor in history.
She campaigned as a police reformer 
Warren, who was Rochester's City Council president at the time, ran her 2013 mayoral campaign on promises of reorganizing the city's police department, as well as reducing its crime rate.
In 2016, Warren got rid of a red-light traffic camera program, which she felt disproportionately affected the city's impoverished population, sticking them with tickets they were unable to pay off. In 2019, halfway through Warren's second term, she helped to create the city's Police Accountability Board, which is in charge of investigating civilian complaints of police misconduct. 
In June, Warren advocated for repealing the state's 50-a law that concealed police disciplinary records from the public, stating that police reforms can be made without making communities more dangerous. In August, the mayor began pushing for a legislative proposal that would require police to live in the communities that they serve.
She won her 2013 mayoral primary in a huge upset
In 2013, Warren defeated incumbent Tom Richards. Before she won the general election she beat Richards in the Democratic mayoral primary, with 57% of the vote, creating an upset that surprised the city. Following his primary loss, Richards ran against Warren on the Working Families Party line. However, he stopped campaigning due to personal reasons when his youngest son became seriously ill and later passed away, though he did state that he would serve as mayor if elected. But this left many wondering what would happen should he win re-election, which is presumed to have helped hand Warren her victory.
Warren began her campaign with limited funds and without the Democratic Party's backing, though she did have the help and support of her influential political mentor Assemblyman David Gantt. Some initially speculated that Warren's primary win was a false indicator of her ability to win the mayoral race, suggesting that Richard's supporters did not vote in the primary because they believed he would win. 
She wants to have mayoral control over the city's schools
Warren is a big proponent of removing Rochestor's elected school board and replacing it with a board made up of appointed individuals and has been pushing state lawmakers from Rochester to introduce legislation to do so.
Warren's chief of staff Alex Yudelson, who holds views similar to hers, ran against five-term incumbent Assembly Member Harry Bronson, who has been a direct opponent of Warren's vision for mayoral control. However, Bronson beat Yudelson out in the state's June primary.
She has overseen several large infrastructure projects
In 2014, the mayor took over the arduous task of covering the sunken downtown section of Rochester's Inner Loop highway, to provide the city's residents with six acres of land for development. That project was completed in 2017. City & State reported last year that, "a boulevard lined with new apartment buildings and craft breweries," has replaced the highway. She also aided in the construction of the Port of Rochester Marina.
Correction: This article originally misstated the disciplinary action Warren took against the police force spokesperson and attorney. 
Powered By
NEXT STORY: New podcast targets Latinos ahead of 2020 elections