New York State
Ginsburg: the epitome of New York grit
There's a reason why Supreme Court Justice Ruth Bader Ginsburg was given the nickname the Notorious R.B.G.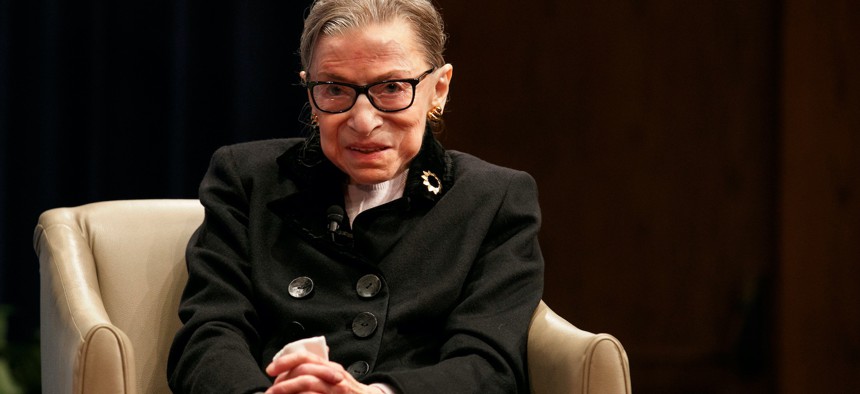 On Friday, Supreme Court Justice and Brooklyn native Ruth Bader Ginsburg passed away, leaving behind an extraordinary legacy as a jurist and a New Yorker.
Over the weekend, mourners set up various memorials outside her childhood home in Midwood and her nearby high school to honor the feminist trailblazer, who was a leading champion of women's rights in the 1960s and 1970s, before becoming the second female justice on the Supreme Court. Ginsburg also became a pop culture icon later in life, when a "Notorious R.B.G." Tumblr page became extraordinarily popular.
While the juxtaposition of a petite, elderly Supreme Court justice with the heavy-set rapper the Notorious B.I.G.'s name may have seemed ironic, she deserved the moniker because she was the ultimate New Yorker. Like the hip hop artist, who also hailed from Brooklyn, Ginsburg faced discrimination and spent her early life being repeatedly underestimated. 
Irin Carmon, co-author of The New York Times bestseller "Notorious RBG: The Life and Times of Ruth Bader Ginsburg," tells City & State that her middle-class Brooklyn experience was significantly less challenging than the Notorious B.I.G.'s. But it's Ginsburg's early life in an area then referred to as Flatbush that really made her the archetypal New Yorker, in Carmon's opinion – as well as her love of the famous Lower East Side lox emporium Russ & Daughters. "The happiest I can remember ever seeing her was when she spoke about her favorite sandwich from there," Carmon recounted.
Born to Jewish immigrants in Brooklyn, her mother, in particular, imbued Ginsburg with the notion that she needed to be able to rely on herself, rather than a husband, which was unusual advice at the time. 
Ginsburg attended Cornell University for her undergraduate studies before heading to law school at Harvard University. However, Ginsburg ended up transferring to Columbia University, where she received her degree, after her husband received a job offer in New York City. 
New York City is where her law career began, but most importantly it's where Gingsburg became all too aware of city law firms' uneasiness with her gender at the time. Despite graduating at the top of her class at Columbia, Ginsburg had difficulty landing interviews, let alone jobs, unable to escape the prejudices against women that were prevalent at the time. 
But she was not discouraged. Ginsburg clerked for the U.S. District Judge Edmund L. Palmieri before teaching at Rutgers University Law School from 1963 to 1972. Ginsburg then went on to become the first female professor to ever receive tenure at Columbia, where she worked from 1972 to 1980. She also worked as a litigator and director of the Women's Rights Project of the American Civil Liberties Union, based in Manhattan, during the 1970s. President Jimmy Carter appointed Ginsburg to the U.S. Court of Appeals for the District of Columbia in 1980, where she remained until she was selected by President Bill Clinton in 1993, to replace Justice Byron White. 
Throughout her storied career, combating discrimination remained a major focus for Ginsburg, whose liberal ideology can also be linked to her early life and career in the left-leaning Empire State. In her later years, Ginsburg's reputation for assertiveness grew as she wrote famously scathing dissents from opinions by the Supreme Court's conservative majority, even occasionally taking the unusual step of reading them aloud from the bench. One might say she brought an aggressive New York attitude to the Supreme Court, much like her friend and fellow New York native Antonin Scalia. And if you don't know, now you know. 
Powered By
NEXT STORY: Is DA Eric Gonzalez progressive enough for Brooklyn?