Personality
A Harlemite runs for Comptroller
A Q&A with state Sen. Brian Benjamin.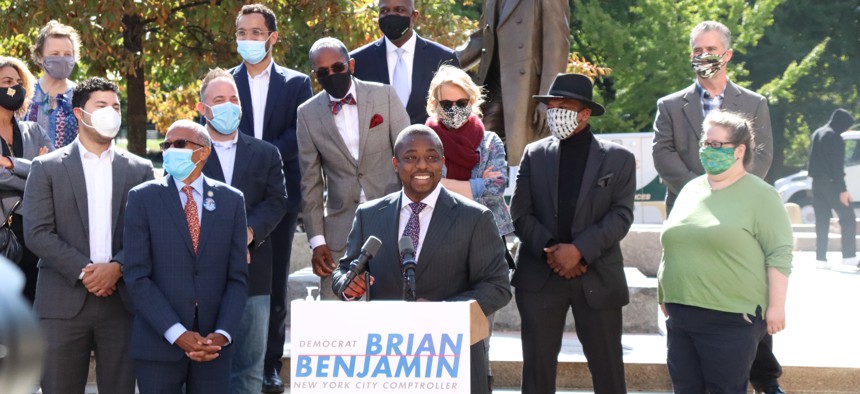 The official launch of state Sen. Brian Benjamin's campaign for New York City Comptroller was just as much about Harlem as it was about Benjamin. The 43-year-old was born in the neighborhood at Harlem Hospital, to a mother who emigrated from Guyana. He was raised in Starrett City in Brooklyn and in Queens Village, but after graduating from Harvard Business School, he moved to Harlem and worked as an investment banker at Morgan Stanley and as an executive for a local housing developer and management company. He got deeper into local politics, chairing Community Board 10 and he was elected to the state Senate in 2017, where he now chairs the Committee on Revenue and Budget. 
At Thursday's announcement at Frederick Douglass Circle in Harlem, some of the neighborhood's power players endorsed Benjamin's bid to be the city's second-ever Black Comptroller, after Bill Thompson, including Manhattan Democratic County Leader Keith Wright, state Sen. Robert Jackson, Assembly Members Al Taylor and Inez Dickens, Council Member Diana Ayala, and Hazel Dukes, the president of the NAACP's New York conference.
But comptroller is a citywide position, and Benjamin, who often stays out of the spotlight, is going to try to win over 2021 Democratic primary voters in all five boroughs while competing against opponents including City Council Member Brad Lander, Assembly Member David Weprin and state Sen. Kevin Parker. City & State talked to Benjamin after the event about divesting the city's pension fund from what he considers immoral investments, his lack of campaign experience and why he's part of Democratic vice presidential nominee Kamala Harris' #KHive. This interview has been edited for length and clarity. 
It's good to see you here in historic SoHa.
(laughs) You know I led the effort to kill that name (that real estate developers tried to rebrand South Harlem).
You've been a supporter of divestment as a strategy, pushing the state pension fund to divest its small holdings in private prisons and tried to ban all state chartered banks from financing private prisons. New York City Comptroller Scott Stringer has supported divestment, but it has been a slow process. Would you divest the city pension fund from any other type of holdings?
What I want to do is a full review of everything. I need to speak with the different pensions boards. It's not a sole trustee where I can just decide. I have to work with them. They don't like when they're not consulted as part of a conversation. (They) have the concern of our retirees first and foremost. The right approach is to say, look, we want to be investing in companies that share our values. And for those who don't, it's not just divest: There is shareholder activism where you can sit down and talk with the leaders of these companies and say, 'Listen, you were doing x,y,z thing.' For example, we see you have a policy and a procedure where you're evicting people in order to generate returns. That does not correspond with our values. Therefore, we are telling you that if you don't stop these practices, then we are going to start the conversation around divestment. 
I used to do private wealth management on Wall Street. I was with Morgan Stanley. Whenever you enter in or out of a company, it's very cumbersome! You could exit in a way that's financially harmful to the retirees. Nobody wants to do that. 
Stringer was criticized in the press recently for losing money on private equity real estate investments. Would you keep those investments, or others like it, to keep a diverse portfolio, or divest, because housing advocates say those investors often have aggressive eviction practices?
What I would do is seriously evaluate the entire portfolio, working in conjunction with the boards. I do not believe that I should come in as a comptroller with some big gun just shooting every (investment). The first order of business is looking at the portfolios. 
Because remember – every dollar that the city of New York has to put in to prop up the pension fund is another dollar that can't go towards education, that can't go towards housing, that can't go towards social services. There's a 7% return that is expected from a $200 billion-plus pension fund in order to protect the city's budget. And we've got to do better than that because we need to rely less on the city. 15% of the city's budget right now is going towards helping to prop up the pension fund. In a time of crisis! (ed: It's closer to 11%.)
The comptroller has multiple things to juggle. My view is let's put everything on the table, let's look at everything, let's substantiate claims, let's have conversations, let's have a process for companies that are doing things that we have issues with. Let's have a group that looks at all those kinds of companies, let's then go through a process with the pension boards. And if a pension board says, 'We're not in love with this… It's too important to our retirees to divest from this.' Maybe we don't further invest in the future. I think that's the right way to deal with these issues and not to be sensational. Let's be realistic. 
You were still consulting for housing developer Genesis Companies while in office a few years back – 
No, I was not. I'm glad you brought that up. I was not. There was an accusation that I was, but when I decided to start running for state Senate, I pulled back to part time (at Genesis), and then when I was elected, I stopped (working there) entirely. There is no overlap with Brian Benjamin, senator and Brian Benjamin receiving compensation.
Not even unpaid consulting?
Oh, you're right. We decided, 'why don't I sit on the board?' Not get paid, but let me sit on the board and be an advisor. My partner from business school founded the company. I just was very involved in the company's growth and helping to make sure the money got secured to really take it off. 
So there were people who said, 'no, we get you're not getting paid but we don't like the way that looks.' I said 'fine,' and I stepped off the board.
You're a former real estate developer and you're getting a lot of money from donors who work in real estate. Do you think the city needs to intervene in some way to help the real estate industry that's been struggling?
It depends on where you talk about that. The small businesses, the small homeowners, the folks who make the city work we should, without question, be thinking about how we can assist those people. I don't believe in this us versus them: 30% of the city's budget comes from property taxes. We can't just act like, 'screw that whole sector.' We have to make sure the whole sector has rules that protect everyone. And that's why we passed rent reform last year. I was one of the leaders in that conversation. I carried one of the bills! It's not like everyone in real estate's a monolith.
As a senator, you proposed a state tax credit for any New Yorker who was paying more than 30% of their income in rent. Would you keep pushing on that, and could it be done at the city level if Albany wont?
The problem now is who's going to pay for it? If it's President Biden, that's one conversation. If it's a re-Trump operation, that's a whole other thing. It's very expensive. There are those who believe in order to really do it, we have to get federal support for it. It's enormously expensive. But it's more about the value of the whole thing. I believe no one should be paying more than 30% of their income for rent. Period. Everyone agrees with that. So let's figure out a system that gets that done. That's what I would like to do. I strongly believe the issue is to provide money to those who are struggling, not to destroy the entire system.
You were essentially appointed to the Legislature in 2017, and have never really run a competitive race – 
So let's slow down on that. We had a County Committee (meeting). There were four people who ran very aggressively. A number of electeds were split. So it wasn't like somebody said "Brian, it's you." 390 people showed up, they were County Committee people. And I got 60% of that support. I was not elected through a typical general election – same way (Assembly member) Linda Rosenthal wasn't, the same way Scott Stringer wasn't, (Rep.) Jerry Nadler wasn't, (state Sen.) Brian Kavanagh wasn't. I'm just saying.
Do you have a team behind you that's run citywide before, or run a competitive race before?
Yeah, so Parkside Group is our strategist. I have Michelle Gilliam as my campaign manager, who was deputy national campaign director for Elizabeth Warren, political director at (the Transport Workers Union), ran a number of races on behalf of TWU. So I've got a quality team. And we're going to have the money we need to win.
You introduced a bill in 2017 that would direct the city to close Rikers Island in three years, rather than the planned 10-year timeline. Do you still think Rikers can be closed sooner, and if so, how?
I think it's harder now with the crisis. The issue is capital – how are you going to pay for the new jails? I believe in the system that they set up. I believe that they should have moved faster. I've always been a strong believer in, 'let's reduce the population.' And not just reduce the population in theory. 
There are people who are incarcerated who are there because we continuously criticize addiction. Right? We can't say 'oh, it's OK to be addicted to (an) opioid, you need services and help, but you're addicted to crack, you're addicted to heroin, you get jail.' That, to me, is a racist structure that needs to be unwound. Now, those who are dealers and pushers, those are the people we should be dealing with. When you really only have incarcerated the people who are real threats to public safety – you've got to define that – then you have a much smaller population. And I think we're aggressively moving in that direction. 
You were an early endorser of Kamala Harris for president. What did you see in her?
Oh my god, yes I was. I saw someone who I thought could win. The fact that she was a Black woman was a part of my consideration, but it was not the only consideration. I thought she had the best chance of beating Donald Trump. I thought that she represented someone who was smart, someone with great experience. Someone who, as a senator, had one of the most progessive records of any senator in the U.S. Senate. Some of her prosecutorial things, I think she should have done a better job explaining, but I think, all in all, she represented the best candidate. There are so many women like her who helped start my career and get me to the place where I'm at. It was appropriate when I found a Black woman who was qualified and talented and needed support that I step up and help her. And now, she's going to be vice president!