Jamaal Bailey
Jamaal Bailey on being the new Bronx boss
A Q&A with the newly elected Bronx County leader.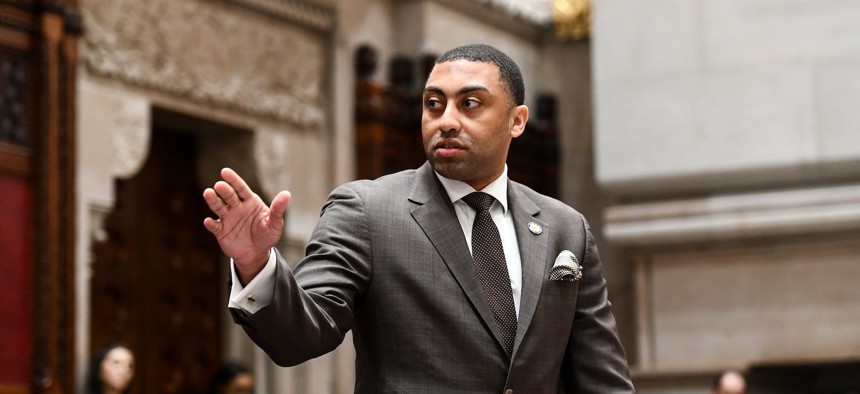 With Jamaal Bowman and Ritchie Torres set to join Rep. Alexandria Ocasio-Cortez in Congress, and an almost entirely new City Council delegation set to sweep into the Bronx next year, along with a new borough president, the Boogie Down has become the Borough of Change. And that change goes all the way to the top, with state Sen. Jamaal Bailey officially chosen as the new leader of the Bronx Democratic Party on Wednesday night. He's replacing former Assembly Member Marcos Crespo, who resigned in June after five years as county leader. City & State caught up with the 38-year-old resident of the northeast Bronx to ask why he'd want the tough job, how much Assembly Speaker Carl Heastie helped him and why he compares himself to NBA star Kevin Durant.
The following has been edited for length and clarity.
I'm a little surprised that you becoming the new county leader hasn't gotten more attention. Have party bosses lost a little bit of luster from back in the day?
It's an opportunity to lead my borough. And the coverage doesn't concern me. It's about making sure we can galvanize the hearts and minds of Bronxites to come together and coalesce as a cohesive unit. That's my concern. I'm all about getting things done.
Party bosses get a lot of influence, but also a lot of criticism from those who feel like the county party is too insular. Why do you personally want this job?
To lead the borough that's given me so much, it's an honor. Perception is one thing, reality is another. We can bring people together. We can bring the bright, emerging bench together with folks who are more seasoned in government. In the Caribbean community, there's something called saltfish. In Latino culture, something called bacalao. It's the same thing, it's just said in different languages. When people realize that we have a lot more in common than we do apart, I believe we get closer. And I believe I'm well-situated to be able to do something like that.
Are you West Indian?
I'm not. My family is from North Carolina on both sides. Johnston County, North Carolina, specifically.
Just part of the diversity of the Bronx.
Walking in, we've expanded the amount of vice chairs that are in the organization. We've brought on individuals from a variety of ethnic backgrounds to truly reflect what the borough of the Bronx is about. There's way more than Black and Latino – there's Asian, there's South Asian. We have a significant West African population. Folks from Bangladesh. We are a borough that has a lot more than meets the eye. We are a significant melting pot. When we're together, we're going to be able to do something really great for this borough.
The Democratic county leaders of the Bronx, Brooklyn, Queens and Manhattan are all Black. What does that say about the state of the party in the city?
Leadership matters. Representation matters in leadership. We have diverse leadership leading counties. It's a good role to be in. 
I think about the Crown Act, a bill I was the lead sponsor on along with (Assembly Member) Tremaine Wright, about the ability for people of color to wear their hair. Protective hairstyles were no longer banned (in schools and workplaces). You get those bills when you have a Speaker (Carl) Heastie and (state Senate Majority Leader) Andrea Stewart-Cousins in the Legislature who understand that Black people, specifically Black women, have been discriminated (against) in the workplace for wearing their hair a certain way. You get thoughtful leadership when you get diverse leadership.
I'm also married to a Puerto Rican woman. My children are Afro-Latina, my wife is an Afro-Latina. While yes, I'm an African-American, there is consideration for many other views and many other cultures specifically within my own household. So I'm proud to be Black. I think being a Black county leader is critical in the day and age of Black Lives Matter. But it's important to make sure that we are leading for all people.
You came into politics working for Heastie. And for your reelection this year you were endorsed by the Working Families Party and Rep. Alexandria Ocasio-Cortez. How do you define yourself politically?
I'm a huge basketball fan, and this is the era of positionless basketball. Not that I don't have positions on things, but Kevin Durant, right? He's 7 feet tall but plays like a guard. He brings the ball up the court. We've seen Nikola Jokić play a point-center position. There are certain things that people would see that they may not think I'm progressive on – I don't know what those things are. But I'm huge in the criminal justice space. I'm huge with worker-owned businesses and worker cooperatives. 
It's funny, Phil Boyle just texted me congratulations, a Republican state Senator, to say, 'Congratulations, Mr. Chairman, I hope you still have time for basketball.' When you treat people like people and you're not locked into partisanship for the sake of being partisan, you get a lot more out of people. Congress Member Ocasio-Cortez has done a phenomenal job. She's someone that the borough needs. I think that, also, Speaker Heastie has done a great job! He's someone that the borough needs. I don't think we should lock ourselves into these arbitrary positions just for the sake of political identification. It's positionless basketball.
Did Heastie help make you the chair? Was he making calls for you?
Nope. Nope. Nope. Carl has been a mentor. He's been a big brother and I won't shy away from being his mentee. But in this particular instance I made all the calls that I had to make, from speaking to district leaders and speaking to other members. Not one person that I've spoken to has indicated that they've spoken to Carl. I want people to be able to recognize that if this was something that was going to take place within the speaker's borough that he's in – obviously he's a member of the organization. However, the district leaders are the ones who have the votes. And the members of the executive committee are the ones who have the votes. Speaking to them was critical and most important.
There haven't been as many women elected in the Bronx as in other boroughs. Is it the county committee's role to help elect women?
We have to look at the realities and look at our delegation and, yes, we could be doing a lot more to elect women in our borough, without a doubt. We have to ensure that we are looking at the right candidate in any race and choosing anybody for the sake of just choosing them is a disservice to anyone. Should we be electing more women to office in the Bronx? Yes.
The Bronx Democratic County Committee never filed a July financial disclosure with the state Board of Elections, and the last update from July showed just $95,000 in the bank. Another Bronx Dems campaign account hasn't filed a disclosure in over a year. What's the party's financial health? Are you going to get it filing again?
Absolutely, we're going to be making the proper financial filings going forward. And we're going to be trying to reinvigorate interest in the party and hopefully be able to make our party financially sound so that we can do some of the positive work that we need to do as an organization.
You've rapped about the budget. Last week, you hosted a voter registration drive concert. What are your favorite musical acts from the Bronx?
Oh wow. We are the home of hip-hop, salsa, doo-wop. A top five is really tough! Héctor Lavoe. El Gran Combo. (Both acts originated in Puerto Rico but had Bronx ties). So many great Latin artists, right? Hip-hop, you've got Slick Rick. KRS-One. Big Pun. We can go with the original hop-hop folks, like Grandmaster Flash, Melle Mel. There's so much. Jennifer Lopez! Angela Bofill. Top five is impossible. Willie Colón! There's so many people in the Bronx who have contributed to the culture in our nation. 1520 Sedgwick Ave., Hip-Hop Boulevard. Remember Bobby Darin?