Personality
Friends and colleagues remember David Dinkins
A gentle man who devoted his life to public service, advocated for disability rights and racial harmony
Former New York City Mayor David Dinkins, who was handed the keys to the city at one of its lowest moments, and served as New York's first and only Black mayor from 1990 to 1993, died on Monday at age 93. City & State reached out to those who knew him – friends, politicians, employees and journalists – and asked to hear their favorite stories and memories of the man.
The following stories, lightly edited but told in their own words, paint a full picture of a gentle man who devoted his life to public service, advocated for disability rights and racial harmony, loved performing weddings and cared about the details of one of the hardest jobs in politics.
David Paterson, former staffer for Dinkins' Manhattan borough president campaigns, now former governor:
"In 1981, when he ran for borough president, I had some bad experiences not getting jobs because of my disability. (Paterson is legally blind.) Dinkins knew that, and he told my father, 'send him down here and we'll find something for him to do.' And they gave me a list of people to call up and ask for money. And then in 1985 I was his fundraiser again – this time, I ran the fundraising team. In the middle of the campaign, the state senator from the Upper West Side and Harlem died, and it was suggested to me by Percy Sutton that I run for his seat. He said, 'you probably won't win, but get the experience.' We wind up in a meeting with Bill Lynch, who was my campaign manager, along with the famous 'Gang of Four:' My dad, Basil Paterson, Percy Sutton, Charlie Rangel and David Dinkins. So at the end of the meeting, Rangel says, 'well, you've got my support.' So my dad says 'alright, if that's how you all feel, you've got my support.' And Dinkins says, 'well, you have my support too, David, but you still work for me. I wouldn't mind if you drop by the office now and then!'"
Keith Wright, former Dinkins staffer when he was borough president, now Manhattan Democratic County leader and former Assembly member:
"I grew up in the same building where he and his family lived, The Riverton (in Harlem). I went to elementary school and high school with both of his kids. We used to take the school bus together. 
When I graduated from law school and I was on unemployment, looking for a job, Dave hired me to be the director of his Harlem office when he was Manhattan borough president. It was 1985, and he had run for borough president twice before then and I had helped out on those campaigns a little bit, but working for him was the best job I ever had in my life! I had just gotten my last unemployment check and Dave Dinkins hired me at $30,000 a year. I thought it was a million dollars back then. That was good money! I was told to run the Northern Manhattan community boards.
Dave was an interesting guy. I don't know why he had this image that he was such a nice guy – and he was. But let me tell you, number one, he was a Marine – so he was tough as hell. Number two, he graduated from Howard University with a degree in mathematics, so whatever you told him, 1 + 1 better equal 2. And number three, he was a lawyer! So you couldn't bullshit him. He demanded perfection! But he also gave you constructive criticism. 
He got furious with me all the time. I'll never forget one time, we were in a funeral, and I didn't do something right. It was at St. Martin's Church, and he was yelling at me, he had a foot up my behind. Then a gaggle of photographers and reporters came by. He just started smiling for the cameras. I said, 'thank God those camera men came.'"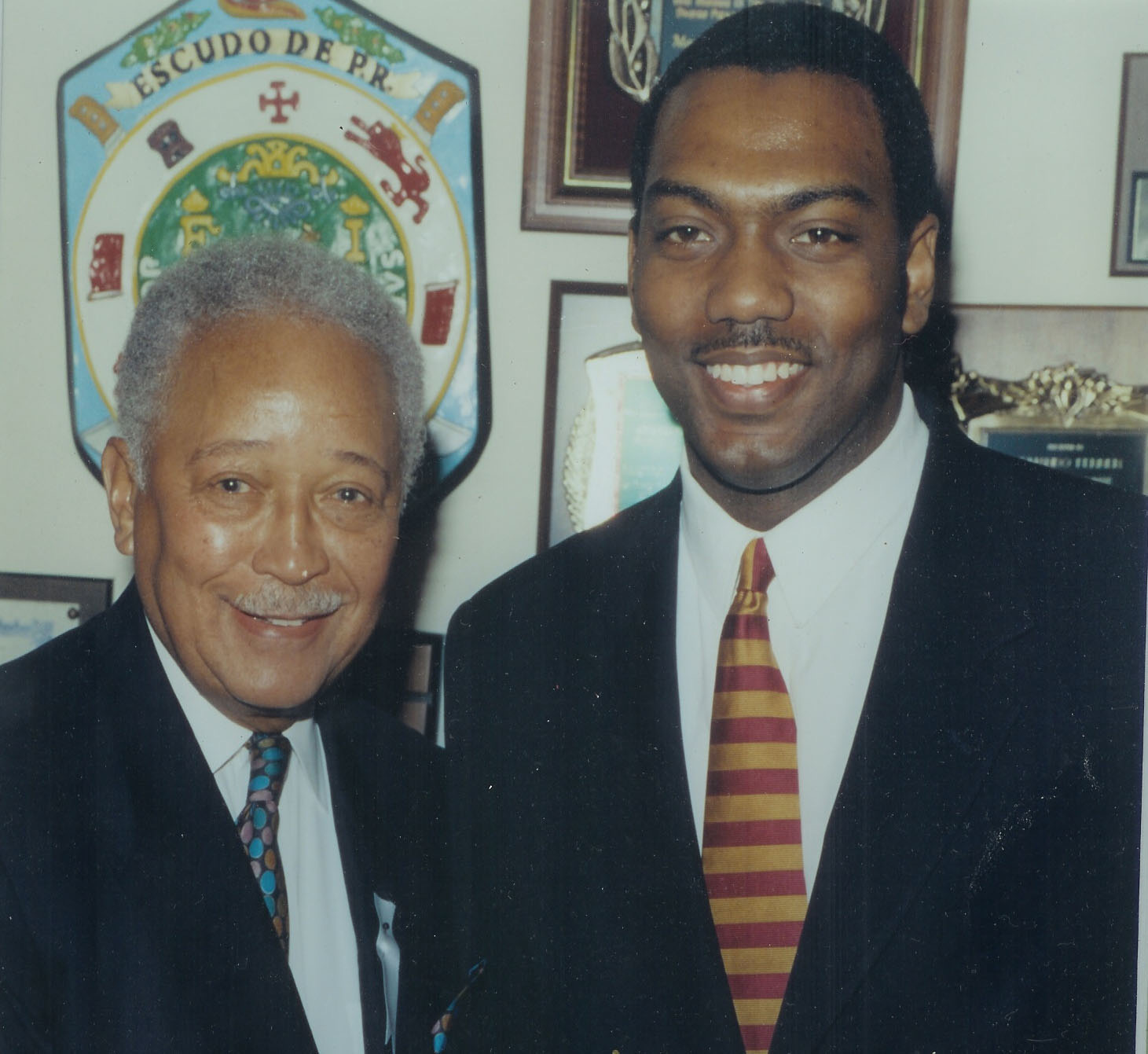 Basil Smikle, former student of Dinkins' at Columbia University, now a political strategist:
"I remember when he was elected. I remember walking into the student union at Cornell with my friend Andy Velez, who was from Queens. We looked up at the news ribbon and it said that 'David Dinkins elected first Black mayor of the city of New York.' He and I looked at each other and just said, 'we did that. We did it.' I don't know if he was 18 at the time and voted, but I wasn't, so I couldn't vote. The "we" meant young people, and the communities of color, and the diversity of the city elected the first Black mayor. That was the collective action.
When he lost the election in 1993, he ended up teaching at Columbia in 1994, and I was a first-year master's student in public policy that year. I actually took his first class, and then ended up working as an assistant in his office… It was great to see his collection of pictures and awards from his time as mayor and all of the people that came to visit him. It was an incredible community of very talented leaders and thinkers from all over the country.
I was married once, and he actually spoke at my wedding… He was actually upset that he wasn't performing my wedding. I said, 'but you're a former mayor. I didn't know former mayors could do that.' He said 'I changed the law so that I could do weddings after I was mayor.'"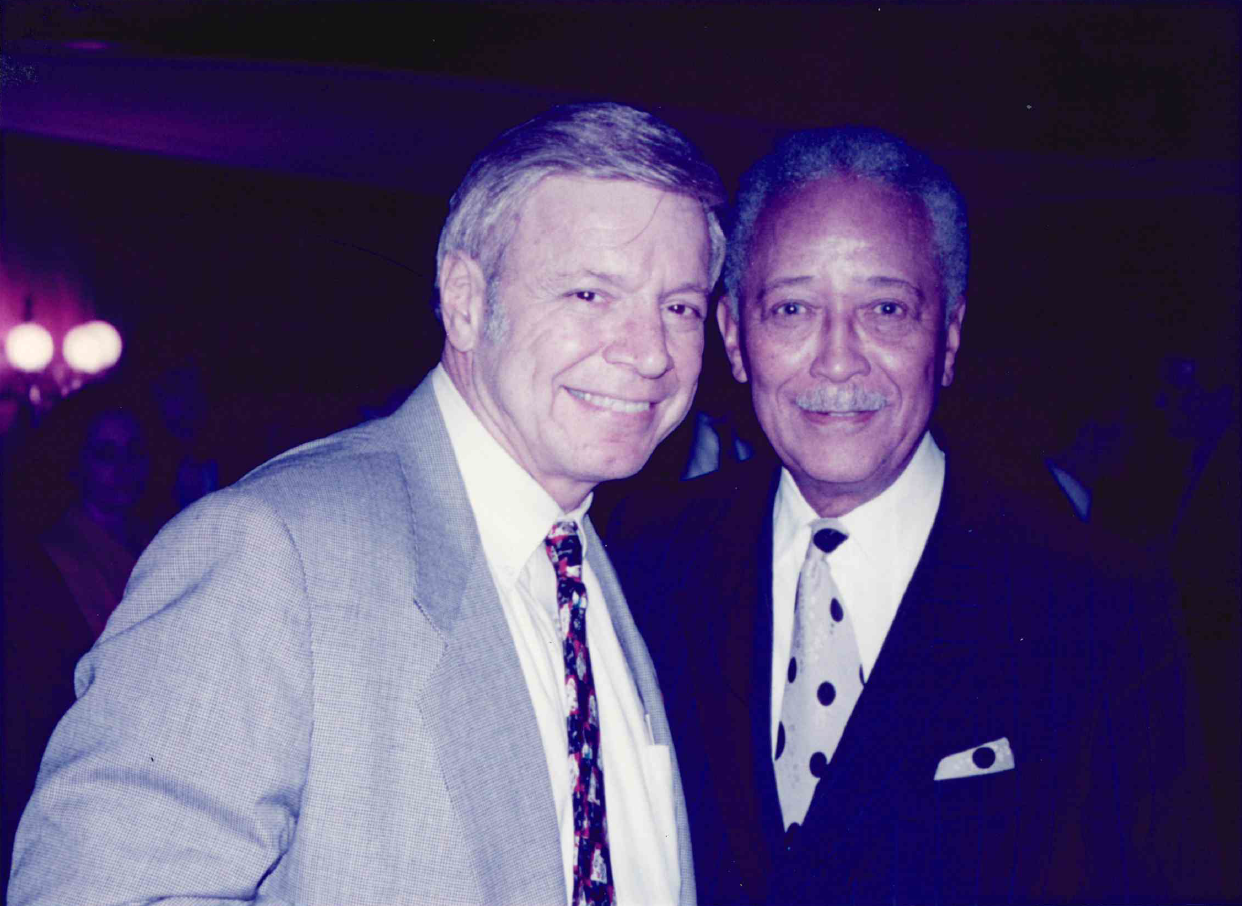 Peter Vallone, former New York City Council speaker during Dinkins' tenure, now a lobbyist:
"He was one of the finest gentlemen I ever met. But we were serving when it was always a budget cut. We never had really serious arguments, but we always had different priorities when it came to cutting the budget. David's was always (keeping funding for) social services. And mine was always (keeping) uniformed services… We were in a very, very tough budget. We finally compromised it, it was very tough for all the 51 Council members, as well as the mayor, since so much money was being cut out of both budgets. So after we signed the budget and I'm on my way home, and the Council members are up until about three or four in the morning, wrangling over the budget, David called me. He says 'you've got to come back!' I said, 'what do you mean come back, we shaked on it. The papers were there. Everybody is happy about it.' He said 'we forgot $40,000 for the nurses!' I said, 'what do you mean we forgot it?' He said 'I just checked and we were supposed to restore $40,000.' I said, 'David, we can't come back. There's no way I can get all the Council members back. But I promise you, by the next time we have a Council meeting, before that, I will have a Social Services Committee meeting and we will install a budget addition for that $40,000.' 
Could you imagine trying to get back all 51 Council members and talking about restoring $40,000 to nurses out of a $60 billion budget? That would have been the end of my speakership! But David was so upset about it! That shows what kind of man he was. He understood how important nurses were."
Hazel Dukes, president of the NAACP New York State Conference:
"He was my boss, my mentor and a best friend. He was. He encouraged me in all of my endeavors. He chastised me when he thought that I was not adhering to decisions that were being made, but always with love. So many memories, fun memories, bringing Mandela – and we prepared to bring Mandela to New York. It was an exciting period in his administration. The Times got it wrong. He was not disorganized.
We were taught to see that we dis-invest with companies that were investing in South Africa, because of apartheid. New Yorkers played a great part in seeing that South Africa became independent as a nation, where they could have democracy, to vote and to elect a president. And so we prepared for him to come. They were so gracious – Mandela and his wife."
Una Clarke, former City Council Member, the first Caribbean American woman on the Council, elected on the same day Dinkins was elected mayor
"He was a person that made the kind of transition and reconciliation, so that the city was not racially divided. And he tried to make sure that all of our communities had a voice… I will remember him as a healer – a person who is racially balanced, who made sure that the community worked harmoniously together."
Rep. Adriano Espaillat:
"I never saw the city shine like it did when David Dinkins gave a hero's welcome to Nelson Mandela in 1990. I attended the welcoming ceremony at City Hall – the city swelled with pride and every neighborhood celebrated in the name of freedom and equality. On that day, New York was the center of the universe, and David Dinkins was our mayor."
Gerson Borrero, former newspaper columnist and co-founder of the Institute for Puerto Rican Policy, who covered Dinkins:
"I can remember back to (Mayor John) Lindsay. The way that the city was transforming, and really in the dumps. By the time it got to Dinkins, there was so much concentration, and people wanted him to succeed. We were all aware, even in media, and even with the Post not being the Post of today, that the city needed a leader. Because he was Black, because he was the first one, people expected too much from him. That was unfair. The coverage wasn't always very pleasant. But for the most part, I think he got a fair deal with the media. It was just that it was tough times."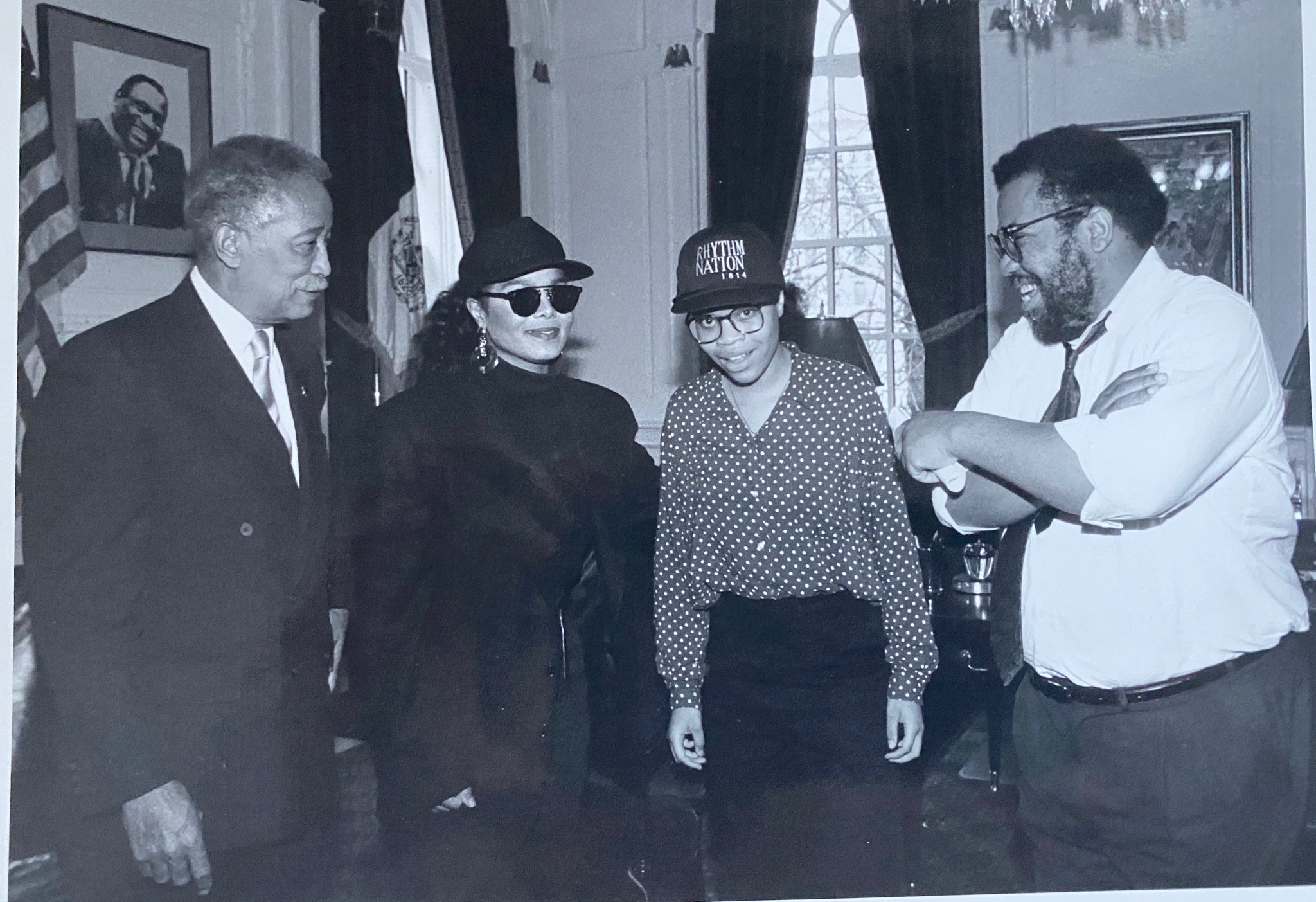 Stacy Lynch, daughter of Bill Lynch, who was deputy mayor under Dinkins; now deputy director of intergovernmental affairs to Mayor Bill de Blasio and a candidate for City Council in Manhattan:
Particularly after my father passed (in 2013), he became like a second father to me. I want to be respectful of his daughter Donna and David Jr., but he really stepped in in his own way. He would often tell people in politics and government particularly, that I belonged to him. That was his way of protecting me a very fatherly way...
I experienced some amazing things, from meeting Nelson Mandela to my dad and the mayor surprising me with an impromptu meet-and-greet with Janet Jackson, who was like my hero at that time. I was at school and my dad and the mayor called the principal and they're like, 'we're coming to pick up Stacy, there's an urgent matter' – which was probably totally illegal at the time (laughs) and I walk into my dad's office and he gives me my Rhythm Nation hat and he's like, 'wear this' and I'm like, 'what is going on?' And I walk into this room, and there's Janet Jackson. 
At that time, (Dinkins was) the shit. Celebrities would come and stop by City Hall and they would get keys to the city and just hang out. Janet had stopped by to meet the first Black mayor of New York City and was presented with the key to the city and just had a good time. My dad would mention stories about hanging out with (then-Rep.) Charlie Rangel and the mayor and Whitney Houston (laughs)." 
Ester Fuchs, professor at the Columbia School of International and Public Affairs:
One of the things I loved so much about being with him, was to be walking with him on the street when young people would come up to him and recognize him, and he always stopped, and he always would talk to whomever the person was and he would agree to take a picture with them and then he would offer them something inspirational, because they would say how proud they were that he was mayor of the city of New York. His election to the mayoralty of New York was sort of bigger than who he was.
"When he first came to Columbia, he invited me to his apartment to talk about how we were going to structure the David N. Dinkins Leadership in Public Policy Forum together… I'm an Orthodox Jew and I keep kosher and he knew this about me. And I went to his apartment on the East Side and I knocked on the door and his wonderful wife, Joyce, she answered the door and she said, 'Oh, come on in. David isn't here, he went down shopping.' I waited inside and he got back and he had went out and bought paper plates and plastic silverware and paper cups because he wanted to make sure that I would eat something and I would feel comfortable about eating in his apartment and he didn't ask me anything he just did what he thought he should do to make me feel comfortable. And then he made me silver dollar pancakes that he loved to cook and he served them on the paper plates and gave me tea in the paper cup.… His public rhetoric really matched who he was as a person."
State Sen. Robert Jackson:
"When he was a professor at Columbia, I went to his class almost every semester to talk to him about the Campaign for Fiscal Equity and the struggle to make sure that every child, no matter who you are, had a sound basic education. 
He was a mentor overall in dealing with the issues and concerns that I was involved with, which is education, which was diversity, which is about unity of all the people. He was not the one that was divisive. He was the one that was trying to bring us all together, and as he said, the great mosaic of New York City, that's who we are, and we have to unite behind that. Especially coming as a result of our current president being so divisive, we needed people such as Mayor Dinkins in order to unify our city and our state and our country."
Manhattan Borough President Gale Brewer, who served as director of the New York City Office of Federal Relations when Dinkins was mayor:
"We had his 92nd birthday in my office at 1 Centre Street. It was July 10, 2019, and the invitation was sent to everybody you could think of. It was a huge, huge, turnout. He was sitting next to his buddy Mr. Rangel, and people came from all over the place. People he had not seen in years and years. I was crying. This was his old office, plus this was his friends. He's a superstar. We have a chair left over from the Board of Estimate. Looks like a throne. He would sit in that as he (conducted marriages), but he also sat in it when we had his birthday party. And don't forget, the building is called the David N. Dinkins Municipal Building."
[csny_dpf_ads]
Powered By
NEXT STORY: History Maker: A Q&A With David Dinkins