Personality
Westchester's next DA on tackling police corruption
Mimi Rocah talks about the possibility of investigations against Trump and her plan to address racial disparities in arrests.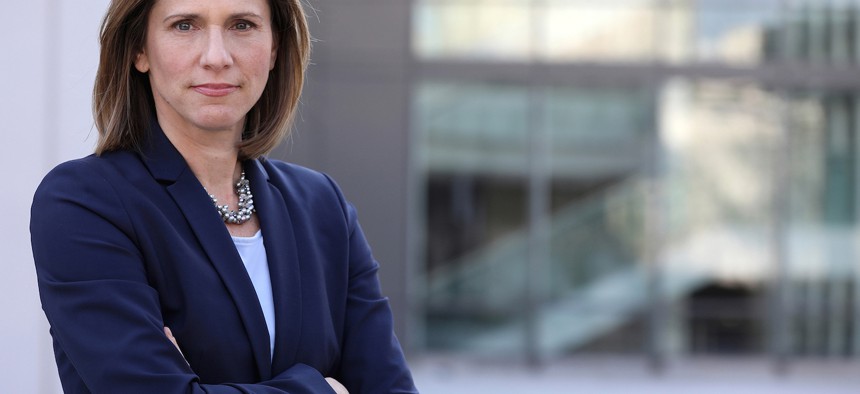 Westchester County's primary race for Westchester district attorney coincided with a major reckoning on racial justice and policing across the country after the death of George Floyd. Mimi Rocah's victory over incumbent District Attorney Anthony Scarpino was fueled in part by that movement. Rocah, a former federal prosecutor and legal analyst with MSNBC, attacked Scarpino's handling of accusations and secret recordings his office received from a whistleblower alleging misconduct among Mount Vernon police, which included beating residents and planting evidence. His office also continued to move forward with cases based on the work of the officers accused of misconduct.
Some also pointed to Rocah's success as part of a progressive shift in the lower Hudson Valley, though Rocah's stances are certainly more moderate than progressives such as former Queens district attorney candidate Tiffany Cabán. City & State spoke with Rocah soon after the general election – in which she has almost certainly emerged victorious – to discuss her plans for reform in the county. 
This interview has been edited for length and clarity.
You were very critical of the current district attorney for his handling of the investigation of alleged corruption in Mount Vernon's police department. Could you describe how you would have handled that case differently and how you plan to address those allegations going forward?
Based on what I have learned publicly – because again, up until now, I have really not been privy to anything more than what I've read in press reports like everybody else – it was alleged – and I actually didn't really hear denials of this – that the office received these serious allegations, received these recordings, and did not address those with the urgency that they should have been. There was a long time lag between the time that the recordings came in, and the time that the investigation actually seemed to sort of gather any steam. And I don't blame individual prosecutors for that. That is a leadership issue.
My office will know that this is a 'drop everything' kind of priority for me, for us. And police will know it, and they will know why because I do want to support our police. I just don't think they can do their job if people don't think we're taking corruption seriously. We need some kind of safeguards that when allegations of corruption about police officers come in, we have a system to establish whether or not we the prosecutors are going to continue doing cases with those officers. I don't know, sitting here right now, exactly what that standard should be. But I know we need some kind of protocol for that.
You've been pretty vocal criticizing President Donald Trump and some of his behavior in office. Trump has a decent footprint in Westchester. He has a golf course in Briarcliff Manor, where there have been accusations of labor law violations with some of the undocumented workers that had been hired there. His Seven Springs estate is also being investigated. As district attorney, would you also start to scrutinize some of Trump's involvement in the county?
My very public, very critical statements about the Trump administration, and particularly the Department of Justice and other issues, were in my role as a former prosecutor and a legal analyst. I'm now in a different role. I recognize that I'm a DA for the whole county. I don't think that this is about my political views anymore. I can have those privately, everybody does, but they aren't going to drive or impact how I conduct myself as DA. If there is criminal behavior to be investigated by anyone in this county – as a federal prosecutor, we got leads all the time from the press, from sources, from whatever it may be – they will be pursued. And I've said that public corruption is something that we will prioritize for all public officials, regardless of their politics and their party.
You've indicated you would share a lot of the data about racial disparities in arrests and prosecution. Beyond just sharing that information, outlining that disparity, what's the next step in using that data to reduce those disparities?
I don't want to undersell how important (sharing the data) is, right? Right now, that is just something that is not widely happening. Prosecutors' offices are starting to do it, some of them. But you cannot solve problems that you haven't diagnosed. I look at getting the data and sharing it as making the diagnoses, where they may be or not, and sharing that with the public so that they can have input.
During the transition, we are going to partner with real experts, finding ways to use that data. If we see that there are a large amount of gun arrests or gun cases going on in certain areas, you don't just say, OK, we're gonna send more police in.' That may be something you do. But you may also need some violence intervention programs, partnering with the community. You may need to think about the possibility of a specialized gun court in that area that works on, not just arresting and prosecuting people for nonviolent gun offenses, but providing other kinds of services as well.
You've indicated support for the state's initial bail reform law. Do you agree with the subsequent amendments to that law that were made later this year, which made more crimes eligible for cash bail?
The short answer is, yes. I think that what (the Legislature) did is, they went from a policy that was desperately in need of reform to one that – you know, it's not a one-and-done. I think they looked at some of the data, they listened to some of the feedback and they solved some pretty obvious gaps – for example, having certain kinds of burglary that were not cash bail-eligible. Because really what they were trying to protect was cases where someone came into like a lobby in a building in New York City or somewhere and took a package. OK, that's a very different crime from someone coming into someone's home. But the statute charged is the same. The amendments made clear the distinction between those two kinds of conduct. That is just common sense.
I think it's still a work in progress. Again, this goes back to data. I think we need to look at what the data will show, and whether the data encourages us to be more or less cautious in terms of bail reform.