Personality
Greg Meeks, the diplomat
The Queens leader talks foreign policy, stimulus checks and Chris Collins' pardon.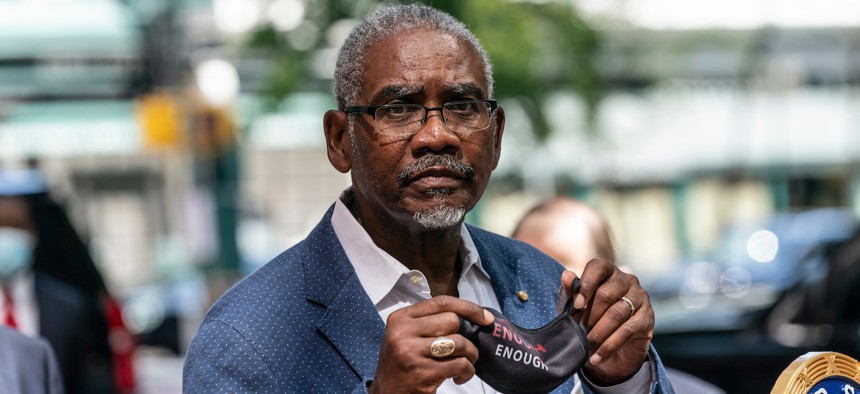 Rep. Eliot Engel may have suffered a stunning reelection loss this year, but New York still has a hand in the fate of the country's foreign affairs. Earlier this month, Rep. Gregory Meeks, the Queens County Democratic Party leader who represents both that borough and part of Nassau County, was elected chair of the House Foreign Affairs Committee – replacing Engel, who led the committee for two years.
Meeks will make history as the first Black member of Congress to chair the committee, and has served on the House Foreign Affairs Committee for the length of his tenure in office: 22 years. And though he admired Engel's leadership of the committee, that doesn't mean he isn't eager to forge his own path. "I have nothing but respect for Congressman Engel. But for the circumstances, it would have been great for him to continue," Meeks told City & State, referring to Engel's primary loss to incoming Rep. Jamaal Bowman. "But just like anyone else, I have my own style, and I have my own footprints that I want to leave on the sand." 
City & State caught up with Meeks to hear more about his foreign policy ideology, his priorities for the committee, and the latest goings-on in Congress – including stimulus updates and President Trump's pardoning of former Rep. Chris Collins.
This conversation has been edited for length and clarity.
Can you describe your foreign policy ideology in a few words?
I believe in diplomacy first. Because I'm a multilateralist, I believe that we have to work with our allies. I believe that you do have dialogue and conversation with your adversaries, and you're straight up with them. I believe that we have to be at the table, and we have to be a part of multilateral organizations, like the World Health Organization, like the Paris Climate Agreement, like the Joint Comprehensive Plan of Action.
What will be some of your priorities in leading the committee?
One of the things I think that needs to happen, and I'll be pushing for it with the committee, is to use our authority as Congress for making the determination on the Authorization for Use of Military Force. (Editor's note: Meeks, along with many other Democrats, has called for tightening the scope of the AUMF, legislation that has granted the executive branch broad authority to take military action.) I think that we need to have a budget at the State Department, and that that's taken as seriously as the budget for the armed services. Because democracy in the State Department is a cheaper way to get peace than the military. I believe that there's got to be a focus on democracy, on refugees and racial and ethnic minorities throughout the world, and the democratic rights of women and the LGBTQ community. 
A lot of Engel's work in the last few years on the committee was focused on oversight of President Trump's policy actions, including attempts to hollow out the State Department and cut foreign aid. With Trump out of office, how do you expect the work of the committee you're leading will change?
I think that what we do going forward is making sure that we are back at the table, where we have been missing over the last four years. And we elevate some of the dialogue and conversation with countries around the world that had been on the back burner for a long period of time. Like our neighbors in the Caribbean, and in Central and South America. So I intend to elevate that – and, the fastest growing continent on the planet, Africa. We've got to get back the confidence of our NATO allies in Europe. And then the other part of the world that's important to work with, of course, is Asia.
That's a lot on your plate. But what's immediately in front of you is the stimulus bill just passed by Congress. President Trump last night called on Congress to increase the size of stimulus checks going to Americans from $600 to $2,000, suggesting he wouldn't sign the bill as is. Democrats have already supported larger checks. Can Congress pass that amendment? 
Yeah, Nancy Pelosi will pass that tomorrow. It's something that the Democrats wanted all along. I just think it's a game that this president is playing, as he's been playing it all along. When we said we wanted $2,000 (checks) and put it up, it was Senate Majority Leader Mitch McConnell and Treasury Secretary Steven Mnuchin that shot it down. So I find it somewhat disingenuous if (Trump) wanted $2,000, his person was at the table negotiating it, he could have said it then. We'll call him on it. Because we definitely want it. What should happen is, if (Trump) really wants it, don't veto the bill. We'll put up a new bill saying that we want to do $2000 (checks), and let him get McConnell to pass it in the Senate, and we can get the bill to his desk before the end of the week.
Yesterday, Trump also granted a pardon to your former colleague in Congress, Chris Collins, who just began his prison sentence after pleading guilty to charges of insider trading. Were you surprised by that pardon?
There's nothing that this president does anymore that surprises me. He's going to do anything that he thinks is in his personal interest. Everything that he did last night – I wish I could say that I was surprised, that I was shocked. But after four years, you come to expect it. We may have to look at coming together with legislation to prevent the kind abuse of authority that clearly this president has done over the last four years.