Interviews & Profiles
Kathryn Garcia wants to inherit the "shitshow"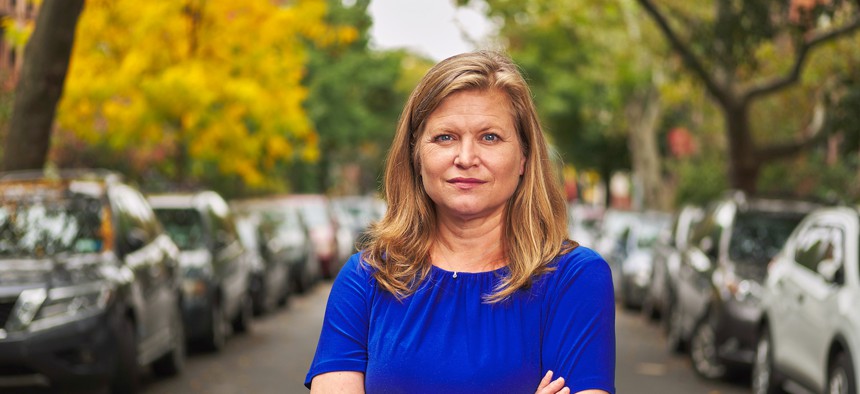 Kathryn Garcia doesn't really do politics. Before she started running for mayor of New York City, beginning with a Zoom announcement on Thursday, she'd never run for office before. Her only campaign experience was making fundraising calls in 1992 for former Democratic U.S. Sen. Russ Feingold of Wisconsin when she was a college student at the University of Wisconsin-Madison. Before 2020, her lone campaign contributions were $100 to former Mayor David Dinkins' unsuccessful 1993 reelection campaign, and $10 to David Waid, an Assembly aide who dropped out of a 2001 City Council race in Brooklyn. And Garcia has only just now joined Twitter, that forum where so much (too much?) political discussion takes place. "I avoided getting a Twitter account for like my entire life because I thought it was a not nice place," Garcia told City & State. "And I was told I must have one. I still think it's not a very nice place."
But Garcia does do government. She joined former Mayor Michael Bloomberg's administration in 2006, eventually becoming chief operating officer of the Department of Environmental Protection, then was named sanitation commissioner when New York City Mayor Bill de Blasio took office. While working as commissioner, de Blasio also tapped Garcia for a number of short-term, high-profile projects – senior adviser for citywide lead prevention, interim chair of the New York City Housing Authority, and most recently, food czar responsible for managing food distribution during the coronavirus pandemic.
So in a crowded Democratic primary scheduled for June 2021, Garcia is hoping her pitch of competence and service delivery will stand out. "I'm an analytical, metrics-driven, policy-driven collaborative manager," she said. Her real boss wasn't Bloomberg or de Blasio, but the public. "And how I've always judged my performance is: Did I or did I not achieve (the public's) expectations?"
Of course, Garcia won't be the only one taking that message to the public. Shaun Donovan, who also kicked off his mayoral campaign last week, was Bloomberg's housing commissioner, and held two top positions in the Obama administration. And candidates like city Comptroller Scott Stringer and Brooklyn Borough President Eric Adams both have years of experience in government – albeit much of that in elected office.
Garcia will now be making her case directly to the public for the first time on the ballot. City & State talked to Garcia the day of her campaign kickoff about where she would make budget cuts, why she doesn't want support from police unions and whether she'd be more like Bloomberg or de Blasio.
Your campaign kickoff Zoom lasted just 15 minutes. Is this the government efficiency that you're touting?
Yes! I mean, how much more did you need? You needed to know that I was going to launch. Needed to know what I was going to do. And we were able to do that efficiently and not keep you on a Zoom for an hour and a half.
You've also talked about efficiency in terms of there being redundant positions in city government, like there being too many people handling technology in New York City Mayor Bill de Blasio's administration. Where are the opportunities for thinning out government?
We have a commissioner who's responsible for technology (Department of Information Technology and Telecommunications Commissioner Jessica Tisch). They should be in charge of technology. All the extra czars and stuff – if she needs people to be subordinate to her, but I'm sure there's probably someone within the department that's doing exactly the same thing.
Any other opportunities you see for streamlining?
There are always opportunities for streamlining. And I feel like each agency, though, is a little bit different. But particularly on the administrative side, we know that we can be more efficient. We took everything into the cloud. And it worked very well. We were able to do a ton of work remotely. What do we need to bring back that's sort of more old-fashioned? Is that the way to go?
If you were mayor, would you now be trying to find some budget cuts through limiting the number of employees?
Unless the federal government is exceedingly generous, we're going to have to reduce the budget and be more efficient across the board. I would not cut current employees, but I would look to work with labor to find productivity savings and to find health care savings. And to refinance the debt.
You said that you started your day today at a Sanitation Department roll call. Is that your path to victory – not just with sanitation, but appealing to city workers?
I think my path is all workers. But you have to go and ask them for their vote. That is critical to the path to success. I understand that campaigning is hard. It requires a lot of work. And I'm prepared to do that work. I was up at 3:30 this morning. I'm up at 3:30 most mornings.
Some city workers – but I have heard you say you don't want endorsements from police unions.
I don't. We need to be one city working to bring our finances back in shape, and supporting someone who wouldn't support your own salary doesn't make sense to me.
To be clear, you're talking about the city's police unions endorsing President Donald Trump?
Yes. Donald Trump was very clear that he would not give cities or states any financial assistance. And the financial assistance goes to pay police salaries.
If you were mayor, would you have cut the NYPD budget more in 2020?
I would not cut the patrol strength of the NYPD. Everyone's going to have to find savings, whether or not that's in efficiencies. But the concept here is not to reduce the ability for the PD to keep everyone safe.
And moving a big chunk of the agency to another agency (as de Blasio did this year, moving the School Safety Division from the NYPD to the Department of Education) does not actually create savings. That's just shuffling the deck around.
You've worn a lot of hats in city government – and you've been in it for about 15 years. A number of your opponents do not have experience in city government – 
Many of them don't have experience in managing anything.
Do you think city government experience is necessary for someone who wants to be mayor?
It is a big learning curve. Government is a very different place than any other type of organization. And as I said to a bunch of fifth graders this week, if you remember that government is about the teachers and the sanitation workers and the firefighters and the social workers – it is made up of all of these different people with lots and lots of different missions. If you think about the business world, you're not usually trying to do multiple things. Like Amazon basically delivers your packages. I mean, I think they also probably spy on you, but their basic job is to try and deliver you packages as quickly as possible. And that is how they gain market share. They're really only trying to do one thing. Government is trying to do a ton of things every single day.
You served as interim chair of NYCHA for six months. Do you support the Rental Assistance Demonstration, or RAD program, where public housing is converted to private management? And are you more hopeful for funding under a Democratic president?
I think actually (fellow mayoral candidate) Shaun Donovan put RAD in place. He was at (the U.S. Department of Housing and Urban Development) when that happened.
RAD is a very effective tool. The lease that a tenant gets has the same protections as their lease with NYCHA. I have gone into the apartments of people who have gone through RAD conversion. And literally tenants are like, "Would you like to see my bathroom? Would you like to see my kitchen?" (And they say,) "I get to have Thanksgiving at my house because it's not embarrassing to me anymore. And I want to show it off to my family." That's what RAD gives you. I've been in other apartments in NYCHA where they haven't had a sink in six months, or it's like a temporary thing. Where you see that there is mold. Where you see that there is real lack of maintenance. So I believe we need to use every single tool we can get our hands on to drive money into people's apartments and make their lives better.
You served under both Mayor Michael Bloomberg and de Blasio. Would a Garcia administration look more like Bloomberg's or de Blasio's?
A Garcia administration will look like a Garcia administration. You know, women are different types of leaders. Women are better building teams. And successful at really having that be a productive way to achieve things. Every team that I've built – whether it was doing the food plan, which was a team of people I had never met, my virtual team, or sanitation – spending time on thinking through who you want to have out there doing the work is very important. And to create a really collaborative environment. You get so much more out of people.
Some of your opponents have launched their campaigns with a handful of endorsements, whether local or national. You launched with just the support of the Uniformed Sanitationmen's Association. Is there a concern that because you're a bureaucrat, and not a politician, you'll lag in endorsements?
I have really good relationships with a lot of electeds. I don't have favors to call in. But I'm not really concerned about that. I think this is going to be about the message of the campaigns and where the voter is, come June.
A staffer at your announcement said you would "get shit done." And in an announcement video, you said, "The next mayor is going to inherit a shitshow." Is this your brand, tough-talking Brooklynite?
A little bit. I don't think I intentionally meant to say that on the video. A little improv. (Laughs.) And I think that they liked it, (the) creative (team). I don't usually have a terribly trashy mouth. But occasionally you need an expletive to actually fully describe the situation.