Personality
Rafael Salamanca makes his case for Bronx borough president
A Q&A with the New York City Council member on rezonings, affordable housing and his successor in the council.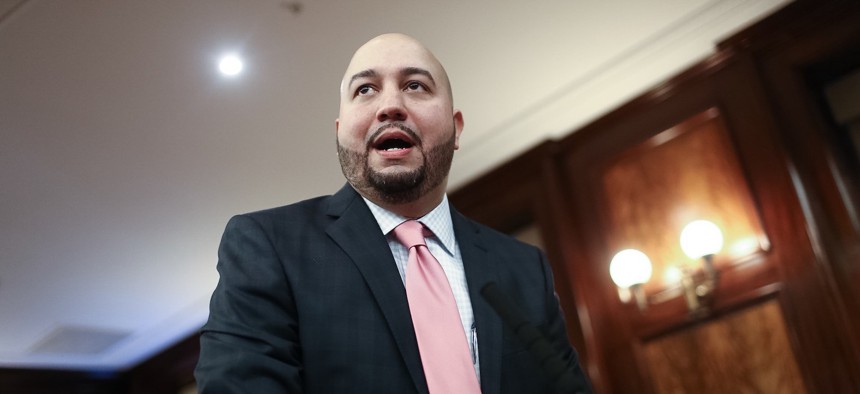 For the past three years, New York City Council Member Rafael Salamanca Jr. has led the Land Use Committee, one of the council's most powerful committees. He's eligible for reelection and had been considered as a contender to become the next speaker. But he announced this week he'll give up that chance, and instead run for Bronx borough president, hoping to build on the legacy of Ruben Diaz Jr., who is term-limited out of office at the end of 2021. That has set up what's sure to be a fierce fight for the office. City Council Members Vanessa Gibson and Fernando Cabrera, and Assembly Member Nathalia Fernandez, are all running, and state Sen. Luis Sepúlveda looks likely to join in too.
City & State spoke with Salamanca, a Bronx native, about his approach to housing and homelessness, whether he believes in member deference on land use decisions and who he wants to succeed him in the council.
You chair one of the most powerful committees in the City Council, you're eligible to run for reelection, and you were considered to be a candidate for speaker. Why leave the council?
I love my borough. I love the Bronx. I'm a product of my borough. I went to public school here. Had my first job in the Bronx. I was born and raised and never left. And I'm raising my family. I have a 6-year-old. But today, we're currently in this health pandemic which has ravaged my borough. And I've seen it firsthand. I lost my dad to this pandemic. I've lost friends to this pandemic. I'm seeing small businesses in my communities close because of this pandemic. Neighbors are literally at the brink of homelessness because of what this pandemic has done to the economy. And with the upcoming term limits (making Bronx Borough President Ruben Diaz Jr. leave office) there's going to be a leadership change in the borough, and citywide. I have a proven track record of addressing the core issues that I feel like the Bronx is currently facing, such as affordable housing, health care, reviving the economy and job creation. I see what's happening in the borough, and I feel like I have this experience and this knowledge, and this love that I have for my community, my borough, I felt the need to throw my hat in the ring and run for borough president.
Let's talk about that track record. There's a high demand for housing in the Bronx. But you opposed the Southern Boulevard rezoning and even supported downzoning certain areas. As borough president, would you support building more housing in the borough? And if so, where?
Absolutely. When we speak about gentrification, it's real. And when you look at development that's happening in the borough of the Bronx, you can see that. And also myself, sitting at the table, looking at the proposals that different developers have throughout the borough of the Bronx – it concerns me. Me being in the council for almost five years now, I've approved 7,000 units of 100% affordable housing. And I stood up to the mayor, I stood up to developers when I felt that they wanted to build something that's not appropriate in my community. I ensure that when we build, we're building for people that actually live in that community. I fought for a 15% homeless set-aside, and I was doing it even before the bill was passed. And that's going to be my approach as a borough president. I stood up to the Southern Boulevard rezoning because when I looked at it, about 90% of the empty lots that they were proposing to upzone were privately owned. And I felt, in my heart, there's no way that I'm going to give away this power to developers. Because that's the power council members have when we vote on these projects. There's no way I'm just going to give this up, and just take the developer and the city's word that they're going to do the right thing by the community. I believe in responsible development. The way to do it is to really not rush into things, analyze it, get community input, and ensure that the local elected leaders are part of the conversations and build responsibly.
Does that leave room for new market-rate housing?
You can't compare the South Bronx to Riverdale. The income bracket is different. You can't compare Throggs Neck to the west Bronx. It all depends on the needs and wants of that individual community. Normally, when market rate is built in the Bronx, it's because it's as of right. Normally when these projects are coming in front of the borough president's office, it's because it requires some type of zoning change from the city.
You sponsored a law that increases the number of apartments set aside for formerly homeless people in certain city-subsidized projects, but it's just a drop in the bucket when it comes to the number of unhoused New Yorkers. What else could the city do?
As my campaign progresses, we're going to be putting out a 15-point vision plan for the borough. Affordable housing and homelessness in my plan goes together. In order for you to actually address homelessness, there has to be one plan. The city can do much better. When you talk about my council district, or even (the districts of fellow Bronx council members) Diana Ayala, Ritchie Torres, Vanessa Gibson, we are inundated with homeless shelters. I have over 50 homeless shelters in my council district alone, and when you look at the numbers, I am housing more homeless families from outside my council district than those that actually are from my council district. To be quite frank, we don't need more shelters. What homeless families want and what they need is affordable housing, they want their own apartments, and that's going to be something that I'm going to focus on and pride myself on that work as borough president.
Lately we've seen elected officials arguing for an end to member deference on land use projects. Do you think the local council member should have the final say?
I believe in member deference because who knows their community better than the local member? The people in the community elected that official so that they can represent them and be their voice in City Hall. But when there's a project that affects an entire borough then I think it's fair for other members to voice their opinions and vote how they choose. And the example I give you is the Bronx jail. I voted "yes" for the closure of Rikers. But I strongly believed in my heart that the Bronx jail did not belong on the tow pound (lot). I strongly believe that it belonged behind the courthouse. And I voted that way. So I think it can be taken on a case-by-case basis.
So it sounds like you don't always believe in member deference.
Yes. You could say that.
Diaz has been the No. 1 cheerleader for the Bronx for the past decade. Do you see that as a role for the borough president, and what would you do?
I think my borough president, Diaz, has done a great job being a cheerleader, but (also) being that voice wanting to bring in jobs to the community. He has had a great relationship with the state, with the governor. Being able to work on that almost $2 billion that he and (former Assembly Member) Marcos Crespo were able to bring in for the Sheridan Expressway. That's the work of a borough president, ensuring that you, No. 1, build relationships, advocate for the borough and bring (the) resources needed.
As of July, you had about $323,000 in your campaign account, much more than any of your opponents. I imagine a lot of donors with real estate ties want to get in front of you since you're the Land Use Committee chair. Are you declining any sort of contributions for this race?
In almost five years on the council, I've approved over 7,000 units of 100% affordable housing and mandated a 15% homeless set-aside. I turned down the Southern Boulevard rezoning because I felt that 90% of the empty lots were privately owned. And I believe that if I were to approve it, it would displace my constituents. I'm also the co-sponsor of a racial impact study for rezonings. So just to be clear, donations that I get, whether they're from real estate or not, will never influence my decisions when it pertains to me voting or speaking out for my community or my borough.
The borough president has traditionally been close to the Bronx Democratic Party. Are you seeking county support?
I think everybody is, right? I've been meeting with district leaders, community leaders, of course my colleagues in government in the city and the state and learning about their needs and their wants and, as a borough president, how can I truly represent their communities, and how I can be of help and bring resources to their communities. I think every candidate is trying to get as much support as they can from every elected official and every community leader in the Bronx.
Your council seat will be open now. Who are you supporting for the 17th Council District?
I'm going to be supporting Ralph Acevedo. He's the district manager for Bronx Community Board 2. Like myself, born and raised in the South Bronx, Hunts Point. He has a proven track record and he comes from the homelessness community-based organization background. I know that Ralph's heart is in the right place, which is to bring positive change to the South Bronx. And I'm confident that he'll get the job done.
Powered By
NEXT STORY: This week's biggest Winners & Losers