Personality
Parker: 'I literally have the most relevant and significant experience'
A Q&A with state Sen. Kevin Parker on his New York City comptroller run.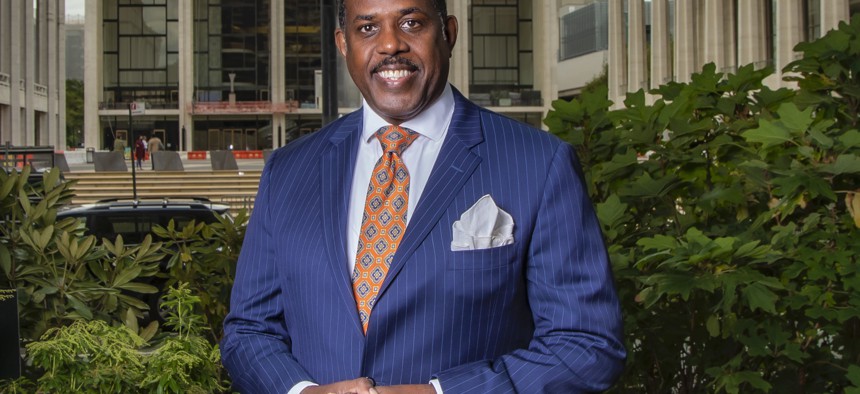 The race for New York City comptroller, often overshadowed by the mayoral race, is getting interesting. Just this month, one candidate in the race, state Sen. Brian Benjamin, returned donations after being accused of accepting funds from a straw donor. Zach Iscol, who was running for mayor, decided to drop out and join the race for comptroller instead. And Michelle Caruso-Cabrera, a former CNBC contributor who lost to Rep. Alexandria Ocasio-Cortez in the 2020 congressional primary, has joined the field as well. Three more longtime elected officials are also in the race: City Council Member Brad Lander, Assembly Member David Weprin and state Sen. Kevin Parker. This year's race hasn't reached the fever pitch of 2013, when scandal-plagued former Gov. Eliot Spitzer ran against the current comptroller, Scott Stringer, but it's coming close.
Parker, who has represented parts of Central Brooklyn in the state Senate since being elected in 2002, thinks he can be the one to come out on top. He caught up with City & State five months before the June 2021 Democratic primary to talk about his thoughts on divesting the city's pension fund from fossil fuel companies, his friendship with Benjamin and his financial experience.
Michelle Caruso-Cabrera has officially filed, so there's another candidate in the race.
The more the merrier. (That's) the great thing about a democracy.
She apparently is not taking part in the matching funds program. So I guess that means she's hoping to bring in a lot of money.
Maybe she'll lend me some!
You are certainly lagging behind your opponents in fundraising right now. And you haven't qualified for matching funds yet. What's your plan to get on track there? Do you think you need to get matching funds to compete?
Absolutely. I expect to be part of the matching funds program, and I expect to get there very shortly. I have an event (on Wednesday) and a couple of others scheduled. I'm working on fundraising every day when I'm not giving interviews to City & State.
Some comptrollers have had finance experience. Others haven't, like the current one. Do you think that working in finance or having budget experience is necessary for the job?
Do I think it's necessary, no. But I certainly think it helps. When you look at my experience, I literally have the most relevant and significant experience, as it relates to doing this job. Having worked in economic development with the first Gov. (Mario) Cuomo. Having worked on Wall Street at PaineWebber. Having worked for the (former) state Comptroller (H. Carl McCall). Having 18 years in the state Senate in the Finance Committee, the Banking Committee, the Insurance Committee. And doing all of the things that are necessary – not just understanding finances, but doing the policy work and having the relationships that it takes to get things done. And I certainly demonstrate all three of those areas in a way that none of my opponents do.
Just this week, we got the news that Stringer's plan to divest the city's pension funds from fossil fuel companies is finally happening. Is divestment the right strategy?
When you're talking about the pension funds, if it doesn't make dollars, it doesn't make sense. And so the first responsibility of anybody who's going to be managing the city's pension fund is to make money for the pensioners. And I think that is not dichotomous with the notion of also investing in things that are consistent with the values of New Yorkers. We as a state are moving towards a net-neutral carbon policy, and the city is as well. That's important. The question is not whether we should do it – the question is how do you do it. It has to be done first, collaboratively with the other trustees, and then to look at each deal and figure out what makes sense.
As it relates to energy and fossil fuels, I'm the chair of the Energy and Telecommunications Committee, and along with (state Sen.) Todd Kaminsky in the Senate, I was one of the co-chairs of the working group that negotiated the (Climate Leadership and Community Protection Act, or CLCPA). I've had almost 20 years of working on energy issues and know both how those companies work, but more importantly, know how to build a clean energy economy. And I've done it and demonstrated it on the state level and certainly want to bring in expertise and understanding to the city.
A big topic in the New York City budget last year was defunding the New York City Police Department. Were you happy with the level of the budget shifts away from the NYPD? Or do you think it should have been handled differently?
I have been the leader in the state Legislature on the issues of police reform. New York was the first state in the country to do a comprehensive package of legislative reforms around police reform (this past summer). We passed 10 bills, four of them were mine. Two others, I wrote the original draft for, even though they didn't pass in my name, including the 911 call reporting bill, and a bill that requires body cameras for state police.
The problem with the slogan "defund the police" is that it doesn't direct you at where the money should go once you get the money out of the police department. And so since we've done that package of reforms, I've done about 15 other bills, including a bill that creates a nonpolice response to mental health and the homeless calls. I think that is the direction that our police department should be going. I heard they took a billion dollars out of the police department, but the question is where did the billion dollars go? Did we increase access to mental health services? Did we increase access to youth development services? Did we create more opportunities for people to have full-time jobs at a living wage with benefits? I don't think anybody can answer those questions. I think that's the problem with the slogan. But the notion of having a police department that is more accountable and transparent is important, and I'm committed to that.
The city has a big budget deficit. You're dealing with the same issues on the state level. But regarding the city budget, how would you like to see the city make up the revenue lost during the coronavirus pandemic?
It'll certainly be important that we get a good stimulus package out of the federal government. And myself and other state legislators are going to have to get the fair share from billionaires in our state. But ultimately, I think we're going to have to build our way out of this crisis. And the crisis is not a one-year issue. The reality is that we have an economy that's moved from Wall Street to Main Street, and we have to build on Main Street. We have the work on getting full-time jobs at a living wage with benefits. Which is why the first thing I said I would do is create a Council of Economic Equity of business leaders, labor leaders, community leaders, clergy leaders and start mapping a way forward along with my staff. That would be the beginning of creating a comprehensive plan for the city. But I do know that the base of that plan will be about how do we support, encourage and develop small businesses – particularly for Black, Latino, Asian communities and women.
You are the sponsor of the Climate and Community Investment Act, which would enact a carbon tax. Why hasn't it passed since 2019, and what have you done since then to move it forward in the state Legislature?
The year before last, we worked on the CLCPA and finally got that done. Last year, we were kind of consumed with the pandemic, as we should have been. The time for carbon pricing is going to come up this year. The question is what form it will look like. There's a couple of different bills. We're working on it. We've done a lot. I already passed the environmental justice advisory panel, overseeing the entire CLCPA to make sure that that environmental justice is included in making important climate decisions. Carbon pricing is next.
You have a history of having a hot temper. Have you taken steps to avoid these incidents in the future?
I wouldn't describe it that way. I would describe me standing up for my conference and for the members of my conference. Dealing with the issues around police reform, other things that we need to do. Fighting the (Independent Democratic Conference.) When I was fighting (state Sen.) Diane Savino – who's a good friend – because we disagreed politically on how the IDC should be operating or members like (former state Sen.) Rubén Díaz Sr. who are obstructionist and homophobic and were stopping some the work that we were doing, or addressing the issues sometimes that we have with the governor.
Let me be clear. I have been here almost 20 years, and I'm certainly not the same person I was 20 years ago. I may not necessarily handle things in the same way. But I know that I was always working on the side of right. When I was opposing (former state Sen.) Carl Kruger, who wound up in jail, trying to get African Americans on the (New York) Power Authority board, I was standing up for my community. And I will continue to do that. You're not going to change the world with a whisper. And I will continue to use my voice and continue to advocate as strongly as I need to to make sure that the people who have been underserved in my community in this city, in this state, get the things that they need to live the best lives they can.
As comptroller, you'd have to work closely with the mayor. Are you planning to endorse anybody in the race? Are you supporting anybody right now?
I'm not supporting anybody right now. Like a lot of people, trying to see how the mayor's race shakes out. What is it now, 39, 38 candidates right now? Some impressive number of mayoral candidates. Some very qualified people there. I'll work with whoever becomes the next mayor.
Speaking of working together, another member of the Senate Democratic conference is running for comptroller, Brian Benjamin. Are there major disagreements between the two of you? Any tension?
It is a competition, but certainly not a fight. I think the world of Brian Benjamin, who I consider a friend and somebody who I've worked very closely with in the Senate. As somebody who comes with more experience than him, I'm not going to penalize him for his youth and inexperience, to use a line. I think Brian has done a great job in the Senate, and I'm 100% committed to keep him in the Senate next year. (Laughs.)
But I also have also worked very closely with Brad Lander, who is one of the City Council members in my district. And I've known David Weprin for decades, and him and I have worked very well together legislatively. It's a great field of comptroller candidates. Obviously I think I'm the best one, but certainly I think there's worthy challengers.
You were an early supporter of Kamala Harris' presidential campaign. I have to imagine you were pretty happy watching her get sworn in as vice president?
I was ecstatic. I think it's a huge milestone. It's a historical moment that can't be overlooked. I think she's going to be an absolutely marvelous vice president, and I can't wait to have a chance to make her the president.
Powered By
NEXT STORY: The alumni of the school of Schumer