Personality
Richard Gottfried on his golden jubilee
The longtime progressive legislator has stories to tell after 50 years in office.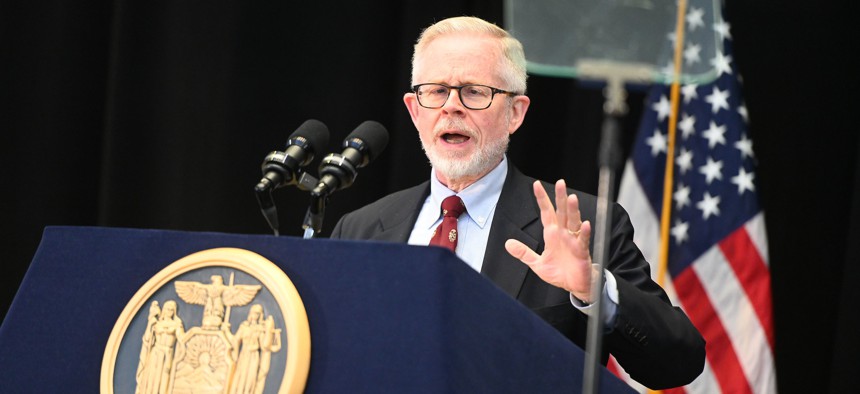 Assembly Health Committee Chair Richard Gottfried is setting a new record every day as the longest-serving legislator in state history.
The New York City Democrat reached his 18,262nd day in office as 2021 began, just enough to surpass the tenure of former state Sen. John Marchi, who represented Staten Island from 1957 until 2006. Public health restrictions mean that Gottfried couldn't celebrate his jubilee with a fundraiser like he did 10 years ago, but he says the wisdom he has gained over 50 years in office is its own reward.
City & State recently caught up with the longtime progressive to discuss what he's learned during a lifetime spent representing the West Side of Manhattan. This interview has been edited for length and clarity. 
You're celebrating your 50th year in office as the longest-serving legislator in state history. Career politicians sometimes get a bad rap. Wanna stick up for them?
You don't want a whole Legislature made up of people who've been here for decades, but it is handy to have one or two of us around who remember Gov. Nelson Rockefeller, the New York City fiscal crisis in the 1970s, or any number of other things.
What was different about the state Legislature when you first arrived in 1971?
At that time, if the Democratic leader in the Assembly or Senate wanted to round up votes on something he would go to the Democratic county leaders. It always struck me like in medieval Europe when the king would go to dukes and barons to produce troops for whatever war. 
When did that begin to change?
After the Watergate landslide – when we went from being in the minority in the Assembly to having a majority – we had a large number of legislators who had been elected who were much more progressive, much more independent. A lot of the legislative staff budget, which had been parceled out to county leaders for no-show jobs, instead got dispersed to the members. They could hire staff and work on legislation and work on serving their constituents, and the Assembly started to pay the rent on district offices. All of these things were novel ideas, and made a very profound change in how the Assembly operated. If the sponsor of a bill demands the committee vote, the committee has to put it on an agenda and vote on it. Before 1975, there was no such rule. 
What does your decadeslong effort to establish a state-level single-payer health care system say about getting things done in Albany?
Nothing has the powerful lineup of opposing interests that the New York Health Act does, but I think it has more momentum this year than ever before. Major ideas often take some working out by understanding and listening to people's comments and making changes that accommodate concerns. I expect a Biden administration will be a lot more cooperative with accommodating the idea.
How do you think this new class of lawmakers will shake things up?
Apart from having more Democratic freshmen than we've had since at least 1974, they are much more diverse, progressive and, by and large, younger. I'm delighted. The midpoint in seniority in the Assembly Democratic conference is people who took their seat in 2015. That's a lot of junior members. 
You got a good story about now-U.S. Senate Majority Leader Charles Schumer?
The morning after he won his primary in 1974, I called him. He expected I was calling to congratulate him. I asked when his birthday was because I wanted to verify that I took office as a younger 23-year-old than he would. And that was indeed the case.
Powered By
NEXT STORY: This week's biggest Winners & Losers