Personality
The alumni of the school of Schumer
Chuck Schumer's office has churned out political heavyweights for half a century.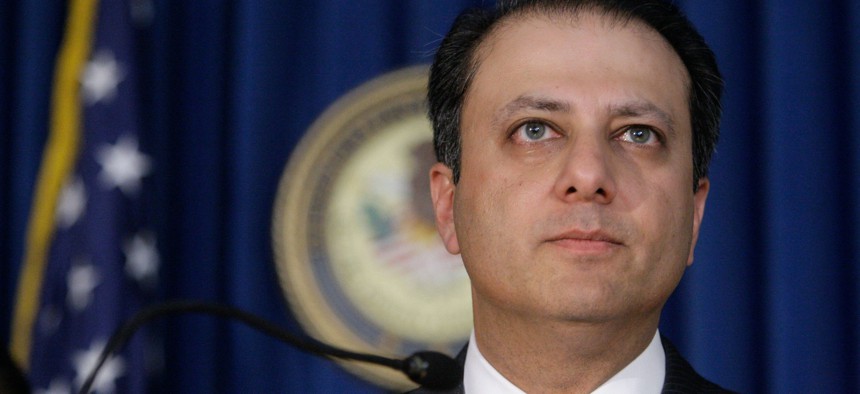 Senate Majority Leader Charles Schumer's staffers are a hardy bunch. In his 50 years in public office, Schumer has gained a reputation as someone who works his staffers as hard as he works himself – which is to say, the grind never stops. His office has churned out alumni that can be found all over the political arena, from elected office to government appointments to influential consultant firms. Here are just a few of the graduates from the Schumer school of politics in New York.
Tyquana Henderson-Rivers
A long-time political consultant who later founded her own firm – Connective Strategies – Henderson-Rivers counts among her government experience time working on Schumer's staff. Today, her fingerprints can be found in any number of elections, from local City Council races to Gov. Andrew Cuomo's last reelection.
Rodney Capel
Capel served as deputy state director to Schumer for several years in the late 90s and early 2000s, and has been a mainstay in city and state politics since he left. Among his many posts through the years, working for the likes of former New York City Council Speaker Christine Quinn and Gov. Andrew Cuomo, are two stints as executive director of the state Democratic Committee. Today, works as vice president of government affairs at Charter Communications.
Teri Coaxum
Coaxum worked for several years as Schumer's deputy state director, the first Black woman to hold the role in the senator's office. After her time with the senator, Coaxum worked in the Obama administration as a regional advocate in the Office of Advocacy of the U.S. Small Business Administration until Obama left office. She now has her own consulting firm, Coaxum Connects.
Anthony Weiner
The once rising star was also one of Schumer's top proteges before his two-time fall from grace. A former Schumer aide, Weiner replaced him in Congress when Schumer ran his successful 1998 campaign to unseat then-Sen. Al D'Amato, a Republican, in the Senate. Their relationship reportedly soured over the years, and Schumer declined to endorse in Weiner's 2013 New York City mayoral run – when his second sexting scandal broke. Weiner is completely out of the political sphere – for now – and works as the CEO of a manufacturing company at Brooklyn Navy Yards.
Josh Isay
Isay managed Schumer's successful campaign for Senate in 1998. After Schumer took office, Isay served as his first chief of staff in the Senate. After leaving Schumer's office, Isay co-founded the consulting firm SKDK, one of the premiere public affairs and political consulting firms in New York. It has also become the home of many former Schumer aides after they leave government.
Risa Heller
Now a coveted public relations guru in New York City, Heller served as Schumer's communications director for over two years in the mid-2000s. Since taking her leave, Heller founded her own communications firm with high-profile clients – including Ivanka Trump, a move that raised some eyebrows.
Preet Bharara 
The former U.S. attorney for the Southern District of New York is something of a celebrity in Democratic political circles at this point, but he put in time first working as Schumer's chief counsel. He served as Schumer's top aide on the Senate Judiciary Committee, where he helped lead an investigation that led to the resignation of former Attorney General Alberto Gonzales. Bharara now hosts a podcast after former President Donald Trump fired him in 2017.
Stu Loeser
Although he is closely associated with Michael Bloomberg, having served as his long-time press secretary during his time as mayor of New York City, Loeser came to that post by way of Schumer's office, where he served as the senator's communications director. Loeser now leads his own communications firm.
Daniel Squadron 
The former state senator is also a former aide to Schumer. And when Squadron ran an upset primary campaign against former state Sen. Martin Connor for his legislative seat, Schumer weighed in on the race to endorse his former staffer, something he doesn't do often. And when Squadron ran an unsuccessful campaign for public advocate of New York City in 2013, Schumer again offered his endorsement, while staying out of Weiner's race that year. Squadron left the state Senate in 2017 to co-found an organization that identifies and supports state legislative candidates across the nation, where he still is the executive director.
Polly Trottenberg
Trottenberg started her career in government as a transportation adviser to several different senators, with one of those being Schumer. In 2013, New York City Mayor Bill de Blasio picked her to be commissioner of the city Department of Transportation, where she remained until last year. And now she's headed back to Washington to serve as a deputy transportation secretary in the Biden administration.
Editor's Note: Due to an editorial oversight, several noteworthy people were not initially included in this list. This post has been updated to include additional entries.
Powered By
NEXT STORY: Chuck Schumer: America's Brooklynite