Personality
3 things to know about Velmanette Montgomery's legacy
The longtime lawmaker broke barriers for women and Black people alike in the halls of state power.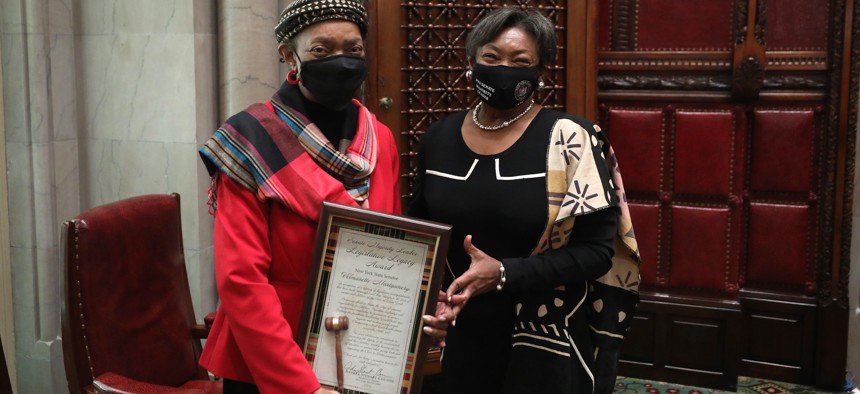 While civil rights leaders such as Martin Luther King, Jr. have become household names, some others have been overlooked: Not too many New Yorkers likely know that Constance Baker Motley became the first Black woman elected to the state Senate in 1964, for example. Former state Sen. Velmanette Montgomery of Brooklyn is another Empire State trailblazer whose work remains largely unknown by the general public.
Her recent retirement, however, is giving her former colleagues an opportunity to highlight during Black History Month how Montgomery changed New York over 17 terms in office. "She understood the injustice in the criminal justice system. She understood the inequities in education and access. She understood how marginalized people were and how it hampered their progress and she fought," state Senate Majority Leader Andrea Stewart-Cousins, a Democrat who is the first Black woman elected to her post, said at the Capitol Wednesday while awarding the inaugural Majority Leader Legislative Legacy Award to her longtime colleague, as part of the majority leader's efforts to promote Black History Month. Here are three things to know about her legacy.
Albany was a very different place when she came than when she left.
White men still have an outsized voice in state government, but things have come a long way from when Montgomery first got elected in 1984. Back then, after-hours gallivanting and licentiousness were the norm. Women in power were not. "If the designers of the State Capitol had intended there to be women in the Legislature, logic says, they would have built two bathrooms in the Assembly chamber," The New York Times wrote in 1987.
Former colleagues recall her making a place for herself despite these tough barriers. "I don't think her constituents realized the opposition she faced in the Senate, as a triple minority, as a Black woman in the Democratic Party," Al Vann, a former state Assembly member from Brooklyn, told The Imprint. "She didn't cry about it, she did all she could to deliver. Very unique person to be able to do that, I think."
Her presence also made a difference to constituents back home who could see someone who looked like them had finally made it to the halls of power. A generation of women and people of color followed in Montgomery's political footsteps over the subsequent 30 years. The state Legislature is more diverse than ever. Her retirement even paved the way for the election of the first Black, gay senator in state history, Jabari Brisport.
She had a big effect on the state criminal justice and foster care systems.
Montgomery served in the minority conference for the vast majority of her career, but that did not stop her from getting some big stuff done. She promoted the value of needle exchange sites in confronting HIV/AIDS and voted in opposition to lengthening prison sentences in an era when mass incarceration was politically popular. In more recent years, she played a key role in getting the GOP majority to pass "Raise the Age" legislation that removed 16 and 17-year-olds from adult prisons. 
Once Democrats took over the upper chamber after the 2018 elections, she got even more reforms passed. "She got a chance – finally – to see so many of the things that she fought for long ago (pass)," Stewart-Cousins said Wednesday. Incarcerated women are no longer shackled during childbirth. Unsubstantiated allegations of child neglect no longer follow parents for years through a state registry that prospective employers can access. It is now much harder for unscrupulous people to trick people out of their homes through "deed theft." These are not the types of new laws that get a politician a lot of attention, but they brought life-changing relief to the New Yorkers who need them most.
She was the first state senator to give birth while in office
The federal government did not make it illegal for businesses to fire women for getting pregnant until a few years before Montgomery became the first – and thus far only state senator – to give birth in office in 1987. A photo of a smiling Montgomery and her baby was the first of its kind to grace the front page of The New York Times Metro section, but it would not be the last. That would not make Montgomery a household name by the time she announced her retirement in early 2020, but that was never her goal. "(My focus) was never the sexy, new shining thing," she told The Imprint of her years in office. "I certainly felt responsibility in a very different way. It wasn't so much the lobbyists and people with money. We never had the constituency with money." 
Powered By
NEXT STORY: This week's biggest Winners & Losers