Carolyn Maloney
Carolyn Maloney: Still standing
Career politicians all around the Congress member are dropping like flies – but she says she isn't going anywhere.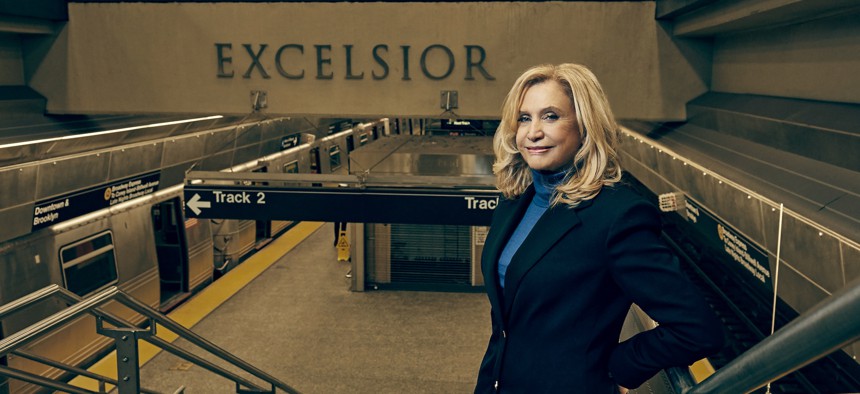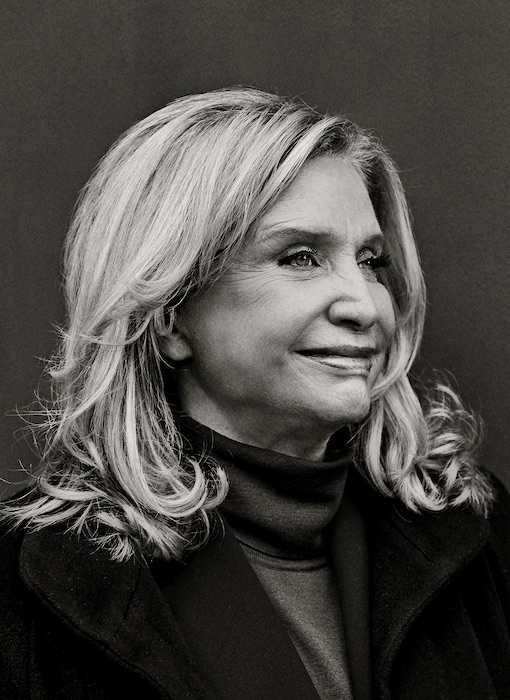 Rep. Carolyn Maloney didn't waste a moment after the failed insurrection of the U.S. Capitol on Jan. 6. 
As chair of the House Oversight Committee, having replaced her colleague and friend Rep. Elijah Cummings after he died in 2019, the New Yorker gathered all House of Representatives committee heads with jurisdiction over the FBI and went to work writing a letter to FBI Director Christopher Wray demanding a briefing on what was done to "investigate and pursue for prosecution the instigation, planning, and execution of the deadly terrorist attack." The letter pressed the agency to use "all available assets and resources to ensure that the perpetrators of this domestic terrorist attack and those who incited and conspired with them are brought to justice, and that this domestic terrorist group is disrupted from further actions against our government."
Four days later, in an interview with City & State, Maloney admitted she never thought that an insurrection could have happened. "It was devastating to see our Capitol violated and the disrespect of our ideals, our democracy, our purpose as a country," the long-serving Congress member said. 
But Maloney admitted that there was something else she had her mind focused on: "I want to get a subway stop in Sunnyside Yards," she said, referring to the Queens facility already used by Amtrak, the Long Island Rail Road and NJ Transit. Maloney said adding a stop in Sunnyside Yards fills the need for a station on the F train line on the Queens side of the 63rd Street tunnel running under the East River connecting the borough to Manhattan. Maloney had already helped secure more than $300 million in federal support for the connector when it was completed in 2001. "They don't have a stop on the Queens side and that's a big mistake," she explained. "Nothing would be better for the residents, for quality of life or for economic development for the area. And that is a priority of mine in the next Congress."
Maloney has often sought federal funding for high-profile infrastructure projects for her district, even while leading on national issues such as women's rights. And she's sticking to her playbook during a time when some of her former colleagues have found themselves vulnerable to challenges from insurgents who alleged that they've become out of touch with their constituents. In the last two elections, two other long-serving mainstream white liberals in nearby districts – Rep. Joe Crowley, a 10-term incumbent in Queens and the Bronx and Rep. Eliot Engel, who represented the Bronx and Westchester – lost to younger, first-time candidates of color running to their left, Reps. Alexandria Ocasio-Cortez and Jamaal Bowman, respectively. Maloney, however, withstood similar challenges both times. 
"It speaks to her popularity, her credibility in the district. It shows you there's still power of incumbency in New York" said Javier Lacayo, a media strategist at political consulting firm SKDK, who has worked in the state Assembly, the New York City Council and for state Attorney General Letitia James when she was New York City public advocate.
Maloney can boast that she's never lost a race since she was first elected to Congress to represent New York's 14th District after defeating then-Rep. Bill Green, a liberal Republican who had held the seat for 14 years. Green had won the seat when then-Rep. Ed Koch vacated it to become mayor of New York City. Maloney later came to represent the 12th District in 2013, after redistricting. At 74, the mother of two, who has been widowed since 2009, shows no signs of slowing down. "What drives me is all the work that needs to get done and knowing that I can get it done, as I have in the past," said Maloney. "And I only get better at making things happen." 
"It speaks to her popularity, her credibility in the district. It shows you there's still power of incumbency in New York." – Javier Lacayo, a media strategist at political consulting firm SKDK
During an hourlong Zoom call interview, Maloney was vocal about the work she had done for her constituents, and about her plans for the future of New York's 12th Congressional District, encompassing the East Side in Manhattan from the Upper East Side to a slice of the Lower East Side, Roosevelt Island and parts of two boroughs across the river: Greenpoint in Brooklyn and Long Island City and Astoria in Queens. Among her goals is extending the Second Avenue Subway up to 125th Street in Harlem, the $6 billion existing section of which she already had long pushed for during her nearly three decades in Congress.
However, her main priority this year will be to fight the coronavirus pandemic. "The virus is winning. More infections are happening in our great city of New York," she said, concerned about a more infectious new strain of the virus. "We now, gratefully, have three vaccines out there, and we have to get them distributed and in as many New Yorkers' arms as possible and across this country, to vaccinate ourselves and to (get) herd immunity."
Maloney's second priority, as a member of the Committee on Financial Services and vice chair of the Joint Economic Committee, will be to help New York's economy recover from the impacts of the pandemic. Gov. Andrew Cuomo recently unveiled his executive budget for 2022, which, without $15 billion in federal funding, he said would cause "pain for New Yorkers by forcing the state to raise revenue, cut expenses and borrow."
With President Joe Biden, a fellow Democrat, now in the White House, along with Senate Majority Leader Chuck Schumer from New York leading the upper chamber, Maloney said she expects to overcome the partisan hurdles that prevented New York from receiving city and state aid in the last federal stimulus package. "It's a new day in Congress now," she said. "You will see a different response."
While she won't face another primary race until 2022, Maloney already sounds like she's running a new campaign. She's coming off two successful, but tough, back-to-back primary contests against Suraj Patel, former president of real estate and hospitality firm Sun Development and former Obama campaign staffer, who was among the new generation of first-time candidates. In the last contest on June 23, he came out with more than 39% of the vote, compared with Maloney's almost 43%. But Patel wasn't the only challenger. Two members of the Democratic Socialists of America came at Maloney: comedian Lauren Ashcraft, who commanded more than 13% of the vote, and housing activist Peter Harrison, who received just over 4%. 
"More than anything, it's clear that New York-12 is ready for a change," Patel told City & State. "I mean, you have an incumbent who barely got 43% of the vote in this race and that incumbent has shown no signs of changing."
Political consultants say Maloney's most recent race is a microcosm of a national generational power struggle within the Democratic Party. "I think we're seeing it all over the country," Lacayo told City & State, in reference to the rising number of challenges incumbents like Maloney are facing. "Right now, long-time entrenched incumbents on both sides of the aisle are really having to wake up to a new generation of political activism that's happening. It's especially true here in New York, in the Democratic Party."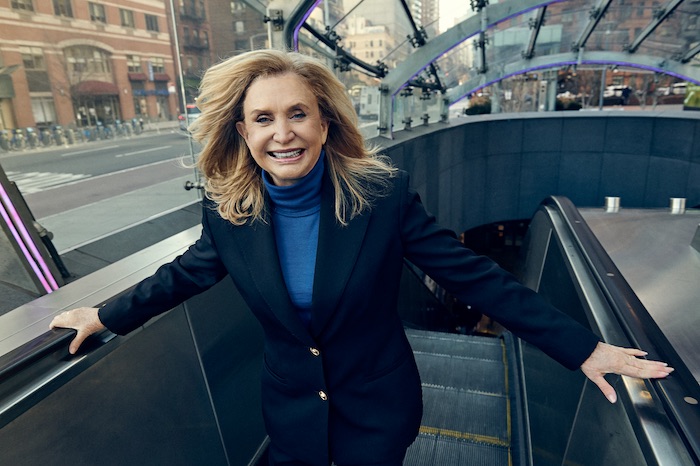 But, while the insurgent-versus-incumbent split is often cast as progressive against centrists, Maloney noted that she has also been a progressive since she first served on the New York City Council in the 1980s, where she represented the 7th Council District and was the first woman to give birth while in office. "I'm an original progressive," she said, noting how her liberal views as a young Council member, such as her support for gender equality, sometimes clashed with the establishment. 
"There was opposition from Council leadership on progressive issues that I was championing such as passing the first domestic partnership legislation. I was told the legislation was unconstitutional, but I persevered and it eventually passed. Then gay marriage became the law of the land. I was a progressive before my time."
Maloney was born in Greensboro, North Carolina, and, after graduating from Greensboro College, moved to New York City in the early 1970s. She spent several years working as a community affairs coordinator on a welfare education program at the New York City Board of Education, and later for the board's Center for Career and Occupational Education, before moving on to work for the state Assembly. She held various policy-oriented roles for the Assembly before being elected to the New York City Council in 1982.
Joining Congress as a recent mother, Maloney said she became interested in work-family balance, because she was confronting it personally. 
Her track record in Congress includes passing more than 74 measures, either through the introduction of her own bills or legislation she helped to write. These include measures to aid families nationally, such as the Federal Employee Paid Leave Act, which provides 12 weeks of paid family and medical leave to federal workers; and the Standby Guardianship Act, which encourages the creation of state laws allowing chronically ill parents and those nearing death to name standby guardians for minor children without giving up parental rights. 
Maloney also has focused heavily on women's rights issues. She was the author of the Debbie Smith law, which provides $151 million annually for processing DNA evidence in rape cases, and main sponsor of the Breastfeeding Promotion Act, which requires employers at companies with more than 50 workers to set aside private spaces so mothers can express milk.
But she also has delivered major bills to help New York specifically, such as the James Zadroga 9/11 Health and Compensation Act of 2009, which which provided funding for the health needs of first responders and survivors of the terrorist attacks, as well as reopened the 9/11 Victim Compensation Fund. She also obtained $670 million in federal funding that she helped secure for building the second span of the Kosciuszko Bridge connecting the Brooklyn and Queens areas of her district, which according to her office was roughly 85% of the total cost. 
Then there was Maloney's work with the New York congressional delegation to help address the devastation caused by Hurricane Sandy, and her work creating a task force to build four new schools in her district. She has helped seven senior housing developments get established in her district and she has pushed for decentralizing repairs to public housing to address problems sooner and more effectively.
Evangeline Douris, the chair of the social services nonprofit Hellenic American Neighborhood Action Committee, which won federal funding for three senior housing developments with Maloney's help, said Maloney was a standout when it came to putting out legislation that favored her constituency. "She's like, so wonderful when we need something," Douris told City & State. "And if it's in her district, she can do it. She's there for us always." 
There still are those within Maloney's own party who think the new generation of progressives in her district should have a Congress member who comes from their own movement. "Some people were saying it's time for someone new," former Maloney aide Jamie Ansorge, now an attorney and government relations adviser at the law firm Cozen O'Connor, told City & State.
Ansorge had worked on Maloney's successful 2010 primary victory, when she defeated Reshma Saujani, a lawyer who had worked in the hedge fund world and raised more than $1.3 million to wage an aggressive campaign. "It was the most well-funded congressional primary challenge in the nation at the time," recalled Ansorge. "I was not far out of college and kind of thrown into the fire on that."
Maloney, through the help of a grassroots campaign, managed to retain her congressional seat by a landslide with 81% of the vote. Ansorge said Maloney remains a "fierce advocate for New York," but admitted the battle to keep her seat has gotten more challenging. "These days, I'd say, the tiniest of missteps, given the hyper-focus on news and social media, have made it a tough time to be an incumbent and an elected official," Ansorge told City & State. "The slightest misstep is magnified times 1,000."
"The tiniest of missteps, given the hyper-focus on news and social media, have made it a tough time to be an incumbent and an elected official." – former Maloney aide Jamie Ansorge
Maloney, for the most part, has managed to keep her missteps from mushrooming into anything career-ending. During the 2018 contest with Patel, her spokesperson pushed back at the challenger's claim that Maloney was anti-vaccine, based on her comments at a 2012 congressional hearing where she quoted the concerns of parents who believed their children may have contracted autism after being vaccinated. The spokesperson said Patel campaign ads had taken the Congress member's words out of context and that she was pro-vaccine. 
She also sparked some controversy with her quest to bring pandas from China to New York City. "After the financial crisis, 9/11, Hurricane Sandy, it's about time to have something happy," she told the New York Times in February 2016. She walked through the Bronx Zoo wearing a scarf adorned with pandas, proclaiming "Let's have a panda" during the interview. A year later, a Black and White Panda Ball fundraiser was held at the Waldorf Astoria, requiring attendees to wear black-and-white gala attire to resemble the animals. Attendees included Maloney, John Catsimatidis, the conservative radio host and billionaire owner of Gristedes and Red Apple Group supermarkets; Maurice Greenberg, the former CEO of AIG; and TV show host, fashion icon and author Yue-Sai Kan. 
The ball was reportedly attended by 450 guests with the goal of raising $50 million for a cause which was quickly criticized for being a pet project for Manhattan's wealthy and rejected by animal rights activists who interrupted a 2018 Maloney campaign fundraiser to express their opposition to the plan. 
Despite the backlash, Ansorge said that he still understood "the panda thing." 
"Carolyn believes that the pandas are, you know, an intercultural symbol of peace between two nations that, especially now, have a significant amount of tension, and she likes to focus on those things that bring people together" he told City & State. "Yeah, people may laugh at it, but ask Carolyn: She is tenacious when she gets an idea … She loves taking a problem from a constituent, or a bill, or whatever, and just focusing on it and solving it like a puzzle. And she becomes kind of obsessed with finding that solution and delivering it, and it's what makes her so effective."
"She works 24/7," Ansorge added. "And she's constantly focused on the task at hand, whether it's constituent work or legislation or something like bringing pandas to Central Park."
"She is tenacious when she gets an idea … She loves taking a problem from a constituent, or a bill, or whatever, and just focusing on it and solving it like a puzzle." – former Maloney aide Jamie Ansorge
To her opponents, Maloney poses the question: What have you done for New York? "It's easy to come out and say, 'I'm going to do this, I'm going to do that. I'm going to change the world,'" she said. "I remember when I first graduated from school, I thought I was going to change the world and I went out there to change the world and you find out it's not that easy.
"When I look at a candidate, I look at, not so much at what they say, I look at, what have they done?" she continued. "What have they done to make lives better for New Yorkers? What have they done to bring people together to make things happen?" 
Her answer to the primary challenges is a call for unity. The same applies to her fellow members of New York's congressional delegation. "The only way you make things happen is that you have to be unified, you have to work together. You can't be fighting each other over who's more liberal."
Ansorge said that incumbents who rise to a high-level position in Congress, like Maloney taking over as chair of the House Oversight Committee last year, are living by a "double-edged sword." Crowley was the fifth-ranking Democrat in the House, and Engel was the chair of the Foreign Affairs Committee. Both suffered in their reelection bids from the perception that they were too absorbed in national affairs, and spending too much time in Washington. 
"She's reached, in many ways, the pinnacle of her career as chair of this influential, powerful committee," said Ansorge. "But, you know, it's difficult because on one hand it's great for New York. On the other hand, it draws attention to Washington. I don't envy all these committee chairs that have to find that balance between constituent services and being present in the district. It's a very difficult balance to strike. But if anyone can strike it, it's someone who defies the laws of sleep, like Caroline has for decades and decades."
To her opponents, Maloney poses the question: What have you done for New York?
And Ansorge expects young, inspired progressive challengers will keep coming for Maloney. But there are others like him, a 33-year-old "bearded, millennial living in Brooklyn," who still express strong support for Maloney. 
Maloney also said that with experience on their side, incumbents like her are needed now more than ever to lead the country and tackle its most significant problems. When I told her about the expression "original gangster," or "O.G." for short, often used to describe someone authentic and experienced, she was quick to adopt it for herself. "Original gangster, that's me. I'm an O.G." she said, remembering when she as a young progressive beat Green. Her election would help start a Democratic wave on the Upper East Side, changing the Silk Stocking District from red to blue.
"We took out Bill Green. No one could believe it," she said. "I was a young, original gangster." 
Powered By
NEXT STORY: This week's biggest Winners & Losers