Interviews & Profiles
Crystal Peoples-Stokes is on the precipice of her biggest achievement
How the first woman, and first African American, to serve as Assembly majority leader fought for equitable marijuana legalization.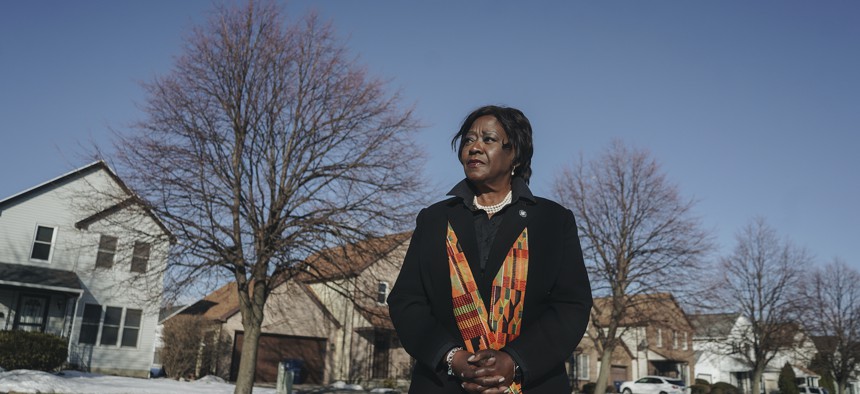 Assembly Majority Leader Crystal Peoples-Stokes has made the trip from Buffalo to Albany far too many times to count. As a young organizer going on an occasional trip to pressure electeds and throughout her nearly two decades in the Assembly, one thought has consistently crept into her mind as she watches the thick, old-growth forest and farmland flash by: What might it have been like to be lying low during the day and tramping through muck and over fallen trees at night, searching north for freedom? What was going through Harriet Tubman's mind as she trekked those same woods, guiding people through the state, along the Underground Railroad, to cross into Canada at the Niagara River?
"You've got the trees and the snow and the woods and it's raining, and you think that people made it through that," said Peoples-Stokes, the granddaughter of southern sharecroppers and farmers.
It's thoughts of that will to survive, the desire to thrive despite unimaginably cruel and gravely serious circumstances, that have driven her to keep going each time some obstacle seemed insurmountable.
The longtime Assembly member now holds the second-most powerful position in her chamber; she is the first woman, and first African American, to serve as Assembly majority leader. But, the way she tells it, it was not ambition, nor cunning, nor any type of political maneuvering that landed her with her longtime friend, Assembly Speaker Carl Heastie, a Democrat from the Bronx, at the apex of Albany's political food chain. Instead, it was a deep faith in pursuing the work in front of her, a commitment to the Buffalo neighborhoods that raised her and a trust in a higher power, one that has steadied her hand all along the way.
Now, sitting atop the mound next to Heastie, she still has her sights set on some lofty goals.
Peoples-Stokes has pursued marijuana legalization for years, and having apparently struck a deal with Gov. Andrew Cuomo, lawmakers are reportedly set to put it on the governor's desk. She has long pushed for reforms in nursing homes, particularly around adequate staffing measures that have come into sharp focus with the scandals around Cuomo's handling of COVID-19 in long-term care facilities.
When she first came to the Assembly in 2003, Peoples-Stokes felt a little bit overwhelmed. Still, she knew why she was there and what she wanted to do. Little has changed in that regard. "I had a list of things I really wanted to make happen, and I didn't focus on anything but those things," she said.
Peoples-Stokes will tell you again and again she never intended on being a leader. In fact, she says despite being one of the most powerful legislators in one of the nation's largest states, public speaking still rattles her.
In a family for which every Sunday service was mandatory, she first found herself in front of crowds at church. "The same anxiety I had doing my Easter speech in the first grade, I still have when I speak before people now," Peoples-Stokes said. "It just doesn't change."
But that anxiety doesn't show on the outside. People are drawn to her, perhaps for no greater reason than she is a master at lending a sympathetic ear.
State Sen. Tim Kennedy, a Democrat from South Buffalo, who describes Peoples-Stokes as a dear friend, said he has always been struck by her desire to sincerely, intently hear people out and try to build off the common ground between people and their ideas. "She listens to people," he said. "She's not only informed to help make the decisions that she makes. But she's driven to help those people who need it the most."
What she may not have recognized in herself from a young age, others certainly did. Maurice Garner is one of the founding members of Grassroots, the political organization that launched her career and those of many of Buffalo's most recognizable Black leaders, including Mayor Byron Brown and Common Council President Darius Pridgen.
Garner first met Peoples-Stokes when she was running a school board campaign in 1989, and he thought Peoples-Stokes knew the issues better and was better at explaining them than the candidate she worked for. From there Garner recruited her to help in his mission to convert community organizing into political power. Together, Garner, Peoples-Stokes, Brown and others worked with leaders from block clubs – neighborhood organizations that run beautification efforts and meet with police and elected officials to discuss issues – and other community members to build up power by winning state Democratic committee seats away from acolytes of Arthur Eve, the longtime Assembly member who, then serving as deputy speaker of the Assembly, represented Peoples-Stokes' Buffalo district for more than 30 years.
The group of youngsters respected Eve, but felt shut out of his circle. They worked with block club leaders to build goodwill in the community, then ran regular citizens, such as factory workers and school teachers, against the political types connected to Eve, who had controlled majority-African American state Democratic committee seats in Buffalo for years. Eventually they won enough committee seats in the state party to elect their candidates to higher office within the party system and gain a seat at the proverbial table.
It was not long after Peoples-Stokes ran that ultimately unsuccessful school board campaign that she found herself in office, though it took some convincing. Peoples-Stokes had spent a year as a teacher after graduating from Buffalo State College before deciding that she did not want to work in education. "The system, in my estimation, was not about kids, and in many ways, is still not," she said.
From there she spent some time working for Erie County at a youth detention center, before landing a job at Citizen Action of New York, a grassroots progressive community organizing outfit, where she would work her way up to regional director.
It was the so-called "year of the woman," 1992, and Garner and other Grassroots leaders had gained enough political clout to choose a successor after Roger Blackwell, an Eve ally, stepped down from his Erie County Legislature seat to become the county's Democratic elections commissioner. They wanted a reluctant Peoples-Stokes to take the spot.
"I was happy being an organizer," Peoples-Stokes said.
After a long meeting filled with overtures from her Grassroots compatriots, she agreed to be appointed to the seat. From there it didn't take long for her to rise through the ranks. Again, she said, it took some convincing to get her to jump at her next opportunity. But fellow county Legislator Mike Fitzpatrick, with the backing of then-Erie County Democratic Committee Chair Steve Pigeon, convinced her in 1998 to make a play for majority leader of the county legislature. She can remember the conversation well. She was in Philadelphia for a conference. She had been watching her beloved Buffalo Bills at the hotel bar when she got the call: she won.
"She can be an understanding listener," Pigeon said. "But, she can be tough when it's time to make a move."
Pigeon saw in her someone who could build coalitions and appeal widely, which was one of the reasons he encouraged her to run for Congress in 1998 against the popular Republican Jack Quinn.
He knew it was a long shot – the incumbent Quinn won by a 2-to-1 margin – but Pigeon saw it as an opportunity to get her in front of a larger audience. In Peoples-Stokes, he saw a star who could overcome some of the hesitancy and bigotry that puts African American candidates at a disadvantage outside of majority-Black districts.
"We didn't think we could beat Quinn, but we knew we could really showcase her as a candidate that could obtain higher office," Pigeon said.
Then Peoples-Stokes made her next big move. In 2000, she challenged Eve for his Assembly seat, a decision she knew was risky, but would ultimately set the table for Grassroots to truly arrive. She lost by a thin margin, gaining 47% of the vote, but many credit her participation with helping Brown win his state Senate race that year by boosting turnout in Black neighborhoods and bringing more visibility to Grassroots candidates. Two years later, with Eve announcing he would not run for reelection, Peoples-Stokes ran again, and she has been representing the people of the 141st Assembly District ever since.
She credits her commitment to canvassing with first coming close to an upset victory over Eve in 2000, and her eventual victory in 2002. She would visit each election district and make sure she got more voters to commit to her than Eve had won in the previous election. "I think the reason why people took to me so well when I first challenged him is because he didn't come to their door," she said of Eve. "I did."
During her time in the state Legislature, she has been known as a consensus-builder, a trait that many credit with leading her to her newest title. After the ouster of former Assembly Speaker Sheldon Silver in 2015, Heastie found himself leading the chamber.
Having known Peoples-Stokes for decades – Heastie made friends in the Grassroots organization and took frequent trips to the Buffalo in the late 1990s and 2000s – he thought she might be the right person to take over when then-Majority Leader Joseph Morelle was elected to Congress in a 2018 special election.
But it was a trip to Buffalo shortly after becoming speaker that left him convinced that she was the right person for the job. "What struck me was that everywhere we went, people knew Crystal and you could see that special bond she has with the people she represents," Heastie said in a written response to questions from City & State.
So far that ability to bring people together, to get them to focus on their common goal, has been proven effective, he said.
Even as she was being considered for the majority leader post, Peoples-Stokes said she did not push for it. She had too many colleagues who wanted the position, and she had no intention of getting in their way. As had happened throughout her career, she ended up in the chair anyway. "I think it was the friendship and the trust," she said of her relationship with Heastie.
While few people interviewed for this article have a bad word to say about Peoples-Stokes, she has not gone through a career in politics without conflict or controversy. In 2012, she took flak in her district after she did not support Betty Jean Grant, an Erie County legislator running for state Senate, Grant said. Peoples-Stokes did not officially endorse Kennedy, an Irish American who still holds the seat, nor did she support Grant, an African American from Peoples-Stokes' Assembly district who was at one time a member of Grassroots. Kennedy went on to win the Democratic primary by fewer than 200 votes.
And now, Grassroots, the organization that launched her career and the careers of so many of her political allies, is under investigation. Garner's home and business were raided by the FBI in 2017. No charges have been filed, but it has also been rumored that there are ties between the investigation into Grassroots and other investigations into political corruption, including one that resulted in a guilty plea from Pigeon in 2018 – he has not yet been sentenced – and ongoing probes into Brown's executive offices, with FBI agents taking boxes of documents from Buffalo City Hall last year.
Peoples-Stokes has not been tied, publicly or in the regular Western New York rumor mills, to these investigations.
For her part, Peoples-Stokes wonders why the city's main political club for Black people has drawn so much scrutiny, pointing out that no Grassroots members have been charged in the four years since Garner's properties were raided.
She has felt the sting of racism for her entire life – she grew up in Buffalo's Broadway-Fillmore neighborhood, back when many Polish American families were still there – and she has found that Black success is often met with skepticism and scrutiny from white institutions.
"They haven't found anything that anybody can be convicted of and go to jail for," Peoples-Stokes said. "What is your goal? Is it just to disparage the organization? Or is it really seeking real investigations to find something wrong? I think it was just intended to be disparaging."
I have seen Crystal step out and advocate for issues that impact our community, whether it was the popular thing or not, time and time and time again. I can't say I see that same level of courage from other members of the Grassroots faction.
– India Walton, Buffalo mayoral candidate
The majority leader seems to sidestep all the pitfalls that have come down for her allies and maintains the respect of even those who have felt slighted by her in the past. Grant remains unhappy about the lack of support she received from Peoples-Stokes and Grassroots in her race against Kennedy and still believes with their support she would have won.
Still, she said, while she and Peoples-Stokes don't have a personal relationship, they manage to work together for the betterment of their community, something Grant believes has been a sincere goal of Peoples-Stokes' from her time at Citizen Action through to today.
"People saw her as a person who mainly stayed out of the bickering, the fight in Buffalo," Grant said. "She focused on Albany and what she could bring back to Buffalo."
Even India Walton, a registered nurse and community organizer running in the upcoming Democratic primary for mayor against Brown, Peoples-Stokes' longtime ally, gushes when she talks about the Assembly member.
Grant and Walton both noted that Peoples-Stokes is willing to split with her organizations if she disagrees with its official stance on policy.
"I have seen Crystal step out and advocate for issues that impact our community, whether it was the popular thing or not, time and time and time again," Walton said. "I can't say I see that same level of courage from other members of the Grassroots faction."
Jim Anderson has been working on myriad issues in Buffalo for decades. A man with no one camp in Buffalo's highly fractured political ecosystem, Anderson, who sits on Citizen Action of New York's board as an at-large member, noted that Peoples-Stokes, all the way back when she was working for Citizen Action, would come out against positions taken by her employer. In particular, she was in favor of charter schools so long as they, in her eyes, were working to better serve kids in Buffalo's most high-need neighborhoods.
"Crystal will stand her ground, she will say what she believes," Anderson said. "If you disagree with her she doesn't get mad at you. She has her position. It's up to the electorate to decide if that's a position they agree with."
Clarence Lott Jr., president of Grassroots during the 2000s, was the only person interviewed for this article to suggest that it may be time for new representation in the 141st District. He has been frustrated by the intractable issues – poverty, the failure of schools, a lack of quality jobs – that have continued to plague neighborhoods in Peoples-Stokes' district and other parts of Buffalo's East Side.
As deindustrialization crippled Buffalo's economy, as it did most cities across the Rust Belt, the children of Polish and German immigrants left the neighborhoods east of Main Street, including those Peoples-Stokes has represented throughout her career. Many of the city's poorest census tracts, in what is still one of the poorest, most segregated and most unequal cities in the nation, remain on the East Side, where 85% of the city's Black people live.
In fact, Lott's frustration has caused him to break with his old Grassroots ally Brown. He is supporting Walton in the upcoming primary.
Lott, who now splits his time between Buffalo and Virginia Beach, Virginia, said he is proud of the work he and others at Grassroots did in the early days. But he has seen too little progress in the years since. He believes that the Grassroots founders, including Peoples-Stokes, have become too complacent and too concerned about staying in power, much the way they viewed Eve when they worked to take over from him.
A serious contender could beat her, he believes. "For somebody who represents Buffalo's East Side, how do you defend what the East Side looks like, and you've been the top representative, now as majority leader?" Lott said. "How do you defend that record?"
Still, others see many of those symptoms of systemic racism as beyond the power of any one state legislator to cure, and they note Peoples-Stokes' willingness to remain down in the trenches. Walton pointed to a 4/20 Drug Policy Alliance event she helped organize in 2019. On a cold, rainy Buffalo spring day, Peoples-Stokes showed up and stood in the muck to call for the legalization of marijuana. "She's not too good for us," Walton said. "And she shows up when you need her."
When Peoples-Stokes first saw the video of George Floyd gasping for air, she was shocked. The audacity of the whole thing just floored her. It wasn't that she couldn't believe that a police officer would pin a Black man down in the street and kill him. She and the nation had seen that before.
It was something in the way that Derek Chauvin, the former Minneapolis cop about to stand trial for Floyd's murder, was pressing on his neck and hearing him desperately seek for air, hearing him call out for his mother, with a chilling nonchalance, seemingly unconcerned by the many bystanders watching this play out midday, several with the video cameras on their phones clearly rolling.
"What the fuck?" Peoples-Stokes said, recalling her reaction with incredulity in her voice, tears welling in her eyes, but never spilling over. "How do you do that in broad daylight and look around like 'I'm supposed to be here on his neck'?"
As someone who grew up in a changing neighborhood during the height of white flight, Peoples-Stokes has long been fully aware of the racial tensions that constantly simmer just beneath the surface in this country, boiling over in violence over and over again.
People saw her as a person who mainly stayed out of the bickering, the fight in Buffalo. She focused on Albany and what she could bring back to Buffalo. 
– Betty Jean Grant, a former Erie County legislator
She can remember the word "Africa" being painted on the north side of Paderewski Drive, the side next to her side of the neighborhood, where there was a mix of Black and Polish families, and the word "America" being painted on the south side of the street, next to the side of the neighborhood where almost no Black families lived at the time.
Garner, of Grassroots, said one thing many political observers don't realize about serving the Black community is just how many issues leaders from those neighborhoods are trying to address and how those things compound. While constituents from more affluent, often more white, districts might be complaining to a politician about a slight rise in property taxes, Peoples-Stokes and other Black leaders are helping people with unsafe parks, uncollected garbage or absentee landlords. "It takes a lot to be a minority legislator, to represent the Black community," Garner said.
For years, Peoples-Stokes has been fighting to get her marijuana legalization bill passed, though not as a revenue generator for the state, as it is sometimes framed in political discussions. She sees it as a way to try to even the playing field, both financially and legally, for Black and Latino people who have unfairly been targeted by law enforcement for the sale and consumption of marijuana.
In 2019, when it looked like the bill might pass, Peoples-Stokes and others who had worked on the legislation let it die on the vine rather than push through with watered-down provisions regarding giving access to the industry to those most negatively affected by the war on drugs and expunging records of those with marijuana-related drug charges. "I need to see a percentage of the revenue invested in the lives of the people who went to jail," Peoples-Stokes said. "If that's not there then, for me, there's no reason to do the legislation."
In the end, she managed to work with her colleagues, including state Senate bill sponsor Liz Krueger, to keep the revenues from marijuana taxation out of the state's general funds. Instead, the money will reportedly go to a Cannabis Revenue Fund with money for training law enforcement in catching drivers who are high, drug treatment, public education and a fund for social equity grants. Other key provisions for Peoples-Stokes included allowing licensed sellers to deliver marijuana, creating a category of venues with legal on-site consumption and possession of up to three ounces and six plants for home growing. The passage of the legislation seems assured. 
Peoples-Stokes recently signed a letter with several of her female colleagues in the Legislature calling for legislators to wait until state Attorney General Letitia James has finished an investigation into Cuomo's alleged sexual harassment of women before calling for his resignation or impeaching him. The governor reportedly called around to members of the Legislature asking for their support before the statement was issued, but Peoples-Stokes denied any sort of politics is at play. She and her colleagues pointed to the denial of due process for African Americans throughout the history of the country among other motivations for putting out the statement, according to a report from Spectrum News' Susan Arbetter. "As you can see, I am an African American woman," she told Spectrum. "This is no offense against anyone else, but I am of a people who have in this country for generations been found guilty of things before we were properly tried."
When she saw the demonstrations against police brutality and systemic racism this summer, she grew more confident that a new wave of change was coming. She also pointed to the police reform legislation passed last year – bills that gained the support of some Republicans, something she says never would have happened before, as a sign that Floyd's death had changed things.
"The reaction to George Floyd, America's reaction, the world's reaction, was very pleasing to my spirit," Peoples-Stokes said. "I appreciated that more than you can imagine."
With the marijuana about to be legalized, will Peoples-Stokes, age 69, retire? Some think it is her crowning achievement, and that she would like to go out on a high note.
But the longtime legislator is now in a position to promote other causes she holds dear as well. She declined to say whether she will run for reelection next year.
If she were to retire, Peoples-Stokes said she would like to get back to growing her own food in her yard, a way to reconnect with her grandparents and the trips she would take to their farmland in rural South Carolina and Georgia. She might pursue consulting or lobbying work. She might like to work in higher education. Peoples-Stokes says she hasn't given it much thought.
"I want to start growing my own vegetables, and I have plenty of space to do it," she said. 
One cause she wants to continue working on, in the Legislature or elsewhere, was born of recent tragedy. Peoples-Stokes' daughter died from complications related to kidney disease at the age of 47. The Assembly member has worked to set up kidney screenings in her district and will continue to work to raise awareness about the ailment, she said.
"You never expect to bury your children," she said. "You expect them to bury you."
She said she may take more time to travel with her husband, George Stokes, after she retires, but she never plans to leave her hometown. She has built up a community around her and has no plans to start over. And she has her mother and her grandson to look after.
"I'm never going to leave Buffalo," Peoples-Stokes said. "I love Buffalo."
Powered By
NEXT STORY: What a top labor leader is looking for nowadays