Interviews & Profiles
Feliz: Winning is "the privilege of a lifetime"
A Q&A with the newly elected New York City Council member.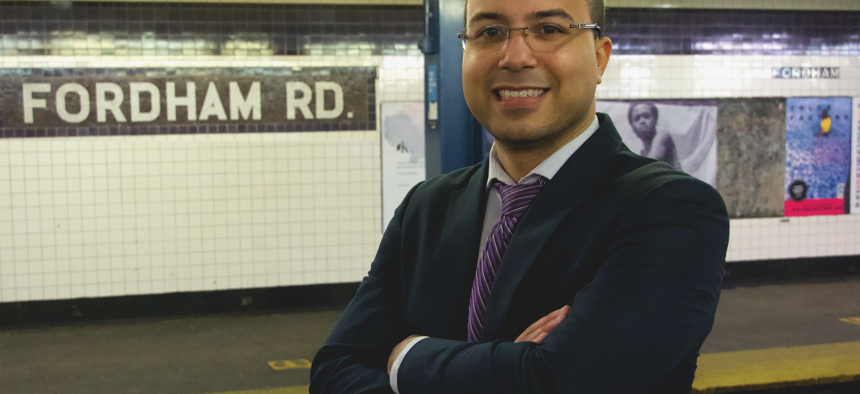 Oswald Feliz wasn't getting too much attention ahead of the March 23 special election for New York City Council. Lots of money was being spent by independent expenditure committees on other candidates, and one of his opponents was hoping to make history as the first transgender member of the City Council. But it was the low-profile Feliz, a tenant lawyer at Bronx Legal Services, who came out on top. And after a three-week wait to count votes in one of the city's first elections using ranked-choice voting, Feliz is taking office in the 15th Council District in the Bronx, which had been vacant since Rep. Ritchie Torres left for Washington, D.C.
"It's a privilege of a lifetime to represent my neighborhood, and also the local public schools that I attended," said the 30-year-old Feliz. The son of a home attendant and a cab driver, Feliz is also an adjunct professor at Hostos Community College, and previously served as Bronx director for Rep. Adriano Espaillat's 2016 congressional campaign. City & State talked with Feliz about Dominican American politics, who he ranked on his ballot and his love of birds.
You had a lead on election night, but had to wait almost three weeks for the Board of Elections to count all the votes and declare you the winner. How did it feel over the past few weeks? 
Yeah, we were extremely anxious. (Laughs.) I think the fact that we had a 7-point lead was very helpful in lowering the anxiety. Extremely anxious, but super proud of the campaign that we ran, the work that we did and all the support that we received. But yeah, the waiting period was – you know.
You're Dominican American, and you got support from prominent Dominican electeds like Rep. Adriano Espaillat and Assembly Member Victor Pichardo. Do you see your victory as another sign of the community's growing political power? How do you fit in?
I would say yes. This is a district that is extremely diverse. It has a strong Hispanic population, a strong African American population. The Hispanic population is predominantly Dominicans and Puerto Ricans, but still very mixed. But absolutely. The population in the Bronx in the Dominican community is growing. We received support from people in every corner of the district based on the (election district) breakdown. But I think this race says a lot about the growing population and political power within the Dominican community.
Thousands of dollars poured in from outside sources, but barely any of it was focused on you. Were you able to slide by without the attention? How did that affect the race?
I think my community, my history in the district played a big role. On Election Day, I was speaking to people who I taught. People that said, "Oh, Professor Feliz, you remember me? I was your student last year." And also, especially my work as a tenant lawyer. I represented many tenant associations, including one of the largest tenant associations in the 15th Council District: 2111 Southern Blvd. I represented 50 to 60 tenant associations. I was able to develop a great relationship, a personal relationship, with many of the tenants. And I was also able to deliver results for them. Holding their landlord accountable, bringing back nearly $100,000 in damages for the lack of gas in the building for six months. Also, we negotiated a settlement where they didn't have to pay rent for approximately a year and a half. So my results spoke louder than anything else. Results is what people in the Bronx need. And that's what they're asking for, right, someone who could deliver results, and someone who could help resolve the problems that we have, whether it's housing, education, public safety. We took our message directly to the people. And I think our message resonated.
You have to run again in June, and Elisa Crespo, the fourth-place finisher who got a decent percentage of the vote, will not be on the ballot again. How do you think that race will be different than the special election? Are you changing your strategy?
The strategy remains the same for the most part. We're going to continue speaking to every voter about the issues that they have, and also listening to the voters about issues that they care about, and also talking about solutions to all of the problems that we have. We actually looked at the election night results, and we did extremely well in every corner of the district, regardless of race, regardless of income and everything else. We won I think most of the Assembly districts, and those that we didn't win, we were very competitive in. For example, the 79th Assembly District, I was losing by about eight votes.
This special election was on the same day as the special election in neighboring Council District 11. And then in June, it'll be a huge election. Have you created any partnerships or worked with any other candidates in other districts or races?
We are still chatting about that. For the most part, we're fully focused on the 15th Council District, but we will be working with additional candidates as well for City Council, for borough president, for comptroller. We're absolutely in talks.
This was one of the first elections using ranked-choice voting. Did you rank other candidates on your ballot? If so, who?
Absolutely. I ranked based on the issues that I heard from the people of the Bronx. Issues that people care about are housing, education, health – you know, we have an asthma crisis in the Bronx – and also public safety. I put Jose Padilla, I think it was, as No. 2. He's done a great job in the Belmont area in the Bronx where he lives. He's been very active, he's done a lot of great work, especially on the public safety issue. So I put him as No. 2. Nos. 3, 4 and 5, I don't perfectly remember. But he was certainly my No. 2.
The City Council's budget vote was relatively contentious last year. If you were a council member then, would you have voted "yes"?
I think I would have voted "yes," but only with a few conditions, with a few modifications, which I'll have to look into. But I think negotiating a large budget, the size of the New York City budget is tough. You won't be able to get everything that you want. But you should of course get as much as possible. So I would absolutely ask for more resources for the Bronx.
What do you want to get involved with on the council? Any bills you want to introduce or a committee you want to lead?
There's a few bills and a few proposals – there's actually a lot of proposals – that relate to education. Specifically, equitable funding, but also racially and economically desegregating our public school system, which is currently the most segregated system in the country – unacceptable in a city like New York City. So that's one area that I'm going to be very highly invested in. Also affordable housing, public safety, but also the health crisis in the Bronx. I look forward to partnering up with elected officials, including our congressman Ritchie Torres, who represents an overwhelming percentage of the area around the Cross Bronx Expressway. We have to redesign the Cross Bronx Expressway. It's caused (an) asthma crisis in the most vulnerable communities in our city. In some areas of the district in the Bronx, 20% of the people suffer from asthma, and people are hospitalized with asthma at 20 times higher rates than people from other neighborhoods. People are literally dying due to the Cross Bronx Expressway, (and) the health issues that it's caused. And also, I'm not even going to mention how that area was severely affected by COVID-19 due to the fact that they had asthma and were at higher risk of COVID death due to their health conditions created by the Cross Bronx Expressway.
You're also a political science professor at Hostos. Have you taught your students about your campaign?
(Laughs.) I wish I had spoken more about it. Not so much, only because I took a semester off so I could fully dedicate myself to running for office. But also last semester, we were doing online classes. So some of them did learn about it, but not because I told them.
You now get to represent the Bronx Zoo. What's your favorite animal there?
Don't laugh: I love birds. I've had all types of birds while growing up. I had parakeets, parrots, finches, cockatiels, sparrows. We rescued a pigeon that was not doing so well so we took it home for one day and then we released it. I don't know if that's legal, by the way. It was actually hanging out in my window, and we helped it survive a very rainy night.
Powered By
NEXT STORY: This week's biggest Winners & Losers