Interviews & Profiles
Unions see boost in interest during COVID-19
A Q&A with District Council 37 Executive Director Henry Garrido on Cuomo's scandals and his union's mayoral endorsement.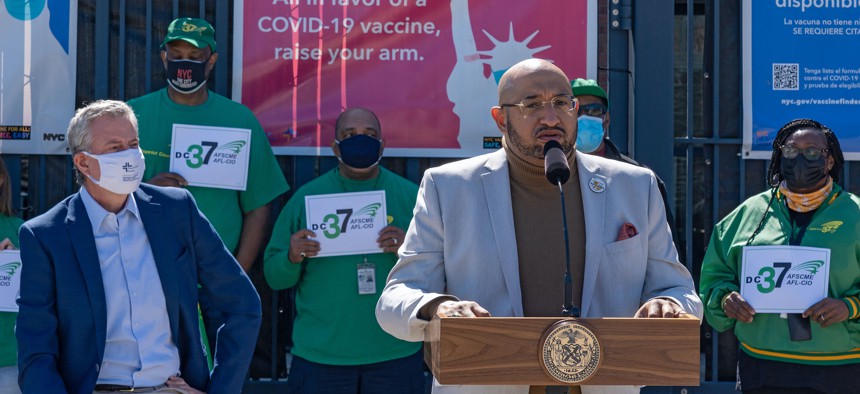 New York state has lost 1 million jobs as a result of COVID-19. And the pandemic's fallout still has a lot of unknowns for the state's workforce.
City & State interviewed Henry Garrido, the executive director of District Council 37, New York City's largest public employee union representing 150,000 members, on how the union has weathered the pandemic. Garrido speaks about the labor movement and how he rose up the ranks to become a top official. Plus, Garrido discusses how the union has responded to Gov. Andrew Cuomo's bullying style and allegations of sexual harassment as well as its endorsement of Eric Adams for New York City mayor. This interview has been edited for length and clarity.
What does District Council 37 have to say about Gov. Andrew Cuomo's recent problems?
We have not publicly called for his removal or come to his aid. I think that the Legislature has a role to play. The governor also has insisted that we have to wait for this investigation to take place by the Attorney General's office. The Legislature seems to have accepted that for now. So I think that's where we are. But we haven't weighed in, one way or another on this.
Why is that?
On a personal Ievel, I can tell you why I care. I see the things that he's being accused of, if proven to be true, as reprehensible. And I think, if they are proven to be true, he needs to face the consequences. We obviously would never condone the kind of environment where the things that have been described took place. As a union leader, I believe in the fundamental principles of due process. Until there's such a conclusion, we're not rendering judgment.
Why did your union endorse Eric Adams for New York City mayor?
We wanted a candidate whose values are most aligned with what our members believe and stand for. I think he was the candidate that personified that. We have a real, upcoming battle in this election for the soul of New York, for the direction New York City will take after the de Blasio administration and after what we've experienced in the pandemic. Are we going to see a mayor who will be beholden to private industries and to the billionaires and millionaires of this city for the sake of a crisis? Or are we going to see a mayor who's going to understand the plight of the essential workers who kept the city working, many of whom sacrificed their lives and gave their lives to keep the city going and who understands the real struggles of working people here. That's where we are. We think that while there were many good qualified candidates, Eric personified the qualities that we sought.
What was it like for you to succeed Lillian Roberts, District Council 37's longtime executive director?
Oh my God, it was a challenge of a lifetime. It's something I had known that I wanted to do for quite some time. I had been working for DC 37 at that time for 20 years, and in every single capacity. I started as a shop steward and went through almost every position you can think of in the union. And I had been mentored and brought in by Roberts, who had been a legend in our union. It was an honor of a lifetime. It gave me an opportunity to put in place a lot of the things that I had in mind. So this was a tremendously rewarding opportunity and experience for me.
What has been one of your most successful accomplishments while leading the union?
Doing an analysis of the union, I saw that it was made up of primarily administrative and clerical employees in the 1970s and 1980s. And we lost more than 50% of our membership in those areas as a result of automation, outsourcing and back office consolidation. One of the initiatives that I wanted to do is to make sure that we make that shift, that we begin to in-source thousands of consulting jobs, particularly in the area of information technology. That was the first biggest thing. I covered in a white paper how inefficient it was for the city to outsource so much of the work and more importantly how much institutional knowledge you lose by not only outsourcing the brains of your operation, but also outsourcing the maintenance.
One of the biggest and most important things that I began to do at the beginning was to make the argument for in-sourcing of those jobs and to show that it was more cost-effective to hire city workers, and that you were adding value to the government.
So within a matter of six months or so, under my administration, we signed an agreement with City Hall and began the process of in-sourcing. That required us to change our mentality. It required us to change civil service rules. It required us to make sure the salaries were commiserate with those people who were coming on board because the private sector was paying them much more. It required us to create new titles that didn't exist before in government. Like the titles of cybersecurity workers who protect tech against hackers that were coming from Russia and other parts of Europe. We created seven new titles on that. So that has been one of the huge success stories that has not been quite covered in city government.
How did the union perform when COVID-19 hit?
I like to sing praises for some of the work that's been done as a result of this pandemic in order to keep the city remotely working. It's because we have built the capacity internally through the city and union to make sure that those people I spoke about in response to your earlier question were hired. Previously, we were supposed to rely on consultants, many of whom are not even from the city, nor did they work from the city. They worked from Florida. The work we did brought new members and it increased the size of the city's workforce. It also saved the city about $100 million in implementation.
We had to change the way we thought about how we deliver services, as opposed to just protecting the status quo. Regulations require us to make a massive investment of the union resources into education. I think by building capacity training certification – certificates with Microsoft and Cisco and cybersecurity – and by going to the state and making the state Civil Service Commission to make amendments, we were better equipped in the capacity to deal with broadband and remote work to continue the continuity of government, as opposed to have to come up with hundreds of millions to hire outside consultants, who at that time would be charging us premium pay to establish remote access to many of those systems that we had. We own the systems. We kept the maintenance. We have the institutional knowledge in-house. We have the knowledge transferred for even when we have to use outside products that were proprietary in nature. So all of that has permitted us to continue to work and continue to function, even as a lot of us workers are working remotely and a lot of people are not going into those offices.
Why did DC 37 and other New York City unions lobby for temporary early retirement incentive legislation?
What we want is an early retirement incentive to allow for those workers who want to leave early without penalty. This gives us yet another opportunity to rethink government. You know for many of us, information technologies have become a way of life, right? Zoom and other mediums of communications are so easily accessible and almost part of our DNA right now. But for many other people who got hired in the city government 30, 40 years ago, that wasn't a requirement. So if you started in city government early and young enough, and you were doing a job because you want to work with your hands, and you want to interact with the public, that's something you wanted to do. And many times you gave up salary increases to the private sector to continue to do that. And after work has changed, many of those people want to have an opportunity to retire with some dignity, an opportunity to retire with some perspective.
For me, it's a priority for us in this budget. But I would also say that combined with that, we want to see a revenue stream to come up to New York. Although we're happy to see that the federal government stepped up and did its job in providing resources directly to the city, most of those resources are a one shot deal, something that helps us now. We're concerned about the viability of New York and the sustainability of essential services in the future. So we would like to see Albany adopt a revenue package that is sensible in nature and that provides an opportunity for millionaires to pay their fair share.
Jobs have been eliminated because of COVID-19. Has that resulted in a rise in the number of workers seeking to organize?
I think that it was already on the rise, the need to organize. The popularity among workers who are not organized into a union, I think it's at an all-time high. We saw the general public perception of unions in a positive way, where more than 62% of Americans were in approval of unions. We've seen, at least in the public sector, massive amounts of workers are organizing across the United States. Right here in New York, that surprisingly after the decision of the Janus case by the U.S. Supreme Court in favor of a lot of pro-business, anti-union, right-wing organizations, we saw an increase of 29,000 workers joining the union more than the year before. And that is a testament to that case was what the workers saw it for what it was: a veiled attempt to take the last defending force, in the form of a union to protect the workers. I think that … in our union, we've seen a massive increase in unionization efforts.
We've had a couple of successful campaigns of organizing in the last year or so since the COVID pandemic that I would have told you three years ago, it would have never happened. To do it in a time when you can't physically go and touch the workers, where a lot of this is being done electronically, it's amazing. The last three campaigns we filed for, we won with an overwhelming majority of workers in the 90th percentile. That's why it's significant, both nationally, at the state level and right here locally. We see a very positive improvement on the perception of unions by workers that could be organized. And this year, it's likely to be more, we're pushing more into that. Just as an example, when I became (executive director) five years ago, we had about 119,000 workers through affiliation, consolidation, in-sourcing as I mentioned, we're up to 150,000 workers now. Right here, we're growing at DC 37.
Powered By
NEXT STORY: Pat Ryan's got his own Green New Deal