Interviews & Profiles
A Q&A with New York City Chief Democracy Officer Laura Wood
She's getting New Yorkers up to speed on ranked-choice voting.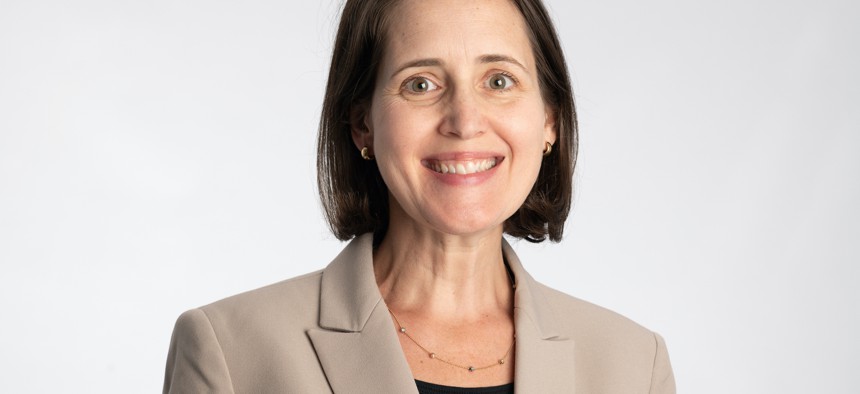 Before Laura Wood was entrusted to be the new chief democracy officer, New York City's second ever, she had already played a lead role in the city's democratization. She was counsel to DemocracyNYC, the city's voter engagement initiative, for two years before taking the reins of what she called her "dream team" in April. More importantly, Wood will oversee the mayor's $15 million voter outreach campaign ahead of the June 22 primary, where the ranked-choice voting will be implemented citywide for the first time.
City & State spoke with Wood about her flashy title, her plans to spend the $15 million and debates around ranked-choice voting. This interview has been edited for length and clarity.
That's a pretty unusual title. Are people surprised when they hear the city has a chief democracy officer?
Actually, the response has been very positive. I think people are really happy that the administration and the mayor has prioritized voting and elections. We obviously have the Board of Elections, which administers the elections, but this role is really the only one that is truly voter-centric and voter-focused. I like to think of the chief democracy officer role as being like the equivalent of the public advocate for voters of New York City.
As chief democracy officer, what do you think a democratic city looks like?
One in which democracy actually is accessible to everyone. In the rest of the country, but even here in New York, for too many years there have been barriers in the way of making it easy to vote. Whether it's a cumbersome voter registration process, making it hard to request an absentee ballot, not providing information in languages other than English or some of the other Voting Rights Act languages. A huge part of the ranked-choice voting campaign is making sure that information and resources are available in multiple languages, that we are working with community-based organizations and other partners to help reach New Yorkers where they are.
Can you tell me what priorities you have for the $15 million voter outreach initiative?
It will enable us to have a very big investment in a citywide media campaign. We are working on a robust TV, radio and print advertising campaign which will include a very significant investment in community and ethnic media. Our TV and radio ads will ultimately be available in up to 10 languages, some of the digital ads and other resources will be available in even more languages than that. One thing I would love to call your attention to, it's an interactive online app that we developed with a company called RankedVote, which actually mimics the New York City ballot and helps New Yorkers practice and understand how ranked-choice voting works. That tool is available in up to 16 languages, and is on our website.
I was going to ask whether this was an educational initiative about how RCV works, or if there would be get-out-the-vote elements? It sounds like it's kind of both. 
Our view is that those things go hand in hand. We need to educate New Yorkers about how the system works, but a lot of New Yorkers, especially given the past 15 months we've had with this pandemic, have so much else on their minds that we also need to reach out directly and remind them of what's at stake. The primary election will probably determine who the next mayor will be, it will likely determine the other citywide leaders. If people care about public safety, schools, health care, this is the time for them to be tuning in. We know people will get ranked-choice voting; it's not rocket science. New Yorkers rank things in order of their preference all the time. But they need to know what's happening so when they make their plans and vote, they feel confident in what they're going to do.
Like you said, RCV isn't necessarily difficult. But there have been concerns raised by some lawmakers about its implementation. What do you say to that?
Those concerns are definitely valid, and I'm glad that they have been raised. I think that's part of the reason why the administration decided to make this investment. But I do think that, again, New Yorkers should never be underestimated. We are going to spend the next weeks making sure that every New Yorker knows about ranked-choice voting and encourage them to make a plan to vote in the upcoming primary elections. We can get there, but it does require work on everyone's part. The Board of Elections has a job to do, the community organizations have a job to do, and they've been doing a phenomenal job. We are here to kind of help support that and make sure that we get that message out as widely as possible. We've got a lot to do, but I think New Yorkers will rise to the challenge. 
I've noticed some chatter online from voters that even if they understand ranked-choice voting, they feel they only have one favorite candidate. Does your team have a strategy to deal with this kind of, I guess, hesitancy towards the new voting system?
We're very voter-centric in our messaging and our focus, and one thing that we want to make clear to voters is that the choice of how to rank or whether to rank is up to them. If they know that they only have one favorite for mayor, and they don't like any of the other candidates, they can just select that person as their first choice and be done with it. What we want to ensure is that they understand how it works and can make an informed decision about how to cast their ballot. I do think that if they put in the time, New Yorkers will realize that even if they do have a first choice, they may have a second, third and so on, so it is in their interest to rank multiple candidates. That way, if their first-choice candidate doesn't win and gets eliminated, they still have at least some voice in who does, and that's what this campaign is all about. But ultimately, this is about empowering New Yorkers and making sure that they have the tools to make the decisions for them.
Powered By
NEXT STORY: Ron Kim is more than a Cuomo antagonist