Interviews & Profiles
Ron Kim is more than a Cuomo antagonist
The Assembly member defied Gov. Andrew Cuomo over COVID-19 nursing home deaths, but he won't be bullied by the governor.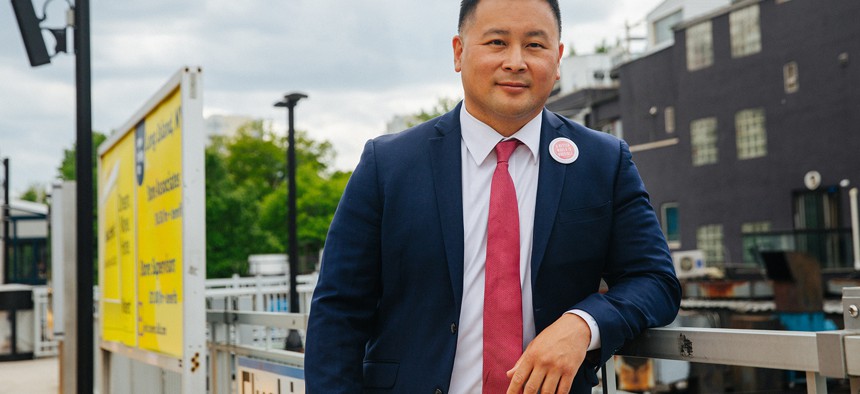 On a recent afternoon in Flushing, Queens, Assembly Member Ron Kim filtered through Main Street's crowded sidewalks with his 6-year-old daughter in tow, talking with small-business owners. The weekday crowds showed promise of an economic revival in the neighborhood, where roughly 1 in 10 people contracted COVID-19 over the past year.
Later in the tour of the blocks he grew up on, Kim paused outside a seafood restaurant on 40th Road, a quieter street off the main thoroughfare. This is where 38-year-old Yang Song died in 2017 when the New York City Police Department's vice squad arrived to arrest her for allegedly engaging in sex work, Kim said. Song had been arrested for prostitution before, but as police banged on the door during that night's raid, Song either fell or jumped from the fourth-floor balcony.
Kim, whose family immigrated to Flushing from South Korea when he was 7 and who still lives in the neighborhood with his wife and three daughters, has spent a fair bit of time on this stretch of 40th Road. Organizations like Red Canary Song, created after Song's death to advocate for immigrant sex workers, have held memorials at the site, including a memorable vigil Kim attended on a cold November night in 2019. "He was freezing his butt off with the rest of us," said Pauline Park, a Korean American progressive activist and chair of the New York Association for Gender Rights Advocacy, a transgender advocacy organization. "He's not some limousine liberal who shows up for a drive-by photo op."
Decriminalizing sex work is one of a handful of issues that Kim cites as his top priorities in Albany. Unlike some lawmakers who might be inclined to opine on every major policy proposal favored by their party or its ideological wing, Kim sticks to just a few. This also includes taxing the rich and closing the wealth gap, and fighting the rise in anti-Asian hate crimes with what he calls a "decarceral" approach.
It's no coincidence that many of these issues are especially relevant to Flushing and the rest of Queens. Flushing is roughly 70% Asian American, including a large Chinese American population and a smaller Korean American population, according to the 2010 census. It's been the site of recent violent anti-Asian attacks that are a part of a larger rise in hate crimes against Asian Americans. And while any progressive Democrat will extol the importance of tackling the wealth gap, Kim noted that a 2018 report showed that income inequality among Asian Americans was higher and growing faster than any other major racial or ethnic group.
"He's not some limousine liberal who shows up for a drive-by photo op." – Pauline Park, a Korean American progressive activist
But those aren't the issues that Ron Kim's name has recently been associated with. Instead, it was Kim's criticism of fellow Queens boy Gov. Andrew Cuomo's handling of COVID-19 nursing home deaths that attracted national attention in February. It's not hard to find someone to publicly criticize Cuomo today, but at that time, the governor was still basking in the praise showered on him by national media outlets and organizations like the Academy of Television Arts & Sciences.
Kim turned his attention to nursing homes as another priority this session and succeeded, alongside state Sen. Alessandra Biaggi, in passing a repeal of the legal immunity granted to nursing homes and other health care facilities during the pandemic. The issue hits close to home for Kim, whose uncle Son Kim died of a presumed case of COVID-19 in a nursing home last year.
After criticizing Cuomo over the nursing home issue, Kim called out the governor, detailing to multiple news outlets a phone call he received in which he said Cuomo yelled at him and threatened to destroy his career. Cuomo denied that he yelled or threatened Kim's career. In taking aim at Cuomo's management style and treatment of lawmakers, Kim ended up opening the floodgates to a rush of reports and recollections of the governor's alleged bullying. Not long after, former Cuomo staffer Lindsey Boylan, who is a candidate for Manhattan borough president, became the first person to publicly accuse the governor of sexual assault and harassment.
Cuomo now faces accusations of sexual harassment from 10 women, some of whom also alleged sexual assault. Cuomo has denied the assault accusations and said he never acted inappropriately, but offered a broad apology for verbally making any female staffers uncomfortable. State Attorney General Letitia James is investigating those accusations. The Assembly has opened an impeachment inquiry, and the FBI and U.S. attorney's office in the Eastern District of New York are probing the handling of COVID-19 in nursing homes by Cuomo's COVID-19 task force.
Although Kim's media notoriety has come from the Cuomo incident, Kim has also developed a reputation as a leading progressive on a number of other issues, such as increasing taxes on investment income. Nonetheless, he recently endorsed Andrew Yang, who has opposed higher taxes on the rich, in the New York City mayoral race.
Yang, who would be New York City's first Asian American mayor, is likely to do well in Kim's district, but he is mistrusted by most of Kim's allies in the left wing of the Democratic Party. Now, Kim's challenge is to navigate the demands of the progressive left while still maintaining the support of his district and New York's Asian American communities.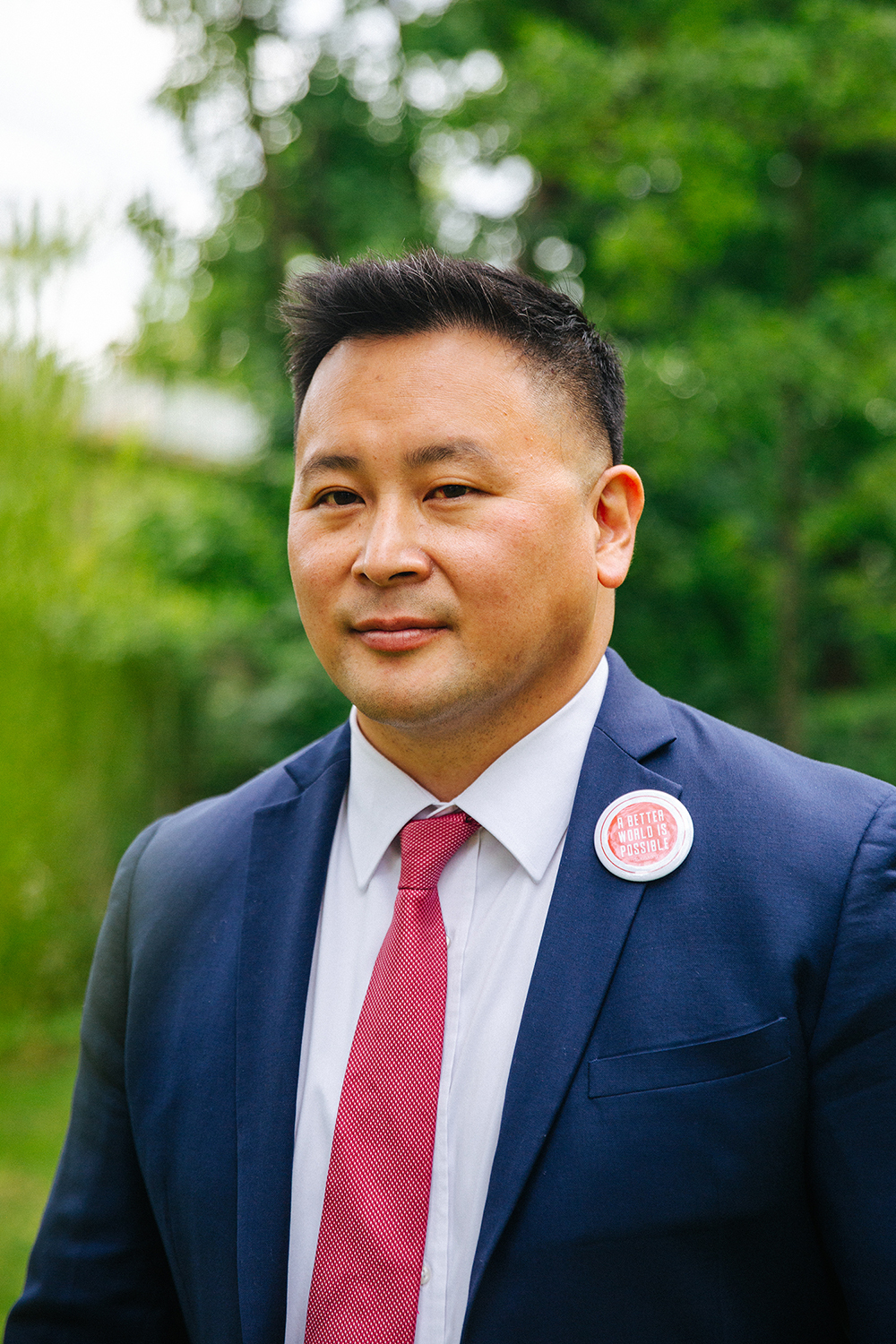 Kim's fight with Cuomo over COVID-19 nursing home deaths all stemmed from a February video conference call among Secretary to the Governor Melissa DeRosa and Democratic lawmakers in which DeRosa apologized for keeping the true count of deaths of residents in nursing homes and long-term care facilities quiet for months. New York had been reporting roughly 8,500 such deaths, but had only been counting deaths that actually occurred in the facilities themselves and not later in hospitals. The real count was more than 15,000 deaths. DeRosa apologized for the state not providing more information, saying they "froze" after an inquiry from then-President Donald Trump's Department of Justice because they feared the higher number would be "used against us."
In the New York Post article that reported this meeting, Kim commented that it looked like the administration was admitting "they were trying to dodge having any incriminating evidence" that could get it in trouble with the DOJ. Soon after, Kim said he received the threatening call from Cuomo, in which Kim said the governor demanded that Kim issue a statement clarifying his remarks to the Post.
This wasn't the first time Kim had clashed with the governor. After Kim shared his recollection of the call, Cuomo accused him of reviving an old dispute over a 2015 law regulating the nail salon industry. "There's been a long, hostile relationship with Assemblyman Kim," Cuomo said in February. In 2015, after the state passed a law protecting nail salon workers from labor abuse and wage theft, The New York Times reported that Kim began to withdraw his support for the law after receiving donations from nail salon owners. Kim disputed the report, and today maintains that he opposed emergency regulations enforced by the governor's office and the enforcement of the law on nail salon owners – many owned by Asian Americans – but not other types of "appearance enhancement" establishments, as the law was supposed to do.
The COVID-19 nursing home deaths cover-up hit close to home for Ron Kim, whose uncle, Son Kim, died of a presumed case of COVID-19 in a nursing home last year.
Nonetheless, Cuomo took the recent dustup over nursing homes as an opportunity to revive the nail salon issue and accused Kim of engaging in a pay-for-play scheme. "I do believe Ron Kim acted unethically, if not illegally," Cuomo said. "I do believe he has a continuing racket where he raises money from the owners of the salons who opposed the salon bill."
State Sen. John Liu, who Kim first worked for in the early 2000s when Liu was a member of the New York City Council, remembered the issue differently. "I wasn't in elected office at the time, but my recollection was the bill ultimately became rather different from the original intent and completely sidelined stakeholders, including salon owners," he said. Democratic Assembly Member Dan Quart, who sits next to Kim in the Assembly chamber, applauded his friend's actions in speaking out against Cuomo this year. "The governor's language about Ron was malicious and deeply unfair," Quart said. Representatives for Cuomo did not comment for this story.
Now, roughly three months later, Cuomo is in a weakened position, even if his removal from office doesn't seem imminent. Kim led the charge to repeal immunity for nursing homes and was, unsurprisingly, among the first Democrats to call for Cuomo to resign. He's still pushing for more transparency in how nursing homes are operated in New York, and said he's confident that with investigations by the Assembly, state Attorney General Letitia James and the federal government, Cuomo will face accountability. "I think it's no longer about Andrew Cuomo, the individual, but it's about what we have to do to make sure that we don't repeat the same type of mistakes," Kim said. "And right now, there is zero accountability."
Son Kim, Ron's uncle who died in a nursing home last year, was also the man who sponsored his family to immigrate from South Korea when Ron was 7 years old. At that time, in the mid-1980s, Kim said his parents still had hope in the American dream, opening a grocery store on the Upper East Side. They opened several different stores, but eventually declared bankruptcy. "For many years, I saw them, my parents, live in debt to family, and it was very tough for them to get by," Kim said. "As a teenager, the knee-jerk reaction was to, like, be angry at your parents, like, 'Oh, they don't speak English, they're not integrated or assimilated into America,' and almost felt the shame as a teenager." After going to college and "connecting the dots better," Kim said he saw that the system was rigged against people like his parents.
It was that experience that triggered a career in public service. Kim's parents were able to put together money to send their son to Riverdale Country School in the Bronx, renting an apartment in Riverdale where Kim lived during the week, though he usually spent weekends at home in Flushing. Though scholarships were available for the private school, his family wasn't aware that they were even an option. Kim received a full scholarship to Hamilton College in Central New York, where he played football, and later earned a master's degree in public administration from Baruch College in Manhattan.
Kim got his first exposure to politics as an intern in then-Council Member Liu's office, a position he was offered after showing up to Liu's office with a list of complaints from Flushing residents. A traditional career of moving through the political and governmental ranks followed, with stints working for then-Assembly Member Mark Weprin, the New York City Department of Buildings and the Department of Small Business Services, then-Council Speaker Christine Quinn, and as regional director for government and community affairs for Govs. Eliot Spitzer and David Paterson.
"There's been a long, hostile relationship with Assemblyman Kim." – Gov. Andrew Cuomo in February
Despite walking that traditional path through Democratic politics, Kim got his first taste of what happens when you deviate from the path when he launched a failed run for Liu's open council seat in 2009, without the support of the Queens County Democratic Party. Although he ran successfully for his current Assembly seat three years later, with the backing of labor groups and the Democratic Party, Kim said he has increasingly distanced himself from the Democratic establishment. A major turning point for him was his wife Alison Tan's 2017 challenge to Council Member Peter Koo from Flushing, who Kim frequently butts heads with. (Koo and Kim represent some of the same areas in the City Council and the Assembly, respectively, including much of Flushing, Linden Hill and Murray Hill.)"After witnessing how she was treated and talked down to by the establishment, that's when I realized this whole facade of playing by the rules is flawed and designed to really suppress up-and-coming immigrants, women of color and people from marginalized communities who should be part of the process, not feel excluded," Kim said. At the time, Tan said that the Queens County Democrats wouldn't meet with her to discuss her platform, and Kim suggested that the party was angered by her decision to challenge Koo. "The county took his side during that process, telling my wife that Peter is the most popular and everybody loves Peter. 'Why would you challenge him?' Just soft bullying going on," Kim said. The Queens County Democratic Party did not respond to a request for comment.
Koo declined to comment for this story but said in 2017 that he and Kim used to be friends, until Tan ran against him. Until 2012, Koo was registered as a Republican, and actually won his council seat in 2009 on the Republican line. He was reelected in the same district in 2013 as a Democrat. Kim and Koo have split on local policy issues, including the Flushing busway that went into effect earlier this year, with Kim advocating for the transit-friendly policy and Koo arguing that it would hurt struggling local businesses by making it harder for people to patronize Main Street businesses by car.
Today, the issues Kim has carved out as priorities are not only of particular importance to his northeast Queens district, but also ones in which he displays some of those progressive ideals. In addition to his push for decriminalizing sex work, Kim advocates a controversial approach to dealing with the rise in anti-Asian hate crimes in New York City. In the first three months of this year, 33 incidents were reported to the NYPD, up from 28 in all of 2020 and three in 2019. "The immediate reaction is so much anger," Kim said in response to one recent attack on a 61-year-old Chinese immigrant who was collecting cans in Harlem. "I almost felt like, as a community, we've had enough. How much more shit do we need to take as the Asian community?"
While some want to respond by fortifying the police department and punishing the attackers, Kim is focusing on improving social conditions for those who are vulnerable to attacks and for the perpetrators. "It's easy to reduce it as an individual being so violent and being born as this horrible human being," Kim said. "That way, we can just go give some money to the police and say, 'Yeah, we just have to crack down on those violent offenders,' which most of the time tend to be young Black and brown men." The better long-term solution, Kim said, is investing in areas like public education and housing, a lack of which could make it easier for people to cycle through the criminal justice system and commit violent acts.
On this point, Kim diverges from other Asian American politicians, including former Assembly Member and current City Council candidate Ellen Young (who nonetheless serves as Kim's senior adviser), and his preferred candidate for mayor, Andrew Yang. Yang has called for more funding for the NYPD's Asian Hate Crime Task Force, to the dismay of Asian American activists on the left. Kim also appears to split with Yang on other issues affecting his constituents, like the proliferation of unlicensed street vendors. Along with the busway on Flushing's Main Street, this is one of the complaints that Timothy Chuang, owner of New York Tung Ren Tang, a Chinese medicine store, and co-chair of the Flushing Business Improvement District, shared with Kim recently. "When you pass by here, you can see all illegal vendors," Chuang said outside his store on a recent weekday afternoon. "They don't need to pay anything. No rent, no tax."
The threat of competition from street vendors has been a frequent complaint among small-business owners, and while Yang has called for more enforcement against unlicensed vendors, Kim wants to stop pitting them against one another. "It's also clear that there's problems with rent and leases with our developers and landlords, but they're demonizing the street vendors," Kim said of those business owners.
It's issues like this that have made Kim's endorsement of Yang puzzling for some on the left who are overwhelmingly complimentary of Kim's work in the Assembly. Jason Wu, co-chair of Gapimny, an organization that provides educational and cultural programming for queer and transgender Asians and Pacific Islanders, complimented Kim for his advocacy of decriminalizing sex work and taxing the wealthy. But on his endorsement of Yang, Wu said simply, "I don't understand it."
Others have echoed this confusion. Joo-Hyun Kang, the outgoing executive director of Communities United for Police Reform, tweeted in response to a recent video Kim posted of Yang speaking about Asian representation, "Ron, I respect you. I think I get where ur coming from. But as you know, race representation isn't enough," she wrote. "Dangerous that he (Yang) erases/undermines poor & working class Asians by relying on racist 'model minority' tropes that push assimilation & meritocracy myths. He's gotta do better."
Kim has repeatedly suggested that he can move Yang further left. "I've spent hours walking the streets with Andrew, showing him migrant workers, sex workers, the place where (a) sex worker died after being raided by a police officer," Kim said. "To see him interact, to see him talking to people and recognizing their pain, I know that he understands and he empathizes. And he's willing to change his stance on issues that walks us toward more of a humanizing future."
Despite his political profile growing this year, if there are any future plans for seeking higher elected office, Kim won't discuss them. Previous campaigns for City Council and public advocate in 2019 proved unsuccessful, though Kim has undeniably made a name for himself in state politics. For now, Kim's focus is on his Assembly work, where he won't be letting up on his scrutiny of nursing homes."Thanks to Speaker Carl Heastie, I've just been appointed as the chair of the Committee on Aging," Kim said. "This is my first session as the chair, and I'm exactly where I need to be right now."
Powered By
NEXT STORY: This week's biggest Winners & Losers