Interviews & Profiles
Liz Krueger, the reformer
The longtime state senator talks JCOPE reform and fixing the New York City Board of Elections.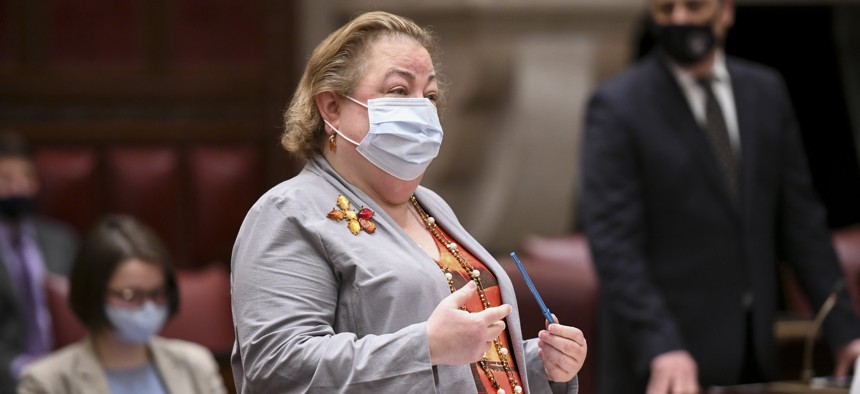 The push to reform New York's Joint Commission on Public Ethics has long suffered from a lack of forward momentum. Despite lawmakers and good government groups complaining about JCOPE and the state's public ethics system, little progress has been made in instituting substantive changes to the body's makeup and function. 
A bill from state Sen. Alessandra Biaggi passed the state Senate this past session which would have changed how commissioners are appointed, and also would've updated voting requirements for findings of violations. But the bill was never picked up in the Assembly. Biaggi, who chairs the ethics committee, will hold the first of two hearings on ethics oversight and enforcement on Monday, where JCOPE's shortcomings and potential for reform will be discussed.
It's a similar story for the New York City Board of Elections. A long history of gaffes and reports of disenfranchisement has yet to lead to major changes in the board.
State Sen. Liz Krueger, a Democrat in Manhattan, is hoping that those stories start to change next session. Krueger has proposed a constitutional amendment that would do away with JCOPE and build a new body – called a Government Integrity Commission – which, among other things, would give more appointment power to the judiciary and take some away from the governor. But enshrining these reforms in the state constitution comes at a cost: It takes much longer to pass a constitutional amendment than it does to pass typical legislation. Krueger is also sponsoring a bill that aims to professionalize the New York City Board of Elections, and institute new qualification requirements for commissioners and staff. 
City & State checked in with Krueger ahead of that hearing about why reform efforts have stalled, what action we might see next session and whether the city BOE's latest screw-up will help propel reforms.
Responses have been edited for length and clarity.
Why wasn't your proposal to create a new "Government Integrity Commission" able to move forward this past session?
It's always very difficult to get anybody to be willing to move constitutional amendments, because it's quite the process to accomplish. You need to pass it through both houses of the Legislature, two sessions in a row. Then you bring it, the following general election, to the public for a referendum vote. So it's not a simple thing to change your constitution. And it's not a simple thing to say to the Legislature – even though I'm part of the Legislature – "Hey, we have an ethics problem that needs to be better addressed." Because you're basically saying, I want to make the policing of ourselves stronger. And no one really wants to hear that we need it. Nobody really wants to have to do it. It's the kind of thing legislative bodies do when there's enough public pressure on them that they feel they can't avoid it anymore. It's actually the story of my life on lots of the bills that I carry.
What other bills?
I'm carrying a bill to reform the (New York City) Board of Elections, and there too, people are going, "Why didn't that just pass?" Well, because party leaders control the Board of Elections. They don't want to change it. It's working for them somehow. It's very hard to get folks who the system has worked for to be willing to admit that there are problems in that system, that it needs to be fixed. 
A bill from state Sen. Alessandra Biaggi that you co-sponsored passed the state Senate this past session. Is the idea to have these kinds of statutory reforms serve as stopgap measures to improve JCOPE while you pursue this longer process of advancing a constitutional amendment? 
Yes, I think that's a fair statement. And they have value in their own right. It's just, I think that there are enough problems with the entire model of JCOPE that we are better off designing from scratch. That's not a criticism of any of those individual bills. Because the truth is, as hard as it is to pass them, even as individual bills, they each would make a difference in some way, compared to the current model.
What was your reaction to the news that JCOPE wouldn't pursue a criminal probe into the reported internal leak of information to Gov. Andrew Cuomo in 2019? 
No surprise, whatsoever. I'm pretty sure I didn't coin the original phrase, "JJOKE," but that's basically my opinion of that entity, even though there are decent people involved. I think what would surprise me is to learn that there was an example somewhere of JCOPE having handled something correctly from beginning to end. 
Have you seen interest or support for the constitutional amendment proposal grow as Gov. Andrew Cuomo has come under increased scrutiny this year? Are there new realizations about the need for ethics reform?
I think there are new realizations about ethics reform, but it hasn't necessarily tied back into JCOPE. Because while obviously the story you're picking up on is where there does appear to have been a leak of information about a decision not to follow up on a case, the kinds of ethics issues that are now plaguing the governor are not really JCOPE. They're criminal charges. There are four different investigations going on into the governor's behaviors. I think focus, and certainly media focus, has been on those, not necessarily on where was JCOPE.
What's next for your JCOPE reform proposal? Will you be reintroducing it as-is next session, or do you expect it will go through any changes first?
Well, I'm interested in seeing if there are any new recommendations that come out of these hearings. I'm always willing to adjust legislation or constitutional amendments to make them better. So I'm not going to ever say, "No, nothing would be amended," because if there are good reasons to do it, let's do it.
I want to ask about the proposal to reform the New York City Board of Elections. Is the idea behind it similar to the JCOPE proposal – starting a new system from scratch?
Well we can't start from scratch because there's actually requirements in our constitution. So we can't get rid of the dual bipartisan model of administration. Oddly enough, that's actually in the constitution. But we can professionalize it. So right now, you have the county party leaders who appoint the commissioners who set the policies and hiring and firing within the board. All right, I still have to have party leaders who appoint commissioners, that requires a change in the constitution. Fine, we won't be able to do that in a year. But, you can change it so you need co-executive directors, one who's a (Democrat) and one who's a (Republican), but they actually are people who apply for the jobs, and are evaluated by people elected to higher positions in New York City. They go in there, they hire people based on professional qualifications. And if they fail to do their jobs, they get fired. But there's mandatory training to professionalize the staff and to make sure everybody knows what their job is. You still have these 10 commissioners because I can't get rid of them. But they are advisory on specific issues, and not (on) the hiring and firing and managers of the staff. Making it more of a professional agency accountable to someone, the way people assume all their government agencies are.
Reforming the BOE is another effort that's been talked about, but not acted upon, for a long time. Do you have any notion that the board's most recent ballot-counting screw-up will stick in people's minds by the start of the new session next year, and maybe give reforms a better chance of passing?
I really hope so. I keep saying to reporters, it's not just this election cycle, at least in New York City. It's every election cycle, as far back as your memory allows you to go, that something major has gone wrong that was a human mistake, because of lack of correct credentials, management and competence of the people of the board of election. And every election cycle, there's newspaper stories and editorials saying, "Enough is enough." And yet, then we don't fix anything. So I'm hoping that people's memory is long enough to demand that we do the right thing. Also, I've been spending a lot of time on the following sentence: "Ranked-choice voting, a new model for voting which started this year in New York City, right now in this election, was not the problem of any of the issues we saw. It worked exactly as intended." 
Powered By
NEXT STORY: This week's biggest Winners & Losers