Interviews & Profiles
Vanessa Gibson sheds light on Bronx power
The Democratic borough president nominee discusses recent changes in the local political scene.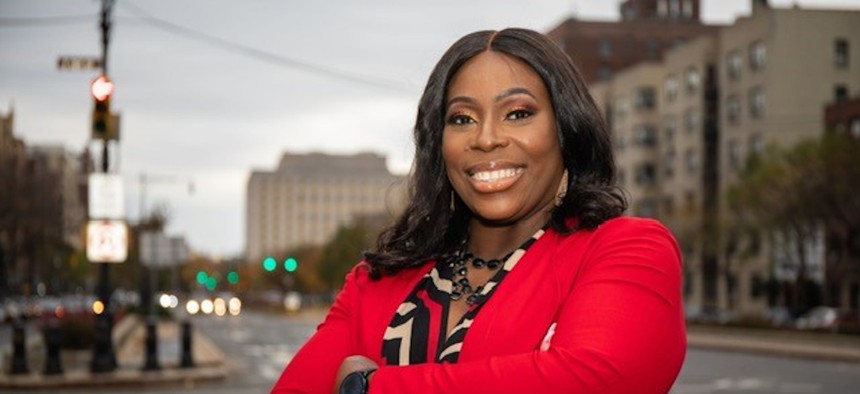 Vanessa Gibson is all but guaranteed to be the first woman to serve as Bronx borough president when she takes office next year. She'll also be the first Bronx borough president in who knows how long to come from Brooklyn. But Gibson, who was born and raised in Bedford-Stuyvesant, Brooklyn, is a Bronxite by choice and relocated to the borough after college and has represented City Council District 16 on the southwestern edge of the Bronx since the end of 2013. Before that, she served in the Assembly from 2009 to 2013. She talked with City & State about running without the Bronx Democratic Party's support, leading a majority Latino borough as a Black woman and who really has power in the borough.
What's your history with the Bronx Democratic Party? Did they support you in your first run?
Over the years, I've worked with several chairmen of the Democratic Party. When I was an intern for (then-Assembly Member) Aurelia Greene, José Rivera was chair, and Aurelia Greene was one of the executive members. So I was involved to the extent as staff members are in terms of the background work. I worked very closely with Chairman (Carl) Heastie, because we had known him, he was a longtime Assembly member. Then after that, it was Marcos Crespo, who I knew very well since we were both elected to the Assembly back in June 2009, and now with the ascension of Jamaal Bailey. So I've had a long relationship with the Bronx Democratic Party. I've also been a female district leader for Assembly District 77. So I've been able to work with the poll workers and coordinators, things of that nature as it relates to Election Day operations. But, I have to be honest, this election, when I decided to run for Bronx borough president, I had been talking to Chairman Bailey and his team about an endorsement in the borough president's race, knowing that 2021 was so important with the mayor's race and comptroller and a majority of the City Council. And I know the county, with Jamaal being new, they have to really pick and choose their battles, and really strategize on which races they wanted to get involved in. When I got the word that they were going to be neutral, of course, I was really disappointed. Because what it caused me to have to do was to do my own footwork, and reach out to every elected official, every district leader, every state committee member myself, and pitch my campaign to them and ask them to support me individually because (the) county wasn't making an endorsement. So it was really disappointing. I mean, of course, I'm going to be very honest, I'm grateful that they did take (a) position on a majority of the City Council races supporting these incredible women, and all of them are the Democratic nominees. But of course, my heart was a little sad that I didn't get the support of (the) county, because I felt like this election was so important. I felt that the Bronx Democratic Party should have a role in determining who the next borough president would be.
Were you surprised the Bronx Democratic Party didn't endorse in the borough president's race? Or did it make sense because there were multiple sitting elected officials who were running against each other?
Well, I was disappointed at first, and then I was a little bit upset, because I have a relationship with the chair and with all of the elected officials. I thought our relationship was important and that should hold weight. But I also realized that within the race, the other candidates also have their own relationships with the organization and the chairman as well. The reason why I was hoping that there could be an endorsement is because of ranked-choice voting. You saw a lot of elected officials (ranking) an endorsement as their No. 1, their No. 2. Or you had some cases where elected officials were doing a dual endorsement. I was OK with that because at the end of the day, I knew RCV would play a very important role in the BP race, and I didn't want to lose sight of that. So I said, if the party cannot agree to one candidate, can you agree to two? So whoever those two would be, I would hope I would be in the two. So that's what I was hoping we would get to. Then, unfortunately, it just didn't work out. At the end of the day, I'm really grateful for the voters of the Bronx for just their amazing overwhelming support and really participating in the primary.
I was told that part of the tension about the party not endorsing was basically about the party supporting a Black candidate in a majority-Latino borough. Do you think that that was part of the issue?
I wouldn't doubt that was one of the factors, I don't think it's the only one. I do think Chairman (Jamaal) Bailey has relationships with all of the candidates, and he wanted to maintain that relationship. Because after the election, we also have to work and live in (the) Bronx, and that's a reality. I do understand the longtime history of the Bronx being represented by Latino men, and I respect that. But I also know that the voters of the Bronx have a right to elect who they want to be their next leader, regardless of what you look like, but really running on a record of accomplishments and a record of results. I focused heavily on the work I had done in the Assembly, in the City Council, and I didn't go out telling people to vote for me because I'm an African American woman. I did talk about the historical nature of the election, making sure that people understood that women were running for offices that were never held by women before, we definitely made that clear. We also talked about our record. So I tried to stay focused on that, but I do realize that race and gender had a large factor in this race, and as a result, many made decisions based on that.
You've seen so many changes in the Bronx Democratic Party, changes in leadership, members and all that. Do you think that it's different now? Do you think that the party has changed under Bailey?
I think the party is definitely shifting to take on more creative ideas and approaches of how we organize and work together as a borough. I think the county organization is expanding its relationships with other elected officials and other leaders that were never involved in county politics over the years. They're younger, they bring something different to the table, whether they're a lawyer, an organizer, an educator, Harvard educated like Pierina Sanchez, or youth development like Althea Stevens. I think it's exciting because it's different. A lot of times people don't want to embrace change because they think change is going to push them out. They think change is not going to reflect their values or look like that. But I think when you look at the spectrum of elected officials that are Democratic nominees for the City Council, it's exciting when you see Marjorie Velázquez making history as the first Democratic nominee that is a woman of color in the East Bronx. And I think it's exciting for several reasons, because it allows women to step up and lead. It allows women of color to step into positions that were designed for them. It also allows a shift in politics where we're looking to new people to establish themselves and create an agenda and a platform that is reflective of everyone. At the end of the day, we all live in one borough. We want to make sure that whoever we elect, not only do they represent our values and our principles, but most importantly, they're going to do the work. So I think Chairman Bailey, in his decisions that he's made, is being very strategic, you saw that we were the only county organization, I believe, that endorsed in the mayor's race. Even though it was late, I think Chairman Bailey had to make a decision, and one thing he has been is very inclusive. So he has been talking to electeds, talking to district leaders, you know, 'tell me who your top three choices are for the mayor, who do you like for this, who do you like for that?' and then really take more of that in, because he realizes that he may be the chair, but he does this as a part of a team. I appreciate the inclusion, I appreciate the partnership. So I think this is the new wave of leadership. It's the county organization recognizing that we have to be inclusive, we have to allow a younger generation of leaders to come in and step up. We have to continue to create both platforms and spaces where young people can take on these roles when a lot of us are leaving office and going into different sectors.
Which makes me think, it's such a change from just two years ago, we had Ruben Diaz Jr., who everybody expected to run for mayor. We had Marcos Crespo as the chair, really working very hard to gather support for Diaz, and then that plan changed. What do you think happened there? Were you surprised to see Diaz drop out and see the county party change hands?
I was surprised because I am not in the immediate circle, so I didn't get the bochinche early. I just wasn't aware. I was very surprised when Ruben made that decision. I saw The New York Times article break that Sunday about him dropping out of the race because I knew it was something that he wanted to do for a really long time, not just because of the historical nature of electing the first Latino mayor for the city of New York, but because it was his personal goal. I didn't know the history. I knew that there was a story behind it, but I wasn't familiar with it at the time. Also Marcos Crespo, he would have been a strong contender for borough president, and I think that everything was lining up for him to do that. He and I both have the same track record in the Assembly, getting elected in 2009. I left in '13 and ran for the City Council. He stayed there and got other positions. So it seemed like a natural ascension. They both represent the Soundview area and the East Bronx, and I think it made sense for so many reasons because they have a continuity. Everyone knew Ruben and Marcos, they're very familiar invisible faces. But Marcos too made a personal decision to leave politics, and I was very surprised by that too. I didn't know he would be stepping down as county chair, I didn't know he would be resigning from the Assembly. It was a shock for me as well. Then later on, when I had a chance to sit with both Marcos and Ruben and just understood it was for personal reasons, I can respect that. They are fathers, they are husbands with children. At the end of the day, when you make these decisions to run for office, you have to consider your family because they are the ones that take the biggest sacrifice when you take on these higher roles of office. So I understood that I couldn't be upset. I was shocked because, of course, I didn't think it would happen so soon. But I do respect both of them for making the decision on behalf of themselves and for their families.
Who do you think are the real powers in Bronx politics? Is it just Bailey at the top, or is Heastie and Stanley Schlein also up there?
Talking just elected officials, I mean, obviously, I think everyone has a role to play. I think in this new administration, you're going to probably see a lot of elected officials stepping up. Some of them are fighting for Cap the Cross Bronx, you have our members of Congress that are fighting on this transportation bill, this infrastructure bill that we need in New York, and certainly Speaker Heastie, born and bred Bronxite, but the speaker of the Assembly is definitely a powerful voice. My sister, the District Attorney Darcel Clark, is a very powerful voice because we deal with public safety every day, and now we're seeing this increase in crime. Her office prosecutes all of these cases, so she has a very, very tough job, and no matter what, somebody always hates her. Certainly the borough president, as a champion of the borough putting forth a platform for the entire borough, that's a very important position. I also think you're going to see a lot of work from the new incoming council members, because with the new speaker, there will be moving pieces, and you're going to see members of our delegation getting really good committees, as long as we're on the right side of the speaker. I think that's going to be very telling as well with this new regime of elected officials coming in and majority of whom are women, and a majority of the city council, Bronx delegation being women. Out of the nine, we have five, I think that's very exciting. I think people are looking to all of us for leadership, they're looking for something different because they're tired. We've been through COVID, health disparities, everything that we have endured as Bronxites, further exacerbated by this global pandemic. I think people are just very tired, they're worried about their property value, their quality of life, they're worried about this crime, and they just want to see action. They don't want to see words and promises. They just want you to do the damn work. So I think, you know, the state Legislature as well, when they return, they have a lot at stake as well, in terms of some of the state bills that did not pass this legislative session. But I definitely think everyone is important, but certainly those that hold those positions where they have the ability to make decisions on behalf of not just the borough, but their bodies of government, I think that's important too.
It's been such a big 2021 in the Bronx, what are you looking forward to in 2022? Are there any interesting races that you have your eye on or any interesting candidates that might be coming up?
Well, I am kind of interested to see what happens with the governor's race. I mean, I believe Gov. (Andrew) Cuomo is running for reelection, but in politics, you know, anything can happen. We work very closely with the governor and his administration. That's a very important election next year, as is all of the state races. I think you're going to see some of the longtime veteran members step down. I know that some of them right now are dealing with health issues, not naming any names, of course. I also think I saw an article somewhere that talked about some of the candidates in the recent elections in June that were not successful, potentially running for the state Assembly or a state Senate seat, or even Congress. I mean, I've heard a lot, we'll see, anything is possible. I think we have to be very, very mindful that redistricting is right around the corner. That is always something that gets very political and very bipartisan. So that's something that we're keeping our eyes on as it relates to the Bronx, and how the lines are redrawn. Then also, as a result of the census, we know that all the members of Congress are going to be gaining in population as well and growth. So I want to see what that looks like as well, because that's going to heavily affect the Bronx.
Powered By
NEXT STORY: This week's biggest Winners & Losers