Personality
David Paterson on Kathy Hochul's history-making governorship
The former governor reflects on the lessons he learned in office, and what he would impart to the incoming governor.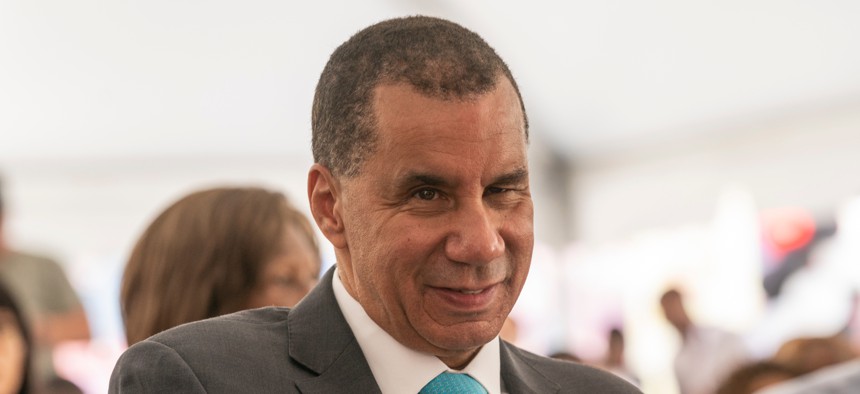 Lt. Gov. Kathy Hochul will make history in a couple weeks as the first female governor of New York, assuming the office during the COVID-19 pandemic and a time of crisis for state government.
City & State spoke with former Gov. David Paterson about his time in office and the challenges he encountered assuming office from his embattled predecessor, former Gov. Eliot Spitzer. Paterson spoke about the similarities and differences between his situation and Hochul's, and what she can do to adapt her leadership style to make government more inclusive.
You succeeded Eliot Spitzer as governor. How do the circumstances under which you took office compare to what Kathy Hochul faces?
If there's something that she thinks is critical, like COVID-19, she could convene a special session, maybe mid-September or October, which would give her a chance to meet with all her colleagues and talk to them. Until that time, she can kind of go around the state and introduce herself, so I think things will not be as rapidfire as when I came in. 
When I came in, we had a budget due. Also, I learned that the governor's budget had too much spending based on where the economy was going. It was hard to address it then, but I had to bring the Legislature back and address it.
However, it is a transition. Hochul has got to create her own administration. She's got to make sure that everybody knows that there's a new sheriff in town, that she's running the show.
How did you interact with Spitzer's staff upon assuming office, and what advice do you have for Hochul in that regard?
Some of them were great, but some of them just continued doing what they wanted to do. For instance, they wrote an address for me that was televised all around the state in late July 2008, where I said I was bringing the Legislature back because we had an outyear budget gap. Well, the Legislature had already agreed to come back, but the way I delivered that message was like a threat, like they better come back or I'm going to do something to them. We did cut about $2 billion off of a $3.5 billion outyear budget gap. That was a real success, but there was always this tune coming from my press office that we had to beat up on everybody because this was just the way Spitzer did it. That was never the way I had acted in government, and there was retaliation to that, which I deserved. In other words, if your staff helps you do anything, it's because it's what you want to do.
Now, I think that (the) lieutenant governor can really generate tremendous enthusiasm in that office. If you'll notice, everything that came out of the governor's office came from Cuomo; it's like he must have never slept for all the things that he did. Whereas in previous administrations, agencies like the Office for People with Developmental Disabilities would do things, like announce something. The more people get a chance to participate and be part of the decision-making capacity, the more excited they are to come to work. I think that (Hochul) can govern by letting a lot of the agencies own what they're doing, even though she's running them. That might be a refreshing atmosphere, to have an office complex of the governor.
We're hearing a lot of talk about how this could be an opportunity to roll back the imperial governor, if you will. Do you think the Joe Biden consensus-driven approach, like you're suggesting with Hochul, can really strike a balance between limiting the powers of the governor while also establishing Hochul as a serious governor?
I was trying to think of a term to describe what I felt existed too much in Albany, and it is exactly that, the imperial governor. Mario Cuomo was an imperial governor, George Pataki was an imperial governor and Spitzer was on his way to being an imperial governor. I didn't try to do that. You didn't see everything with my name on it. You saw a lot of my administration leaders doing press conferences and participating more. I see Hochul continuing that because of all the imperial governors, Andrew was the super imperial governor.
It seems like a lot of just doing the job as governor comes down to knowing and having support from all these downstate power players, or at least knowing how to deal with them. Just what sort of pressures does the governor get from Western New York? How could that be an advantage or not an advantage for her?
Well, I think it'd be an advantage for her, because the people in Western New York are so excited. This is the first governor they've had since Grover Cleveland. It's really an immense opportunity. At the same time, you know, the focus of New York is really downstate. You know, when people talk about New York, they're talking about New York City for the most part. This is where I think the use of a lieutenant governor appointing a lieutenant governor could really make a huge difference in her case, because she could appoint someone who's had a lot of interaction, who understands the MTA and all of its issues. This is where someone who's done this kind of thing, either as an elected official or in some other capacity, could be a real advocate.
You were the first Black man to be governor and first visually impaired person as far as I know as well. Do you think that sense of jubilation around the historic nature of that moment acted as a boost or a burden? What lessons might that have for Kathy Hochul as the first female governor?
I think that there's a historic nature to it, and it's extremely uplifting to be that person, but you better get to work. If you start messing up, you'll get slapped around just like everyone else. I took the job very seriously and tried to use that position. For instance, New York was famously in the bottom quintile in terms of procurement from minority- and women-owned businesses. The state of Mississippi was higher than New York in that regard. I really moved to turn that around, and Spitzer promised me that he would do it. Well, he hadn't done it for the first 14 months. I made sure that we had an executive order, and that process was changing within three months. There may be some areas where Hochul feels that women could have a greater impact. At the same time she, knowing what some of the struggles have been for women who try to move up in the workplace, may have some ideas to try to make that process a lot easier.
You're a young man, and it's going to be an open race for governor in 2022. Would you want to stage a comeback?
The only way I will come back is if there's a formal invitation and I don't have to run. I would rather come back as a monarch. Other than that, I think I'm going to try to help Gov. Hochul.
Have you been offering Hochul advice?
I talk to her regularly, so no more than usual. I think we'll be speaking pretty soon.
Have you talked to her since the governor's announcement on Tuesday? 
No.