Interviews & Profiles
Tech:NYC leader reflects on tech sector's growth over the past 5 years
Julie Samuels talks about her decision to step down from her post and the future of tech development in New York City.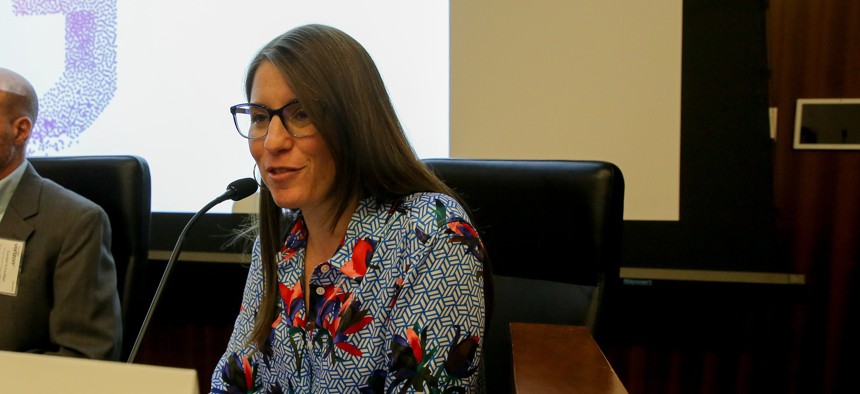 More than five years ago, New York City's burgeoning tech sector gained an important advocate with the launch of Tech:NYC, a nonprofit industry organization that has since grown to represent more than 800 members, from small startups to heavyweights like Facebook, Google and Uber. "The tech sector in New York City has grown into one of the most important contributors to the City and State economy over the past 20 years. Looking forward it seems that trend will only continue and accelerate over the next 20 years," board members Tim Armstrong and Fred Wilson wrote of Tech:NYC's launch in 2016. "With that success comes a responsibility to be engaged with the local business community, government, and civic sectors."
Julie Samuels, Tech:NYC's executive director, has led that engagement since the organization's start, championing the growth of New York's tech sector, even when that growth was met with fervent pushback. Perhaps one of the most prominent issues was the plan to build a second Amazon headquarters in Long Island City – a plan Tech:NYC staunchly supported – which was ultimately killed by objections from progressive Democrats and heightened scrutiny of government handouts for the tech giant.
Last month, Samuels announced that she would be stepping down as executive director and beginning the search for a replacement. She will stay on during that search and remain on the organization's board of directors. City & State caught up with Samuels to talk about the growth of the tech industry in the past five years and the biggest challenges her successor will face. This interview has been edited for length and clarity.
Why did you make the decision to leave Tech:NYC?
Building this organization has been an amazing opportunity, and it's been incredibly fun. But I've also been doing it for over five years, and I think we're at an inflection point, both on a lot of the issues we work on, and the fact that there's a new administration coming into the city. And we're hopefully going to really start focusing on recovery, as opposed to putting out all the COVID fires. So it felt like a natural inflection point.
What are your expectations for a likely Eric Adams mayoral administration? 
I'm really optimistic about an Adams administration. I think that the borough president has shown a real aptitude for tech, a real interest in tech issues, long before many of his peers. I've had the experience of working with him over the years and he's pragmatic and is thinking hard about what the future of the economy looks like and how we ensure that the future of that economy benefits as many New Yorkers as possible.
Government and lawmakers have a reputation for not being adept at harnessing technology to provide better services, working with technology companies or even understanding how new technologies work. Is that something you've seen an improvement in over the past few years, or do you think that will improve in the future?
I think we have seen a lot of improvement with regard to folks in government who understand tech. I think we still have a long way to go. Listen, I think some of that is going to happen naturally, as more and more digital natives work in government. Some of it is a matter of age, quite frankly, and I'm optimistic that we're nearing that tipping point. But beyond that, listen, you can't be in city government at this point and not see how technology is drastically impacting the city and people who live here. So I think that is going to be crucial.
When you think about the growth of the tech sector in New York City, are we in a markedly different place today than we were when Tech:NYC began?
I think the tech industry looks quite different than it did when we launched the organization. I'm not sure I would say "markedly." When we launched the organization, the trends were all pointing in the right direction. The market was growing. The companies were growing here. That growth has been bananas. The growth has been explosive. And so while the trends were in place 5 1/2 years ago, I'm not sure that many of us expected just how explosive that growth would be. And that's, frankly, been really gratifying because I think that growth is premised on some very kind of fundamental concepts about New York; that companies thrive in cities, that companies thrive in diverse cities with access to amazing cultural institutions and theater and public transit, and all the things that make New York, New York. Not to mention all the existing industries here. We always thought that that was the perfect storm to create a really robust technology ecosystem. And we were right, even in the face of a global pandemic, we were right.
There's also been pushback against large tech companies setting up shop in New York. I'm thinking of the fight against Amazon HQ2 in 2018 and 2019 in particular, but are there other points in the past few years that you think of as setbacks for the industry?
Obviously, HQ2 was a moment where we all paused and had to take stock of where things stood. Obviously, I wish that had gone a different way. I think the city would be
better off had Amazon put down roots for HQ2 in Queens. But I also think in some ways, it was a useful wake-up call that caused a lot of people in the technology sector to understand why it is so incredibly important to engage with policymakers and other stakeholders. This is not unique to New York, but for a long time, tech companies could do no wrong. And then that shifted. I worry now, I fundamentally worry that the pendulum has swung too far in the other direction. That now, tech companies sometimes can do no right – air quotes, "can do no right." That is not fair, nor correct, either. I think what we're learning is that a lot of these companies aren't perfect, but they're really interesting, and they're building the technologies that we all rely on every day. And they are creating the next generation of jobs here in New York and across the globe. So I fundamentally believe that the cities who work with the industry are the ones who will be better off.
From across the political spectrum, we're seeing technology companies come under harsh scrutiny – whether it's about antitrust concerns, privacy concerns, the classification of gig workers. That's happening nationally, but also in New York. When you think about your membership, how do you expect tech companies will confront that pushback?
Let me take a step back first, and say that it is not an understatement to say that we are living in a once-in-a-century moment of change to our entire society. Internet-based technologies have changed the way we communicate, have changed the way we work, have changed the way we do almost everything. And that is hard, and that is complicated, and that is messy. And I think a lot of these debates that we're seeing happen both in Washington, D.C., and in New York City and state around issues like antitrust and privacy and worker classification are all the results of those changes. The most important thing I think that people miss in a lot of this is there are no easy answers. Anyone, whether it be an elected official or someone who works at a company, who tries to tell you that there is an easy answer is bullshitting you. These are complicated, complicated issues. But I would also say, and I feel very strongly about this – and frankly it's probably why I started Tech:NYC to begin – is that the right answer cannot be to go back to the way things were, because that is impossible. This so-called genie is not going back in the bottle. The technologies that these companies build are not somehow going away, people aren't just going to stop using them. So we need to figure out a way forward as a society, as a city, as a state, as a nation. And that's hard, it's hard work. But I believe we're up for the task, because frankly, we have to be up for the task.
What about your work at Tech:NYC specifically are you most proud of?
The thing I'm most proud of is that we built a sustainable organization that plays a role in these debates, and I think plays a constructive role. Out the gate, we sent a letter signed by thousands of CEOs, to then-President (Donald) Trump, objecting to his Muslim travel ban. And I was incredibly proud of that moment. And more recently, we sent a letter to state legislators in support of their work here in New York state to increase legislative efforts to make it easier to vote in New York state. And I was incredibly proud of that as well. There were a ton of moments in the middle that mattered a lot, but those are two really important bookends.
What's the biggest challenge or fight that you think your successor at Tech:NYC will face?
I think there will be plenty of political fights. We're already kind of seeing that. But I think even more importantly, it's incredibly important to keep the membership as diverse as possible and as aligned as possible at the same time. Those two things can be complicated. But it's really important that Tech:NYC represent small companies, large companies, companies who are headquartered here, companies maybe who are headquartered somewhere else but have a real presence here. That's what makes our tech ecosystem strong. And that is therefore also what makes Tech:NYC as an organization strong.