Interviews & Profiles
Carmelyn Malalis resurrected the NYC Commission on Human Rights
After almost seven years with the commission, Malalis is stepping down and reflecting on her legacy.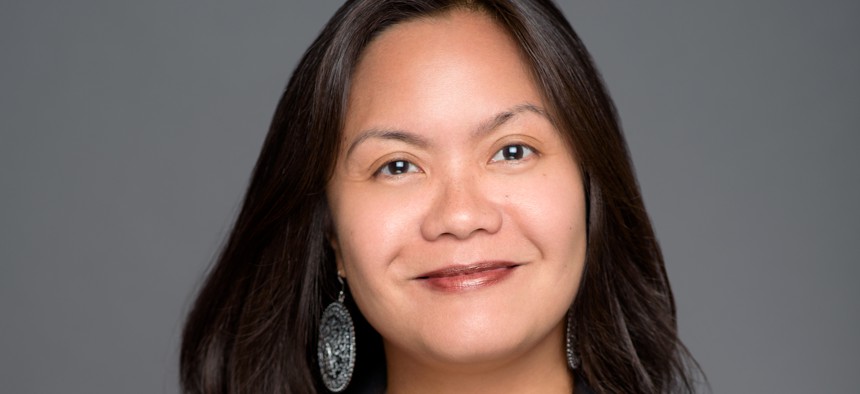 Before Carmelyn Malalis was appointed by New York City Mayor Bill de Blasio in 2014 to serve as the head of the New York City Commission on Human Rights, the city agency had been described as moribund by then-Public Advocate Letitia James. Such was the loss of vitality for a commission that was founded under former Mayor Fiorella LaGuardia in 1944 and was tasked with enforcing the city Human Rights Law, which prohibits discrimination in housing, employment and public accommodations. The agency can levy fines and obtain monetary damages to those who were wronged. But the commission had languished because of significant funding cutbacks under the two prior mayoral administrations.
Enter Malalis, whose last day will be Oct. 1. During her tenure, the commission expanded from 62 people in 2014 to 139 this year, according to the agency. The agency went from closing a mere 336 cases in fiscal year 2016 to 1,066 in fiscal year 2020. The commission has weighed in on well-known controversies including the Central Park bird watching incident, the recent wave of hate crimes against Asian Americans and a spate of moves from the former Trump presidential administration.  An openly lesbian Filipino American woman, Malalis said many of the issues the commission tackled strike a personal chord with her.
City & State talked to Malalis about her leadership, helping shape the agency into an efficient enforcement commission and what's next for her. Answers have been edited for length and clarity.
The commission's profile has risen since you've been at the helm. What's that experience been like?
Since I announced my departure, I've been saying quite often that it's been really the honor of my professional career to be working here and doing this work. It really is, you know, we basically were able in the last seven years to transform this small defunded agency into what is now considered a national and global leader in civil and human rights. We grew it, we developed it, we staffed it with people that speak over 30 languages, many of whom are people that you don't normally see working inside government institutions, let alone government agencies. Communities that have historically been estranged from government because of surveillance or over-policing, those are the communities and the organizations that in seven years have actually honored our agency with awards for championing their human rights.
You've been commissioner during very fraught years. How did you see the commission's role during these past years?
When I came into the agency, it was still under an Obama administration. I don't think anyone knew what followed that, right? It's one thing to lead a human rights agency, it's another thing to do that at the time when the federal government is actually working against human rights. That just empowered us to respond even more visibly, even more publicly, even more robustly. During that period of time, during even the presidential election campaign season, I think back to the xenophobic rhetoric, the anti-Muslim hate that came out during that period of time. Our response was then to release a citywide public campaign showing the diversity of Muslim communities in the city, but also making it really clear that we were aggressively going to take on those cases and that folks could be fined up to $250,000 per discriminatory act if they were to engage in any anti-Muslim bias or hate attacks.
What are your hopes for the commission after you leave?
I came into this agency thinking that I wanted this agency to be considered the premier civil and human rights agency in the country. 
My staff is representative of the city. I think that there are ways in which because we have staff that speaks as many languages as they do, because we have staff that look like and are actually from a lot of communities that are targeted for discrimination, because we have that representation on our staff, we are able to build relationships with communities that's necessary for government to do its work. 
I think the hardest thing about working in a government agency is that there's oftentimes skepticism from the public as to "Does government really have my back?" And because of that representation, it's very helpful to us in creating credibility with these communities, and getting people to come forward and file complaints, and coming forward to actually access our resources.
Also, we have to be a proactive agency because we have the power of the law. One of the issues I know just being an advocate on the other side before, the commission had not initiated very many cases. We have the power to do that under our law, we don't just have to act when someone calls us or file a claim of discrimination. We can when we see it out in the public, when we hear about it from media reports.
What you're going to miss the most about working at the commission?
The people, first and foremost, the staff. There's nobody who works in this agency because they're just clocking in a timecard. Every single person who walks in this agency, they're here because they live and breathe human rights at some level, because of some personal or professional experiences, because of the moral belief in human rights for human beings. I'm also going to miss being welcomed into different communities of New York City. This is really the most amazing big city in the world and this gave me the opportunity to be welcomed into so many of those spaces that I had not been in before, and I will truly miss that.
What's next for you?
I'm looking forward to having some time to actually reflect on this really truly amazing experience. I think it's been such a gift. I'm looking forward to a period where I can think about all those wonderful lessons learned in these spaces and to really put some time into thinking where I can be the most effective advocate for human rights going forward. I have a few personal projects that have been on the back burner for a while and of course, there's my family. We're pretty excited, I'm going to go all out for Halloween this year.
Do you see yourself working in public service again?
I now appreciate quite a bit why people work in government. I had always wanted to, I always felt like I needed to put in my public service, but now I think I've caught the bug. I can definitely see myself returning to public service, whether it's at the city level or the federal level or other spaces.