Interviews & Profiles
NYC's emergency management commissioner is planning for the next storm
John Scrivani talks about 9/11, the recent floods and the threat that keeps him up at night.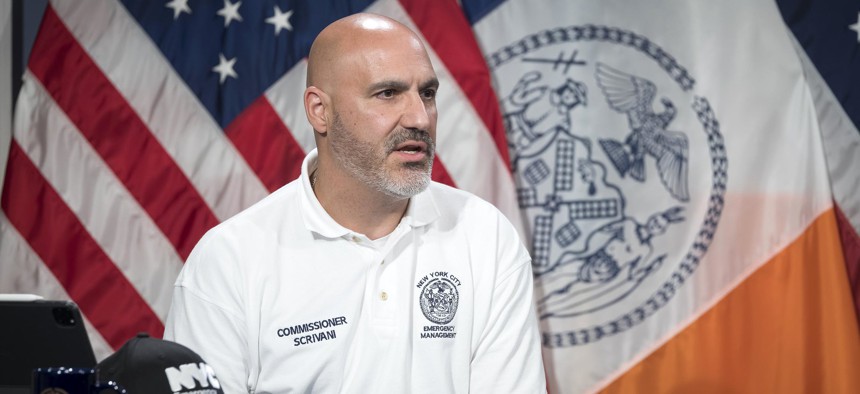 A New York City rainfall record was set on Aug. 21, when 1.94 inches of rain fell in Central Park in one hour. That record was obliterated on Sept. 1 when 3.15 inches of rain fell in just an hour. The remnants of Hurricane Ida devastated the city with massive flooding that left 13 dead, most of them in basement apartments, leaving many New Yorkers wondering if the city could have prepared better to save these vulnerable residents. New York City Emergency Management Department Commissioner John Scrivani helped lead the city's response to the storm. It was just the latest emergency to strike the city since he was appointed to the job in March. The Staten Islander was also on scene for what may be the city's greatest emergency as an operations coordinator for the New York City Police Department's Emergency Service Unit following the attacks of Sept. 11. City & State talked to Scrivani about whether the city has changed its flash flood plans, whether he blames the meteorologists and what kind of emergency he worries about the most.
In New York City, 13 people died when the remnants of Hurricane Ida hit. Has the Office of Emergency Management changed its plans in responding to flash flood events?
We are in the process of working on what the mayor announced, which is the Extreme Weather (Response) Task Force. And we're looking at what our existing triggers are and how we could be more aggressive with both the activation of our plans and the messaging that we do to the city. A chunk of that is about specific alerts for people that live in basements. So we are currently working on that for a rollout at the end of the month.
Who's in charge of that messaging and the emergency alerts? Is it OEM?
So specifically for emergency alerting for weather, it is the National Weather Service and those automated messages that you get on your phone through the Wireless Emergency Alert system. At the local level, we have our Notify NYC program, which is an opt-in program where people can sign up either through 311 or through NYC.gov/notifyNYC to receive emergency alerts directly from the city. So those are the two main alerting systems. But then you have to remember, we have outreach to the local news media where we talk with them. We do press releases specific to certain events. If it was a mass evacuation, we could do our own WEA alerts. It wouldn't be specifically about the weather itself, but it would be about direction for people to do something. So there's many, many types of outlets and outreach here to alert the public of something that's coming their way.
During the last storm, I got one notification telling me that there's a tornado warning, and I should seek shelter. Another one telling me that there's flash flooding, and I should seek high ground. Was that a mistake? And was that even under OEM's purview?
Yeah, all those alerts are National Weather Service alerts, and all the language within those alerts is. It's not like they're developing that at the time of the storm. That's all prepackaged information that automatically gets triggered when they do notifications on their system. So you're 100% correct, that message can be confusing. We're in the process of talking to the weather service about that. You know, the interesting part about the WEAs are they use a system to pick a geographic area on a map, and it hits the specific cellphone sites. There could be bleed-over of where that message goes. And we're also talking to them about making sure that the message is very clear about which geographic area they targeted.
Do you have your own meteorologists on staff, or do you just get information from the National Weather Service? 
We do have our own meteorologist on staff. He is a liaison to the National Weather Service. All of the weather modeling, all the radar, all of the tools that are available for our meteorologist are National Weather Service tools. So he works very closely with them. And he really helps us translate a lot of the forecasting. Weather forecasting is a science. Some of the terminology and some of the understanding of it, especially with these more complicated storms, you do just need somebody to help you translate that.
We heard de Blasio criticize them, saying the amount of rain that we got wasn't predicted. Do you think he's right – there was an issue with forecasting?
I definitely am in agreement that we got way more rain in a short period of time than was forecasted. I think the science of weather forecasting is very challenging. From talking to our weather service folks in the last few days, a 20-mile shift in a storm within a half-hour could have meant us getting almost no rain to us getting what we received. We were given a forecast of 3 to 6 inches of rain, over an extended period of time. (That) caused us to be alerted to it. We did a travel advisory. We were sending out messages. We were working closely with the weather service, who put out a flash flood watch. So we were messaging well in advance of the storm hitting. And obviously, during the storm, they were messaging very actively, and we were sending those out as well. But just that timeframe of probably 8 o'clock to 10 or 11 o'clock at night – all of that rain and more got condensed into such a small period of time, which really wasn't forecasted. So the amounts were off a little bit. The timing was challenging and then ended up being very compressed. That's where the challenge is. And I think that's what the mayor was pointing to.
Two days before the storm, New York sent 83 members of the Urban Search and Rescue Task Forces to Louisiana to respond to Hurricane Ida there. Should they have stayed in the city, given the flooding that we saw from that same storm?
No, not at all. That program is built not to impact city operations. So the folks that got deployed, that doesn't decrease any of the availability of the units that were scheduled to work that day. And there's always reserve. You can't send 80 folks to another jurisdiction to help if it would impact anything that you had going on in your local jurisdiction. I was part of that team for many years. So I know it inside and out.
How have the effects of climate change affected your job?
It's affecting it tremendously. It's making us have to look at everything differently. Normally when we develop a plan, we start out with a set of planning assumptions. And we get those from historical trends and studies. And now that all of that is being thrown out the window, we have to change our planning assumptions for really the worst-case-plus sometimes. Just here in New York City since I've been the commissioner, I think we've had five heat waves, we've been impacted by three tropical storms, we've had numerous bouts of thunderstorms that have come through. It's just the rapidness and the frequency of weather events here in the Northeast.
What would you like to see New York City do about basement apartments and other vulnerable forms of housing?
The mayor has addressed this quite extensively in the last few days. It's going to be very challenging. I think what we'll do in the short term is we'll come up with an alerting system. I think the mayor is committed to sending people out door to door and not just to canvas and find all the basement apartments, but if we do have a major event forecasted, to get out there in the neighborhoods we think that will be impacted and help evacuate people. The status of the apartment or the people living in it is really not my problem. My problem is knowing that they're there, knowing that they're vulnerable and making sure that we build into our plans and our system a way to notify them, keep them informed, get them prepared, so that they can move quickly if they have to and then have a place for them to go when there is a challenge. That's my responsibility. So that's what I'm focused on.
This summer we've seen extreme heat, serious flooding, continuation of a deadly pandemic – what type of emergency keeps you up at night?
Even with all that, it's still the cyberthreat that is really scary, because even with pandemics and floods and these other challenges that we come across, we could still function and operate and help citizens. If we did have a major cyberattack against our infrastructure – and I'm not talking about just shutting down our computers, but as we've seen with the pipelines, you see them try to attack electrical grids around the world. Those are the longer, bigger challenges where it would really impact how we operate and how we get people services right away. Those big, widespread cyberattacks on infrastructure are scary. They're challenging. That's what can keep you up at night.
We're marking the 20th anniversary of the 9/11 terrorist attacks this year. You were a sergeant in the Emergency Service Unit then. What lessons has New York City learned about emergency response since then?
A 9/11 style attack is going to be challenging to respond to no matter what we do. But I think we've done a lot since 9/11. Every emergency you learn from, and what I like to tell people, our plans are never final. They're always open for improvement. We here at Emergency Management needed a new headquarters because our headquarters was in WTC7, and we lost it in the collapse. So we have an entirely new state-of-the-art building with an emergency operation center in it, which gives us the ability to coordinate the city's response even better than before. We've put a new incident management system in place that went into effect in 2004, where all of the city agencies now have one unified document and plan to make sure that when there is an incident, we're very coordinated, we know who is in charge, who is responsible for what types of incidents. And our field responders, our citywide interagency coordinators, actually go out in the field and help with the agencies doing that interagency coordination when we activate the incident management system.
We've obviously expanded a lot of our plans. We got a lot of funding after 9/11, which really helped us to refine a lot of these larger citywide plans, like our coastal storm plan. Some of the terrorism response plans have been changed. And as I mentioned, we have a cyber plan that because of the threats is always being tweaked and updated just to make sure we're addressing that. One of the things that was talked about at 9/11 was interoperable communications between the agencies. There's been a lot of work done on that to make sure we can communicate amongst ourselves. And Notify NYC is a big improvement that we put in place in 2007 to be able to do direct outreach to our citizens on emergency alerts. It is opt-in. And we always want to get more and more and more people, and it's available in 14 different languages.
You reportedly lived in a trailer during the early days of the pandemic, when you helped set up an emergency morgue at the South Brooklyn Marine Terminal. Do you think it made sense for Eric Adams to live at Brooklyn Borough Hall?
I mean, that's a personal decision. I can only speak for myself on why I did what I decided to do. I lived in Virginia, I had access to my family camper. I knew there were a lot of people responding up here, and the hotels were being used for housing other first responders, hospital employees, people that were displaced. So for me, I had the means to be self-sufficient. Borough President Adams probably has his own reasons for why he did what he did. I'm not familiar with the situation or the story. So it's really not for me to comment on.