Interviews & Profiles
Rep. Antonio Delgado walks an ideological tightrope to reelection
He has avoided hot-button issues and focused on local problems to avoid alienating his rural district.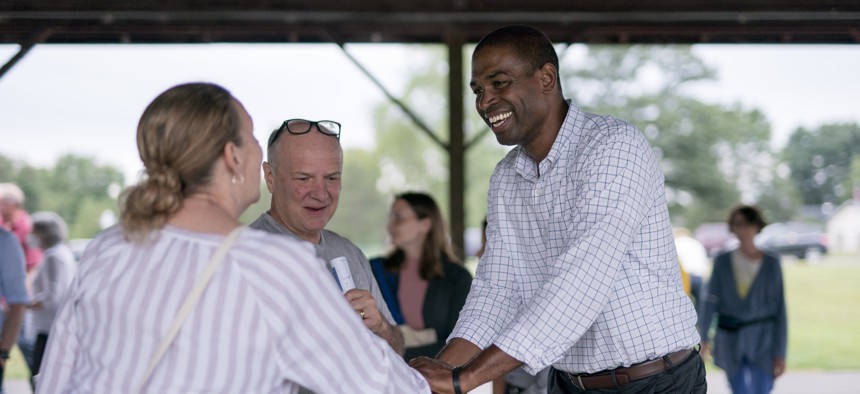 2018 was a good year for New York Democrats in congressional races. They flipped three Republican seats as part of the "blue wave" that swept both the state and the country. Anthony Brindisi took down Claudia Tenney in the relatively conservative 22nd Congressional District. Max Rose upset Dan Donovan in Staten Island's 11th District. And Antonio Delgado beat John Faso in the 19th District, which encompasses the rural Hudson Valley region between Poughkeepsie and Albany.
All three challengers had national support from the Democratic Congressional Campaign Committee and benefited in their swing districts from a backlash among voters against then-President Donald Trump. However, that favorable atmosphere for Democrats no longer existed in 2020.
Tenney made a resurgent comeback in a hotly contested race, ultimately winning back her seat by 109 votes in her conservative firebrand fashion. Rose suffered because he attended a Black Lives Matter protest, losing to then-Assembly Member Nicole Malliotakis who ran on a "law and order" platform.
By comparison, Delgado's reelection was surprisingly uneventful, and he won by a comfortable 11 percentage points. His challenger Kyle Van De Water, an Army veteran, was a relative political unknown, as opposed to Tenney and Malliotakis. And Delgado benefited from a slight Democratic voter enrollment advantage that Brindisi did not have. Now, only Delgado remains from that group of challengers.
After the contentious campaign in 2018 where Republicans sought to paint him as a New York City progressive who doesn't fit in the rural district, Delgado, who is Afro-Latino, has maintained a pretty low profile. He has focused on attending events in his district, passing bipartisan legislation and avoiding national hot-button issues. And so far, it has worked. But Delgado's deftness at walking this ideological tightrope will be put to the test next year when he faces a strong Republican challenger.
Considering Delgado flipped a swing district that voted overwhelmingly for Trump in 2016 and only narrowly for President Joe Biden last year, it makes sense that he would seek common ground with Republicans and avoid making waves. "That is politically wise and helpful, but Brindisi did the same thing," said Utica College political science professor Luke Perry. "The difference was that Brindisi's impeachment vote and the rise of national scrutiny of policing helped mobilize conservatives in a Republican district, defeating a moderate and relatively popular Democrat."
Perry also pointed out the slight Democratic voter enrollment advantage in the district was helpful when flashpoint national issues came knocking, like Delgado's decision to vote to impeach Trump, and he was able to weather them better than Brindisi.
The priority is to get stuff done. That's the priority. That's it.
 – Rep. Antonio Delgado
Delgado has so far persevered, but he's in a somewhat precarious situation, even with the voter enrollment advantage, to maintain his bipartisanship. He consistently works with members from across the aisle to pass legislation and get critical funding for his district. He worked with Rep. Lee Zeldin, a staunch Trump supporter and now GOP gubernatorial front-runner, to get the Direct Support for Communities Act included in the American Rescue Plan that resulted in $400 million for the 19th District alone. He recently reintroduced his Small Farms to School Act to help farmers by incentivizing schools to source from them with bipartisan support from a Michigan Republican. And Delgado appears alongside Republican officials at press conferences to announce new accomplishments or to discuss pressing issues like access to broadband in rural communities, with all sides speaking highly of the bipartisan cooperation on display. "The priority is to get stuff done," Delgado bluntly told City & State. "That's the priority. That's it. Get stuff done."
That pragmatism has gained him praise from local Republicans. "I have a lot of respect for him," said Assembly Member Chris Tague, who represents Schoharie County, the smallest county in Delgado's district, and also serves as its Republican Party chair. "I joke with him all the time and tell him that I carry a change of registration in my car for him." He said that he has an excellent working relationship with Delgado, and that they largely avoid conversations about issues where they differ in favor of focusing on areas of common ground to help the district. "I guess it's a unique relationship, but, you know, personally, I like Antonio a lot," Tague said. His stance is even more interesting given the fact that he is supporting Marc Molinaro, Delgado's newly announced Republican opponent in 2022. Tague spoke with City & State on his way to introduce Molinaro at his campaign kickoff. "There are two what I consider to be good public servants that are going to be running for this office," Tague said, explaining that ultimately he aligns more with Molinaro as a fellow Republican.
Other Republican local leaders have spoken of their positive experiences working with Delgado. "Days like this should make you smile," said Sullivan County Legislature Chair Rob Doherty at an August event announcing a $1.1 million investment for a rail trail in the county. "It's when the government works the way it's supposed to work." Assembly Member Jake Ashby told The New York Times in 2019, at the height of partisan divisiveness amid impeachment discussions, that "he's been good to work with." Even such small gestures of interparty goodwill are becoming increasingly uncommon.
In the nearly three years since Delgado took office, he has focused on two main goals. "The first is to really connect with my constituents, really connect with folks on the ground, the communities I represent, and do that in a very intentional way," Delgado said in an interview. He goes about that in large part through town halls, a point of pride for him. At the end of his inaugural term in Congress in 2019, Delgado said in a brief floor speech at the end of session that town halls were "a true highlight" of his first term. He held 33 in 2019, one in each of the 11 counties that make up his 8,000-square-mile district – bigger than Connecticut and Rhode Island combined, he pointed out. Now, that number is up to 63 town halls, the most recent one was held in Schoharie County a few weeks ago. It started, as they always do, with the Pledge of Allegiance, an update on his work and the ground rules – questions only, no monologues.
Delgado's social media feeds show that town halls aren't the only times he pops up around his large district. Judging by the photos and videos he posts, he makes sure to get out to local Democratic Party events to mingle with candidates, county fairs and to hold additional forums on issues outside of his many town halls. He even posts videos detailing how he traversed around the district that day or week. "It's been a long day and it's still going," Delgado said in a video on Aug. 31. "Started the day off in Delaware County and ended the day in Schoharie, where I held my 63rd town hall." Even as impeachment took over the news cycle in December 2019, Delgado was traveling nearly 200 miles around his district for various local events, focusing on legislation he wanted to pass before the end of the session rather than new evidence on Trump coming to light. But Delgado denied that he goes to such lengths because of the criticism he faced in 2018. "What informs my approach is, this is to me what good governance and representative governance entails," he said.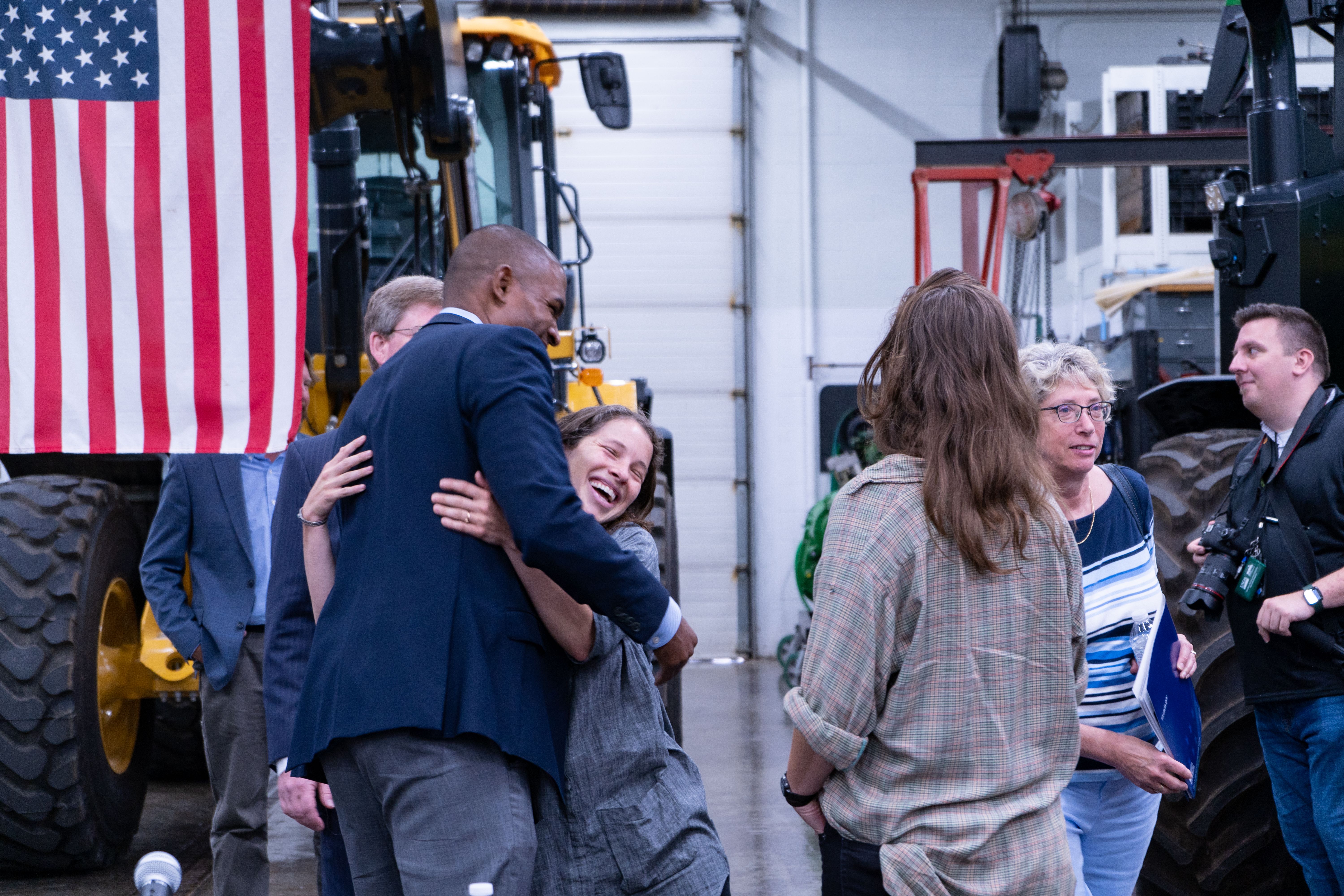 All this to better inform the second goal of his time in office: to pass and introduce legislation to help his constituents. While this may be a given for any lawmaker, actually getting bills signed into law is difficult, especially for newer members of Congress. Take Rep. Alexandria Ocasio-Cortez, undoubtedly a national figure and progressive leader – she has so far had no standalone bills of her own signed into law. Delgado so far has two standalone bills signed into law, and 10 more that became law as part of omnibus legislation or through an amendment, according to his office. The two standalones were signed by Trump, including the Family Farmer Relief Act of 2019, a highlight of Delgado's tenure so far that helps economically distressed farmers reorganize their debt. "What I tried to do from the very beginning is figure out where there's potential for common ground, and where I can seek out bipartisan opportunities," Delgado said.
Delgado doesn't take as many rhetorical stances as some of his downstate colleagues on hot-button issues, nor has he inserted himself into national discussions like his next-door district neighbor and fellow moderate Rep. Sean Patrick Maloney, who heads the Democratic Congressional Campaign Committee. That's not to say that he remains completely silent – he applauded extensions of the eviction moratorium and denounced the new Texas law that banned abortions after a fetal heartbeat was detected. But he doesn't back the idea of expanding the U.S. Supreme Court, a resurgent issue in the wake of the court's decision to allow the Texas law to stand. Delgado was an early supporter of police reform bills in 2020 – potentially risky for a Democrat representing a swing district – but he was careful to distance himself from the movement to defund the police. "There is nothing in the bill that zeroes out police budgets," he told MSNBC at the time. "Let's not focus on the noise." 
More recently, when confronted about election integrity at a July town hall in the vein of Trump's attempt to overturn the 2020 election results through baseless claims of voter fraud, Delgado chose not to rail against Republicans. Instead, he spoke about protection from foreign influences and said that while election integrity is important, the data does not support any evidence of widespread voter fraud.
This applies as well to signing on to bellwether legislation like the Green New Deal and "Medicare for All," neither of which he co-sponsored. Instead, he introduced his own bills – one to create a public health insurance option and the Green Jobs and Opportunity Act to help the nation reach its climate goals while stimulating job growth. "My focus is on my legislation," Delgado said when asked why he isn't also supporting the bills backed by so many members of the New York delegation, and a growing number of Democrats across the nation. Staying on message, Delgado said that he is hyperfocused on his district. "For me, it's about making sure that I introduce bills that are going to address the needs and concerns of folks that I interact with on a consistent basis," he said.
After a quiet reelection campaign in 2020, Delgado faces a tough challenge from Marc Molinaro in 2022. The Dutchess County executive and former gubernatorial candidate comes in with an extensive government track record, name recognition and a reputation as a pragmatic moderate, much like Delgado. Although it's unlikely to be as brutal as the 2018 race that featured attacks on Delgado's rap career from well over a decade ago, the national Republican Party will surely see an opportunity to get involved again.
Press releases from the National Republican Campaign Committee for the Northeast region have often featured Delgado over the past three years, generally trying to tie him to controversial positions held by the likes of Ocasio-Cortez and other progressives. "As New York's crime rate skyrockets, Antonio Delgado's campaign donor Alexandria Ocasio-Cortez is calling for the abolition of prisons" read one release from July, seemingly equating a $5,000 donation from her to Delgado as him taking a stance on a controversial issue he has rarely, if ever, directly spoken about. "Delgado and AOC: Team Abolish Prison" the subject line of the email read, despite the pair rarely working, or even appearing, together.
There was a point in time when the pair might have actually seen eye-to-eye on some things. In 2006, Delgado – a Rhodes scholar and Harvard educated lawyer – released his only rap album, the source of most Republican attacks against him. While the majority of those attacks were racist, lyrics like, "I wanna see a righteous capitalist, if it's possible for one to exist," and "Dead presidents can't represent me, not when most of them believe in white supremacy," sound as if they could be taken straight from Ocasio-Cortez.
The truth is, I don't dislike our member of Congress, I don't.
 – Dutchess County Executive Marc Molinaro, a Republican who is running against Delgado
Far from distancing himself from his past musical endeavours, Delgado had some of his lyrics framed and placed in his office, and he quoted them during a 2019 commencement speech. He defended his music and has asserted that he still holds the same beliefs about racial equity and economic justice that he did then. But he has certainly shied away from the most radical parts of his rhetoric as he keeps a healthy distance between himself and the progressive wing of his party. Delgado told City & State that he has "long believed, and still believe(s)" that income inequality in the country must be corrected, though he did not directly criticize capitalism. And while he has spoken about racism in the country and that he has faced – he represents a district that is 90% white and is the first person of African American or Hispanic descent to represent any part of upstate New York in Congress – the issue of whether he considers former presidents to be white supremacists is not a topic that has come up at his town halls. So the tightrope walk continues.
For his part, Molinaro, who did not return a request for an interview about his campaign, indicated that he did not have any personal malice toward Delgado when he launched his campaign. "The truth is, I don't dislike our member of Congress, I don't," he told supporters who attended the event in Rhinebeck – which also happens to be where Delgado lives. "I just don't think he's interested in taking up this most historic challenge." But it didn't stop him from attempting to tie Delgado to disgraced former Gov. Andrew Cuomo, saying he is more interested in raising millions of dollars from "the billionaires and the special interests" like Cuomo, rather than doing work to improve the district. It's an attack that seems to be at odds with how other Republicans have described Delgado but a far cry from linking him with the most controversial of left-wing opinions. Delgado's campaign pointed to his many town halls, bills he has had signed into law and funding he has gotten for the district in response. Delgado himself had separately mentioned his refusal of corporate PAC money and his firm belief in overturning the Citizens United ruling.
The biggest unknown going into 2022 is how redistricting will change Delgado's district and its dynamics. The state Independent Redistricting Commission recently released two draft plans for congressional districts – one supported by Democrats and the other by Republicans – that offer very different visions for this region of New York. Whether Delgado benefits by gaining a greater Democratic enrollment advantage, has the misfortune of losing the advantage he has now or finds himself in the unenviable position of ending up in someone else's district, it's impossible to guess what the 2022 election cycle might hold for the vulnerable Democrat. Wherever those district lines are drawn, he'll probably be in every corner, hosting a town hall.
Powered By
NEXT STORY: This week's biggest Winners & Losers