Interviews & Profiles
A Q&A with New York City Council Member-elect Linda Lee
The incoming eastern Queens City Council member is not a fan of defunding the police and congestion pricing.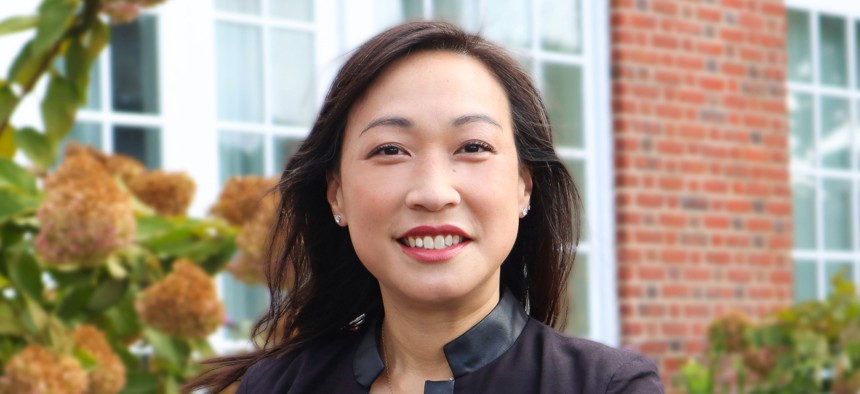 The New York City Council is going through a major revamp, with a ton of new members expected to take office in January in the 51-seat legislature. Among them will be Linda Lee, who will be the first woman and first person of color to represent Council District 23 in eastern Queens. The 42-year-old from Oakland Gardens, Queens, is new to politics, but was encouraged to run by Rep. Grace Meng, who knew Lee from her work with a social services nonprofit. City & State talked with Lee on a downtown-bound Q train about running against a democratic socialist, who she likes in the speaker race and why she wants to chair the Aging Committee.
You're expected to take office in January to represent New York City Council District 23 in eastern Queens. What was your path to running for office?
I'm still at my nonprofit organization. I am the president and CEO of KCS, Korean Community Services. I was working at a statewide health foundation before that, went to grad school (and got a) master's in social work. So I always had an interest in public service (and the) nonprofit world. But I never even imagined politics or any elected official role. It was doing the work on the ground.
To be honest, it was folks like Congresswoman Grace Meng and other electeds that were like hey, you should run for something. I was like (laughs), y'all are crazy. There's no way. But as I thought about it more and more, I was like, maybe this is something I'd consider down the line. But it was really the pandemic that was the final, deciding factor for me. This city needs to get back on track, and if anything, what COVID did was further uncover the disparities that were already there. I was like, I've got to at least try. A lot of the issues that I see on the backend being a service provider in New York City, there's so many things we could be doing better and more efficiently. That was the driving factor.
Did you have any political involvement before?
The only political involvement I had was the interaction with our local elected officials. Partnering with them on issues that were important like Asian hate crimes, most recently. I'm on the community board, but I don't know if I'd consider that political.
Are you going to be one of the first Korean American City Council members?
There's never ever been a Korean council member before. (Council Speaker Corey Johnson has Korean heritage, but does not identify as Asian.) And in my district, I'm the first woman and person of color, because there's always been a white man who has won the seat. So I think that's why I feel more pressure. I feel proud, but also, a duty to represent well.
My district is actually 43% Asian American. And that was according to the latest data before the (2020) census data came out. It's been so encouraging because a lot of the people in the community who backed other candidates during the race, they said listen, this is very significant for us as a Sikh community, Punjabi Hindu community, because we have someone who understands what it's like to grow up in an immigrant family, and who can advocate from that perspective. So I've been building such great relationships with people. (Primary opponents) Debbie (Markell), Koshy (Thomas), Harpreet (Toor) and Sanjeev (Kumar Jindal) have all come out to endorse me, which is amazing.
There are two Asian American council members now, but next year there could be five or six. Have you been coordinating? Are there plans to create a formal caucus?
We'll wait and see. Definitely, there's a lot of interest. All of us are so excited that we have six of us now, potentially. And some of us have had relationships beforehand. I know Shekar (Krishnan) from before because he also works in a nonprofit, and his nonprofit and my nonprofit have partnerships together on the legal immigration side, and we do immigrant services as well. And of course, Sandra (Ung) through Grace (Meng)'s office, I've known her and worked with her before too.
You ran against Jaslin Kaur in the primary, one of the candidates who was endorsed by the New York City Democratic Socialists of America. Did you run against her politics in what is essentially a suburban district?
Thankfully, for me personally, what I believe and what I want to see happen in the district is very much in line with where the district is. Public safety was a big issue. And I think I'm on the same page with folks in our district, which is not for defunding (the police). Because when you say that, it's a trigger word. And one thing that happened from that was the Asian Hate Crimes Task Force got cut. (That task force was created after the contentious New York City budget vote in 2020, but Lee's team says there was initially talk of devoting more money and resources to it.) I felt like it's not getting at the root of the issue. Just because you're taking funding away is not solving the problem of having a better relationship with communities of color and NYPD. What I think we need to do is the harder work, which is have very honest conversations about what services we do need to provide, how we can complement NYPD, how we can better the resources within the NYPD, and maybe give incentives to them to get their master's in social work or whatever it is so that they have both the training on the NYPD side as well as the mental health training.
With the DSA, to be honest, I felt more of it in social media. That was my first time experiencing the Twitter mob. It was hard. It was definitely hard, because I'm used to being judged on what I do in the community and for people actually knowing who I am, versus a statement I put out or something. I felt like Jaslin, she ran a very strategic campaign. She herself is a bright woman that has a very promising career. We're all in the same community; we need to find ways to work together. So hopefully I'll have a chance to sit down with her. At the end of the day I'm all about trying to build coalitions and not dividing.
Congestion pricing is a hot issue in your district. Are you supportive? Do you want to see any changes to the plan?
At the state level, they were in the process of negotiating like, if the outer borough folks are signing on to this, then we need to get resources in our district. Because I'm only one of two City Council districts that have no railways. So I don't have any Long Island Rail Road or subways in my district. We rely very heavily on buses and cars. And a lot of the people in our district are the taxicab workers, are essential workers, so they do need their cars for transportation to get around for their jobs. So I feel like the congestion pricing definitely unfairly targets people who are working class, or middle income, or somewhere in between, or lower income even. If that is the case, then we need to get resources out in eastern Queens. The streets need to get repaved, as a basic thing. They're falling apart. And the bus routes need to get redesigned. And we need to get single fare on the Long Island Rail Road. It's a struggle that everyone in the outer boroughs understands. It's hard if you don't live out there.
The City Council speaker race is coming up. Do you have any preferred candidates?
What I can speak to is the people that came out to help me personally were Justin (Brannan), Keith (Powers) and Carlina (Rivera), which are the three names that have been brought up since early on. Although I have to say, Justin is the only one that formally endorsed, whereas Keith and Carlina were very supportive and helpful, but Justin is the one that came out and endorsed and actually did a lot of the door-knocking and everything. 
As a first-time council candidate, I'm learning myself about how this traditionally has worked. But it'll be interesting to see what happens, because I think a lot of the people like myself, who won our council seats didn't have any sort of institutional, formal backing, whether you're talking about county or DSA, or whatever it is. A lot of us were sort of the in-betweens that just had one or two folks that were backing us and that was it.
Speaking of which, there's discussion that Rep. Grace Meng is going to have a bloc of votes, and will get at least a few members together to vote on a speaker. Is that true?
Not really. I think she's probably going to weigh in, but we haven't done anything formally. Even that feels different than in (speaker races) in the past, from what I've heard.
In the past, Rep. Joe Crowley could tell you who to vote for.
Yeah I get the sense that people more want to hear from us (the members). Which is nice. I feel like that's a nice change.
What council committees are you looking at for 2022?
I would love, if I could, to chair the Aging Committee. It's sad to me that (the) Department for the Aging has the lowest budget out of all social services. And not just by a little bit, it's a lot. I know (outgoing Aging Committee Chair) Margaret Chin has done a great job. And they were able to push for like $5 million extra and other types of initiatives. But I think we need to do better. I'm always thinking about preventative services. And what I see happening five, 10, 20 years down the line is, especially in my district, no transportation, you have a high percentage of older adults. Where are they going to go? How are they going to age in place safely? What's the city going to do infrastructure-wise to accommodate that?
So Aging is the one I would definitely want to chair. I would love to join Mental Health, Education as well as Parks.