Interviews & Profiles
Rep. Mondaire Jones has his eye on the filibuster
The Hudson Valley member of Congress talked progress on student loan debt and voting rights.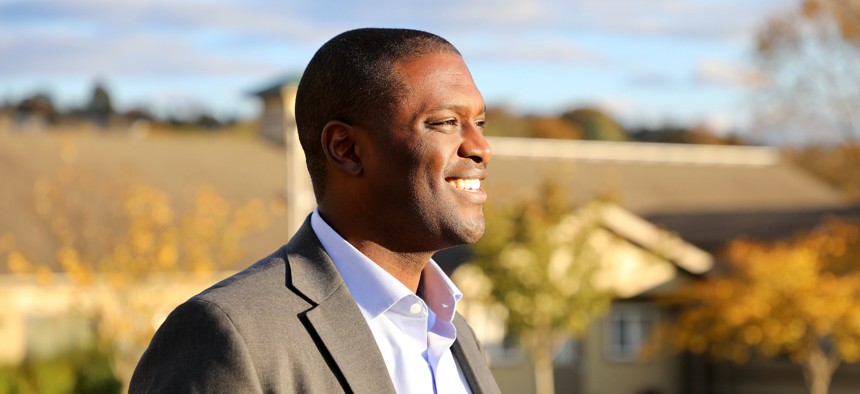 Rep. Mondaire Jones' first year in Congress was eventful with political unrest following a nail biting presidential election, a pandemic and tense conversations surrounding police reform and student loan debt. The Westchester County native has been occupied with crafting and supporting legislation that would tackle these issues and would further shape his district and the nation. This includes the massive trillion-dollar infrastructure bill that will have a direct impact on transportation in Westchester County, the John Lewis Voting Rights Advancement Act which would further protect against voter suppression, and his current push for filibuster reform which could open the door to building legislation around student loan debt and many other issues. City & State caught up with Jones and discussed his first year in Congress, the importance of filibuster reform and his opinions on the "red wave" that took over the tri-state area during this year's general election. This interview has been edited for length and clarity.
Reflecting on your first year in Congress, what are some things you are proud of that you accomplished so far this year?
I'm really proud to have brought hundreds of millions of dollars to Westchester and Rockland County under the American Rescue Plan, money for school districts, townships and counties, community health clinics and of course our small businesses who largely were able to stay afloat through our expansion of the Paycheck Protection Program. I'm also really proud to have played a leading role in getting a truly universal child care program in the final text of the Build Back Better Act, which I expect to pass the House in just a few days. I have co-authored provisions of the John Lewis Voting Rights Act and the Freedom to Vote Act and have played a leading role in moving public opinion on the question of expanding the Supreme Court.
Speaking of the John Lewis Voting Rights Advancement Act, it was recently blocked by Senate Republicans, and in part of your response, you expressed the need for addressing the filibuster. What does filibuster reform look like to you, and why is it important?
The filibuster should not exist. It is an anti-majoritarian Jim Crow relic that has been and continues to be used for the purpose of blocking civil rights and economic legislation in the best interest of the American people. For me, as someone who understands that our democracy faces its greatest test since Jim Crow, filibuster reform has to at a minimum include making an exception to the filibuster for purposes of passing voting rights and other democracy reform legislation. So, not just the John Lewis Voting Rights Advancement Act, which as important as it is, would still not undo the voter suppression that we've seen in places like Georgia and Florida and Texas, but also a bill called the Freedom to Vote Act, which is a revised version of the For the People Act, that even Joe Manchin is now a co-sponsor of.
U.S. Sen. Chuck Schumer recently said that due to partisanship and the filibuster, Congress won't be able to pass student loan debt cancellation. What do the current efforts now look like for canceling student loan debt? 
I think the prospects look good because the president is implicitly acknowledging he has the authority under the Higher Education Act to cancel federally held student debt because his administration keeps doing it in modest contexts, such as instances of fraud and things like that. You know, for a while this year, the president has said he was waiting for an opinion from his lawyers on whether he had the authority to cancel student debt, despite having run his presidential campaign in part on the promise that he would cancel up to $10,000 in student debt. But, the fact that it has not happened yet is a travesty. And with the filibuster blocking things like a $15 minimum wage and legislative reform around student debt, we have to have a president who uses his executive authority to provide transformative relief for Americans.
You recently took part in passing this trillion-dollar infrastructure bill, what effect will this bill have specifically on Westchester County?
The bipartisan infrastructure bill is the single largest investment in American infrastructure in our nation's history. It will create in Westchester and Rockland counties alone thousands of good paying union jobs. The money, specifically the billions of dollars that will be allocated to the Gateway project, is going to get us much closer to a one-seat train ride from Rockland County into New York City and back. That is something that does not currently exist. In Rockland, you have to either drive into New York City or take a train that requires you to transfer at some other station like Secaucus Junction in New Jersey. It makes Rockland a less desirable place to live, and it harms the local economy.
Speaking on local politics, I have to ask, how do you feel about the red wave that took over New York in this year's general election?
I don't know what red wave people are talking about. We just saw that in Ulster County that Democrats actually expanded their representation in local government. And, we saw Democratic victories for district attorney and in other contexts. So, I appreciate the frustration that people feel over Terry McAuliffe losing the governor's mansion in Virginia. But I don't think that's indicative of a red wave so much as it is the way that Terry ran his campaign. I mean, in Westchester, George Latimer won reelection after having governed as a progressive county executive for the last four years. And Democrats in the Westchester County Legislature still have a supermajority. Justin Brannan won his city council reelection as well. People were saying that he would lose to a Republican. I think, you know, the reports of the demise of the Democratic Party in New York were greatly exaggerated.