Interviews & Profiles
Alvin Bragg's tough first month as Manhattan DA
For this historic, progressive prosecutor, rolling out his new agenda hasn't gone smoothly.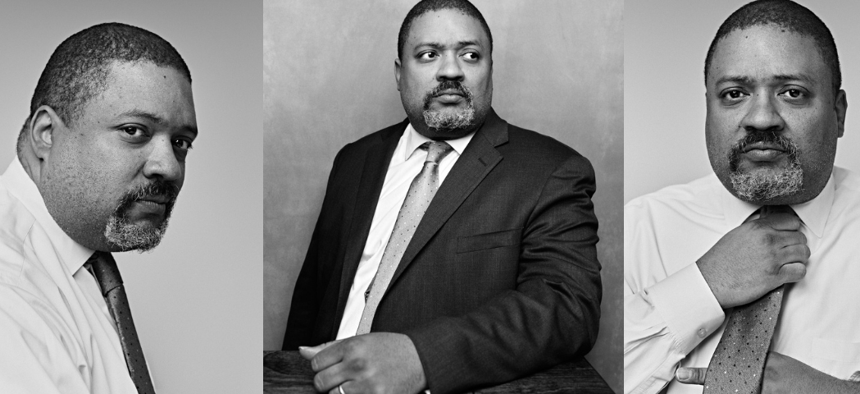 Manhattan District Attorney Alvin Bragg has learned some hard lessons about New York politics during his first month in office.
In the first memo to his staff, he laid out the progressive vision for the office that he campaigned on, which included reduced charging guidelines for certain crimes. The political backlash was immediate.
The cover of the New York Post proclaimed, "Happy 2022, criminals!" While the Daily News said, "Small-time crimes get a pass."
"So yeah, the rollout was bumpy," Bragg said in an interview with City & State. 
Since those first days in office, the borough's top prosecutor has taken a more measured approach to his public-facing persona and made strides to smooth over the criticisms.
He took responsibility for the ill-timed memo, which was released amid a series of horrific crimes, including the subway-shoving death of Michelle Go, and he has met with some of his toughest critics. On Feb. 4, he issued another memo to staff, which clarified some of the positions he outlined in January.
While Bragg and New York City Mayor Eric Adams have largely kept the peace in the press, the new mayor, a former cop, has introduced his own policies on policing and criminal justice, many of which involve tactics Bragg has called out to be problematic. Adams said the NYPD will reinstate a disbanded plainclothes police unit to address gun violence, hire more cops and deploy additional officers to the subways. Adams called for judges to be allowed to consider "dangerousness" in making bail and sentencing decisions, advocated for bringing back the selective use of stop-and-frisk policing and prosecuting 16- and 17-year-olds caught with guns as adults.
Although Bragg has worked to reform many of these policies throughout his career, he remained steadfast in presenting a united front with the mayor and steered clear of criticizing his plans.
"What I'll say is, I look forward to talking with the mayor about it. The mayor, and I have talked … to each other about policies and not policymaking through the press," Bragg told City & State on Jan. 25, days before he met with Adams and the city's four other district attorneys to review the mayor's gun violence plan. "Obviously there was a speech and there was a program put out, but (I'm) really looking forward to engaging more and talking."
The recent political attacks have been a sharp turn of events for Bragg, 48, who made history as Manhattan's first Black district attorney and was widely viewed as a fresh face coming into a role long held by members of New York's political dynasties. He was well-liked in the legal community and earned endorsements from his former boss, Preet Bharara, Rep. Jerrold Nadler and The New York Times. Having worked on criminal justice reform issues throughout his career, Bragg's election was seen as symbolic of New Yorkers' appetite for change. But in the face of increasing crime in certain categories, including rising gun violence during the pandemic, and wounded morale among the police after two officers were killed in Harlem, Bragg has the unenviable task of figuring out how to make the city safer and the criminal justice system fairer at the same time.
A record of reform
Bragg has both personal and professional experience with the policing style Adams has committed to restoring. He has spoken openly about regular encounters with police while growing up in Harlem during the crack epidemic. He recalled having a gun pointed at him six times during his childhood, including three times by police. He said the experiences of people close to him in the criminal justice system have also weighed heavily on his perspective. For example, in laying out plans to be more selective in prosecuting gun possession cases, Bragg referenced his brother-in-law, who he said was wrongfully convicted of gun possession. "He was in a schoolyard fistfight. One of the kids – they were in college – who was arrested had a gun on him, and they were all charged with gun possession. So he went to jail for more than a year for a gun that he never touched and didn't know anything about. That kind of case is not one that's worth prioritizing," Bragg said.
On the return of stop and frisk, Bragg has been outspoken about its history of ineffectiveness and bias, and it's a topic he probed as the state's executive deputy attorney general for social justice under then-Attorney General Eric Schneiderman. Bragg led an investigation that concluded just 3% of stop-and-frisk interactions by the NYPD between 2009 and 2012 resulted in convictions and 0.1% of the stops resulted in convictions for a violent crime, according to his campaign website.
And while Adams has pushed for the rollback of the Raise the Age law that prohibited 16- and 17-year-old from being prosecuted as adults for most crimes, Bragg said he "wholeheartedly agree(s)" with the legislation and will ask attorneys to apply "a stringent standard" when requesting teens be processed as adults. "I will not hesitate to overturn the decision of an ADA if we are overusing the 'exception' here," according to his campaign materials. Bragg's chief of staff, Jordan Stockdale, helped implement the Raise the Age legislation while working at the Mayor's Office of Criminal Justiceas deputy executive director of the Close Rikers initiative.
As for the plainclothes unit, Bragg said there were merits to undercover police work, which he had leaned on in certain long-term investigations in his previous roles as a federal and state prosecutor. At the same time, he acknowledged the fraught history of the NYPD's plainclothes unit and its history of racial profiling.
"I'm well aware, and I've been outspoken about them," Bragg said of the previous issues with the unit. "I approach a lot of issues through a racial justice lens … but as I understand the mayor has a new version of this, and I want to engage with him and talk about how that plays out on the ground."
A graduate of Harvard Law School, Bragg most recently served as co-director of the Racial Justice Project at New York Law School, where he is still an adjunct professor. The project is aimed at advocating for reduced prison time for people who were sentenced under outdated laws, and works on discrimination and civil rights cases, among other initiatives.
While working under Schneiderman, Bragg was appointed in 2015 to lead a Special Investigations and Prosecutions Unit to examine the deaths of unarmed people killed by the police.
He spent the days before the November election questioning members of the New York City Police Department in a judicial inquiry into the 2014 police killing of Eric Garner, whose family was represented by Bragg. Garner was killed during an arrest for selling loose cigarettes on Staten Island by a former member of the NYPD plainclothes unit, Daniel Pantaleo.
"I'm a prosecutor who's prosecuted people who have done assault, done armed robbery, done gun violence. I'm also a prosecutor who prosecuted law enforcement, and public officials who've committed misconduct," he said.
Criminal justice messaging
Considering Bragg's perspectives were well known and publicly documented before he took office, observers said the backlash to his memo was in some ways more reflective of the political climate, Bragg's greenness as a first-time elected official and a product of ill-fated timing, more so than with the policies themselves.
"I have felt really compelled to defend Alvin, because so many of these criticisms have been just so outrageous, unfair, and really, intellectually dishonest," Eliza Orlins, a public defender who ran to the left of Bragg in the Democratic district attorney primary before campaigning on his behalf in the November general election, told City & State.
"So many of the things in his memo – which, you know, not to say it was the best PR decision in the world – but so many of these things weren't even being prosecuted by the Manhattan district attorney's office over the last handful of years," Orlins said.
Indeed, Bragg's predecessor Cyrus Vance Jr. had already stopped prosecuting numerous crimes listed in Bragg's memo, including marijuana possession, prostitution and fare evasion.
In responding to criticisms, Bragg clarified that his assistant district attorneys have discretion in making charging decisions and that his policies were meant to be a framework, rather than an edict.
"Look, it's a legalistic memo with statutory cites. It's dense. Its primary audience was career, experienced, great lawyers in the office. And, you know, putting that out in the public domain without appropriate context led, understandably, to some people being confused about how we would carry out our mission of public safety," Bragg said.
The memo was published on the district attorney office's website without any sort of accompanying press conference or public explanation, a PR bungle that was not lost on Bragg.
"The big lesson to me was providing context and having a conversation, and not sort of putting out a static document," Bragg said.
Party headaches
Bragg's memo, and new policies, has become the latest talking point in conservative media, including in the New York Post and on Fox News.
"We do have a problem with our narrative," state Democratic Party Chair Jay Jacobs told City & State. "We have to work to make sure that our message does not aid the Republicans who are trying to politicize public safety rather than deal with it."
Jacobs said the criticisms of Bragg were "too early" and "unfair," but emphasized the importance of Bragg "explaining and selling ideas to the public so they understand what the objective is and what the benefits are."
"I think we ought to give the district attorney a little bit of latitude. He just started. He's got a big job ahead of him, and I think he's doing the best that he can to balance all the ideas that need to be considered to achieve his goal," Jacobs said.
At the same time, political observers said Democrats have bowed to pressure from the right to tone down the talk of criminal justice reform. "Equally to blame is the amateurish way Democrats have allowed the GOP to drive messaging around criminal justice reform in what amounts to Democratic lawmakers scaring themselves with their own shadows," Max Burns, a Democratic strategist and founder of Third Degree Strategies, opined in The Daily Beast.
Bragg has a lot of company as a progressive prosecutor who has been battered by conservatives.
Both San Francisco District Attorney Chesa Boudin and Los Angeles County District Attorney George Gascón are facing recall efforts over their reform pledges. In Chicago, Cook County State's Attorney Kim Foxx has also taken heat for her commitment to prioritize preventive over punitive measures.
Philadelphia District Attorney Larry Krasner, like Bragg, spent much of his career probing law enforcement and also promised to stop prosecuting certain low-level offenses, faced calls for impeachment from Republicans but won reelection last year.
And in Nassau County, a debate over the merits of bail reform imperiled Democrats in the November election, when voters chose Republicans Bruce Blakeman and Anne Donnelly to be their new county executive and district attorney, respectively.
The criminal justice tug-of-war was reflected in other responses to Bragg's memo. Gov. Kathy Hochul issued a veiled threat on Jan. 26, following a call from Republican gubernatorial candidate Rep. Lee Zeldin to remove him from office and a commitment from Rep. Tom Suozzi, one of her challengers in the Democratic primary, to oust him if he was elected governor.
"I know full well the powers that the governor has," said Hochul, who met with Bragg on Jan. 28 and had what she called a "productive conversation." She later urged the public to "cut him some slack."
Bragg's office said in a statement the two discussed "the importance of accountability, preventing shoplifting by breaking up burglary rings, keeping the trains safe, deterring brazen conduct and reducing gun violence."
While Bragg has spent large swaths of his career investigating police misconduct, he now finds himself in a position where he must partner with a police department whose unions and brass have scared many progressives into silence with their sharp criticisms of reform. Those dynamics weighed heavily on the tail-end of former New York City Mayor Bill de Blasio's tenure, to the point where he refused to criticize blatant unnecessary uses of force. Police blamed his reform rhetoric for anti-police sentiments that played out in the form of mass protests last summer in the wake of the police killing of George Floyd in Minneapolis. So it's no surprise that Adams, a former police captain, has called for the reversal of reforms that the police hate.
Newly appointed NYPD Commissioner Keechant Sewell, who also met with Bragg since his memo was released, has been outspoken about her concerns regarding his policies.
In a powerful rebuke, the widow of Police Officer Jason Rivera, who was killed while responding to a domestic violence call in Harlem on Jan. 21, spoke directly to Bragg while eulogizing her late husband during his funeral at St. Patrick's Cathedral.
"The system continues to fail us. We are not safe anymore, not even the members of the service. I know you were tired of these laws, especially the ones from the new DA," Dominique Luzuriaga said to applause as Bragg sat just a few pews away. "I hope he's watching you speak through me right now."
Following Luzuriaga's comments, Bragg issued a statement that "violence against police officers will never be tolerated. My office will vigorously prosecute cases of violence against police and work to prevent senseless acts like this from ever happening again."
A fresh face
Bragg was elected on a promise of rebuilding trust in the criminal justice system by reducing the use of pretrial detention in favor of rehabilitation and diversion, sending fewer people to jail and limiting prosecution of low-level crimes that disproportionately target Black and Latino New Yorkers, among other measures.
He defeated seven candidates to win the June primary with 34% of the vote, edging out his closest competitor, Tali Farhadian Weinstein, by 4 percentage points. Farhadian Weinstein, also a former prosecutor who is married to hedge fund manager Boaz Weinstein, poured $8.2 million into her own campaign, which was backed by prominent Wall Street and real estate executives. She was more reminiscent of the office's predecessors than Bragg. Before Bragg, Manhattan had had just four district attorneys since the 1930s, the most recent of whom – Vance and Robert Morgenthau – came from powerful families with long histories in public service.
Bragg, meanwhile, pledged not to take any donations from corporations or lobbyists. But that doesn't mean he can steer free of the business community now that he's in office. In the wake of his memo, he met virtually with a group of about 75 business leaders, including retailers and executives, to address their concerns over crime in the city.
"He reaffirmed his steadfast commitment to public safety and quality of life in Manhattan, and he reaffirmed he intends to take the steps required to keep the city safe and secure," attorney Brad Karp, chair of the firm Paul, Weiss, told City & State about the meeting. Karp, who donated $1,000 to Bragg's campaign, is also a board member of the Partnership for New York City, which hosted the virtual sit-down.
"I fully expect that he meant what he said. I do have great confidence in his judgment," Karp said. "He was a very tough prosecutor, and I believe he'll be relentless in pursuing justice, but he also recognizes, appropriately, there is room for improvement in our current criminal justice system to be fair and measured in appropriate circumstances."
Bragg also announced the formation of an alliance of small business organizations, owners and criminal justice experts to find solutions to shoplifting and robberies.
The alliance is co-chaired by Ken Giddon, owner of Rothmans, a men's clothing store. Giddon, in a New York Post column earlier this month, called Bragg's memo a "punch in the gut" after he said his store was robbed twice by the same group of men in late December.
Of particular concern to retailers is Bragg's directive to downgrade felony robbery charges to misdemeanor petit larceny if "the force or threat of force consists of displaying a dangerous instrument or similar behavior but does not create a genuine risk of physical harm." 
At the core of that policy was Bragg's desire to address underlying drug use that drives some users to steal. The intent of his memo in general, and this provision specifically, was to ensure prosecutors were examining each case on an individual basis, rather than applying a single standard, he said.
"You go in with a bat, and you're waving it around while robbing a store, that's a violent felony, that's going to be treated as such," Bragg said. "There are subcategories where it is, you know, fueled by an addiction, and I think that needs to be treated differently." 
Bragg hoped that doing so would help close what reformists often refer to as the "revolving prison door."
"The person goes to Rikers, they stay there for 60 days, and they come right back, and they do it again, right? And so I don't know anyone who thinks that's good, or that's working … and that's what people want to stop. By connecting that person with services, it's going to stop," he said.
Signature policies
Bragg laid out a gun violence strategy that included targeting the "small number of people who are responsible for a devastating amount of the violence," along with gun traffickers and domestic violence offenders. The issue has been at the heart of the city's public safety debate as gun violence climbed last summer to levels not seen since the late '90s.
Peter Pope, who also previously worked for the state attorney general's office, was appointed to lead the effort as executive assistant district attorney for gun violence prevention, a newly created position.
The division will be focused on Bragg's goal to target larger cases that address significant "drivers of violence" opposed to individuals caught with a firearm. For example, Bragg said he will look to the office to "take a case that's really about one gun and turn into a case that's about 20, 30, 40 or 50 guns."
Part of that model hinges on community intervention and advocating for gun control legislation, among other measures. Bragg had said he would do away with low-level gun possession cases.
"Targeted enforcement means … that we will do away with the most common outcome in current gun prosecutions: 1-3 year jail or prison sentences for the possession of a firearm," Bragg wrote on his campaign website. "These cases do not meaningfully incapacitate those who truly drive gun violence, but they force those who are not drivers of violence onto a path that almost inexorably leads to recidivism."
Bragg said he was concerned that his gun possession charging guidelines were "lost in translation" and emphasized that cases in which charges will be reduced "are pretty exceptional matters," like his brother-in-law's case.
In a Feb. 4 memo to his staff, Bragg clarified his previous statements and said people carrying guns on the streets will be prosecuted. "The default in gun cases is a felony prosecution," he wrote, which can typically be up to four years in prison.
He also took heat for saying he will not prosecute certain minor crimes, including fare evasion, prostitution, marijuana possession and trespassing. He pointed to statistics that showed misdemeanors account for 82% of cases in the city, with Manhattan having the highest misdemeanor prosecution rate, by far, of any borough. Instead, he wanted the office to focus on sexual assault, gun violence, public corruption, major economic crimes and white-collar crimes, the latter of which he said was part of an effort to close the gaps in racial and economic disparities within the criminal justice system.
People arrested for selling drugs while "acting as a low-level agent of a seller" will not be charged with a felony, but instead be charged with misdemeanor possession of a controlled substance.
Among Bragg's other major tasks will be to reform the office's handling of sex crimes, an issue Vance came under fire for and was a frequent topic during the campaign. Vance famously dropped sex abuse cases against former International Monetary Fund chief Dominique Strauss-Kahn and movie producer Harvey Weinstein. He also dropped a case against Ivanka Trump and Donald Trump Jr. in spite of mounting evidence they misled condo buyers at Trump SoHo by claiming the units were selling faster than they actually were. These moves were widely seen as catering to the elitist class in Manhattan.
Bragg's election was seen as a referendum on the good old boys' club that critics said had dominated the Manhattan DA's office for centuries. But now his promises to address the concerns of minority communities are being tested during his first weeks in office.
"We're really at a crisis point with 15 people dying on Rikers Island last year. And amidst this backdrop, voters in Manhattan cast their ballots for Alvin Bragg," said Lauren-Brooke Eisen, director of the Brennan Center's Justice Program and co-chair of Bragg's transition committee. "And he campaigned on this platform that he could deliver both fairness and justice to New Yorkers. And that's a really important promise, because we know so much about how the criminal legal system is unjust."
Powered By
NEXT STORY: This week's biggest Winners & Losers