Personality
Eric Adams admits he eats fish
The vegan mayor finally confessed to cheating on his diet on Monday, hours after refusing to address the speculation.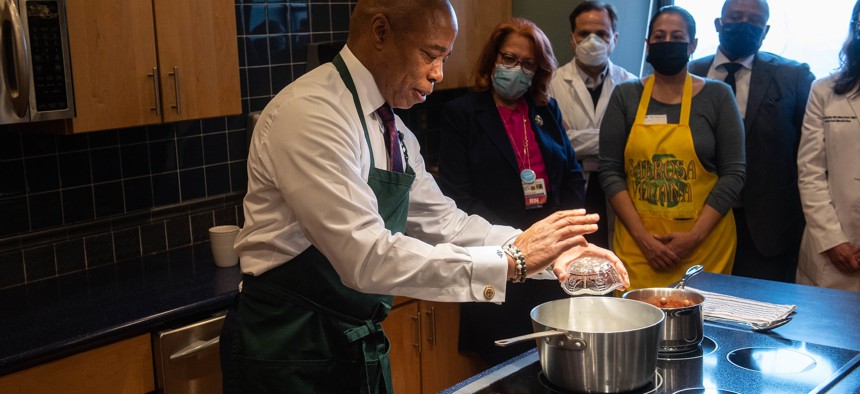 New York City Mayor Eric Adams has finally admitted to eating fish. After reports surfaced over the weekend that the mayor has been caught cheating on his vegan diet, Adams on Monday morning refused to confirm or deny the rumors, before confessing hours later to "occasionally" indulging.
"I'm not going down this rabbit hole of what do you eat? … I'm not doing that," Adams said Monday morning while standing before a table of plastic fruits and vegetables at a press conference to announce the rollout of  "lifestyle medicine" services at New York City Health + Hospitals. The program will teach patients healthy habits including how to eat more plant-based food.
"The more plant-based you eat, the better and healthier you are. That is my (response) to those who are following me around in restaurants wondering what I'm ordering. Listen, I'm not doing that. That's noise to me," Adams told a reporter who asked if he eats fish.
By the end of the day, as the controversy ascended to the national media and was dubbed "Fishgate," Adams copped to the indulgence.
"I want to be a role model for people who are following or aspire to follow a plant-based diet, but, as I said, I am perfectly imperfect, and have occasionally eaten fish," he reportedly said in a statement.
His exchange with a reporter at Monday's press conference marked a rare instance when Adams dismissed an opportunity to talk about his diet. Moments earlier, he was telling the story of how he changed his eating habits when he was diagnosed with Type 2 diabetes, repeating a talking point that has been a major part of his personal brand. He published a cookbook of plant-based recipes and was featured in a short film by Forks Over Knives, which produces documentaries about the benefits of plant-based diets. Since Adams was elected in November, at least two local delis have named vegan wraps after him.
He's also used the vegan hook to help promote his policies, such as the new lifestyle services debuted Monday, which fulfilled a campaign promise built off of a similar initiative he championed as Brooklyn borough president. The programs, which will be available at six hospital sites, will be available to people with heart disease, hypertension, Type 2 diabetes, prediabetes, and obesity-related health issues. After announcing the effort, Adams put on an apron and demonstrated how to make a plant-based chili.
Last week, Adams introduced a new "Vegan Fridays" menu at public schools. The cafeteria lunches netted some poor reviews accompanied by less-than-appetizing photos. "I am as much a believer in the power of healthy food as you, but this ain't it," state Sen. Jessica Ramos tweeted at the mayor, alongside a bag of sliced apples, baked tortilla chips and a medley of zucchini, corn and mushrooms.
Speculation around Adams' eating habits began to swirl on Saturday when Politico published a piece on his power dinners that quoted an unnamed employee at one of the mayor's preferred restaurants, Osteria La Baia, saying he's frequently seen eating fish. "He's not a vegan. He's a pescatarian," the employee reportedly said. Subsequent reports claimed sources have seen him eating chicken and even beef. 
While an Adams spokesperson initially told Politico he does not eat fish, the mayor has avoided claiming vegan purity in the past. When City & State asked the mayor in October if he ever strays from his diet, he said "I don't like to think in terms of 'cheating' or 'failing,' but rather 'reducing.' If I slip up and eat something I shouldn't have, I promise to do better tomorrow. We're all in this together. No one should beat themself up for stumbling," Adams wrote in an email.
He also described how his views on veganism have evolved to include animal rights and environmental aspects. He has said he wants to cut down on greenhouse gas emissions, in part, by reducing meat consumption among residents. And his "Vegan "Fridays" plan was celebrated by prominent animal rights groups NYCLASS and Voters for Animal Rights. 
"As a city, the fewer animal products we consume, the better our lives will be, the better animals' lives will be, and the better the planet will be," Adams wrote in October.
In some ways, Adams' diet is even more strict than what veganism allows. He doesn't eat olive oil and swears off junk food.
"Some people want to call me vegan. Vegans eat Oreos, and they drink Coca Cola. I don't," Adams said Monday while coining a new term to describe his eating habits.
"I eat a plant-based centered life," he said repeatedly.