Interviews & Profiles
Q&A: Carting trash during the challenges of COVID-19
Dominic Monopoli, head of 110-year-old Filco Carting, discussed how being nimble helped his family business survive the pandemic.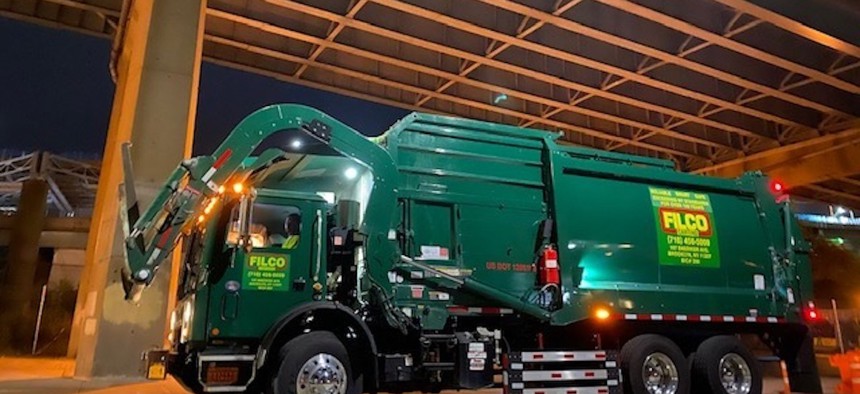 New York City's commercial carting industry saw business drop dramatically when COVID-19 hit. The city shut down and later remote work reduced the amount of trash being put out by commercial properties, forcing carting companies to reduce service and lay off workers.
As the city now emerges from the coronavirus pandemic, some in the carting industry are being forced to find new revenue streams to replace the amount of business that hasn't returned. Commercial clients are switching to hybrid work schedules to allow employees to stay home for part of their workweek, which should still keep the levels of commercial garbage down.
City & State spoke with Domenic Monopoli, president and CEO of Filco Carting, a 110-year-old firm based in East New York, Brooklyn, on how the company weathered the pandemic and what business looks like in a post-pandemic world. Filco is vying for one of the contracts in the city's new Commercial Waste Zones program and is exploring other possibilities. This interview has been edited for length and clarity.
Filco is a family business that started out using horse-drawn wagons more than a century ago. How does a company like yours survive for so long?
In New York City, you have to be nimble. You have to do everything right. You know, we're homegrown. The way we were taught from day one, don't cut corners. Treat your employees the right way. Treat your future customers the right away. Always have integrity and respect and you'll grow, That's how we stayed around for so long. You know, we're grassroots, New York born. Especially in the city of New York. There's always some new regulations coming up. So you have to be nimble.
How difficult is it picking up the commercial garbage of New York City?
There's so many variables. It's a difficult proposition because you have timing issues. Different buildings want to get picked up at different times. You have traffic issues and weather. I always say to my guys, it's like threading a needle every night.
And how did COVID-19 impact business?
Before the pandemic, we were running 40 trucks. And in March of 2020, as you know, the bottom of the world fell out. We went down from 900 to 1,000 tons per day, down to 40. Manhattan was shut down. Everything just came to a screeching halt.
How did your company respond to the pandemic? 
The art of being in business is to always change things around. Unfortunately, we laid people off. We took all brand-new trucks, lined them up and took the license plates off. As the city came back slowly, you slowly brought people back and slowly put trucks back on the road. One high note of the virus was there was no traffic. So we were getting done a lot quicker. But it was very difficult. You had to be very nimble, because some days you had a lot of garbage, and sometimes there wasn't. You had the guys that got sick during a shift and then you had to sanitize the trucks. It was an interesting time. We're still not 100%; I would say we're about 75%. And with the omicron variant we did drop a little bit. We're hoping to see a slight uptick in the coming weeks. But you know, people are not back in the office yet. The city's not the same. It's just not the same yet. Probably, it will come back. We'll see.
Besides applying for the Commercial Waste Zones program, what other opportunities are there for your firm?
We are speaking to some community boards and the Fifth Avenue Association. We would run a truck on Fifth Avenue every afternoon to make sure it looks clean. We are in the middle of negotiating that. Business improvement districts will hire private contractors to back up the city. The BIDs have guys who sweep up and leave bags on the corner. So they need someone to run by and pick up the bags. There's really no money there. But, you know, you don't want Fifth Avenue, the most prominent avenue in the world, you don't want it to be dirty. So if we could do something to help them out, we'll do that.