Personality
State Senate candidate Iwen Chu on what Asian representation means for District 27
The South Brooklyn district is newly drawn with a plurality of Asian American voters. Chu says she's got the perspective to represent them.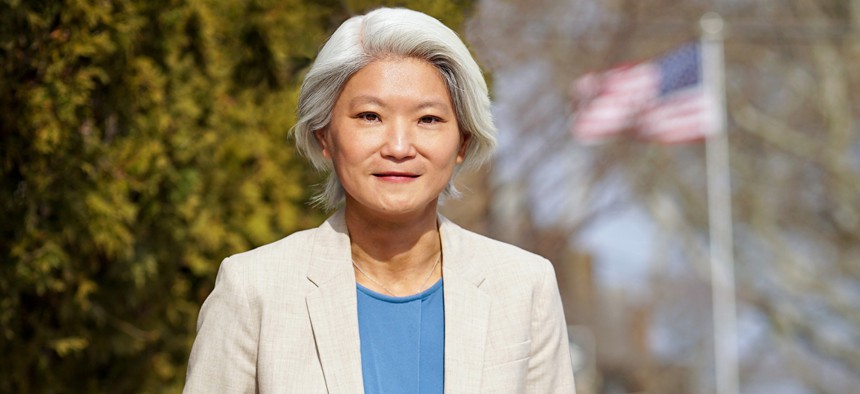 Recent approval of redistricting in Albany has sent shockwaves throughout the state, with lawsuits underway from New York's Republican party due to accusations of major gerrymandering in favor of Democrats. In New York City, these redrawn lines have opened up an entirely new contest in the state Senate for District 27. This area of South Brooklyn encompasses the neighborhoods of South Slope, Windsor Terrace, Kensington, Sunset Park, Borough Park, Dyker Heights, Bensonhurst and Gravesend. More importantly, though, is the demographic makeup of this newly formed district. With a population of 320,000 residents, District 27 is also home to almost 150,000 Asian New Yorkers. It's primed for a candidate to reflect the plurality of the area. 
Enter Iwen Chu. Chu has a lengthy history of political work, most recently as the chief of staff to Assembly Member Peter Abbate Jr. State Sen. John Liu, who has already endorsed Chu for the seat, said that he'd been trying to get her to run for years. Her work with the other electeds who have thrown their hat into the ring for Chu has paid off, with some notable officials providing a seal of approval to her campaign. Chu will be a newcomer, technically, with no elected experience in New York City politics. But, with the new district cropping up now, it provides an opportunity for her to put her experience to the test and represent the community in South Brooklyn. 
City & State spoke with Chu about her immigrant experiences, why her given name matters to her and to her constituency, and how she plans to connect with the District 27 community from the ground up. This interview has been edited for length and clarity. 
You have a very extensive resume when it comes to public service - you've been a board member with Brooklyn Community Board 11, you've worked with the 68th Precinct, you've been the chief of staff with Assembly Member Peter Abbate Jr. With all these hats that you've worn, why go for the state Senate seat?
I'm so glad you looked through my resume, my experience. That's exactly why I'm running for state Senate, because I have to say this: It's a golden opportunity for the Asian community in South Brooklyn. Asian communities are still underrepresented in this way. We're talking about our younger kids, when they look at their future, who they want to be when they grow up … I want to be the hope I can bring to our next generation. Even coming from an immigrant community, an immigrant background, I can still do things I want to do. I can change society, I can protect my community. 
We have a huge population already, and the Chinese-speaking community has nowhere to go. There's a language barrier. They have no offices to go to for help. That's where I start to feel like, "Whoa, there's a lot of things we need to address." 
Could you speak about your experience as an immigrant to the United States, and how that contributes to your ability to represent the District 27 community?
Sure, so I came to New York 18 years ago. I came here when I was 27. Before 27, I was a citizen of a liberal country, you know, Taiwan has universal health care, legal same-sex marriage, first female president, that kind of liberal mindset. I grew up in that kind of environment, so you never thought about equal rights, you never thought about immigrating. I chose to come here to pursue my masters degree for sociology in CUNY, at Brooklyn College. After that, I realized, "Oh wow, the tuition is very high, I need to make a living to support myself, and after that, I need to look for a job." Yet, English is not my first language. With a language limited capacity, there's only certain jobs you can look for. When you become an immigrant, in social systems, there's a lot of immigrant rights not being addressed, not being heard. When you see opportunities and they're right there, and you know it's just so hard to get it.
I'm lucky enough that I have the language capacity, I can speak up for myself. For the past 17 years, I have had so many constituents, so many families that when they're coming here, when they have problems with schools, when they apply for social benefits, they cannot understand that process. It's hard for them. When you're an immigrant, there's a lot of things you need to speak up for, like language support. You navigate the system and try to understand how to survive in this society. Through legislation, we can help and we can fill the gap. But we need to acknowledge that there's a gap. 
What type of legislation are you proposing as it pertains to trying to boost the resources for immigrant safety and education?I want full funding for public schools. I want to make sure education is given to the underserved. I want to support the New Deal for CUNY. Every student deserves higher education. Every student, if they want to go through more, they should have it. I want to support universal child care, because for working families, it is so hard to afford … if both parents are working, one of your parents' paychecks is going to child care. I know, because with me and my husband, one of our paycheck's was going towards child care. I want equal opportunity and accessibility, I want language support. I want to see justice and fairness in every way. When our Asian community, and other communities cannot feel safe, I want to see … those are serious concerns from people who live in this society. If they feel that the system is not addressing their fear and concerns, we all want to feel safe. I want to make sure our immigrant community is heard, being seen and being considered. 
Aside from positions you've had in local government for the last several years, this would be your first major seat in a legislative body. I was curious about the experience that your campaign staff has. 
I have to say, I'm very proud, I'm running an all female campaign. My volunteer staff, my campaign staff, all female. I believe that all these amazing women need more power, they need to be more involved in politics and need to have the platform to show how amazing, how great they are. They have all the capacity, they need opportunity. With Zunera (Ahmed), she was involved with many campaigns: Max Rose, Ari Kagan. That's how I know Zunera, through helping Max's campaign. Right now, I have all the support from other officials, endorsements from the state Sen. John Liu, state Sen. Andrew Gounardes … they're also giving me all the support and guidance. We've known each other for years, so these people are also my friends. They know what we need to run a successful campaign. 
How was the process of getting those endorsements?
Over the years, I realized being involved and active in political campaigns can bring positive change for society. So that's why in the past years, I've helped to support candidates I have faith in. I helped state Sen. Andrew Gounardes' campaign. I helped with Councilman Justin Brannan's campaign. I helped with state Sen. John Liu's campaign. And Assemblyman Peter Abbate's office shares an office with Rep. Jerry Nadler. So they're constituents come in, and we provide a service. We share the same concerns, we're talking about the same neighborhoods. 
I'm really proud and honored to have their say and trust when I decided to stand up for my community. They're there. They understand how the Asian community has been underrepresented, especially in Brooklyn. Even at my campaign kickoff, state Sen. John Liu said, "You know, we want to see Iwen there, because we can double up the Asian senators." These are actual numbers we're talking about. We have such a big Asian population in the state, but we don't have enough representation there. So that's why I'm glad to have their support. They're allies on the government level in both houses.
Do you prefer to go by Iwen or Irene during this campaign?
I want to go by Iwen Chu. Let me explain. After I came here to New York, I wanted to go by Irene because of cultural sensitivity, I wanted to be friendly, I wanted to make friends, I didn't want people having a hard time with pronunciation. That's how people know me by Irene. But I know that this is how I can make my community, my Asian community, proud. I've decided to run under my Chinese name. Even at my kickoff, everyone knows me, but I reintroduced myself as Iwen Chu. I want to use this opportunity to make everyone aware, and so everyone can be proud of their heritage. It's not a translation, my name is not a Chinese translation. I want to be the first one in Brooklyn to represent that on the state level.