Interviews & Profiles
Monique Chandler-Waterman talks Albany priorities and her next election
The winner of the 58th Assembly District special election is set to be sworn in next week, but she'll have to win next month's primary if she wants to keep serving in 2023.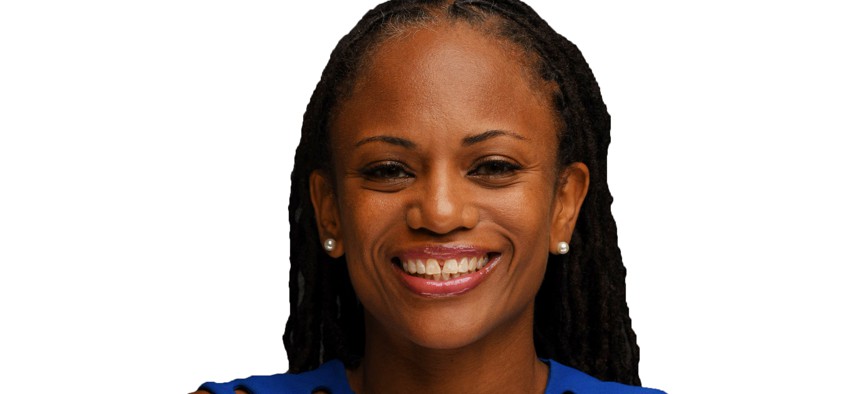 With 1,896 votes, community organizer Monique Chandler-Waterman blew competitors out of the water in this week's special election in the 58th Assembly District in East Flatbush.
The seat, vacated by former Assembly Member Nick Perry, who is now serving as the U.S. Ambassador to Jamaica, drew three candidates, including Chandler-Waterman who ran on the Democratic and Working Families Party lines, Republican Monique Allen-Davy, and Hercules Reid, who ran as an independent with an endorsement from New York City Mayor Eric Adams. Though Chandler-Waterman won roughly 80% of the vote in the special election this week, she will face off against Reid again in next month's Democratic primary. 
City & State caught up with Chandler-Waterman to talk about her goals in Albany and the second election she'll face on June 28.
This conversation has been edited for length and clarity.
It looks like you won in a landslide. To what do you attribute your success?
The people. Knowing that the power was in the people. I had a grassroots campaign where the community members supported the vision and mission, and they're the reason. I had a lot of great endorsements, but the best endorsement was the people in the community believing in the mission and vision, and coming out and voting.
You campaigned without the official support of the Brooklyn Democratic Party. Is it correct that you didn't receive any kind of support from the Brooklyn Democratic Party or Chair Rodneyse Bichotte Hermelyn?
That's correct. But the people spoke, and they chose who the best candidate was. I was glad to receive the Democratic line from a group of my peers from the County Committee who know the work that I've done.
You also had the mayor endorsing your opponent, Hercules Reid, at the 11th hour. Were you surprised by that?
I'm not surprised by what anybody does nowadays. It doesn't affect us one way or the other because what's most important is the voters in the community. And you can't deny the fact of the body of work that I've done, and the evidence of work I've done in the community, well before there was an election. I was born and raised in East Flatbush my whole entire life – educator, health care worker, community organizer, fighting to reduce gun violence. Those things didn't just pop up because of the election. It didn't matter who endorsed who, it was about who did the work. 
What are some of your goals in Albany?
We have to continue advocating for true affordability when it comes to housing, income-targeted housing. If you don't have proper housing, if you don't know where you're going to sleep at night, how can you function as a human being? You can't go to school, you can't go to work if you're not stable in a house. So that's one of the biggest issues. Then you could go to the public health crisis we have. Gun violence, substance abuse, getting access to proper health care, mental health. There are a lot of social determinants of health that affect us in our community. And of course, equity in education.
Do you support Good Cause Eviction?
Yes, I do. I want to make sure that our renters are protected, our tenants are protected, and make sure that there's a carve out for our homeowners as well. Because there are small landlords who are doing great things, and who are part of the community as well. So we just want to make sure everybody is considered when it comes to Good Cause Eviction, which (the bill) does.
You are set to be sworn in just a few days before the end of the legislative session. Are there any specific bills you're watching or priorities you're hoping to advance? You mentioned gun violence, Gov. Kathy Hochul has named gun laws as among her end of session priorities. Are you watching any of those proposals?
When it comes to gun violence, we need to make sure we get the guns off the street. We need to pour resources, wraparound services, to holistically take care of the community. So I'm interested in making sure that we have resources, intentional resources to our community, so we get ahead of the physical trigger being pulled. I believe that if we have affordable housing, if we have equity in education, if we have the right resources when it comes to mental health programs, making sure our kids are active, having schools open at 10 o'clock at night – those (are) things I'm interested in making sure that our community has the proper access to.
What do you think of New York City Mayor Eric Adams' approach so far to reducing gun violence?
My concern when it comes to gun violence – and what I think should be at the top of everybody's agenda – is making sure we have wraparound services. That we've dealt with mental health, that we've dealt with trauma, that we're putting resources into our community. The trigger is pulled when we don't have affordable housing. The trigger is pulled when we don't have equity in education. Every leader should be focused on what we can do before the trigger is pulled physically. There's more than one agency in this community. It shouldn't be just the NYPD responding to everything. They should not be responding to those who have a mental health crisis. It should be mental health professionals – they could probably have some enforcement training – but mental health professionals have to be at the table. The Department of Health and Mental Hygiene. We have a lot of agencies we have to tap into. It can't just be one agency all the time coming to the table. 
Going back to elections, you had the advantage of the Democratic Party line in this special election. Do you expect a stronger challenge from Reid in the primary next month because you'll be fighting for that line and you won't have that advantage going in?
The best advantage that I think I have was the evidence of living in this community my whole entire life. (Editor's note: Reid told City & State that he moved to the district in 2018, but was born and raised in New York.) No candidate can they can say that they have a body of work that I have, from working for the City Council, working for the state, to founding in my own nonprofit, working for a city agency, organizing on the ground, being in the community as a educator, health care worker, mother of four, married over 21 years. No other candidate can say that or have that experience. So that's the most competitive advantage.
Much of your district is also represented by state Sen. Kevin Parker, who is facing a primary challenge this year. Who are you supporting in that race?
Right now I'm now focused on June 28, and making sure that I get elected on June 28. Because I can't help anybody if I'm not elected. That's my primary goal. And the community will speak on who is their best choice, and I will lead from that example. 
Speaking of June 28, New York City Public Advocate Jumaane Williams, a longtime ally of yours, is running for governor. Are you planning to endorse his campaign?
I'm going to focus, like I said, on June 28 and making sure I get re-elected. I'm not sure where I will fall in that category. But of course everyone knows that former Council Member Jumaane Williams, I worked for him. They also know that he's a good friend of mine and my family, and I wish him all the best in his endeavors. But we have not made those decisions yet as a campaign.